The 20 Hottest Women to Watch on Sports TV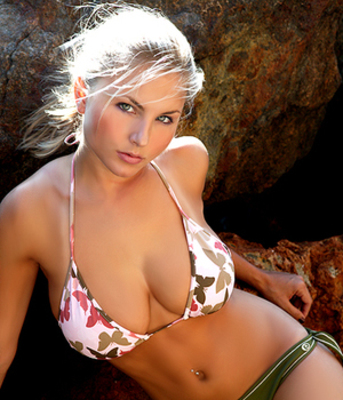 The sports landscape is littered with a bevy of beautiful talent. There are so many it is just insane.
This slide show is dedicated to all the hot and sexy ladies who frequent television sets often, and bring a smile to our face in the process of relaying cold hard sports information.
I present to you the 20 hottest women to watch on sports television.
I couldn't stop there though. As an added bonus I also included the one that got away, and the one that should soon be gracing your television screen.
She is so hot I guarantee it is right around the corner. I almost forgot, be sure to check out the video at the end of the very last slide to see the rising star in action!
20. Michelle Bonner: Tilts the head and smiles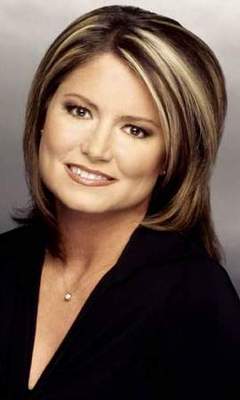 Michelle joined ESPN back in 2005, and has been there ever since. She started as an ESPNNEWS anchor and occasionally anchored SportsCenter.
Michelle Bonner: Looks to be playing charades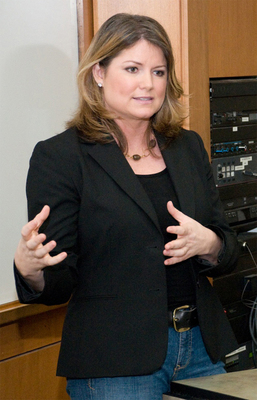 Michelle has seemed to get more face time on ESPN as of late as she can be seen more often than before behind the SportsCenter desk.
I vote that this is a good thing.
19. Colleen Dominguez: Shows off that million dollar smile
Colleen joined ESPN in March 2004 as a Los Angeles based reporter for ESPN's news-gathering operation, particularly SportsCenter, Outside the Lines and Outside the Lines Nightly.
Colleen Dominguez: Working the mic amongst other things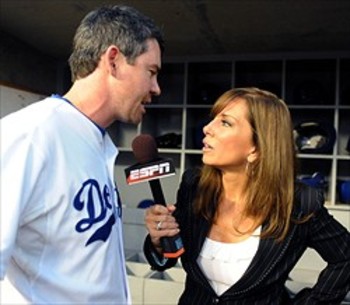 She is seen on a variety of ESPN programming, including SportsCenter, regularly covers breaking news and major sporting events, does feature reporting, and conducts interviews, including Shaquille O'Neal's only sit down the day he left the Lakers.
18. Rachel Nichols: Prepares to break what is probably some Brett Favre news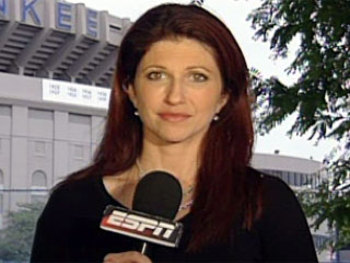 Rachel is currently working for ESPN, and can be seen on Sportscenter covering breaking news and events.
Rachel Nichols: Nichols and Favre, thick as thieves these two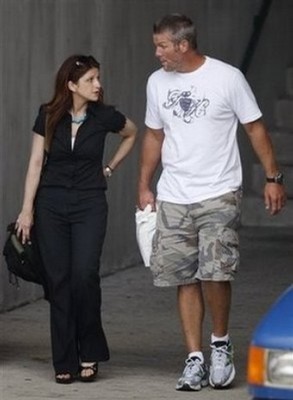 Rachel also contributes pieces to ESPN's Outside the Lines, and is a regular on ESPN's Sunday NFL Countdown and Mondat night countdown.
It doesn't stop there for Rachel though. She is a jack of all trades as she also can be seen on ESPN's E:60 and covering the NBA.
17. Sage Steele: What's not to like?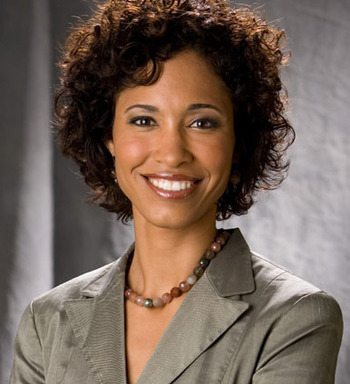 Sage joined ESPN in 2007, and can be seen anchoring Sports Center rather frequently.
Sage Steele: Plays to the camera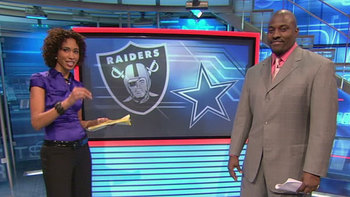 Sage was born in Panama, and came to ESPN after working at Comcast SportsNet Mid-Atlantic in Bethesda, Maryland, where she was an anchor and reporter for the network's nightly local sports news program, SportsNite.
16. Suzy Kolber: Looks hot even with something projecting from her ear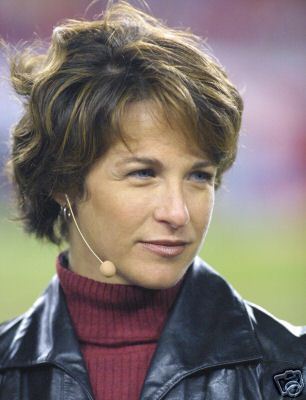 Many forget Suzy left ESPN2 in 1996 to join Fox Sports, but rejoined ESPN in late 1999.
Suzy Kolber: Throws on a dress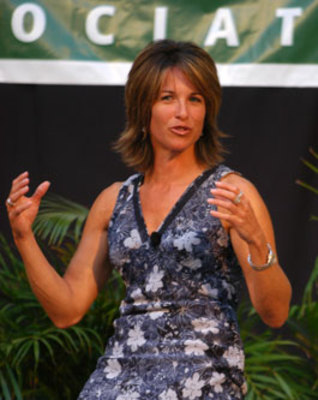 Suzy can be seen on ESPN as a sideline football reporter and also on Sportscenter.
She was one of the original anchors of ESPN2 when it launched in 1993.
15. Michelle Beadle: Rocking the four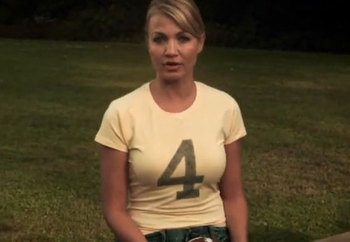 Michelle is just fun to watch. You can see her on ESPN's SportsNation.
Colin Cowherd was supposed to be the star, but Michelle has really taken the spotlight away from him and shines on this new show.
Michelle Beadle: Again rocking the four. Is she a Packer fan or something?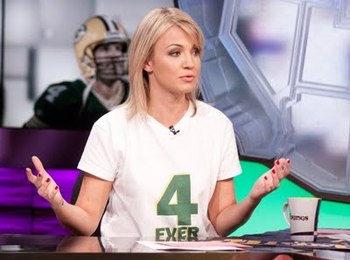 Colin Cowherd had better be thanking Michelle after each and every episode of SportsNation.
She is the show. Make no mistake about it.
14. Jill Arrington: Shows Michelle Beisner how to really let her hair down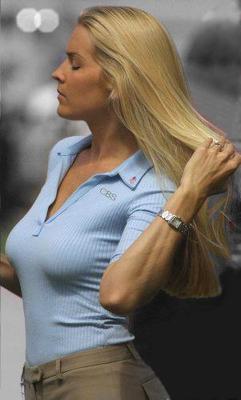 Jill has worked for ESPN, TNN, CBS, and Fox Broadcasting company. She can currently be seen on the Tennis Channel.
Jill Arrington: Sporting flip flops, and jean shorts. Can you say the girl next door?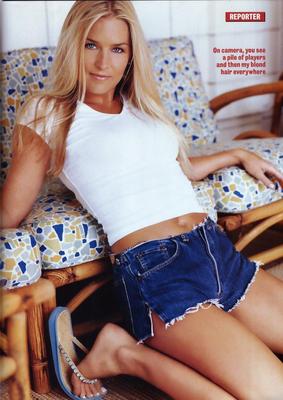 Jill has really done it all. She has done some modeling, and acting to go along with her reporting.
She has probably appeared on your TV more then you realize, in adds for Coors and Nike to name just a couple.
13.) Tina Cervasio: Does professional like it's her job or something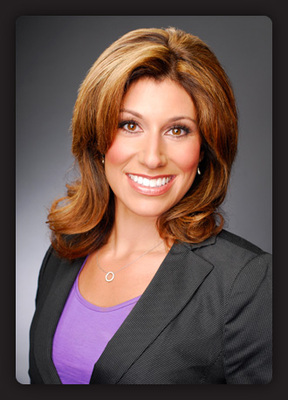 Cervasio has made the move from NESN in 2008, and hooked up with MSG in New York where she currently works a studio host and Red Bull New York sideline reporter.
Tina Cervasio: Left professional at home in this pic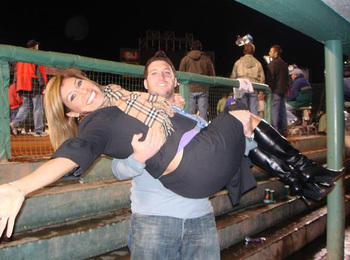 One would have to believe Cervasio will soon be wanting more exposure then what she is given on MSG. It wouldn't surprise me if she popped up working for a major network in the not to distant future.
12.) Lindsay Czarniak: Apparently loves junkies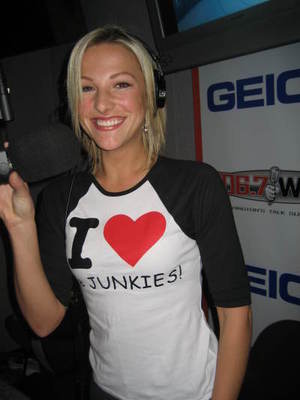 Lindsey is a sports anchor and reporter for WRC-TV (usually dubbed NBC4), the local NBC television affiliate in Washington, D.C. Linsey has also been a pit reporter for TNT's Nascar Sprint Cup Series.
Lindsay Czarniak: Is all work and no play here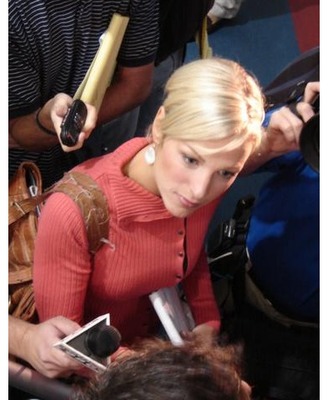 Lindsey is also a former co-host and reporter for the syndicated The George Michael Sports Machine. Lindsey has also been a reporter for NBC during the 2008 Summer games in Beijing, China.
11.) Hazel Mae: Can sit anywhere she wants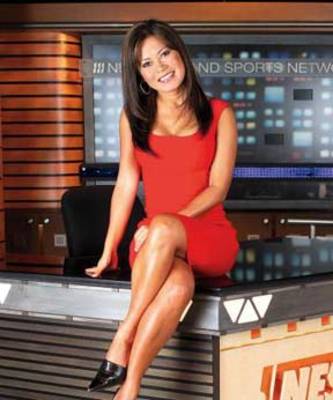 In 2008, Hazel became the on air-face for the MLB Network.
Hazel Mae: Working for a living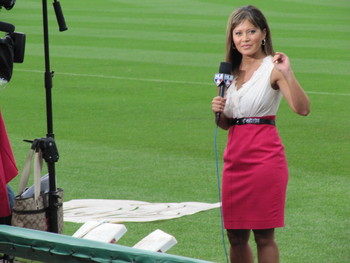 Hazel made a name for herself at the NESN network where she started in 2004.
10.) Michelle Beisner: Leaves little to the imagination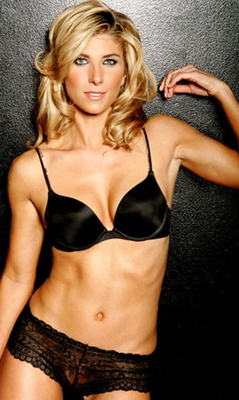 Michelle is the sexy reporter for the NFL network. She has also had stints at ESPN, CBS, SPEED, and NBC. How could they all let this one get a way?
Michelle Beisner Letting her hair down
Biesner is a former Denver Bronco cheerleader and has done her fair share of acting as well. She has had parts in Any Given Sunday, Spotless, Throttle, Alice in Wasteland, and Champ Car Season Preview.
9.) Adriana Monslave: Has us seeing red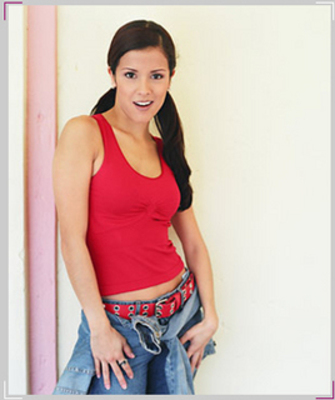 Monslave grew up in Caracas, Venezuela, and has become one of the sexiest things to hit ESPN since well, Erin Andrews I guess.
Adriana Monslave: Stretching it out. This is totally normal!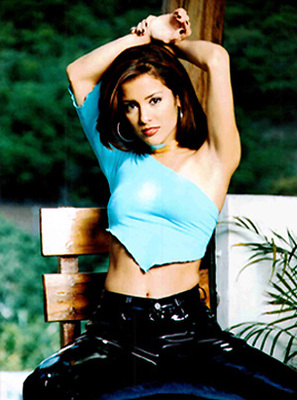 Monslave bcame a sports anchor for ESPN Deportes back in 2007, and that is something we all can be thankful for. The more air time she gets the better.
8.) Jamie Little: A very nice body of work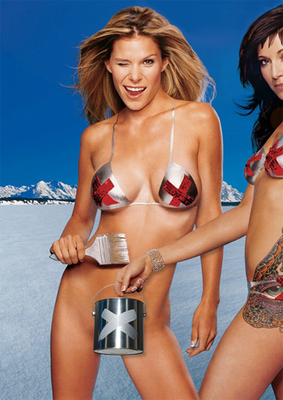 Jamie Little can be seen on ESPN covering snowmobile motocross at the X games. Little also won the 2008 Toyota Pro/Celebrity Race beating Nascar Craftsman Truck Series champion Mike Skinner by 0.324 seconds. This is probably one girl he didn't mind losing to.
Jamie Little: Red Carpet Talent sounds about right!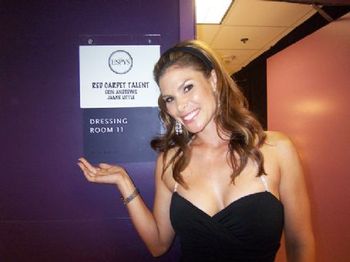 Little also hosts ESPN's annual New Years, No Limits special on New Year's Eve. It's a nice way to welcome the new year, let me tell you.
7.) Heidi Watley: Alex's face says it all doesn't it?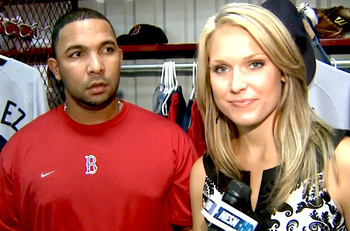 Before joining NESN Watney was a weekend sports anchor for KMPH in Fresno, California. Watney was also a sports talk radio host for 1430 ESPN radio KFIG Fresno.
Heidi Watley: Goes to work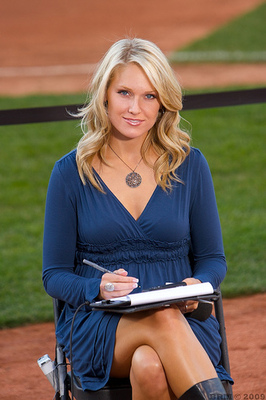 Watney replaced Hazel Maye as the host for The Ultimate Red Sox Show in 2008, and also became the host of The Red Sox Report.
6.) Carrie Millbank: Goes for a dip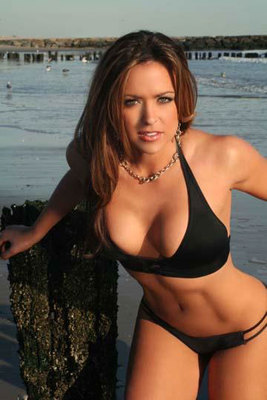 Carrie can be seen as a Sports & Entertainment Contributor for "America's Nightly Scoreboard" on FOX Business Network. (FBN)
Carrie Millbank: The best a Red Wing logo has ever looked
To go along with her gig at FBN Carrie is also the face of NHL.com, Carrie Hosts "The Hockey Show" as well as "Best Of The Hockey Show" on NHL Network. Carrie is also in her fair share of commercials as well. Mostly geared towards sports, and hockey so keep an eye out.
5.) Erin Andrews: Looking hot on the red carpet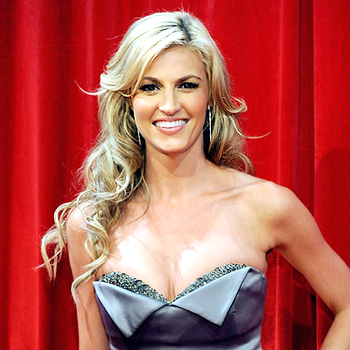 Erin has been through a lot this past year. I can't even imagine what it's like to go on a network like ESPN knowing just about everyone watching has seen you naked. It's just crazy! I gave her a ton of credit though. Erin keeps on trucking and remains smoking hot while doing so.
Erin Andrews: Has a little swagger to her step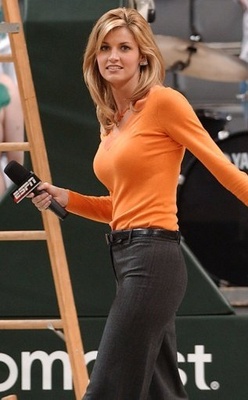 Erin has made herself a staple at ESPN and reigns supreme as the most influential female sports broadcaster to ever lace them up, or slip them on, if she is sporting heels that day.
4.) Jenn Brown: Netting?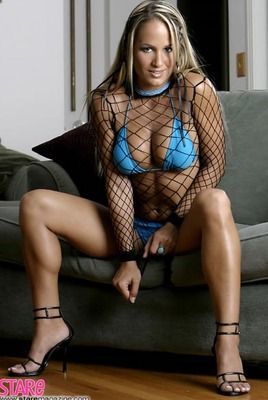 You can see Jenn on ESPN's Inside the NFL, and Jenn has also shared her college football wisdom on ESPN's "College Gameday" and ESPN's "Road Trip." Jenn also covers MMA and boxing for showtime sports.
Jenn Brown: A sofa has never looked so good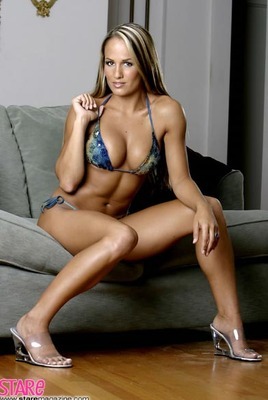 Jenn is the only female correspondent for "inside the NFL," and this past summer was a host for ABC's primetime show, The Superstars.
3.) Ines Sainz: Plays in the sand. Say that five time fast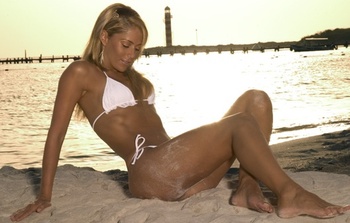 Ines refers to herself as the sexiest sports reporter in Mexico. She reports for TV Azteca, and always puts on a show at Super Bowl media day.
Ines Sainz: Nobody wears white after Labor Day. Except for Ines. She can wear white whenever she wants.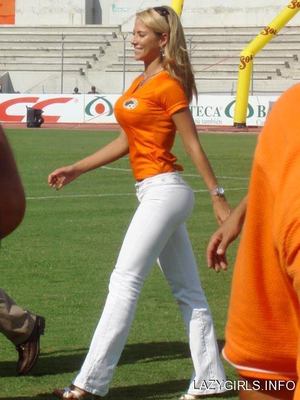 Ines is without a doubt one of the hottest sports reporters to date. It's just a shame we don't get to see more of this beauty here in the states. Are you listening, ESPN?
2.) Rebecca Grant: Makes herself compfortable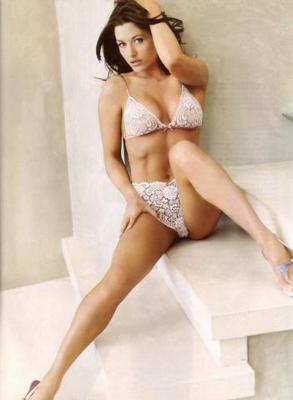 Grant has pulled double duty as a reporter for clashing bits of iron in TNN's Robot Wars, and has hosted gridiron clashes on Fox's NFL Under the Helmet.
Rebecca Grant: It's hard to believe she can't find anyone to hug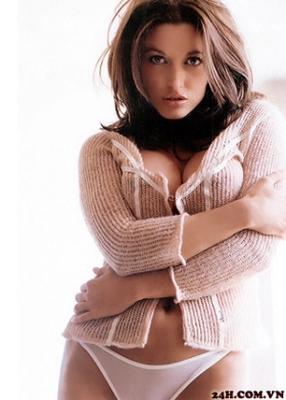 Grant currently hosts the NFL "behind the scenes" show and has moved up the sportscasting ladder. Grant has reported for three consecutive Super Bowl games, and conducted specials for NFLFILMSTV.
As if this wasn't enough Grant at one time was a Keystone Beer Girl and is now a spokeswoman for Budweiser.
1.) Molly Qerim: Smiles for the camera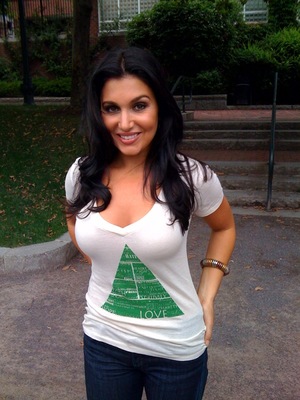 Molly can be seen on ESPN 2 every Sunday during the NFL season. She is the breaking news reporter for Fantasy Football Now.
Molly Qerim: Wins the staring contest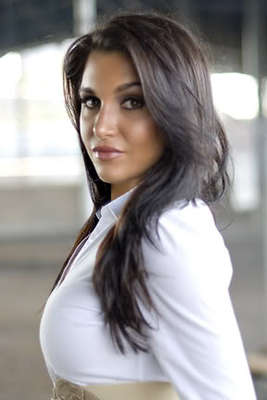 Molly also does interactive segments on MMA Live. MMA Live airs on ESPN.com every Thursday. One would have to imagine a more prominent roll is in Molly's future.
Jenn Sterger (Bonus Feature): The one that got away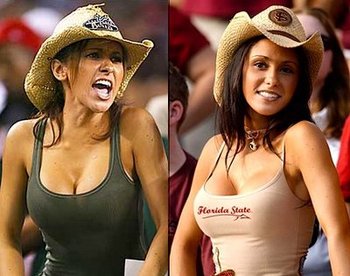 Sterger stole our hearts back in 2005 when she was shown on television sitting in the crowd cheering on Florida State in a game where they played Miami.
Jenn Sterger (Bonus Feature): The one that got away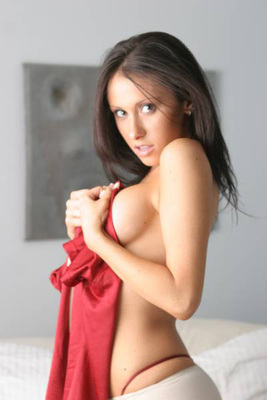 It's history from there. After that game Sterger was everywhere. Sterger was a regular segment host on the recent ABC show Race to March Madness. She hosted a weekly segment where she visited top campus's, and interviewed players, coaches and fans of the respective teams.
She has since become to big for sports though. The big screen is the only place you can catch Jenn these day.
She will be deeply missed by many sports fans world wide.
Ashley Russell (Bonus Feature): The one to watch for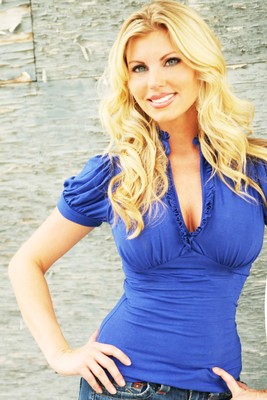 Ashley will be the next big thing. I promise you that. As for now you can catch her doing a segment on Rivals.com called the Rivals Minute. It's only a matter of time though before a big network gives her more then a minute a day of face time.
Ashley Russell (Bonus Feature): The one to watch for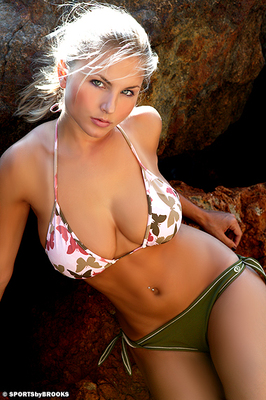 Prior to her career as the online sports reporter, Ashley was the President and Owner of AMAX, Nashville's most prestigious model and talent agency.
This will be the best minute of your day, I promise!
Ashley Russell doing the Rivals Minute, enjoy!
Keep Reading