Peyton Manning's Top 10 Playoff Moments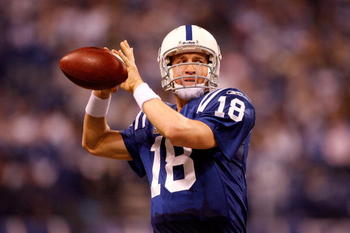 This is a tribute to one of the greatest quarterbacks to ever play the game of football and his best playoff moments.
Manning has had the bum rap of being a choker in the playoffs, but some of the numbers tell a different story. He has thrown up some really good numbers and had some amazing games.
Here is my top 10 playoff moments in Peyton Manning's career.
10. Jets at Colts, 01/24/2010: Colts Back in the AFC Championship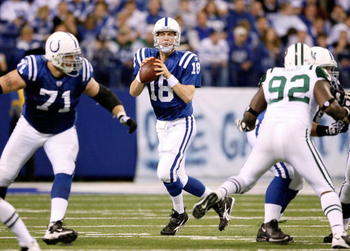 Well, I know this won't happen until Sunday, but the Colts are goin' back to the 'ship.
Manning and Co. will have the chance to get the retribution for the blown perfect season on Sunday. It will be on one of the biggest stages in football. Manning should be up for the challenge.
9. Titans at Colts, 01/16/2000: Manning's First Playoff Touchdown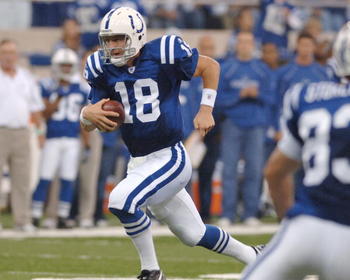 In Peyton's first playoff game, he got his first touchdown. Believe it or not, Manning actually ran it in. We all know how mobile he is outside of the pocket.
The Colts would go on to lose this game 19-16, and the Titans advanced to the Super Bowl.
8. Colts at Dolphins, 12/30/2000: Peyton Manning's First Playoff Touchdown Pass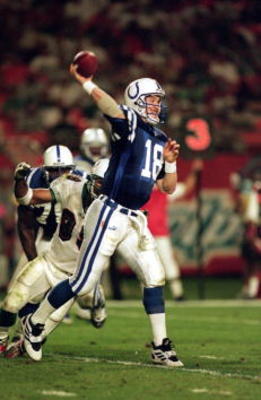 In the Wild Card game against the Miami Dolphins, Manning finally found the end zone through the air.
He found Jarome Pathon on a streak to the back of the end zone. The Colts would go on to lose this one in overtime, 23-17.
7. Ravens at Colts, 01/16/2010: Manning Comes Up Big with Win Against Baltimore
Manning silenced all of his critics in his first playoff game of the new decade. He picked apart the Ravens defense, despite the game being tied at three halfway through the second quarter.
Manning went 30-44 for 246 yards and a pair of touchdowns with one interception.
6. Colts at Chiefs, 01/11/2004: Manning Gets His First Road Playoff Win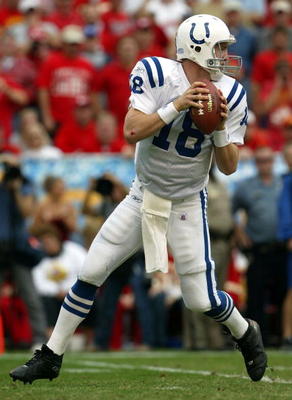 With the entire world on his back about the inability to win in the playoffs, Manning pulled out his roll of duct tape to silence them all. He was looking to have the game of his career and delivered just that.
Manning and the Colts rolled into K.C. for a battle, and he was the general on the field. He completed 22-of-30 passes for 304 yards and three touchdowns.
5. Colts at Broncos, 01/04/2004: Peyton's First NFL Playoff Win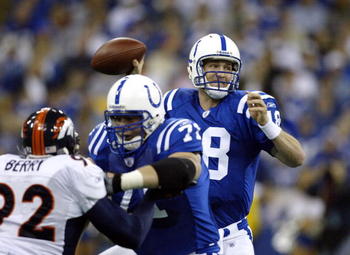 In his first three playoff appearances, Manning was 0-3 and had only thrown one passing touchdown. Dismal.
On that fateful Sunday, however, the sheriff led his deputies into the RCA Dome to take on the outlaws from Mile High City. Manning out-gunned the Denver Broncos with 377 passing yards and five touchdowns, thus proving that he can win in the playoffs.
This still stands as the largest margin of victory in a Colts playoff game.
Final Score: 41-10
4. Chargers at Colts, 01/12/2008: Manning Has a 400-Yard Game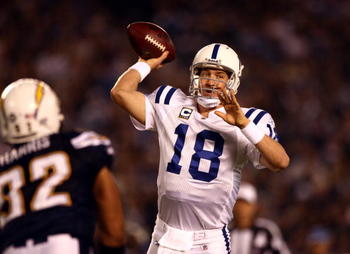 Despite losing the game 28-24, Manning had one of the best passing days in his playoff career.
Manning completed 33-of-48 passes for 402 yards and three touchdowns.
It was the second most passing yards Manning has thrown in his playoff career.
3. Broncos at Colts, 01/09/2005: Manning Throws for 458
Manning came into this game looking to have a big-time performance. Well, as the "Head and Shoulders" commercial says, "Big time players make big time plays."
Manning threw for the second most passing yards in an NFL playoff game. He threw for 458 yards and four touchdowns in what would be a defining moment in his playoff career.
He proved that he could not only win but win big.
2. Patriots at Colts, 01/21/2007: The Monkey Is Off His Back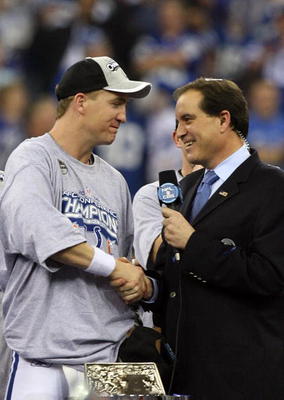 Despite being down 21-3 at halftime, Manning engineered one of the greatest comebacks in one of the greatest playoff games in NFL history.
The rivalry of the decade was at full flame in this bout for the AFC Championship and rights to go to Super Bowl XLI. Manning passed for 349 yards and a touchdown, and he also called some crazy but creative plays. Example: Addai's three-yard touchdown run with less than two minutes left in the game.
Manning finally got the New England monkey off of his back when cornerback Marlon Jackson intercepted Tom Brady with 17 seconds left in the game.
1. Bears vs. Colts, 02/04/2007: The Super Bowl!!!!!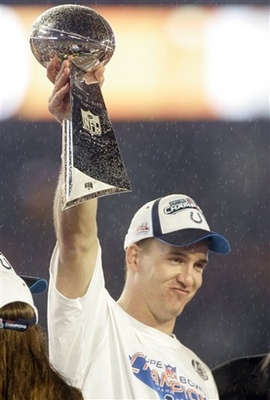 The look here says it all: "Finally."
Without a doubt the best moment not only in Peyton Manning's illustrious career but in Colts history. With Manning's accomplishment, it has enshrined him with NFL immortality.
Keep Reading

Indianapolis Colts: Like this team?