Just Saying, Is All... | The Real Problem with Oakland Raiders Fans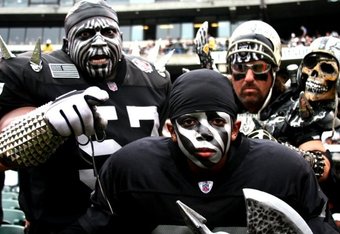 Never worship a mortal god.
Raiders fans are famously attached to their team. They're also notoriously detached from reality. After another subpar season in Oakland, the local faithful are still praying for deliverance—which would be better news if Al Davis were a deity worth appealing to.
Devotion means holding to a steady course.
Delusion, on the other hand, means clinging to a sinking ship.
I'm not suggesting that the Raiders won't ever turn it around. What goes down must come up, and sooner or later the club is bound to experience a renaissance. But a body can't be reborn when its head refuses to die. In a league where ownership rights extend to the grave, only the most starry-eyed fan would bet on recovery before Al finally runs himself into the ground.
Those who can't remember old defeats are doomed to repeat them.
Those who can't forget old victories are doomed to romanticize them.
If there's a lesson in the Raiders' recent struggles, it's simply that sentimentality is an inevitable impediment to success.
Nostalgia is the mother of fanaticism. In adulthood as in youth, in lean years as in fat—we root for the home team because rooting for the home team is what we've always done, and because what we've always done is the essence of who we've always been. The catch, alas, is that heroes in the rearview mirror are rarely as mighty as they appear. Lifelong Raider lovers will argue that Davis is responsible for the organization's historical grandeur. I'd counter that he's no less culpable for its contemporary gloom.
Decline is bad.
Stagnation is worse.
The Raiders face a long road back to respectability, but they're doomed to keep driving in circles until someone pries the keys from Al's disreputable grip.
Reverence ought always to come with an expiration date. Altars are built but to crumble; idols are raised but to fall. The real problem with Oakland Raiders fans is that they're living in the past, where memories are golden and greatness is Silver and Black. Every true believer initially commits himself to heavenly excellence. The one who swears by a perishable savior ultimately condemns himself to earthly decay.
*
Horace didn't survive long enough to see the Tom Cable Era, but he certainly knew a thing or two about terminal degeneration:
What does ravaging time not ruin?
The age of our fathers, worse than the one before,
brought forth ourselves, worse men than our fathers,
who will beget offspring more vicious still.
Which is a fitting ode to a forlorn franchise.
Because one century's swaggering conqueror is the next century's still-breathing corpse, and anyone who foretells future glory for Raider Nation is either giving Al's eulogy or only just saying, is all...
This article is
What is the duplicate article?
Why is this article offensive?
Where is this article plagiarized from?
Why is this article poorly edited?

Oakland Raiders: Like this team?