2010 Fantasy Baseball Wants and Don't Wants: NL Central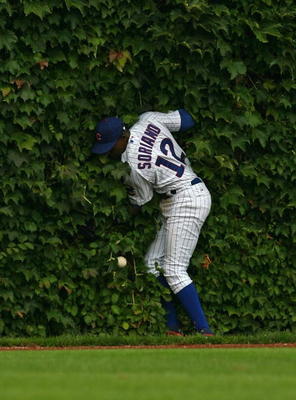 In this series, 2010 Fantasy Baseball Wants and Don't Wants, I'll be going division-by-division focusing on one player from each team you want to grab on draft day and one player you don't want on draft day. Included amongst the slides are some deep round sleepers, mid-round values and all-around busts. You may even find a surprise or two. We start our tour in the NL Central…
Who You Want: Cubs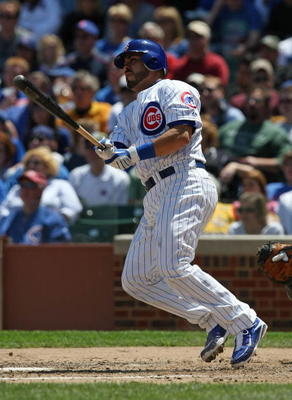 The Cubs player that I want in 2010 is Geovany Soto. Soto's disastrous 2009 was a product of a few factors all leading to a .218 AVG and only 11 home runs.
First off there was the World Baseball Classic. A couple of things there: 1) Soto was coming off of the highest innings caught total of his career and had to start his off-season preparation early. 2) His off the field "activities" could only lead to excessive snacking.
While we still can't draw definite conclusions on how the WBC affects every player, I think we can assume that certain players have been affected by it. Case and point: Soto only appeared in 16 games in April, hitting a mere .109 with no home runs.
May wasn't much better as Soto hit .278, but with only one home run. June seemed to be the month where Soto finally got his swing going. He hit six home runs in June, only to get injured toward the end of the month.
From August on, Soto would only appear in 37 more games. On top of his WBC altered, injury plagued season, Soto's BABIP was a very low .251. There is no doubt that he can be had for a big discount on draft day and provide good value because of it. Reports are that he will enter spring training in the best shape of his career.
Who You Don't Want: Cubs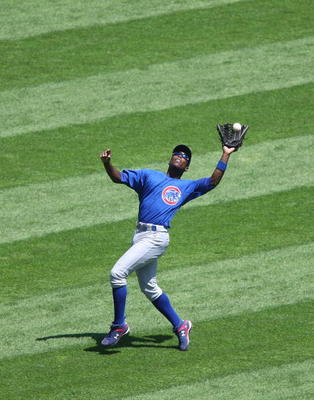 The Cub you don't want is Alfonso Soriano and I have stayed well clear in mock drafts. For two seasons in a row Soriano has yet to top 500 at bats. In every season he has been with the Cubs he has missed time due to a leg injury.
He ended 2009 needing knee surgery...Say goodbye to those nice stolen base totals. Soriano is also 34-years-old, which in non-steroid terms means a decline is coming or already here.
For Soriano it may be a combination of both. Always a free swinging/low contact hitter, there were visible signs of his slowing bat speed last season as he was consistently beat inside by fastballs.
His current ADP puts him in late round-five/early round-six. No thanks, I'll draft Garrett Jones much later and hope for the same 20-25 home runs and 15 steals I expect to be Soriano's ceiling.
Who You Want: Cardinals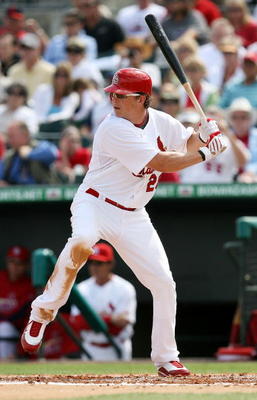 The Cardinals will keep the middle of the order combo of Albert Pujols and Matt Holiday together heading into 2010, but it is a former top prospect that I am more excited about.
Colby Rasmus is the Cardinal you want to target late on draft day. As what happens with most non-Ryan Braun/Evan Longoria rookies, Rasmus struggled in his first big league season hitting only .251/.307/.407.
There were a lot of parts of Rasmus's game that failed to show up in 2009; like only three steals in four attempts. The season before at AAA he stole 15 bags in 18 attempts in only 387 plate appearances.
Power was another part of his game that showed flashes, but never truly materialized. Rasmus has hit as many as 29 homers in a minor league season.
His plate discipline was yet another trait that did not transfer to the big leagues. Improving in that category, as well as improving against left-handed pitching should show in his 2010 numbers. Rasmus is too talented to not make the adjustment. Add him in the later rounds on draft and you may just find a .275/20/15 treasure.
Who You Don't Want: Cardinals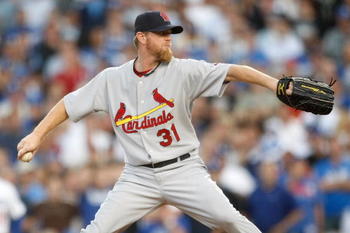 In 2010 you want to stay clear of Ryan Franklin. Franklin posted a superb 1.92 ERA last season to go along with 38 saves, but look past the counting stats and you'll find essentially a middle reliever who is sure to regress.
A 6.5 K/9 is nothing to write home about if you are a relief pitcher, especially along-side a mediocre walk rate of 3.5 per nine innings. With a strand rate of 85.7 percent and a BABIP against of .269 and line drive percentage of 20 percent, Franklin got away with a lot in 2009.
To count on that happening again is ill advised. Look for his ERA to jump into the 3.50 and higher range and for the strikeouts to remain low, if not lower.
Who You Want: Brewers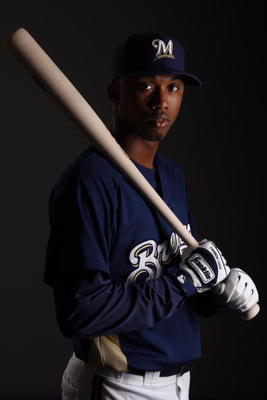 Shortstop is a thin fantasy position, but the Brewers have a young speedster at short that you want to grab late in 2010 drafts.
Alcides Escobar is the main man in Milwaukee with J.J. Hardy now in Minnesota. Escobar brings an outstanding glove to the field, but for fantasy owners he also brings to the plate exceptional speed and the ability the hit for AVG.
In 430 AAA at bats last season Escobar stole a whopping 42 bases and was only caught 10 times; good for an 81 percent success rate. Even in a Brewers system that doesn't run much, that success rate should help his chances for achieving at least 30-plus steals over a full season.
Though he has good contact skills, Escobar also has a tendency to swing at bad pitches too often. That may hold his AVG back a bit initially, but there is a good chance that he can at least hit around .280 or so given his contact rate and plus speed. As a late round flier, it's an all reward/low risk pick.
Who You Don't Want: Brewers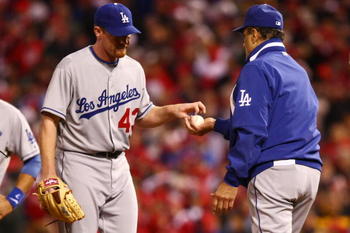 The Brewer to stay clear of in 2010 is Randy Wolf.
Despite a tremendous 2009 season, regression seems inevitable for the 33-year-old left-hander. Last season Wolf posted a mediocre 6.7 K/9, but displayed great command posting a 2.4 BB/9. Keep in mind however, that his numbers were helped by a low .257 BABIP against.
He now plays his home games in a more hitter-friendly environment compared to Dodger Stadium and will be facing much more advanced inter-division offenses instead of teams like the Padres, Giants and Diamondbacks. Wolf may very well end up being a good matchup play from time to time, but be looking for other options on draft day.
Who You Want: Reds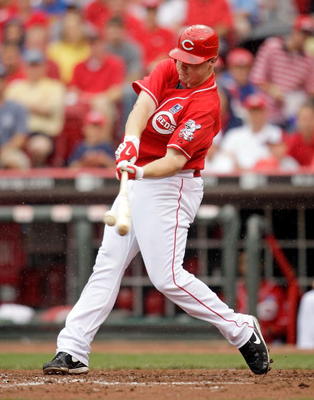 From the Cincinnati Reds it is Jay Bruce that you want on your fantasy team. Yes, he had a miserable AVG last season, mysterious is one way to describe it.
Bruce fared poorly against both right- and left-handed pitching, but ended with an extremely low .222 BABIP. Part of that can be explained by a very low 13 percent line drive rate, then again he did crush 22 home runs in only 345 at bats. Home runs do not count toward BABIP because they land over the fence and not "in play".
His AB/HR rate of 15.7 was among the best in the league and would translate to 35 home runs over 550 at bats. While the AVG may be in question, the power potential is tremendous and worth the price of admission on draft day.
Who You Don't Want: Reds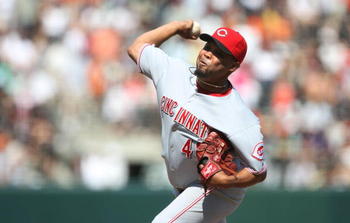 The Reds player to staying clear of in 2010 is Francisco Cordero. Cordero posted a 2.16 ERA last season, but saw a decline in strikeouts for the third year in a row.
On top of that, he walked over four per nine innings pitched and allowed the highest contact rate of his career. At age 35 in May, Cordero looks like he may be entering his decline. That being said, it's not so much the ERA or save total I am worried about.
It's the cost on draft day. According to Mock Draft Central, Cordero is being viewed as an eighth round pick. With many other closers that can post better strikeout rates going much later in the draft, I'll pass on Cordero in 2010.
Who You Want: Pirates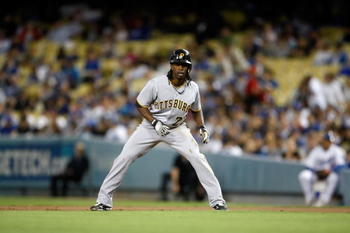 You want Andrew McCutchen on your 2010 fantasy team, but it won't come cheap.
Nonetheless, McCutchen has all the makings of a solid number two fantasy outfielder with 30-plus steal potential and 15-20 home run power.
He brings a solid plate approach, which has improved just about every step of the way in the minor leagues. In 433 Major League at bats last season McCutchen posted a .65 BB/K rate, very good for a rookie. Though it may cost a single digit round pick, McCutchen looks like a solid lock for at least .280/15/30 and has the potential to go 20/30.
Who You Don't Want: Pirates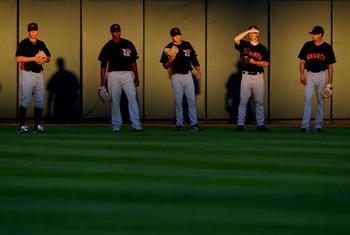 This series is supposed to feature one player you'd want one your fantasy team and one that you don't want. The Pirates, however, are one of those cases where the players you don't want are fairly obvious.
Pitchers like Paul Maholm and Zach Duke have flashed some value here and there, but remain low strikeout/high risk options. Also, most of these players are either going in the last rounds of drafts or undrafted altogether.
You probably don't want to draft Akinori Iwamura, but then again it is unlikely that the option was even prevalent in your thoughts outside of NL only leagues.
Who You Want: Astros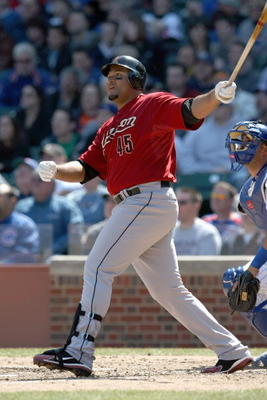 Carlos Lee is the Astros player that you want in 2010. Lee has been about as consistent as they come, though his power numbers did drop a bit last season.
His HR/FB rate was the lowest of his career and should bounce back just a bit. At age 33, Lee is not exactly the type of hitter who is going to improve greatly nor is he on track to fall into a steep decline soon.
His ability to limit strikeouts should keep his AVG up in the .295-.305 range and the power numbers should at the very least maintain at 2009 levels with a decent chance of improvement.
The best part is that his value is down from seasons past giving you a chance to snag him in rounds five or six.
Who You Don't Want: Astros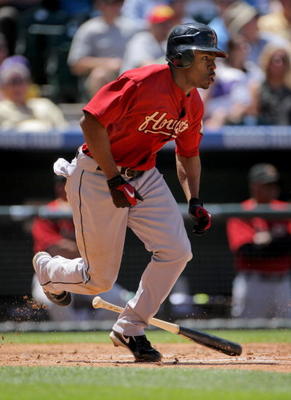 One Astros player to stay away from is Michael Bourn. His 2009 breakout season blasted him up the fantasy charts with a .285 AVG, 61 steals and 97 runs scored.
However, that increase in value has shown up in a highly inflated draft day price tag. As of this article, Bourn is going ten spots higher than the consistently productive Carlos Lee in mock drafts.
Take into account that Bourn's .285 AVG was greatly helped by a .367 BABIP. Yes, he increased his walk rate, but a regression in BABIP should lower an already mediocre AVG and .354 OBP.
That means he should get on base less often in 2010 and as a consequence see a drop in stolen bases. Without elite level stolen base totals or an AVG over .280, there would not be enough production to justify such a high pick. Get your steals elsewhere.
Keep Reading