National Signing Day 2010: 10 Schools Sweating Their Commitments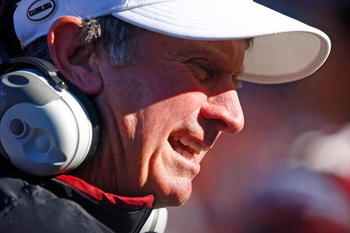 Coaching college football is a year-round activity. That's good news for beat-writers like myself but bad news for people like Lane Kiffin's wife.
There are certain holidays on the college football coach's calendar that don't show up on your copy of Studs and Spurs: the first day of spring practice, the first kickoff of the year, and the first run-in with offseason law-breaking.
The Christmas Day of college football is National Signing Day, the day when recruits ink their commitments to schools and make them binding. But for these 10 teams—anxious to see what's underneath the wrapping—Santa can't get here soon enough.
Michigan State Spartans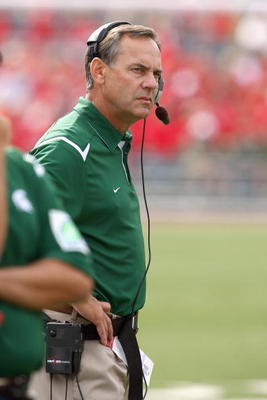 Michigan State is fielding a great class, headlined by the top recruit in the state of Michigan, DE William Gholston, the cousin of Vernon Gholston—an Ohio State standout now playing for the Jets.
Rumors have been flying that Gholston has wandering eyes. Suitors like Alabama have responded by stepping up their efforts at getting him south, just as they did with another State recruit, Heisman winner Mark Ingram. Ingram had been sold on the Spartans for most of the recruiting season before changing his mind two years ago.
No offense intended, but the Spartans are still not at the level of success where a player like Gholston can enroll and not face skepticism that he's getting the most out of his time in college.
Mark Dantonio and co. will be sweating out the dedication of their top player until the pen hits paper. No question.
They've got one thing going for them though—the kid is practically under house arrest.
Tennessee Vols
Optimistic forecasters predict that Derek Dooley will right the ship, and it already appears as though things have calmed in Knoxville. The defections have been minimal, and some of the top recruits have reaffirmed their devotion to the school, not the man.
But who knows how toxic Lane Kiffin's aura was, or how long it will pervade Tennessee's athletic halls? Hopefully not too long, but I'm not with the optimists on this one; it will almost certainly last through this recruiting cycle, and maybe part of the next.
Kiffin—like most insidious beasts—can sense weakness, and those commitments could be part of his class at USC, which is small to begin with. That's why Ed Orgeron was on the phone with many of UT's recruits in the same moment Kiffin was informing his team that he would be leaving.
His departure has already cost Tennessee its top safety Ahmad Dixon—who recommitted to Baylor—and middle linebacker—Michael Taylor, who went south to Florida. I expect the signings of WR Markeith Ambles and DT John Brown to remain in doubt until it's all solidified in contract form.
West Virginia Mountaineers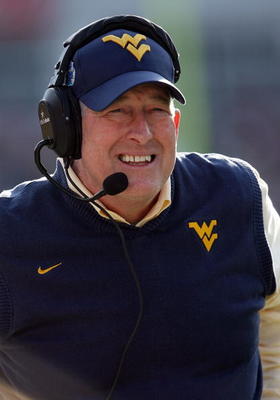 The Mountaineers have already lost commitments from DT Richard Ash, LB Darion Rogers, WR Darius Millines and ATH Travis Bell.
They'll be sweating the rest of their commitments with whom Marshall had contact, as well as the commitment of four-star ATH Latwan Anderson, whose favorites have violently swayed since the beginning of his commitment.
Anderson is a soft verbal now, and although Ohio State writer Tim Bielik thinks academics will keep Anderson from going to Columbus, a late push from Michigan State or Miami is not out of the question. It could cost West Virginia another of their top defenders when they need them most.
UCLA Bruins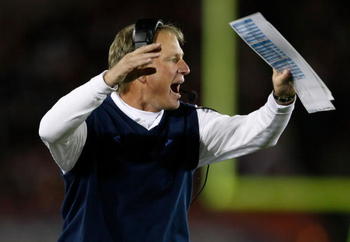 You might think as I thought for a few days) that the chaos at USC would bring untold riches to UCLA's recruiting. Many of the Trojans' prospects had the Bruins in their final pool, and this was Slick Rick's chance to reclaim the LA area as he'd been promising for the last three years.
On the contrary, I think Kiffin will be the one invading UCLA's talented but vulnerable recruiting class. The Bruins have already lost the commitment of their top QB prospect, Brett Nottingham and once Kiffin sets up that magic shop of his,LA kids like Marquis Jackson and John Young will be back on the market.
It's like Ed Reed's interception getting punched out by Pierre Garcon. The game has changed, my friend. There's a new slickster in town.
Arkansas Razorbacks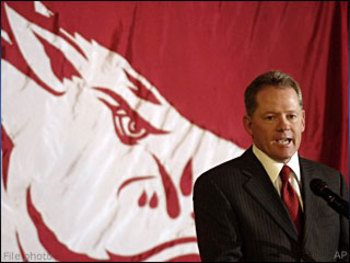 I haven't felt good about Arkansas' class all offseason. After a better than average year, it really underwhelms.
It doesn't help that Jatashun "Big Tex" Beachum, the star DT/ATH of the class, has wandering eyes. Some analysts think it could be over between him and Michigan, but it ain't over until Big Tex sings Pig Sooey.
If the Wolverines find a way to include him in their class, they'll be more than happy to—Ryan Mallett turned out to be a pretty excellent gift, and the Wolverines aren't rich with DT talent as it is.
Penn State Nittany Lions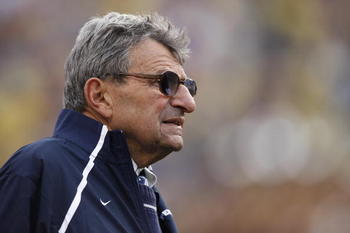 Penn State has lost their top wide receiver target, Adrian Coxson, who to be fair, Penn State bloggers think was actually forced out of his scholarship) and their top defensive recruit, Dominique Easley, to the siren song of the Florida Gators. Easley tore it up in the Under Armour All-American game and looks to be a pretty major loss.
They're also out of the running for RB Marcus Lattimore, who narrowed his choices down to South Carolina and Auburn earlier this week. This despite an in-home visit from JoePa—which is like George Burns as God showing up at your door, son.
They're moving in the wrong direction, and will be happy to hold onto top MLB Khairi Fortt and DE C.J. Olaniyan until the ink is dry, thank you very much.
Michigan Wolverines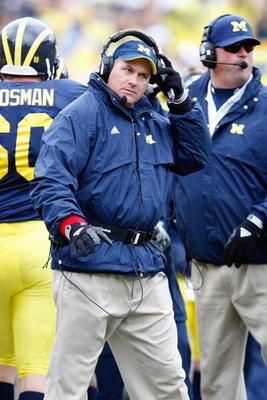 The Wolverines lost DTs DeQuinta Jones and Pearlie Graves, two high-level recruits at a position of need, and might also be losing RB Tony Drake and LB Antonio Kinard to academic ineligibility. Chalk that up to losing LB coach Jay Hopson—mercifully—to the DC job at Memphis.
They're in position to grab S Sean Parker, but he's also considering USC and Cal, and either of those programs could come on strong to sweep him away. They're also in good shape with CB Rashad Knight after an eye-opening visit, but he still will be visiting Ole Miss and Rutgers to round out his recruitment.
The Wolverines' 2010 class is pretty full, and other defections don't appear likely at least at this point. Big Blue has to make sure that if these losses occur, there's a player ready to take his place. They've lost too many kids to attrition and transfer to waste a single scholarship.
If the kids are out, they're out. Make room for people who actually want to play.
LSU Tigers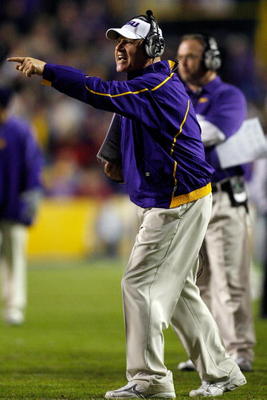 Fresh off the newswires is the word that four-star WR and Under Armour All-American Justin Hunter has decommitted from LSU. The Tigers and the Vols are his two finalists.
I've been waiting for some sort of movement at LSU since their coaching rolls got dramatically reshuffled at season's end. Frank Wilson came back home from Tennessee; recruiting coordinator Larry Porter left for Memphis; and Billy Gonzales (the Gators' ace recruiter) arrived from Florida.
I'm amazed Gonzales hasn't pulled any of his recruits, like WR Chris Dunkley or CB Cody Riggs, away from Florida.
The Tigers are also in a position to either gain or lose RB Lache Seastrunk to Porter at Memphis or Gus Malzahn at Auburn.
There's still time for any and all of these things to happen, and LSU will be sweating it out until NSD.
Notre Dame Fighting Irish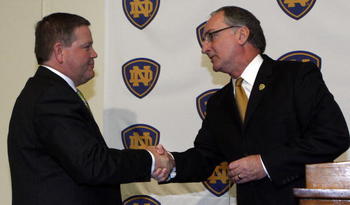 Though he can no doubt do a lot with a little, new ND head coach Brian Kelly will be judged by his first recruiting class. That's at least one bar Charlie Weis set pretty high.
The Irish came out even—or maybe a little behind—by losing Chris Martin to Cal and picking up DT Louis Nix. They're still in the late stages of OT Matt James' recruitment, and they are also shooting for safeties Jeremy Ioane and Dietrich Riley and ATH Anthony Barr, who is back and forth between the Irish and UCLA.
They'll be sweating all four of those commitments, though they look to be holding onto QB Andrew Hendrix and WR Tai-ler Jones.
My money is on Kelly not settling for incomplete, but the next few weeks will tell us more.
South Carolina Gamecocks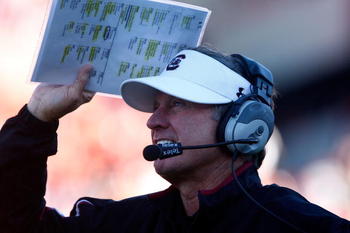 The pressure is on Steve Spurrier to keep five-star RB and SC native Marcus Lattimore in-state.
Lattimore has South Carolina and Auburn in his final group, but the Gamecocks are the ones with more to lose. Auburn already has five-star RB Michael Dyer in the fold, and could have Lache Seastrunk if they wanted him.
It looks like the Gamecocks lost the commitment of OL Eric Mack (paywall link). Mack was rumored to be swaying but had also reaffirmed his commitment after a visit. He's now considering Florida and Auburn, and no, I'm not making that up.
Still, the focus is all on Lattimore. Get him, and you're a contender. Lose him, and you're still a few steps behind.
Keep Reading