5 Reasons Texas is Becoming "Quarterback U"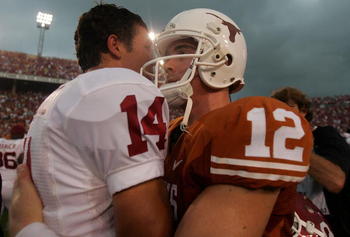 Yes, times they are a changin', folks. Be sure of that.
Of all the things Mack Brown has accomplished in his coaching career, of all the things he has become known for—great special teams, solid defenses, fundraiser extraordinaire—what may come as a surprise to most is how he and longtime friend and Offensive Coordinator Greg Davis have found, developed, and are placing quarterbacks in the NFL .
There are few schools that have produced the consistent elite-level quarterback play that the Brown-Davis era has done in their 12 years on The 40 Acres. And the quarterbacks coming to Texas appear to be getting better.
Here's a look back, and forward, at the five reasons Texas is becoming "Quarterback U."
Major Applewhite (1998-2001)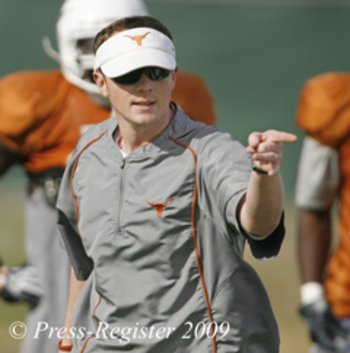 In his first start as quarterback for the Longhorns, he led Texas to a 20-16 victory over Nebraska, breaking the Huskers' 47-game home winning streak. Applewhite, currently an assistant head coach and running backs coach for Texas, ranks second all-time for the 'Horns in yards passing (8,353), single season passing yards (3,357), completions (611), TDs (60), passing attempts (1,065), and single season completions (271), all records that were broken by Colt McCoy.
Applewhite led Texas to four straight bowl games: the 1999 and 2000 Cotton Bowls, and 2000 and 2001 Holiday Bowls.
Chris Simms (1999-2002)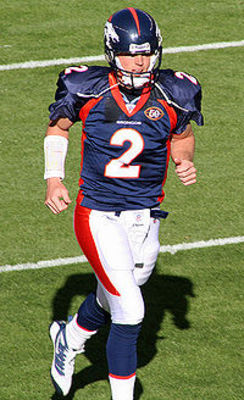 Currently a back-up for the Denver Broncos, Simms finished his career at UT ranking third in Longhorns' history in TDs (58) and passing yards (7,094), and ranks second in single season TDs (26) and TD passes in a single game (5).
Vince Young (2002-2005)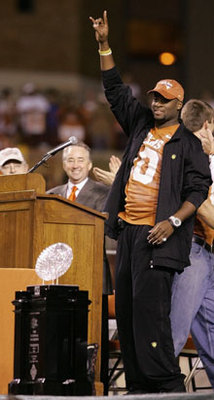 Young was 30-2 as a starter for Texas and, as a redshirt sophomore in 2004, started every game. He went 11-1 en route to leading UT to its first-ever BCS and Rose Bowl berths, defeating Michigan 38-37. In 2005, Young led Texas to a 12-0 regular-season record and another Rose Bowl berth, this time for the BCS National Championship against the vaunted USC Trojans.
In that game, Young, now the starting quarterback for the Tennessee Titans, put in what is arguably the greatest individual performance in BCS history, amassing 467 yards of total offense (200 rushing, 267 passing, 3 TDs), including a nine-yard scramble with 19 seconds remaining to end USC's 34-game winning streak and win the title for Texas.
Young is only the fourth player in history to be named the Rose Bowl MVP twice.
Colt McCoy (2005-2009)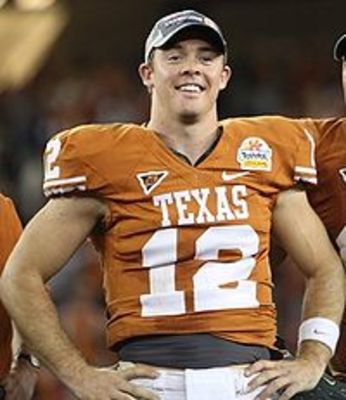 Just in case you have forgotten, McCoy is the winning-est quarterback in NCAA FBS history with a record of 45-8, a winning percentage of .849. He also holds records at UT for passing TDs (112), total TDs (134), passing yards (13,253), and total yards from scrimmage (14,842), currently fourth all-time in FBS history.
McCoy was named MVP in three of the four bowl games he participated in, including a 414-yard passing performance against Ohio State in the 2009 Fiesta Bowl, the third-best performance in FBS history. McCoy, who was also named a four-time All-Big XII Academic recipient and two-time All American Academic member, lacks only a Heisman and national championship, and can arguably be considered the greatest college quarterback of his era (yes, folks, that includes Tim Tebow).
Garrett Gilbert (2009-?)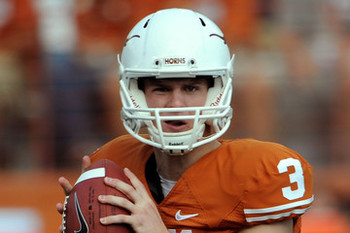 Gilbert was thrust into the national spotlight on January 7, 2010, when McCoy was knocked out of the Citi BCS National Championship game versus Alabama on the third play of the game. Gilbert had just watched one of his idols get knocked out of the game, and then had a very rough start to his Texas career, going 15-40 for 186 yards, 2 TDs, 4 interceptions and a fumble. Talk about growing up in a hurry!
But there are some reasons for hope, Texas fans. Gilbert had to grow up fast. He goes into next season the clear-cut starting QB for the Longhorns and, frankly, he now has big-game experience. Color me stupid, but I doubt seriously whether any OU or A&M game, though huge in their own rights, will ever match what he had to endure that long night in Pasadena.
I just do not believe it is possible. I mean, the first touchdown of his career was a 44-yard laser to Jordan Shipley, in the national championship game, people!! It just doesn't get anymore pressure-packed that.
So, here we are, a full 12 years into the Mack Brown era at "The 40 Acres" and, in that span, Texas is about to have its third straight starting quarterback drafted into the NFL. And, if everything holds true-as the experts believe it will-Gilbert will be the fourth consecutive QB from Texas to get drafted.
Four straight QBs in the NFL? From Texas? So, I ask you, other than USC, is there another school out there that can claim that recently and, if not, isn't Texas making a fair argument for becoming "Quarterback U"?
Keep Reading

Texas Longhorns Football: Like this team?