Big Easy Win: Top Five Reasons the New Orleans Saints Are Championship-Bound
The showdown between the Arizona Cardinals and New Orleans Saints was billed as a potential shootout between two explosive offenses.
Well, at least we were half right.
The Saints raced out to a 21-point halftime lead and then added 10 more points in the third quarter to turn this into easy victory for the home team.
Here are the top five reasons the Saints are playing for the right to go to the Super Bowl.
5) Rest Didn't Equal Rust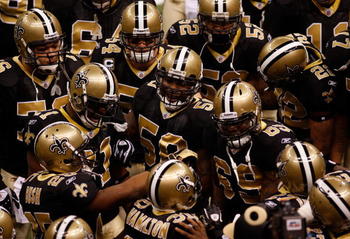 The bye week allowed the Saints to trim their injury list from 18 players to just four.
Several players who have been banged up much of the season made huge contributions against the Cards.
Jabari Greer ripped a potential touchdown away from Larry Fitzgerald. Sedrick Ellis sacked Warner. Jeremy Shockey had a touchdown. Pierre Thomas had 70 yards from scrimmage.
Coach Payton put the Saints in training camp mode starting a week before the game and that preparation paid off. The offense played crisp as they scored touchdowns on five of their first six possessions.
4) Shockey at Half Speed Is Better Than No Shockey at All
Jeremy Shockey missed the final three games of the season with a toe injury and the Saints scored a combined 41 points.
On Saturday they scored 45.
Shockey suffered a leg injury early in the game but still managed to score on a 17-yard touchdown reception. On that play, Shockey limped all the way to the goal line before making the grab.
It is clear that he brings an attitude and physical presence that no one else on the Saints can bring.
3) Warner Was Dazed and Confused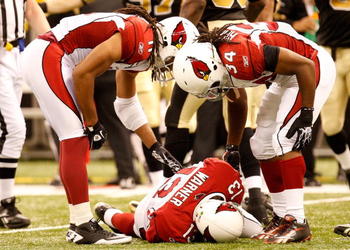 If Kurt Warner does in fact return for another NFL season, he may not want to return to the Louisiana Superdome.
Despite a 9-4 career playoff record, Warner has never won a postseason game in New Orleans.
In 2000, the Saints eliminated his Rams and any chances of defending their Super Bowl title in the wild card round.
In 2002, the Patriots started a dynasty in the Superdome with a narrow victory over the Rams.
On Saturday, the Saints literally crushed Warner and sent him home with his worse playoff loss of his career.
Warner was sacked by Sedrick Ellis and was blasted by Bobby McCray on an interception return. Warner had thrown that interception to defensive end Will Smith who had dropped in coverage.
2) Reggie Bush Unleashed His Power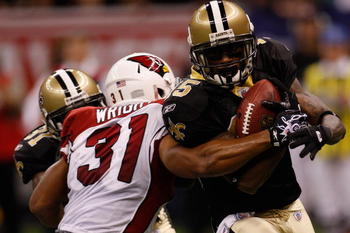 We've all seen Bush return a punt for a touchdown and juke a defender for a gain down the sideline.
But we've also seen him dance in the backfield for a three-yard loss and skip out of bounds instead of fighting for extra yardage.
Bush's display of power on multiple runs created an extra dimension to his game set the tone for the rest of the day.
His power display early in the game set up his dazzling 46-yard touchdown run late in the first quarter.
I think Bush may have felt challenged by the Titan's Chris Johnson's 2,000-yard season. Johnson's physical attributes are similar to Bush's but Johnson's never afraid to lower his shoulder and take on a defender.
1) Saints Brought the Wood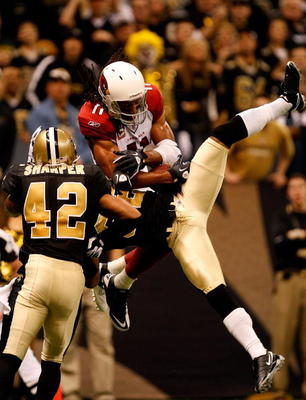 On Friday afternoon, Sean Payton handed out 60 baseball bats to his team. Etched into each bat was the phrase, "Bring the Wood."
Message delivered.
The Saints offensive and defensive lines dominated this game (except for the first play of the game).
Four New Orleans running backs combined for 170 yards at 5.9 yards per carry.
Linebackers Scott Shanle and Scott Fujita brought the wood in pass coverage on underneath routes, even knocking off Early Doucet's helmet on one play.
Keep Reading

New Orleans Saints: Like this team?