2010 NFL Mock Draft: Atlanta Falcons Edition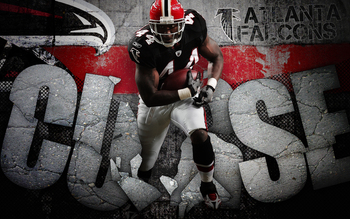 For an intro I'll stick with capping what our needs are and who I think we will resign, let walk, and sign in Free Agency which will turn out to be interesting.
So this is my first attempt at a mock draft for this season and is pretty much a trial run to see what kind of feedback I am able to get.
First off let me start by saying that I am glad we finally got the monkey off our back in having back to back winning seasons. But, in my mind that is not good enough for this franchise. We should be gearing up to head to the playoffs every season. With that said...
I believe our top position needs are DE, CB, OL, OLB, WR/KR. So now that I have that out of the way lets get started.
Resignings
CB-Brent Grimes-He came on great late in the season and now I think that if we get a CB in the draft or free agency Grimes would be the perfect nickel for the team and could shine when he is put to play there.
RB-Jason Snelling-He was huge when Turner went down with his injuries and helped to lead us to breaking the curse. I think he is a good compliment to Turner but is not the solution to our problems at RB. I think that if we can get another somewhere we will be set. More of a change of pace back similar to what the Cowboys have in Marion Barber, Tashard Choice, and Felix Jones.
OG-Harvey Dahl
OT/OG-Tyson Clabo
QB-Chris Redman
P-Michael Koenen
Release/Non-Sign
RB-Jerious Norwood-While he is one of my favorite players on the team I just don't see us keeping him around for the fact that even when he was healthy this season he did not give the team that much benefit at his position. I like him but the injuries continue to pop up and I think we replace him in the draft with a similar change of pace back.
CB-Tye Hill
Other possibles include: Chris Houston and JA98 but I think we would attempt to trade them before cutting them even if we could not get that much for them.
FA Signings
OLB-Clint Ingram
CB-Leigh Bodden, Kelvin Hayden, Carlos Rogers, or Dunta Robinson.
DE(highly doubtful for me)-Ray Edwards
O-line depth could be another possible move?
1st- Brandon Graham: DE, University of Michigan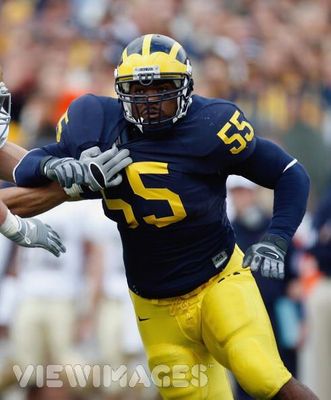 Graham has been compared to a Dwight Freeney type player and if that is the case than sign me up to put him in the lineup at LDE and let him go to work. He is strong, relatively quick, and plays the run with the best of them in the draft. I can see him being there when we pick at #19 or at #24 if we swing the deal. The idea here is that Graham is a good character guy who was also a senior fitting the mold that TD likes to go after. Many have him graded as a 2nd or 3rd rounder but I see him having a strong offseason and moving up. Other considerations(Greg Hardy DE, Ole Miss).
3rd-Kyle Wilson: CB, Boise State University
Quite possibly my favorite player in the draft and if he is not he is certainly right there at the top of the list. I see him as solving our situation at CB for the future along with Owens across from him and giving us the chance to put Grimes in the nickle which would leave us in pretty good shape at the position at least imo. He is tough, hard-nosed, can tackle, and can help to shut down a receiver. A major plus is the fact that he is again a senior with good character and has started and played at a high level on 2 highly touted Boise teams that won BCS bowl games. An added bonus is that he can return kicks and punts too helping to give us more depth there if we believe Weems to be the guy. Other picks(Jerome Murphy CB, USF. Akwasi Owusu-Ansah CB, IUP. Devin McCourtey CB, Rutgers)
3rd(comp.)-Sean Lee:OLB/ILB, Penn State University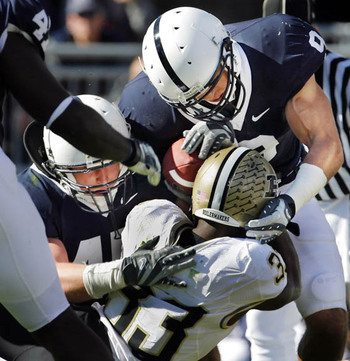 The first time I ever saw Sean Lee play I could tell that he was a football player, always around the ball, great tackler, and a leader out there on the field. If he were not slowed by his knee injury in his junior year he could have had a shot at the PSU tackle record but injuries happen. I think that he has 1st round talent but the knee injury will drop him down and I see us taking him right here to learn at the OLB spot behind Peterson and compete for a job in the near future with Nicholas. I really like Navarro Bowman out of PSU as well but with the signing of Ingram I decided to hold off on Bowman in the 1st and fill another need. If Bowman were to fall to the 3rd like WalterFootball has projected because of his off the field problems of the past I think we have to take him no doubt as he is the best OLB in the draft to my eye. Again, I go with a proven Senior with good character who is a natural leader on the field and fills a position of need. Other consideration(A.J. Edds OLB, Iowa)
4th:Dexter McCluster: RB/WR/KR, Ole Miss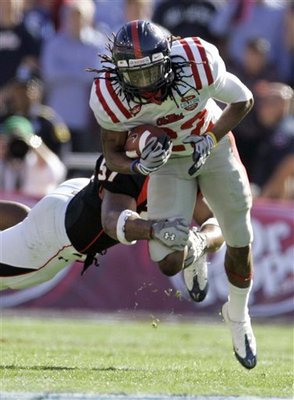 With the departure of Norwood and our need for a guy who can break the big one at any point in the game McCluster would be a welcome addition and could give us a spark anytime we need it. He will not be anywhere near an every down back but he could run some wildcat and is another weapon to add to an already potent offense. I like McCluster as a player and a guy and could see him becoming a big part of the team if we were able to get him. If you have not seen the pattern yet, here is another senior with good production and good character. Hmmm sounds like a theme is developing here.
5th:Freddie Barnes: Wr, Bowling Green...Marcus Easley:WR, UCONN...Taylor Price:WR,Ohio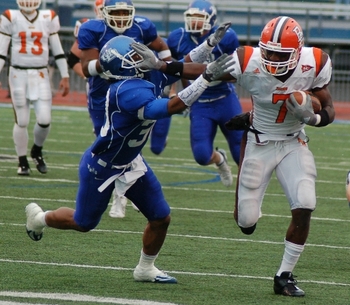 A Wide out is not one of our biggest needs in my mind but I do think we address the position in this draft and I could see us going with one of these guys or another of the numerous WR's that have a 4th-5th-6th round grade. Any of these guys could give us a potential breakout star and could play some slot and possibly fill the #2 spot later on. My favorite out of the 3 I listed is Barnes but Easley came on strond and Price is a pretty good talent. There are plenty of options here and I could see us taking one of the many to bolster the offense some more.
5th(comp.)-John Jerry:OG, Ole Miss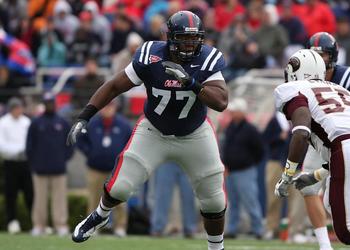 The brother of Peria who fills depth for us at OG and with his brother pushing him in workouts and practice I think he could turn into a good backup or possibly even a starter. He is very strong and performed extremely well for Ole Miss this season and in the Bowl game against OK. State.
6th:Andrew Quarless:TE, Penn State University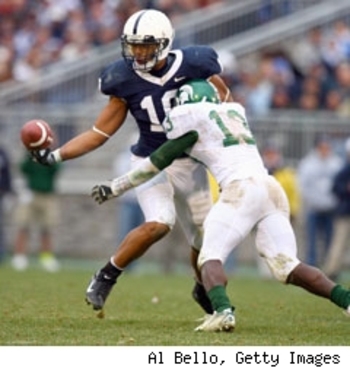 Tight end is not a glaring need but I think Quarless has the talent and now has the drive to want to be a pro tight end for a team. We need a pass catcher to groom behind Tony G. and Quarless could use him as a great mentor. He has the talent to go higher but his production throughout his career did not match his talent except for this senior season where he played up to his ability especially in the bowl game. His past problems are well behind him and he would be a great pick here. Are his problems in the past? That is up to you but for me they are and I would love to see him in a Falcons jersey.
7th(comp.)-Leigh Tiffin:K, Alabama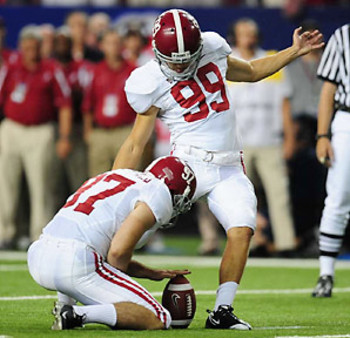 All kickers that can come in and be fixtures in the organization for years to come because no one knows what will happen with Bryant in the future. Usually college kickers are very difficult to predict in the pro's but I think Tiffin can have great success for us in the coming years.
This is only a first draft and will undoubtedly change throughout the coming months. Thanks for looking and enjoy
There it is so let me know what you think good or bad. I have a feeling that it may not be well received but who knows. Thanks for looking and enjoy the rest of the playoffs and offseason!
This is only a first draft and will undoubtedly change throughout the coming months. Thanks for looking and enjoy
There it is so let me know what you think good or bad. I have a feeling that it may not be well received but who knows. Thanks for looking and enjoy the rest of the playoffs and offseason!
Keep Reading

Atlanta Falcons: Like this team?