Kansas City Chiefs Draft Needs, Part One: Offensive Tackle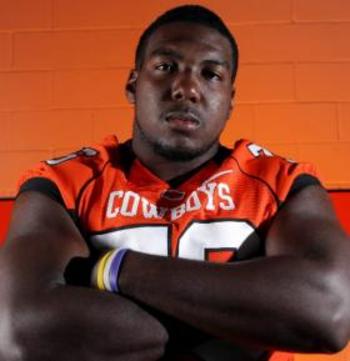 Kansas City Chiefs quarterback Matt Cassel found himself down on the turf often in 2009. In fact, only five teams in the NFL gave up more sacks than the Chiefs did this season, as Kansas City's quarterbacks hit the deck 45 times.
Chiefs left tackle Brandon Albert played fairly well this season, but it's clear that the coaching staff thinks he would be a better fit at right tackle next season.
That desire, and the fact that this year's crop of young offensive tackles is one of the deepest in recent memory, makes it quite likely that the Chiefs will address the tackle position somewhere in the first three rounds of the draft.
And while most Chiefs fans seem to think that left tackle should be the highest priority in this draft, the Chiefs don't necessarily need to use their first round selection to secure a top player at the position.
Given GM Scott Pioli and offensive coordinator Charlie Weis' draft history together, drafting a tackle at the beginning of the draft may not be their highest priority. Couple that with the fact that there are several blue-chip left tackles available in this year's draft, and it is conceivable that the Chiefs may wait until the second or third round to address this need.
Here is a list of players that could very well get a phone call from Scott Pioli on draft day:
Rd. One, Pick Five (Option One): Russell Okung, Oklahoma State
Oklahoma State's Russell Okung is the consensus top pick among offensive linemen in this year's draft. A two-plus year starter for the Cowboys, he is expected by almost no one to fall below the number five pick of the Chiefs.
As a senior, Okung allowed only one quarterback sack.
Some say that he is a "finesse" player. Yet Okung dominated defensive ends that he faced during his career, which included 71 knockdown blocks in 2008—the same season he was able to shut down this season's lone Pro Bowler for the Redskins, Brian Orakpo.
Okung would certainly be worthy of the Chiefs' first round pick. The real question is whether or not GM Scott Pioli thinks he is worth top-five money.
If the Chiefs do select Okung, it will be because Pioli, head coach Todd Haley, and offensive coordinator Charlie Weis all believe Okung will be their left tackle to open the 2010 season.
Rd. One, Pick Five (Option Two): Trent Williams, Oklahoma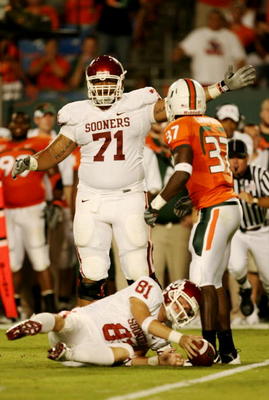 Oklahoma's Trent Williams was a three-year starter for the Sooners, which included an All-American honor senior season at left tackle.
Williams spent his first two seasons mainly at right tackle for the Sooners, but proved during his senior season that he can play the blindside at the next level. His 102 knockdowns this season left little doubt about his ability to protect his quarterback.
Rated by most as the second-best tackle in the draft, Williams will almost certainly be on the board when the Chiefs pick at No. 5 overall.
If the Chiefs target Okung with their top pick and he's off the board, they will have a difficult decision about whether to take Williams or draft a player from another position.
Having actually started more games at left tackle than Okung in his career, the one question mark about Williams is his ability to stop the NFL's top speed rushers. If Pioli and company think he can and Okung is gone, he could very well be the Chiefs' top pick.
Rd. One, Pick Five (Option Three): Anthony Davis, Rutgers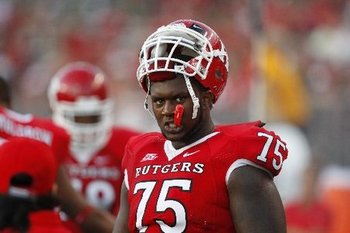 The highest rated junior tackle and a second-team All-American, Anthony Davis could provide a HUGE presence for the Chiefs on the blindside.
Davis, at 6'5" and 328 pounds, is of the prototypical size you'd like to see at the tackle position in the NFL. One of the most highly touted recruits ever to play at Rutgers, Davis possesses everything the Chiefs need in a left tackle, having started 32 games for the Scarlet Knights.
While it's unlikely that the Chiefs will grab Davis with their first pick, drafting him would be less of a reach than Tyson Jackson a year ago.
Rd. Two, Pick Four (Option One): Bryan Bulaga, Iowa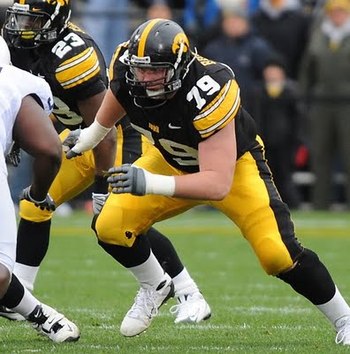 Iowa's Bryan Bulaga enters the NFL Draft as the reigning Big Ten Offensive Lineman of the Year. Regarded by many as a probably first round pick, it is possible that Bulaga could be available when the Chiefs select early in the second round.
Another of the talented class of junior linemen in this year's draft, Bulaga is expected by most scouts to be a top-notch left tackle at the next level.
If the Chiefs haven't addressed the tackle position by the time they pick again in second round, and Bulaga is still on the board, expect him to be a Chief.
Rd. Two, Pick Four (Option Two): Bruce Campbell, Maryland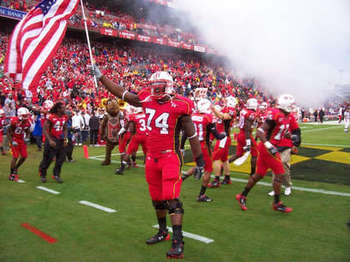 Maryland's Bruce Campbell played in 27 games for the Terrapins, all at left tackle. Another of the excellent juniors in this year's draft, Campbell's biggest strength is his pass blocking.
Like Bulaga, many are predicting Campbell to possibly be drafted toward the end of the first round, or early in the second.
Despite turf toe and knee injuries this season, if the others are gone and he is still on the board in round two, don't expect the Chiefs to let him slide past the fourth pick.
Rd. Two, Pick 18 (Option One): Charles Brown, USC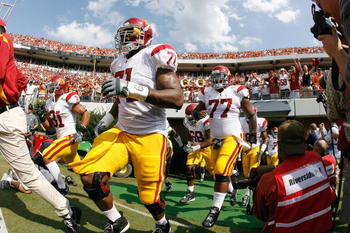 USC's Charles Brown didn't win the Outland Trophy or any of the other national awards for linemen this season, but he may have won an award that meant a little more.
Each year in the Pac-10, an offensive lineman is selected by the conference's defensive linemen as the winner of the Morris Trophy, an honor bestowed upon Brown after the 2009 season.
An All-American, this two-year starter played his entire senior season at left tackle. A little lean for an NFL tackle at just 285 pounds, if the Chiefs do select Brown, he'll need to put on some weight to stand the rigors of left tackle in the NFL.
That said, the move of Albert to the left side may have to wait until Brown bulks up a little.
Rd. Two, Pick 18 (Option Two): Ciron Black, LSU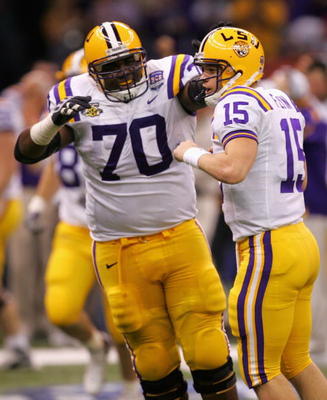 LSU's Ciron Black is touted as one of the best offensive linemen in Tigers history.
Black, in his final start against Penn State in the Capital One Bowl, broke the school's all-time record for consecutive starts with 53 games at left tackle.
An imposing figure at 6'5" and 322 pounds, many scouts are skeptical of whether Black has the quickness to play left tackle in the NFL, despite all his college starts at the position.
Expect Black, who will be playing in the Senior Bowl on January 30, to get a good look from Chiefs new defensive coordinator Romeo Crennel, who is coaching in the game.
If Black plays well in the Senior Bowl against the college game's best defensive ends, expect him to move up the Chiefs' draft board and be a target in the second round.
Rd. Three or later (Option One): Tony Washington, Abilene Christian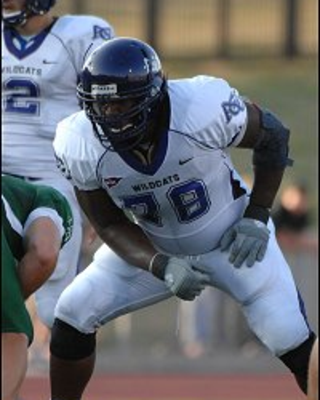 Abilene Christian's Tony Washington was a two-time Division II All-American at left tackle. Blessed with prototypical size (6'7" and 300 pounds), Washington may be underrated by many teams in April's draft because of playing against lesser competition in Division II.
Considered by Scouts Inc. as "above average" in his pass blocking, Washington projects out as an average to above-average tackle at the next level.
He has the ability to play left tackle for the Chiefs, but the coaching staff may want to break him in on the right side before expecting him to protect Matt Cassel's blind side.
Rd. Three or later (Option Two): Jason Fox, Miami (FL)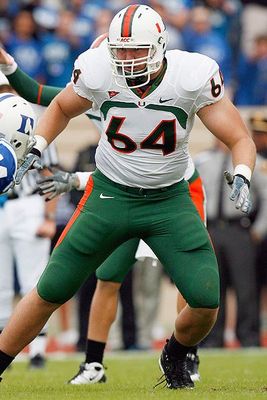 Miami's Jason Fox played most of his senior season with a bum left knee, finally having surgery on it prior to the 'Canes' bowl game against Wisconsin.
The starter at left tackle for the 'Canes since midway through his sophomore season, Fox was a first team All-ACC lineman this season. A team captain for the 'Canes, Fox has displayed the type of leadership and toughness that NFL coaches look for in offensive linemen.
His knee injury may scare off some teams, but he is expected to be fully recovered from surgery and back working out within the next few weeks.
Projected as a second or third round pick by some, Fox could provide the Chiefs a toughness at left tackle that they haven't seen in quite awhile.
Keep Reading

Kansas City Chiefs: Like this team?