Oakland Raiders Mock Draft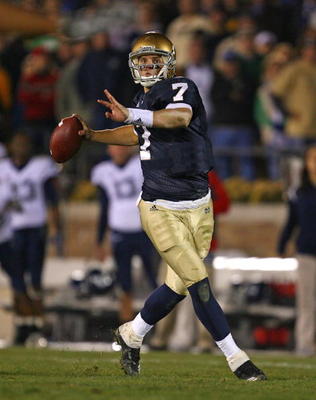 The Oakland Raiders are going to have to use the 2010 NFL Draft if they are going to become a player in the 2010 NFL Playoff Mix.
The Raiders, I do believe, are going to keep head coach Tom Cable. A close source to Davis said that Cable spent time with Davis watching film of Jamarcus Russell. Davis was convinced that Russell needs to be moved away, as Davis "saw the Gradkowski effect," as the source (nameless) said.
So, how the Raiders approach this off-season is from the Russell era, which may have gone worse than the Marques Tuiassisoppo era. Had to get that reference in there. Davis and the Raiders will completely change house, for the head coach. This effect may be good for the Raiders.
The Trade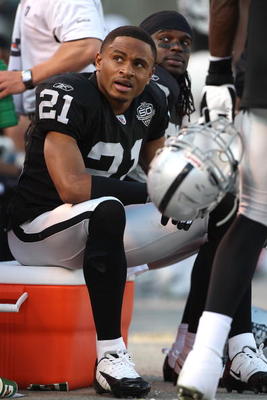 Blockbuster Trade immitates the Broncos-Cutler trade.
SF Gets:
CB Nnamdi Asomugha
QB JaMarcus Russell
Oakland fourth Round Pick
OAK Gets:
Round one Pick (13th Overall)
Round one Pick (16th Overall)
Round two Pick (48th Overall)
CB Dre Bly
WR Darrius Heyward-Bey could be on the move, not likely though.
Free Agent Signings—FB Peyton Hillis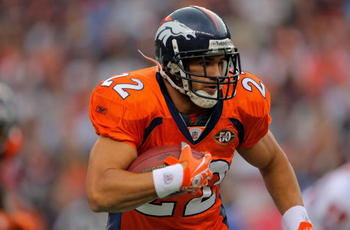 This unhappy FB from Denver will go to the team who needs a FB and will pay him money. Both of those are Oakland.
Free Agent Signings— CB Ellis Hobbs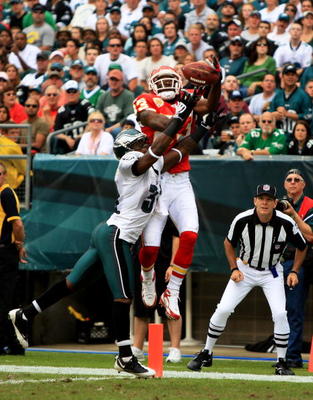 Hobbs will be out the door in Philly, and has always dreamed of being a Raider.
2010 NFL Draft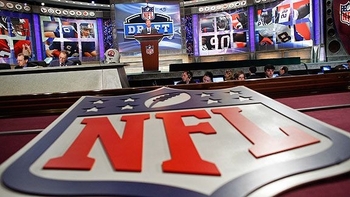 The Raiders will now own six picks in the first three rounds, and may trade for another. Al Davis may need some help to pick them right.
Round 1—Pick 8: Jimmy Clausen, QB Notre Dame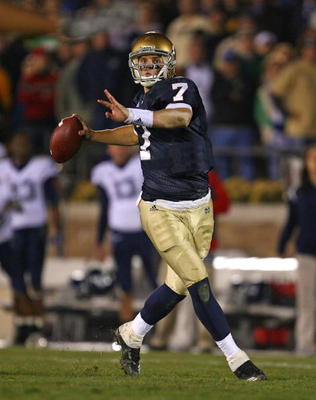 The Russell contract is out the door, and it is immediately filled by the new franchise QB. The Raiders pick Clausen only if Russell is in that trade, and I believe SF will want Russell, because Mike Singletary won't let him get away with that crap he pulled in Oakland. Oh yeah, Clausen was the nation's best passer, too.
Round 1—Pick 13: Bruce Campbell, OT Maryland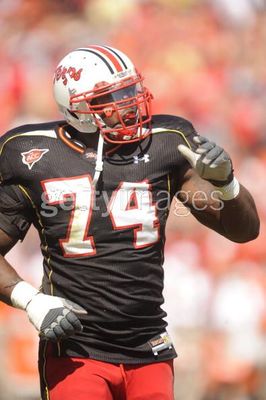 Campbell will run a nice 40, which makes Raiders fan cringe. But Campbell is the right pick here. He is a good player, not just an athlete. They may move him or Mario Henderson to right tackle.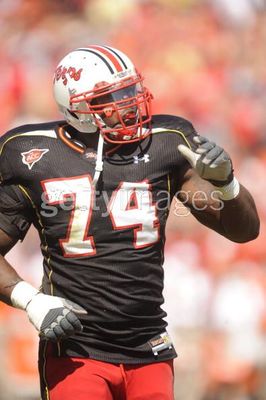 Round 1—Pick 16: Terrence Cody, NT Alabama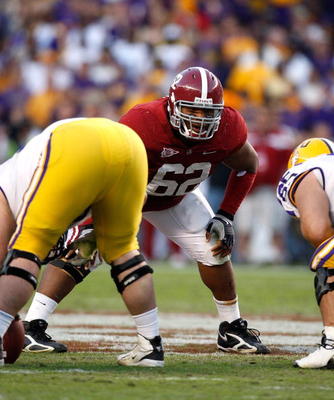 A new DC will transition to a 3-4, with Tommy Kelly, Richard Seymour, and Mt.Cody on the line. Greg Ellis, Trevor Scott, Thomas Howard, and Kirk Morrison can be the LBs, which is a good front seven, unless maybe we draft a MLB later (foreshadowing), to get Howard out of there. Cody will stuff the Bronco's Knowshon Moreno, the Charger's Ladainian Tomlinson, and the Chiefs Jamaal Charles, which will be big in the AFC West. Nice first Round, huh.
Round 2—Pick 39: Ricky Sapp, OLB/MLB/DE Clemson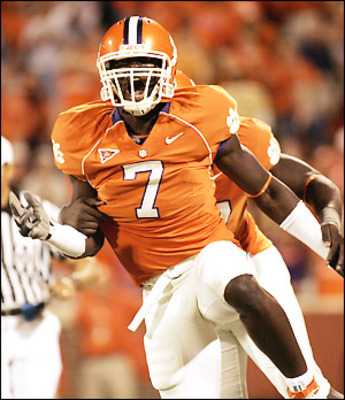 Sapp is another addition that may allow for a trade of one of our LBs/DEs. Sapp is a monster from Clemson, and there is a story on here about another player like Sapp that got an offer from Michigan. Sapp went to a Class A high school, and almost went and made every tackle.
In-Draft Trade!
NYG get:
RB Justin Fargas
DE Greg Ellis
OAK gets:
Second Round Pick
Fourth Round Pick
Round 2—Pick 46: Javier Arenas, CB Alabama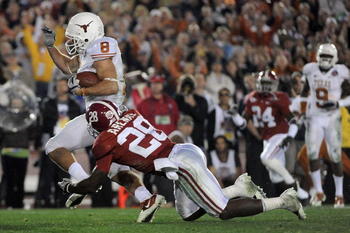 While one Arenas is in jail, this Arenas is getting drafted into the NFL. Remember, we did trade Asomugha, and with Arenas, we bolster our secondary with Bly, Hobbs, and now Arenas.
Round 3—Pick 70: Dexter McCluster: RB Ole Miss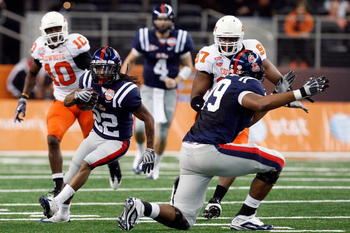 We have almost hit our positions of need, so now best player availible. Fargas being traded now leaves a great opportunity. Dexter McCluster will return kicks for us, and we'll be the speedy back. Michael Bush will be the bruiser, McFadden in between (not as fast as expected), and McCluster the speedster.
Round 3—Pick 86: via NE, Sam Young, OT Notre Dame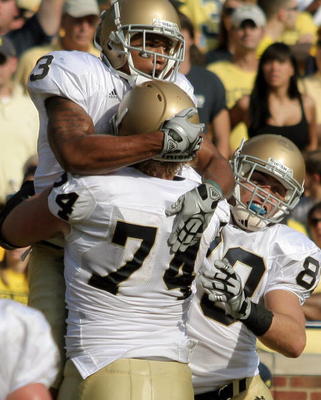 Jimmy Clausen, your favorite OT is going with you! Except Young may be the LT, RT, or RG, or maybe even C. He is smart enough to play C, but the Raiders will use this guy where there is a spot.
Round 4—Pick 113: Jermaine Cunningham, DE Florida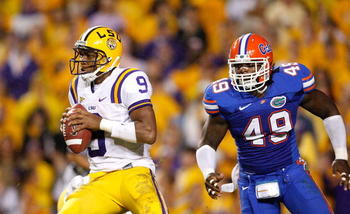 No Dunlap, no problem. This DE has a few years to go, but will be the kind of guy who comes off the bench in the fourth quarter and gets a couple sacks.
Round 5—Pick 135: Riley Cooper, WR Florida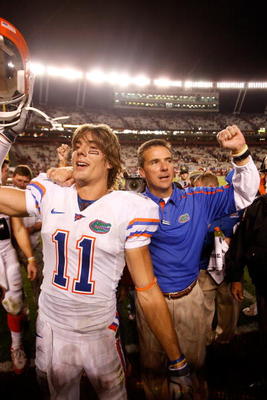 Louis Murph...I mean Riley Cooper is a great WR in the fifth round, and he remind me of someone...
Round 5—Pick 142: Kyle McCarthy, S Notre Dame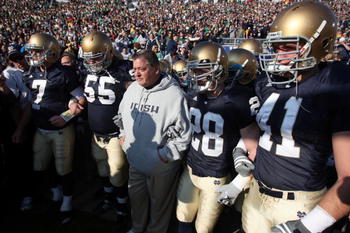 Kyle McCarthy was proclaimed by Charlie Weis as a hard working, NFL starting safety, who didn't miss tackles. Enough Said. (He is No. 28)
Round 7—Pick 200: Cody Slate, TE Marshall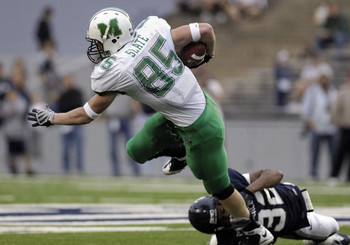 Cody Slate is an underrrated TE from Marshall who we'll be Tony Stewart's replacement. Not the NASCAR driver, the TE.
2010 Playoffs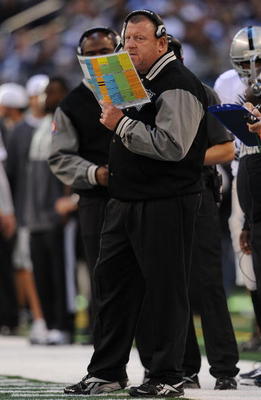 Behind Cable, our Starting Lineups will look like this
QB Bruce Gradkowski/ Jimmy Clausen
RB Mike Bush, Darren McFadden, Dexter McCluster
FB Peyton Hillis
WR Chaz Schilens
WR Louis Murphy
TE Zach Miller
LT Bruce Campbell
LG Robert Gallery
C Samson Satele
RG Sam Young
RT Mario Henderson
DE Tommy Kelly
NT Terrence Cody
DE Richard Seymour
OLB Ricky Sapp
MLB Kirk Morrison
MLB Trevor Scott
OLB Thomas Howard
CB Javier Arenas
CB Ellis Hobbs
FS Tyvon Branch
SS Mike Mitchell
K Sebastien Janikowski
P Shane Lechler
KR Dexter McCluster
PR Javier Arenas/Johnnie Lee Higgins
KO Janikowski
Holder: Cody Slate
Keep Reading

Oakland Raiders: Like this team?