The Players Who Can End Manchester United's Post-Cristiano Ronaldo Funk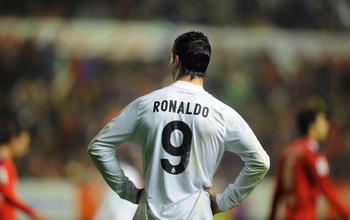 It is becoming harder to remember that United are the reigning English Premiership champions who set out this season in a quest for a fourth straight title.
It is also a little too easy to lose sight of the fact that United lie second in the Premiership despite a terrible injury list.
There is some trepidation ahead of the League Cup semi-final first leg against neighbours Manchester City.
The proud after-glow following appearances in the last two European Champions League finals has long gone.
Indeed, contemplation of a winnable tie against AC Milan is in danger of being superceded by the sense of foreboding surrounding the financial quagmire set in place by the Glazer regime and some deeply unconvincing league and cup displays by the team.
This is not helped by Chelsea's dogged pursuit of their first title in four years and by the resurgence of Arsenal but is offset somewhat by amusement at the carry-on on Merseyside!
But for how long? Liverpool's disarray may have taken the spotlight away from the United's post-Ronaldo funk.
Surely, Ferguson did not construct a one man team, over reliant on an outstanding talent who always wanted to be somewhere else?
'Sir' Ryan Giggs believes United don't miss Ronaldo. "Cristiano is one of the best players in the world but I have to be honest and say I haven't noticed much of a difference since he left," Giggs told The People newspaper last month.
"We have never been a one-man team and we still have more or less the same group of players. We all knew Cristiano wanted to play for Real Madrid, and when he got the chance he took it. He wasn't a Manc and we knew one day he would leave, and good luck to him."
What Giggs cannot see is all to obvious for fans and pundits. they can't help but notice the ghost of Ronaldo hovering over this year's United as they labour against inferior teams and surrender to better ones at an increasing rate.
If the manager and his players are to prove that United are still an accomplished unit, capable of challenging for honours and not simply treading water until the emergence of a new hero, a sustained run of form is required from these five Red stars.
Edwin Van Der Sar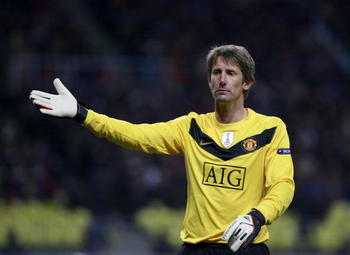 United's recent period of dominance has been marked by defensive iron. The fulfillment of Ferdinand's promise and the arrival of Vidic and Evra gave the team a platform for multiple triumphs at home and aboard.
With Ferdinand struggling with career-debilitating injuries and the removal men aiming their vans at the Vidic mansion next summer, United's central defence is now a source for concern.
Such circumstances make a goalkeeping crisis inopportune.
Edwin Van Der Sar, now in his 40th year, is the oldest player ever to represent the Red Kingdom.
Finding his replacement or extending the Dutch master's career are the most important tasks confronting the manager, made all the more significant as the global talent pool of goalkeepers is much reduced.
The current reserve keeper Ben Foster, once touted as England's finest, is a bundle of nerves and an unlikely long-term solution.
Alternate stopper Tomasz Kuszczak has impressed since stepping into the spotlight in Van Der sar's absence but the weaknesses in his game, notably when asked to deal with crosses, undermine the Pole's undoubted excellence as a shot-stopper.
The uncertainty over the future of United's goalkeeping has encouraged regular speculation that the club will buy a new stopper next summer.
Financial constraits and the need to improve other parts of the team may lead Ferguson to keep faith with Kuszczak whilst praying that Van Der Sar's body and form hold good,
This could be a throw of the dice too far, similar to the one that cost United dearly when Roy Carroll was given the patrol of United's goalmouth. Kuszczak has his qualities but as Arsenal have found to their cost, top teams have top goalkeepers.
Paul Scholes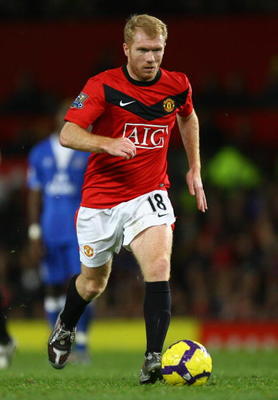 It feels like a sacrilege to identify Paul Scholes as a player who could threaten Ferguson's last quest for domination but the march of time has caught up with the midfielder, causing a major dilemma for player and manager alike.
At his best, Scholes is the tenacious, goal-scoring heartbeat of United, the metronome who dictates the rhythm and tempo of the team's play. When Scholes is in form, United generally reach their higher gears.
The trouble for United is that Scholes hasn't played well consistently since the title-winning season of 2006-2007.
Of course, there have been cameos of his best days. Most recently, Scholes put in a marvelous shift last December against West Ham, where he ran the game and scored with a trademark net-buster.
Such performances are the exception rather than the rule.
Scholes now occupies a deep lying role in the United team, taking the ball from defenders and launching attacks with long passes to the wings.
Ideally, this should be Carrick's responsibility, with Scholes playing higher up the field where his intelligence, the accuracy of his long and short passing and his eye for a shot are likely to damage the opposition to greatest effect.
However, at 35, Scholes no longer has the energy for lung-busting sorties between penalty areas and here is where the trouble begins.
Opposing teams have worked out how to neutralise Scholes' threat and disrupt United's offensive flow. They deny him time to settle on the ball and their strikers challenge the veteran as soon as he takes possession.
It is heart-breaking to see how often Scholes is caught in a dither, Combined with a legendary inability to tackle without fouling, Scholes weaknesses too often leave his faltering back line under pressure.
The impact is worse when the manager selects Scholes in a 4-4-2 formation, which magnifies the player's lack of pace and forces him to drift ever deeper to stop the game passing him by.
Aware that he is not the player of old, Scholes is already contemplating retirement.
"I wouldn't say I am playing some of my best football, " he told the Telegraph newspaper last December. "I don't always feel I am making as much of a contribution as I'd like to."
Like his player, Ferguson must be aware of Scholes' limitations but calculates that these are outweighed by the experience and presence that the veteran offers.
Fergie's judgement is reminiscent of his willingness to construct United's midfield around the ailing and one-paced Roy Keane in the early part of the last decade in order to prolong the legend's career and influence on an emerging team.
It was only when Keane was sent packing from Old Trafford for his verbal assault on team mates that United clawed their way back to football's summit.
Scholes career may well have one last Indian summer but his public admission that he is considering retirement in 2010 could relieve the manager of an important but painful decision.
Anderson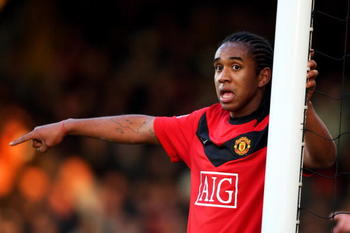 There would be less concern over the decline of Scholes if Sir Alex could persuade Anderson to perform in a manner befitting the true heir to the ginger midfield maestro.
The Brazilian has not had the impact his talent suggests and is plainly living off the rave reviews earned by starring roles in famous United displays at the Emirates Stadium and at Anfield in the 2007-2008 season.
Yet United may be unwilling to dispense with a player who has not been improved by the Old Trafford coaching staff, perhaps fearing that he will flower elsewhere as he becomes more mature on and off the field.
Anderson does attract some sympathy for his plight. He wishes to be considered as an attacking midfielder and yet his best performances have been as a defensive screen.
More than two years after his arrival at Old Trafford, it is still not clear what his role should be in the team. It does not help that he scores so infrequently.
Tactically, Anderson's game might be better suited to a midfield of three rather than English football's traditional midfield duo where his wandering attention and inability to track back with resolution leave United exposed.
It is also true that Anderson has not been given a regular run of games which might explain his lack of consistency.
It is not unreasonable to imagine that Arsene Wenger would have treated the Brazilian differently had he been in Arsenal's employ.
That said, United have romped home with titles aplenty these past three seasons, whilst Arsenal have floundered in the wasteland of unfulfilled youthful potential.
Ferguson has given Anderson many opportnities in the first team and the player has been mostly unconvincing. The embarrassment of the FA Cup defeat against League One's Leeds was a nadir from which Anderson's United career might not recover.
With the end of his contract in sight, the Brazilian could decide against renewal. He has spoken in the past of a wish to play in Italy.
Anderson's talent and potential to emerge as a great modern midfielder give United a powerful incentive to coax the player away from such a decision.
Dimitar Berbatov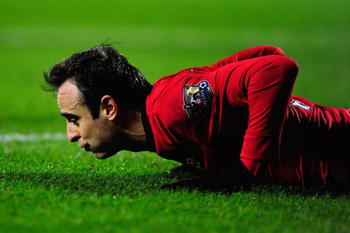 United fans tend to separate themselves evenly on the subject of Dimitar Berbatov. His talent is not in doubt. There is general agreement too that he is not an absurdly expensive decoration of the United team in the way of Juan Veron.
Where disputes rage and tempers flare is on the qualitative assessment of Berbatov's contribution to the United side. His Spurs form of two great games in five just wont do at Old Trafford.
The player's admission that he is affected by the higher expectation levels at United, is genuine cause for concern when voiced by a mature international striker.
More troubling is the knee problem that plagues the Bulgarian and requires surgery. United's thin resources up front have led the player to delay an operation. This can only aggravate his physical and psychological pre-occupations at a time when he is the target of fan grumblings.
Most pundits expected Berbatov to light up Old Trafford. That the £30 million forward has done so only sporadically, adds to the grumbles that since 2006, Ferguson has not had the sure touch of old when venturing into the transfer market.
The Bulgarian joins Anderson, Nani, Tosic and perhaps De Laet and Owen in a growing cast of underwhelming imports.
To keep United in contention for honours, Ferguson needs a swaggering Berbatov who can link well with Wayne Rooney and convert goal-scoring opportunities with greater consistency.
Anything less and United will need striking reinforcement, at a price the club can now ill-afford.
Danny Wellbeck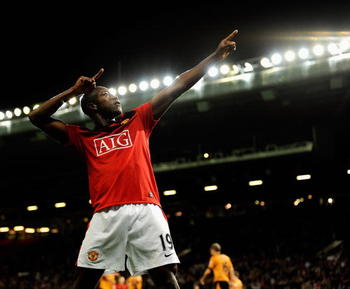 Was Sir Alex really serious when he suggested that gangling youngster Danny Welbeck would be in the England squad for this summer's World Cup in South Africa?
"Danny's a certainty to make it at the highest level," Ferguson waxed to the Sunday Times last May. "I've told Fabio Capello the boy will be in his World Cup squad next year. Wide left or right or through the middle, he has the intelligence, guts, athleticism and talent to do the job.
"He's going to be a big lad. His height is about 6ft 1in now but the prediction is he'll be 6ft 3in. He's yet to get the conformation in his thighs, so he is still gangly, but he's brave enough to carry that. When he completes his growing, he'll really be something."
United fans are still waiting for Welbeck to make good his manager's claims that he is the new Kanu of English football.
Welbeck's career began brightly enough with a well-taken goal against Stoke. Perhaps this encouraged the 'Usain Bolt' celebrations but the teen-ager has struggled ever since.
A poor display in last season's League Cup win over Spurs set the tone for a miserable season. The player had another shocker at home to Leeds in the infamous recent FA Cup defeat.
Welbeck, rewarded now with a four-year contract, should be wary of the arrival of Senegalese striker Diouf. He should also be aware that the talented Macheda's current slump cannot last.
Ferguson remains a fan and has shown a willingness to select the youngster on United's left flank. Welbeck should grasp the opportunity with gusto. Giggs cannot play the position with any real pace.
Park is headed for the exit and Nani and Tosic are the lastest Old Trafford recruits to be found wanting.
If Welbeck can succeed in the role, United will again have a goal-scoring outlet on the left and as importantly, save themselves millions in the transfer market.
Keep Reading

Manchester United: Like this team?