The Boston Breakers: There's New Blood in Beantown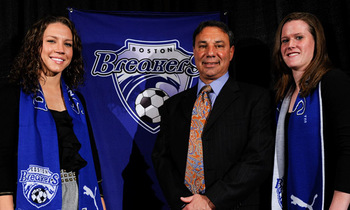 The Boston Breakers finished their maiden season in Women's Professional Soccer (WPS) with a disappointing record of 7-9-4 and were left on the outside of the postseason parade.
This, coupled with the retirement of midfielder Angela Hucles and change of addresses by Heather Mitts, Sue Weber, Kelly Schmedes and Amy Rodriguez, meant that there was bound to be some new faces in Breaker blue.
Coach Tony DiCicco and GM Andy Crossley took the first steps in bringing some new blood to Boston at this weekend's 2010 WPS Draft held in Philadelphia by drafting nine players amongst the 65 drafted overall.
Some Punch Up Front: First Round-Lauren Cheney, UCLA-F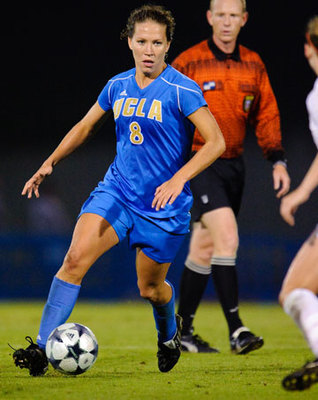 With their first pick (No. 2 overall), the Breakers selected UCLA defender Lauren Cheney. Cheney was a member of the 2008 Olympic Gold winning team and became the first player in UCLA history to earn NSCAA All-America honors all four years of her college career.
The native of Indianapolis was named a M.A.C. Hermann Trophy semifinalist in 2008 and finalist in 2007, 2008, and 2009.
As a senior, she finished the 2009 season with 46 points (18 goals, 10 assists), while leading the Bruins to the school's seventh consecutive appearance in the NCAA Women's College Cup.
Cheney ended her career at UCLA ranked first in points (2008), game winning goals (2008), single season points (2007), single season goals (2007), and freshman goals (2006).
"I believe Lauren was the best pick in the draft," said head coach Tony DiCicco. "She is an outstanding player who reads the game well. She has the ability to play in the tightest spaces, especially in the penalty area and we were lacking that last year. "
"I am so thrilled to be in Boston," said Cheney. "I'm excited to be part of Tony's team. He is a legend in the game. To be able to play with big names like Kristine Lilly and Amy LePeilbet, this is such an honor."
Rough and Rugged in Front of the Net: First Round-Alyssa Naeher, Penn State-GK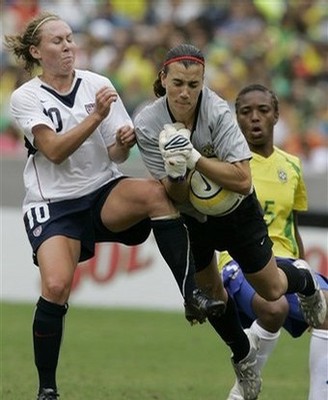 The Breakers had two picks in the first round and closed out the initial round of selections by selecting Penn State goalie Alyssa Naeher (No. 11 overall).
The Seymour, Conn., native was on the 2009 M.A.C. Hermann Trophy watch list and a two time NSCAA First-team All-American.
Naeher made history by becoming the first ever Penn State World Cup Champion after playing on DiCicco's U.S. Under-20 National Team in 2008.
"Alyssa is a talented and athletic goalkeeper who has the ability to make fantastic saves," said DiCicco. "She is in the U.S. Women's National Team pool and will challenge Ali Lipsher and Ashley Phillips in net."
Deuce Is Wild: Second Round-Jordan Angeli, Santa Clara-D
The Breakers selected two Santa Clara defenders in the second and third rounds by selecting Jordan Angeli (16th overall) and Katherine Reynolds (34th overall) respectively.
"I am overjoyed and so excited to be a Breaker," said Angeli. "I know I will be in great company with Tony DiCicco. There is a huge opportunity to grown and learn. I'm excited to come to Boston."

"Jordan is a big time player; both skillful and tactical," said DiCicco. "She has great leadership qualities. Jordan can come out of college and step into the pro environment."
Second Half of the Pair-Third Round-Katherine Reynolds-Santa Clara-D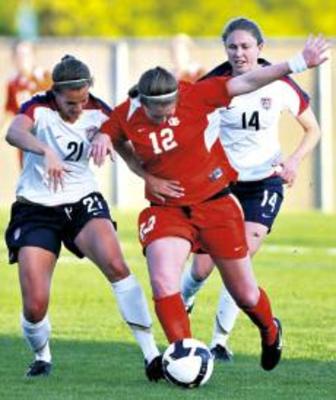 In addition to playing together at Santa Clara, Angeli and Reynolds recently trained with Breakers' goalkeeper Allison Lipsher at the U.S. Under-23 Women's National Team training camp from December 13-20, 2009.
Angeli and Reynolds were selected along with three other members of their Santa Clara team and will join former Santa Clara star, Leslie Osborne on this season's Breakers squad.
A Sleeper in the Fifth-Cynthia Morote-Ariza, Loyola-Chicago-F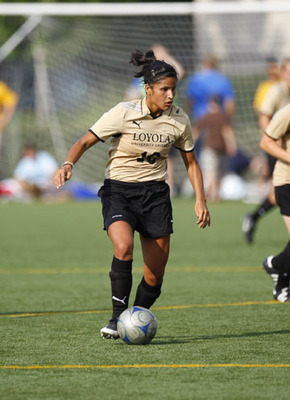 In the fifth round, picking 43rd overall, Boston took Loyola University Chicago forward Cynthia Morote-Ariza. The Chicago, Ill. Native was named the Horizon League Women's Soccer Player of the Year in 2007 and 2008, named to the All-Horizon League First Team in four straight season, and will graduate after breaking six school records.
A Husker Becomes A Breaker-Carly Peetz, Nebraska-D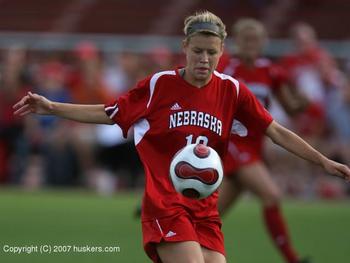 Nebraska University defender Carly Peetz was the Breakers' fifth round selection. The Lincoln, Neb., native was named to the preseason All-Big 12 team in 2009, second-team All-Big 12 in 2008.
Peetz is a member of the U.S. Under-23 Women's National Team.
DiMartino The Sequel-Gina DiMartino, Boston College-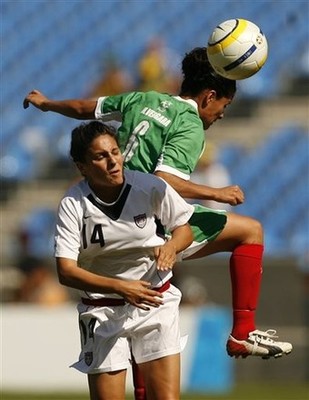 Boston selected two local collegiate players in the final two rounds. Los Angeles Sol traded their 56th pick for future considerations.
With that pick in the sixth round, the Breakers chose Gina DiMartino, a forward from Boston College.
Her sister, Tina, was recently traded from the FC Gold Pride to the Los Angeles Sol, while her younger sister, Vicki was her teammate at BC.
From the Banks of the River Charles-Casey Brown, Boston U-Defender
In the seventh round (61st overall), the Breakers selected Casey Brown from Boston University. The 5-foot-7 defender became the first player in conference history to earn the America East Defender of the Year award in three straight seasons.
"There has always been a BU-BC rivalry but I have respect for the BC organization and respect for Gina," said Brown. "I'm excited we are now playing on the same side. As a kid from Natick, Mass., I'm ecstatic. I'm excited to have my friends and family be able to watch me play in Boston."
From the Rockies to the East Coast-Taryn Hemmings, University of Denver-F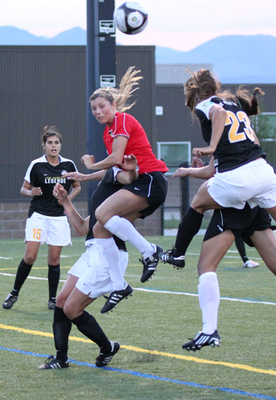 For the second year, the Breakers had the last selection in the WPS Draft. With the 65th pick overall, the Breakers selected University of Denver forward, Taryn Hemmings.
The Greeley, Colo., native was named the Sun Belt Player of the Year in 2008 and ended her career as Denver's second all-time career scoring leader with 112 points on 42 goals and 28 assists.
The Captain of the Ship is Very Pleased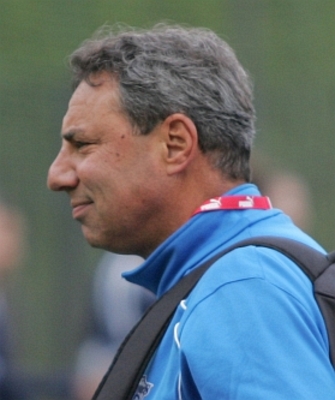 "I felt that we filled the specific needs we were looking for today; players who could score goals and filling the holes left by lost players, including central midfield, defense, and attacking center midfield," said DiCicco.
"We did our homework and found players who could step in and impact right away. It's not easy coming out of college. We will be better than last year."
The GM Speaks: "We came out with the two players we went in hoping for."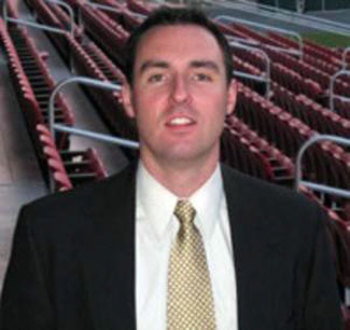 "I'm happy we got the players the coaching staff identified at the top of the draft," said General Manager Andy Crossley. "We came out with the two players we went in hoping for."

"I'm very delighted with the draft and look forward to the 2010 season," said Managing Partner Michael Stoller.
Keep Reading