Football Power Shift in Florida? Not So Fast!
TAMPA—Urban Meyer is taking a leave of absence, indefinitely. Jim Leavitt is gone from upstart USF. Miami played horrific against an average Big Ten foe in their bowl game. Even Alabama, Georgia, and Tennessee are looking like the wheels are spinning a bit, and all around the panhandle, the only school suddenly not making front page news, is the school smack in the middle of them all—Florida State.
The Seminoles are close to securing a top five recruiting class in 2010, and against all odds, are actually faring better at this point on the recruiting trail than they had in the last two seasons. Jimbo Fisher has proven to be a dynamo on the recruiting trail, not only for playing talent, but for coaching talent as well.
With all cogs of the old-guard replaced from the Bobby Bowden Era, (save a strength and conditioning coordinator) Jimbo has also managed to recruit some top talent in the coaching world to Tallahassee to help him on his quest to raise the proverbial "phoenix from the ashes."
So with seemingly every major program within a few hundred miles of Tallahassee in shock mode right now, it would seem Florida State has every reason for optimism at a return to glory in 2010 right?
Not so fast.
Let's take a look at some of the many arduous roadblocks FSU will likely still encounter, and some of the daunting uphill challenges the program will face this upcoming season.
No. 5: They Are Still The Boys Of Old Florida...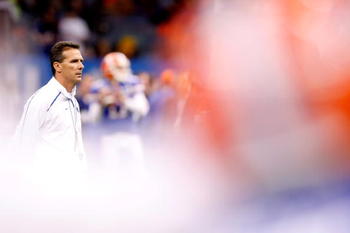 Urban Meyer may be taking an indefinite vacation, sure.
But so did Brett Favre and Michael Jordan.
If there is one thing to be cognizant of in any sport, it is this — competitors cannot stay away. Urban Meyer is more than a Head Coach. He is more than a genius of offensive philosphy and strategy. He is a fierce, fierce competitor.
His wife was once quoted as saying "[...he] really just needs to relax. I think he'll make an attempt to."
An attempt. Urban doesn't attempt anything. He succeeds. Coach Meyer may for once in his life, be a complete failure at something — relaxing. With an impending countdown to National Signing Day, and a possible #1 Nationally Ranked recruiting class, (ESPN, Scout.com, Rivals.com) Meyer has done everything humanly possible BUT relax.
This should worry fans in Tallahassee, and elsewhere, as Meyer — with seemingly no coaching or recruiting support around him (with departures of DC Charlie Strong to Louisville, and WR Coach Billy Gonzales to LSU along with Steve Addazio, who is still learning the ropes following Dan Mullen's departure to Miss St in 2009) has managed to haul in some of the best talent in the country.
With Meyer's announcement to step down just weeks ago — then recanting and rephrasing to a "leave of absence," the coach's words should have created a piñata effect, opening a possible door for recruiters across the southeast to exploit.
For a moment, for FSU, it nearly did, in the name of Matt Elam. One of the top athletes in the state of Florida, Elam went from a solid verbal at Florida, to wearing Garnet and Gold, and taking pictures for the Seminoles. Just as soon as it all had come apart — Meyer put it back together. Calling on Elam to have "faith" in him, it would seem Elam's easy decision to walk away from Florida, was just as easy for him to decide to return.
Florida State needn't worry about what Florida is doing on the recruiting trail though right? Games aren't won on the recruiting trail, they're won in the coaching and conditioning, and the 'Noles certainly have a leg up there for sure now, right?
Well, Houston, we might have another problem...
No. 4: There's A Hole That Still Needs To Be Filled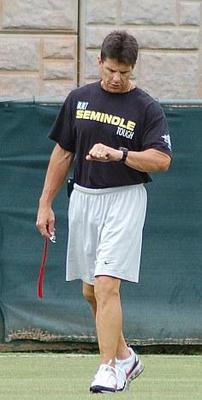 "Strength, Skill, Character." The three defining principals of The Florida State University.
Strength and Conditioning coordinators have an imperative job to focus on from day one with their players—the first two components of those very principals mentioned above. Without strength or skill on the field, no amount of character will produce results.
Right now, FSU is missing those two components—not partially, but wholly.
Todd Stroud, a former player for FSU, understood this philosophy quite well, and in his two short years as the Strength and Conditioning coordinator, was part of the exodus that transpired during the changing of the guard.
It could be, and has been argued, that the reason for FSU's lack of top-level excellence was due-in-part to many flaws in the system that was in place when Jimbo came in to revamp the offense for FSU.
One of the lacking fundamentals Jimbo noticed of his newly acquired squad was that they lack proper diet, and had no dietitian or nutritionist on staff needed to determine whether players were getting the proper allocation of nutrients needed to become top-level athletes.
It is notable that most big D-I programs have a nutritionist or dietitian on staff to account for this essential conditioning requirement. The Gators have several.
While the 'Noles squad lacked such a vital resource, this was not a direct result of Stroud's inabilities, but rather an administrative oversight.
Now it would seem, the Seminoles are still in search of not only nutritional experts, but a new Strength and Conditioning coordinator. Until this hole has been filled, players already enrolled are left to their own diet and exercise routines.
Well...we all know how college kids eat. Let's hope Jimbo gets this meal plan well balanced, soon.
No. 3: Coaching Changes Seen All Around—Except In Miami.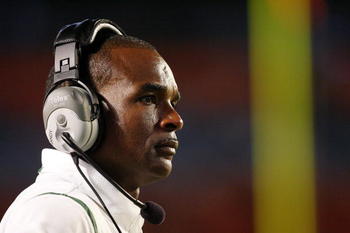 Miami's Randy Shannon finished the regular season well above expectations in 2009 you might say.
With only three losses, two of which were within a possession, and one a heartbreaker in OT, Miami's young, yet talented squad of players will almost entirely be unchanged next season. Add to the fold the Hurricanes already balooning 2010 signing class of 26+ players and counting, the U is poised to start early on improving from an impressive uptick in 2009.
Junior phenom Jacory Harris will be looking to improve on his outstanding Sophomore campaign where he threw for over 3,000 yards and 20+ TD's, behind Miami's offensive mastermind Mark Whipple—who is back in the saddle for his second edition of his balanced Pro-Style attack, amid concerns he was interested in the Head Coaching vacancy up the road in Tampa (South Florida.)
RB Graig Cooper's ACL injury may have ended his season, and could hold him out of practice through the summer workouts, but all indications would suggest that the versatile back should likely return in time for next season.
Add into the fold, talented WR Aldarius Johnson returning, and a solid leg in possible Groza watchlist kicker — Matt Bosher, Miami should have very few holes to fill on their way back to the Hurricanes of old.
With a Top 15 Recruiting Class seemingly in hand, and plenty of Sophomores returning for their Junior year, 2010's Miami squad will be potent offensively, and a serious contender in the state.
Sure, FSU will miss them in September, but even playing in Miami in late October will be no cupcake. Look for this game to me a marquee matchup, setting the stage for the victor to possibly challenge for the ACC Championship.
No. 2: Be-Leavitt Or Not—Playing USF Is No Reason To Skip-To-My-Lou.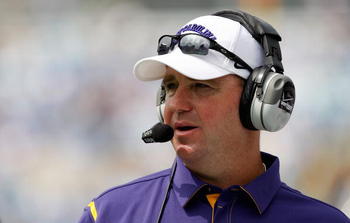 So USF beat FSU in 2009.
It was a fluke right?
No way they'll be a threat to the recruiting trail in Tallahassee, or a team that can handle a completely rebuilt FSU in 2012 right? Surely by that time, FSU will have a completely retooled defense that will be more capable of stopping potent offenses.
Reality check.
Sure, FSU's program should be retooled in the coming season a bit.
Yep, Skip Holtz will need some time to settle in at HC in Tampa.
Certainly USF has already had their time in the sun following the emotional win that put them in the big boy club with FSU, Florida, and Miami this past year.
Yeah, USF has struggled down the stretch in 2009.
None of this matters.
Skip Holtz is a winner. He has coached under winners. Namely, Bobby Bowden, as a Graduate Assistant in 1987-88. Holtz also coached alongside FSU's newest Linebackers Coach, Greg Hudson — who was Holtz's Defensive Coordinator at East Carolina. Holtz has won his last two Conference USA titles over a high octane offense in Tulsa in 2008, and an even more potent opponent in Case Keenum's Houston squad in 2009.
Holtz's ability to match up against nearly any opponent make him a viable impact coach on any team. Having a former coworker standing directly across from him on the sideline doesn't hurt either.
With BJ Daniels receiving significant playing time a year early, and a defense that continues to fill vacancies year after year, look for USF to be an impact team in 2010 that just may turn some heads in key matchups against UF and Miami.
No. 1: FSU Is Rebuilding, Not Rebuilt.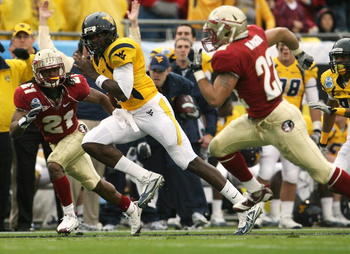 So FSU won a big time New Year's Day Bowl game with a rookie QB in an emotional Gator Bowl, on what should have been "Noel Devine celebration day."
Bobby Bowden might have had a little something to do with the outcome of that game, so let's not pull the "We're Back" card too fast.
FSU featured a very young, albeit very impressive offense in 2009, and had the defense not finished just above dead last in nearly every defensive category, FSU may have very well had a record that resembled FSU's reputation in the 1990's. Losing five games by 10 points or less hurts, but it's the ability of a team to win close contests that makes them champions.
Just ask Florida. They had some squeakers too, but they managed to come within one game of being perfect, yet again.
FSU has the talent, with playmakers already in place, and only three starters needing replacement in 2010. The goal now is not to try and shift the balance of power, but to get back to a position where FSU is relevant again.
Relevance, more than prestige or swagger, is the one cog needed to make FSU fans begin to flock back to their TV sets on Saturday. Relevance, more than dominance is what is needed for FSU fans to don their favorite jerseys again. Relevance more than record is what is needed for FSU to again become a power worth watching.
The Bobby Bowden Era is over. Yes.
The Jim Leavitt Era is over. Yep.
The Tim Tebow Era is over. Sure.
So what?
With all of the coaching changes taking place across the country, and notably the southeast, as well as shifts in players headed to the NFL, and National Signing Day still weeks away, anything is possible in the state of Florida.
One thing is for certain. FSU fans have a reason for optimism. Let's just make sure the optimism is realistic. There is still a long unpaved road ahead.
Keep Reading

Florida State Football: Like this team?