2010 NBA Mock Draft, Picks 1-10: Early Season Edition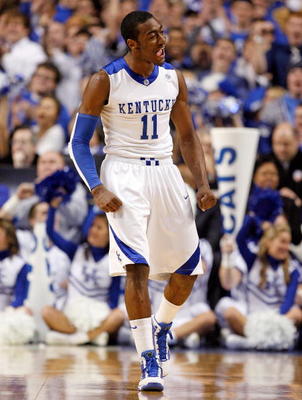 Recently, with seeing all of the NFL Mock Drafts all over Bleacher Report, I decided to be one of the first people to make an early season 2010 NBA Mock Draft.
Many people may think it is a bit early to be writing this article, but this is strictly predictions so far based on overall play so far this season.
Throughout the 2009-2010 college basketball season, I will update the mock draft for the half season mark and after the 2010 NCAA Tournament. This slide is the first 10 picks of the 2010 NBA Draft. There will be articles for picks 11-20 and 21-30 in the near future.
First Pick, New Jersey Nets: John Wall, PG, Kentucky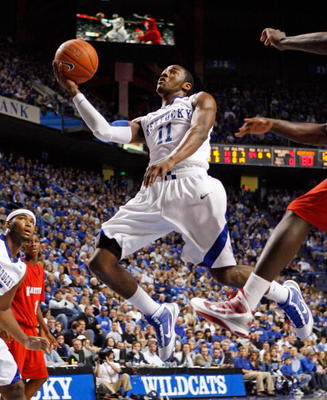 Wall has been having an amazing beginning of the season for the Wildcats. Wall, along with Duke PG Jon Scheyer, have played great and have become, in my opinion, the two best point guards in college basketball.
So far, Wall has averaged 7.1 assists per game this season, along with 17.3 points per game. Wall has helped the Wildcats become one of the elite teams in college basketball, and the Wildcats could even be the team to beat in this year's NCAA tournament.
Second Pick, Minnesota Timberwolves: Wesley Johnson, SG/SF, Syracuse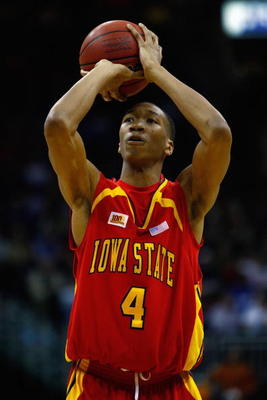 Before attending Syracuse, Johnson attended Iowa State. Johnson can shoot from the outside quite well, and he can also get it to the hoop pretty well.
The Timberwolves already have an established big man in Al Jefferson, but the T-Wolves are in need of a scorer who can play along with the likes of Jonny Flynn and Al Jefferson. I think Johnson could be that guy for the Timberwolves for years to come.
Third Pick, Philadelphia 76ers: Ed Davis, PF, North Carolina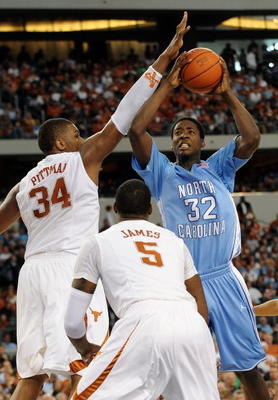 Many may feel that this is too high of a place for Davis to go in the draft, but I personally feel that Davis could be the best power forward in college basketball. Davis is practically the perfect power forward. Davis has the three key attributes that Philadelphia needs—he can score pretty well, averaging almost 15 points per game; can play great defense, averaging almost three blocks per game; and is a great rebounder, averaging almost 10 a game.
Davis could be a great pick for the 76ers. Davis would bring a big man to a 76ers team that has not had a good three-attribute big man in a long time. Davis, along with Andre Igoudala, could become one of the best scoring/defensive tandoms in the NBA.
Fourth Pick, Indiana Pacers: Derrick Favors, PF, Georgia Tech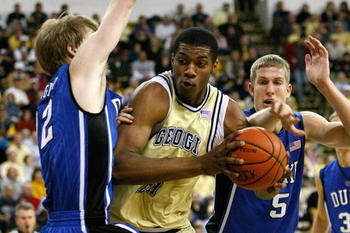 The Pacers are in dire need of a big man other than Danny Granger, who is basically a small forward. After Ed Davis, I feel that Favors is the best power forward in college basketball.
Favors has not played as well as originally expected this year, only averaging about 12 points per game, but Favors still has played good defense and has played well around the rim, averaging almost nine rebounds and two blocks per game. The Pacers may not go after Favors, though, because he may not have hit his greatest potential yet.
Fifth Pick, Golden State Warriors: Evan Turner, SG, Ohio State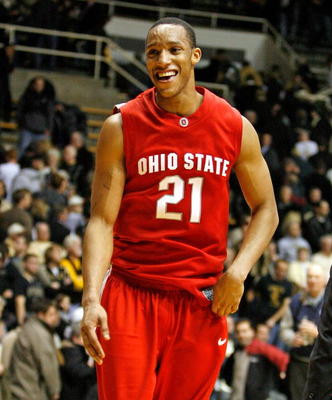 Evan Turner, along with Xavier Henry, may be one of the best shooting guards in college basketball. I feel Turner would be the better choice for the Warriors over Henry because Turner is a much more experienced player.
Turner is one of the players I feel has been most surprising this season in college basketball. Turner has established himself as one of, if not the best, player in college basketball. Turner averages almost 19 points per game. Turner also has almost six assists per game.
Sixth Pick, Detroit Pistons: Xavier Henry, SG, Kansas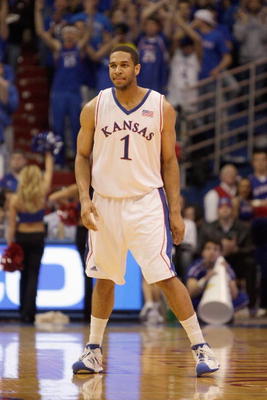 As I said before, Xavier Henry, along with Evan Turner, have become the two best shooting guards in college basketball. The Pistons are also in need of a scorer, as are the Warriors, the possible team before them in the draft. I feel that Henry could be the second-best scorer in this year's NBA draft class.
Henry has not played as well as Turner, but Henry has had a great freshman year in averaging 15 points per game and five rebounds per game. Henry would be a great pickup by the Pistons, but if Turner were available, I would take him over Henry.
Seventh Pick, Washington Wizards: Donatas Motiejunas, PF, Lithuania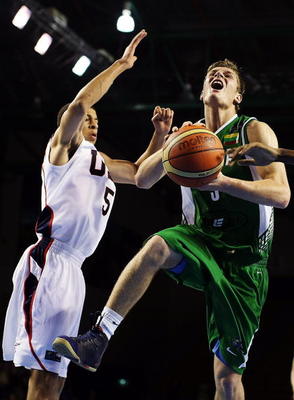 Motiejunas is just the newest foreign prospect coming to the NBA. NBA teams definitely hope that Motiejunas does not pull what Ricky Rubio did last year in staying in Europe.
According to many, Motiejunas could be a great NBA power forward someday, but I would personally take a known player first, such as Derrick Favors or Ed Davis, over him—though I also do feel that Motiejunas could be the starting power forward for the Wizards in a couple of years after the end of Jamison's long period on the team.
Eighth Pick, Sacramento Kings: Avery Bradley, SG, Texas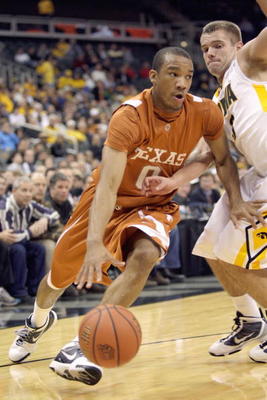 Bradley, in my opinion, is the best shooting guard available in this year's draft class, other than Xavier Henry and Evan Turner. Bradley could bring a good scoring threat to the Kings to complement Jason Thompson and Kevin Martin.
Bradley may be a player some teams skip because he is a freshman and has yet to show amazing skills, but he still looks quite good. Bradley has averaged around 13 points per game, along with around three rebounds and assists per game.
Ninth Pick, Utah Jazz: Cole Aldrich, C, Kansas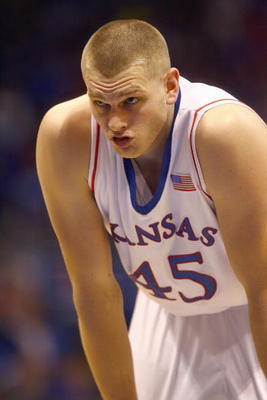 Aldrich is probably the best center in college basketball. The Jazz already have two established power forwards in Paul Millsap and Carlos Boozer.
Aldrich also has the three biggest impacts you need to be an NBA center. Aldrich can block, almost averaging four blocks per game; score, averaging around 11 points per game; and rebound, averaging around 11 rebounds per game.
10th Pick, Chicago Bulls: Devin Ebanks, SF, West Virginia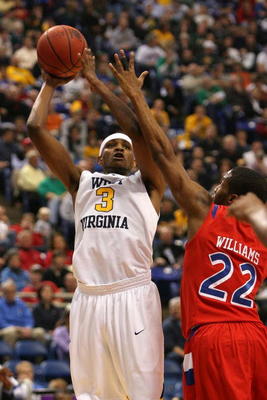 Ebanks is probably the second-best small forward playing in college basketball other than Wesley Johnson, depending on what position you consider him. Ebanks could be a great backup for Luol Deng for a year or two and then become possibly the starter. Ebanks could even possibly play power forward because of the Tyrus Thomas rumors.
Ebanks is quite a good rebounder for a small forward, averaging 8.3 per game. Ebanks is a bit low in scoring for a small forward, only averaging 12 points per game, but he could be a great replacement for Tyrus Thomas if they ever decided to play him at power forward.
Keep Reading