New York Giants' All-Time Offense
The New York Giants are one of the most historical teams in American football. Since 1925, the Giants have won seven total NFL Championships, three Super Bowls, and four NFL Championships. During the past 85 years, the Giants have had some great players on the offensive side of the ball. Here is a list of the New York Giants' All-Time Offense.
Quarterback - Y.A. Tittle (1961-64)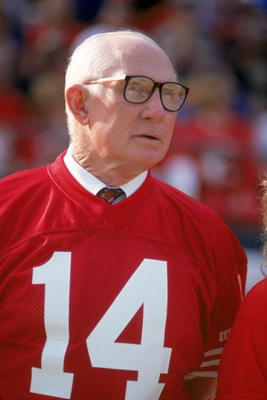 Though Y.A. Tittle didn't play for the Giants until the end of his Hall of Fame career, he sure made up for lost time.
Tittle won two MVP awards and was named to three Pro Bowls and two First Team All-Pro squads in four years with New York from 1961-64. Tittle accumulated 10,439 passing yards and 96 touchdown passes during his tenure with the Giants.
In his second and third year with the Giants, Tittle threw for 33 and 36 touchdowns respectively. He also had a 104.8 passer rating in 1963, good enough for 17th all-time.
One of his best, yet bittersweet statistics wasn't an individual one. Tittle led the G-Men to three straight NFL Championship games. However, they could not pull off a victory in any of those games.
Tittle was inducted into the Pro Football Hall of Fame in 1971.
Running Back - Frank Gifford (1952-60, 62-64)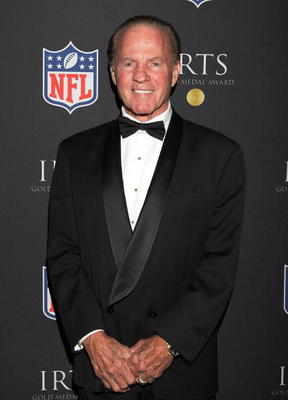 One of the most versatile players to ever play football, Frank Gifford was a great talent for the Giants in the 50's and 60's.
Gifford was the Giants' first round choice in 1952 and stayed with the team until his retirement in 1964. He retired in '61 but came back for two more seasons.
Gifford played nearly every skill position for New York and was a key member of the 1956 Championship team. That year, he recorded 1,422 yards from scrimmage, nine rushing and receiving touchdowns, threw two touchdown passes and even kicked eight out of nine extra points.
He was voted to four All-Pro Teams and eight Pro Bowls during his career, including an induction into the Hall of Fame in 1977.
Full Back - Ken Strong (1933-35, 1939, 44-47)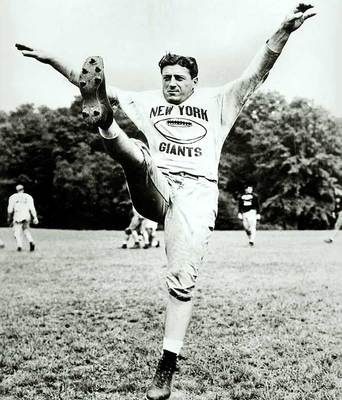 Saying Ken Strong had an interesting relationship with the New York Giants would be an understatement.
He played his first stint with the Giants from 1932-35. He then left for the AFL and returned for the 1939 season, only to retire. Five years later, Strong came back as a kicker and would finally retire a Giant in 1947.
Strong was named to one All-Pro team with the Giants (three total) and led the team to their first championship in 1934. He scored 17 points in the famous "Sneakers Game" against the Chicago Bears, helping the Giants prevail, 30-13.
Strong was inducted into the Hall of Fame in 1967.
Wide Receiver - Amani Toomer (1996-2008)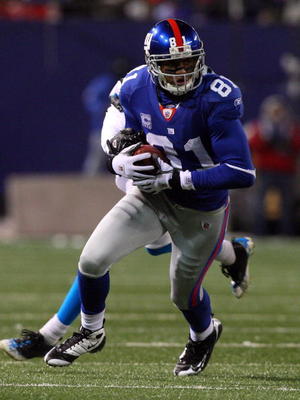 Amani Toomer was one of the steadiest options the Giants have had at receiver in the existence of the franchise.
The New York Giants drafted Toomer out of Michigan in the second round of the 1996 NFL Draft. They would soon find out they found a real gem.
Toomer holds franchise records for catches with 620, receiving yards with 8,917, and 50 receiving touchdowns . He also holds the Giants' postseason records for catches, 42, receiving yards, 582, and seven touchdowns, proving his worth in the biggest of games.
In his entire career, Toomer has only fumbled six times, an astonishing mark for someone who played as long as he did.
Wide Receiver - Homer Jones (1964-69)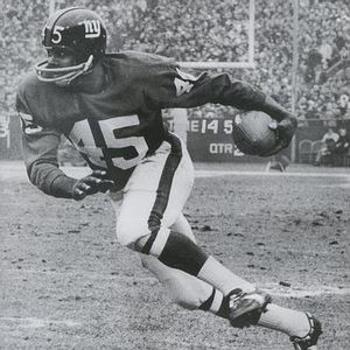 The Giants drafted the speedy Homer Jones out of Texas Southern in the 20th round in 1963. He would soon develop into one of the best in the league.
Jones was not only a great wide receiver for the New York Giants, but he was an innovator as well.
Jones is said to have started the spiking of the ball celebration. That led to some of the interesting celebrations we have seen today.

Homer made two Pro Bowls during his time with the Giants, as well as having the third highest yards per reception average with 22.3 in NFL history.
Jones accumulated 36 receiving touchdowns in his six years with the Giants, including 13 in 1967.
Tight End - Mark Bavaro (1985-90)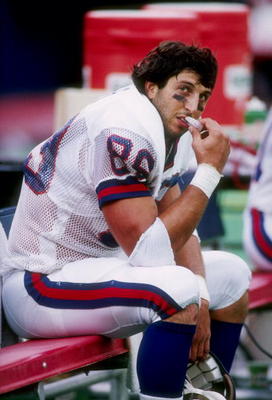 Mark Bavaro, commonly referred to as "Rambo," was the most prolific tight end the franchise ever saw.

Drafted out of Notre Dame in the fourth round, Bavaro made an immediate impact in his 1985 rookie season. He amassed 37 catches for 511 yards and four touchdowns and was named to the All-Rookie Team.
Bavaro continued to impress in his next two years, as he was named to back-to-back All-NFL First Teams and Pro Bowls.
In his six year career with the Giants, Bavaro helped lead the Giants to four playoff appearances and two Super Bowl victories.
Tackle - Roosevelt Brown (1953-65)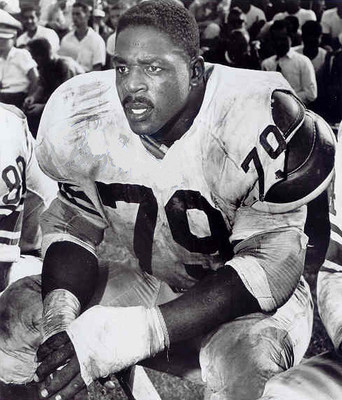 Roosevelt Brown is easily the best lineman in New York Giants history.
Out of Morgan State, Brown quickly became a force to be reckoned with in the NFL.
Brown made eight straight All-NFL teams and nine total Pro Bowls throughout his 13-year career as a Giant.
"Rosey", as he was affectionately called, helped lead the Giants to a victory over the Chicago Bears in the 1956 NFL Championship game. He was awarded the Lineman of the Game award and was also named the Lineman of the Year.
Brown concluded his great career with an induction into the Hall of Fame in 1975.
Tackle - Len Grant (1930-37)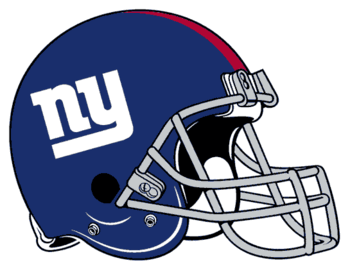 Len Grant was a great tackle for some of the early New York Giant teams.
Grant was a two-time All-Pro First Team, one-time All-Pro second team, and helped anchor the Giants' 1934 Championship team.
During his eight years with the Giants, Grant and his fellow offensive linemen also led the way for two number one offenses.
Guard - Jack Stroud (1953-64)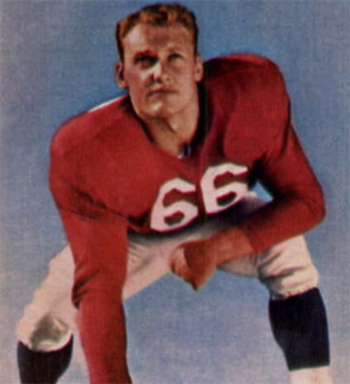 Jack Stroud, like Roosevelt Brown, was one of the longest tenured offensive lineman in Giants history.
In a period of time when many offensive lineman played very few years in the league, Jack Stroud was a model of longevity.
Stroud played 12 seasons for Big Blue. In those seasons, he accumulated three Pro Bowl nominations and helped the Giants win one NFL Championship in 1956.
Guard - Chris Snee (2004- )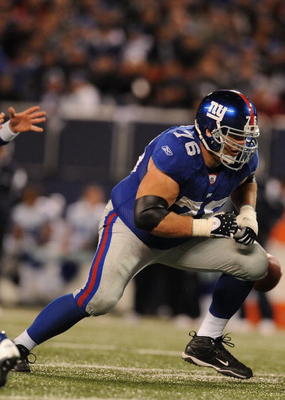 Chris Snee is still young, but he has been one of the most impressive lineman the Giants have had in awhile.
Selected in the second round out of Boston College, Snee immediately became a force in the trenches for New York.
Snee helped lead the Giants in 2007 to a Super Bowl title over the previously undefeated New England Patriots.
In 2008, Snee was the best lineman pushing for the NFL's number one rushing attack. An attack that had two 1,000 yard rushers in Jacobs and Ward, which is only the sixth pair to do so.
Snee has made one All-Pro fist team and one Pro-Bowl in his young career, with many more sure to be on the way.
Center - Ray Wietecha (1953-62)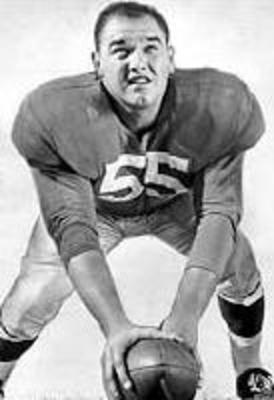 Ray Wietecha was the third mainstay on the offensive line for New York during the 50's and into the 60's.
Wietecha, teamed with Roosevelt Brown and Jack Stroud, led one of the greatest offensive lines in NFL history.

Wietecha was named to four Pro Bowls and one All-Pro team in his 10 years with the Giants.
Keep Reading

New York Giants: Like this team?