Clutch Bunch: Ranking Each NFL Playoff Team's Kickers
Last weekend, Shayne Graham and Neil Rackers proved to the world once more that a shaky kicker can (or in Rackers' case, try his best to) derail even the most promising and talented team.
Playoff games often match up the best that the league has to offer, predictably leading to some close games. When that occurs, it's the little things like special teams that come straight to the forefront.
With eight teams remaining, and logically eight placekickers as well, this article will rank the teams from greatest disadvantage to greatest advantage should their kicking game come into play.
8. Garrett Hartley - New Orleans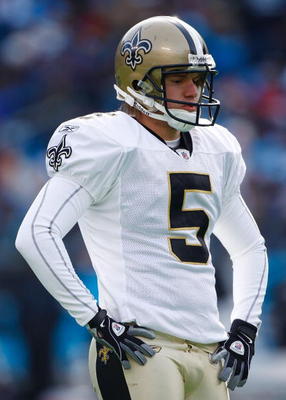 Hartley, in his second year as New Orleans' kicker, will play in his first ever playoff game this weekend.
In his two seasons in the NFL, Hartley has only kicked in 13 games, building a solid resume, going 22-24 for a 91.7% conversion rate.
However, his limited sample includes only one kick from beyond 50 yards - a miss.
In fact, 19 of his 24 kicks have been from inside the 40-yard-line, and Hartley showed he isn't automatic from there either, missing an extra point this year.
For all intents and purposes, Hartley is a rookie going into this weekend's game against the Cardinals. With two high-scoring offenses on the field, Hartley may be on the field late in the game to try and help secure the game for his team.
Let the jitters begin.
7. Billy Cundiff - Baltimore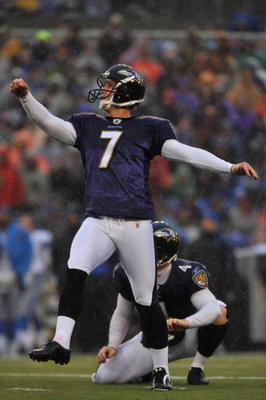 Oh, Billy Cundiff.
What can you say about a guy who was deemed so inept he was let go by the Cleveland Browns mid-season?
Sure, he booted the game-winner against Pittsburgh on November 29, but since joining the Ravens, his kick percentage is fourth-lowest amongst kickers who have attempted more than 15 field goals.
Worse still, the majority of his misses have come from the very makeable 30-39 yard range. For some reason, Cundiff's miscues are more likely to show up when his team is in the lead.
With Baltimore, Cundiff has missed three of eight kicks when his team is ahead, two in the 30-39 yard range.
His accuracy goes down in the second half (83% in first compared to 75% in second), and other than his overtime winner, has yet to kick a field goal in the last two minutes of a half for the Ravens.
To his advantage, he'll be kicking in a dome where wind will not be a factor. To his disadvantage, he'll be kicking in a dome where the crowd will be a factor.
6. Neil Rackers - Arizona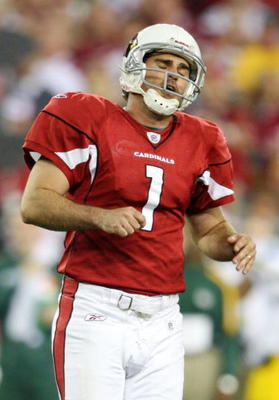 The picture accompanying this text was taken precisely at the moment when Neil Rackers missed a potential game-winning field goal last weekend against the Packers.
A few minutes later, in overtime, Rackers was summarily bailed out by his defense, who won the game on a strip of Aaron Rodgers.
Rackers missed two games this season with an injury, then came back in the regular season finale. In 2009, Rackers attempted a career-low (for seasons in which he's played more than 14 games) 17 field goals, making 16 and attempting none beyond 50 yards.
Rust, coupled with a lingering injury and the well-known assertion that kickers are head cases equals a shaky Rackers going into the Superdome this weekend.
5. Shaun Suisham - Dallas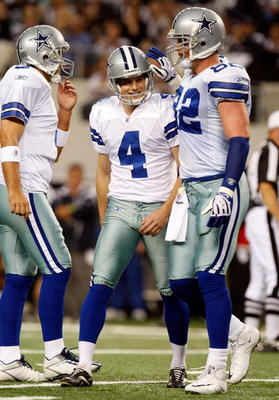 A Washington Redskins retread, Suisham was a midseason replacement for Nick Folk, who was putrid in 2009, missing ten field goals.
Suisham missed ten field goals in 2008 before steadying himself this season, missing only four kicks in all.
A career 79 percent kicker, Suisham is just 67 percent beyond 40 yards in his seven years in the league.
The Canadian native's efficiency also is significantly reduced in the second half, where any sum of points is usually more important (91 percent in the first half in 2009, 80 percent in the second half).
His 77.8 percent on the road, compared to 86.7 percent at home, is also worth noting.
4. Matt Stover - Indianapolis
The 41-year-old veteran is yet another midseason pickup, replacing the injured Adam Vinatieri for the 14-2 Colts.
Stover was steady, effective, and healthy enough to displace Vinatieri from the postseason roster for Indy. He went 9-for-11 in his regular-season stint with Jim Caldwell's club.
Two of Stover's nine kicks went from beyond 40 yards, going two-for-three overall in this regard. A seasoned playoff competitor who has kicked in a Super Bowl (with the Ravens in 2001) and a Pro Bowl, Stover's success is underscored by the Ravens' woes at kicker, who had to bring in Billy Cundiff.
At Lucas Oil Field this season, Stover was a steady eight-for-nine.
3. Jay Feely - New York Jets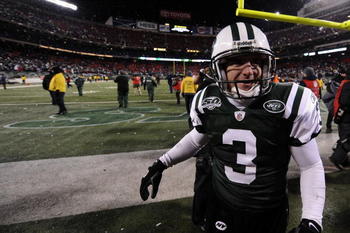 Since joining the Jets in 2008, Feely has been 54-for-64 in New York, an 84.3 percent rate.
Feely's 30-for-36 success ratio this season is highlighted by the amount of lengthy kicks he's tried and made.
Boasting some of the best leg strength at his position, Feely went 12-for-15 beyond 40 yards in 2009, including a season long of 55.
After missing two field goals at Atlanta in a close game that put them at 7-7, Feely has gone six-for-six since, hanging four of those against the Cincinnati Bengals in that span.
Potentially-favorable weather in San Diego could be a boost for Feely from any range.
2. Nate Kaeding - San Diego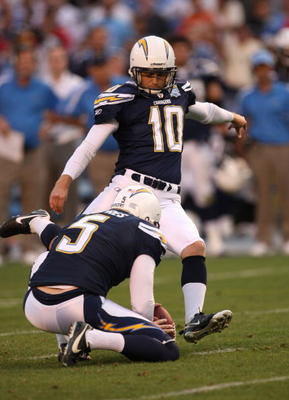 If it seems unreasonable to rate the league's most accurate kicker in history (87.6 percent) anywhere other than No. 1, consider this:
Nate Kaeding is a career 66.7 percent kicker in the playoffs (eight makes on twelve tries).
Kaeding cost the Chargers games against the Jets in 2004, and against the Patriots in 2006, with misses at crunch time.
However, he's bounced back, honing his skills and coming through in pressure situations, belting a 52-yard game winner against the Bengals this past December.
If the game comes down to Kaeding, with the attempt within 40 yards (where Kaeding hasn't missed since 2007), he'll most likely seal a victory for San Diego this postseason.
1. Ryan Longwell - Minnesota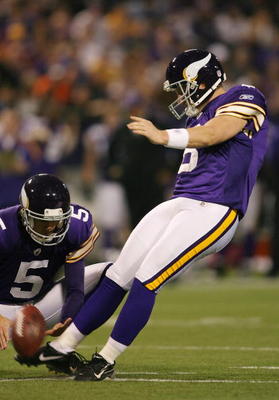 The 35-year-old veteran was spectacular in 2009, hitting 26-of-28 attempts and slamming 10-of-11 home from beyond 40 yards of distance.
Longwell is an experienced kicker, with an extensive playoff resume, who can handle pressure (including a Super Bowl) and who will have the advantage of kicking in a dome for the next two games if the Vikings advance that far.
He's also the fifth-most accurate kicker in NFL history, with a rate of over 81 percent in his long career.
In a game in which fellow Green Bay alum, Brett Favre, will get the lion's share of attention, Longwell may very well end up being the key that gets the Vikes into the NFC Championship game and beyond.
Keep Reading

Minnesota Vikings: Like this team?