Top 10 First-Round Draft Picks in Indiana Pacers History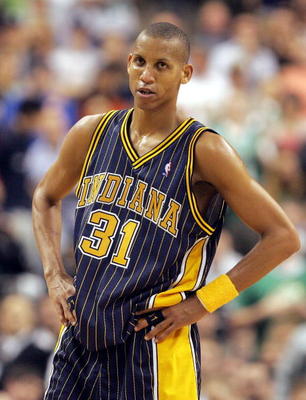 Who are the top 10 first round draft picks in Indiana Pacers history?
The selection criteria for this list include:
1. The player must have been selected in the first round of an NBA Draft.
2. The player must have played at least one game for the Pacers; picks traded to another team on draft night not counted but picks traded to the Pacers on draft night are.
The factors considered in ranking the players on this list include:
1. The player's position in the draft—e.g. a player selected second will have higher expectations than a player selected 20th.
2. Only the player's contribution while with the Pacers—how the player performs after leaving the Pacers is not taken into account.
3. The player's longevity—the longer they contribute to the Pacers, the more valuable they are.
4. The player's role with the Pacers—a solid long-term role player could be just as, if not more valuable than, a short-term high-scorer.
Okay, here goes!
10. Clark Kellogg
Kellogg was selected eighth overall in the 1982 draft, making the All-Rookie Team with a career high 20.1 points per game in his first season in the NBA.
Unfortunately, injuries limited his career to just five seasons, or else he would have been higher on this list.
Interestingly, due to those injuries, he is one of those rare players who averaged his career best in his rookie year and his scoring average fell in every subsequent year.
9. Travis Best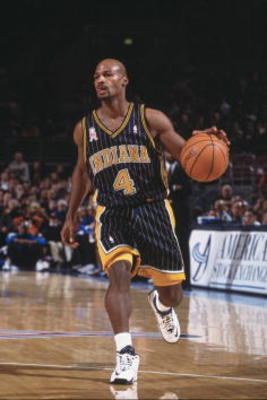 Selected 23rd in 1994, Travis Best is shortest player in the list at just 5'11".
Best played six full seasons with the Pacers, averaging double-digits just once in the 2000-2001 season (11.9 ppg). Since then, he played for the Bulls, the Heat, the Mavs and the Nets, and is now playing in Europe.
Travis played his best years in Indiana as a backup to Mark Jackson. Despite his height, his quickness and defense often earned him valuable minutes in crunch time.
Many say he was the player that gave the Bulls the most trouble in their epic seven-game series with the Pacers in the 1998 NBA Playoffs.
8. Jeff Foster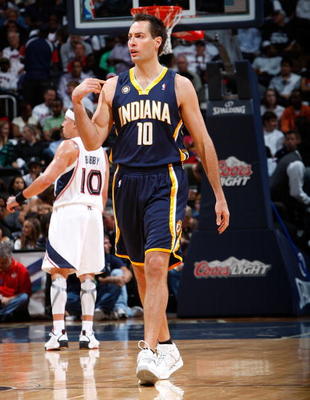 Jeff Foster was selected 21st overall in the 1999 NBA Draft.
No one really expected much of him from the offensive end, but he has been one of those invaluable role players who do all the dirty work under the basket.
Despite never having averaged more than seven points a game, Foster makes this list as one the best rebounders (per 48 minutes) of his era. He has also been giving his heart and soul to the Pacers for the last 10 years (and counting).
7. Dale Davis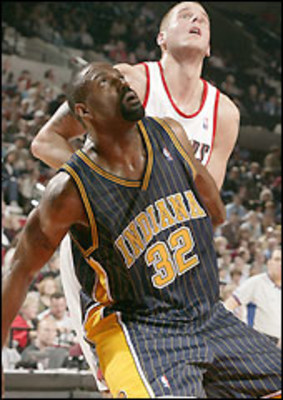 Selected 13th in the 1991 draft, Dale Davis was a bruiser who sacrificed his body for his team every night, and is routinely named as one of the most popular players in Pacers history.
Davis was never much of a scorer and actually only averaged double-digits in rebounds once in his career.
However, he fought, hustled, dove for loose balls and set bone crunching screens night in and night out for nine seasons in Indiana—and his efforts culminated in an All-Star appearance in 2000.
6. Vern Fleming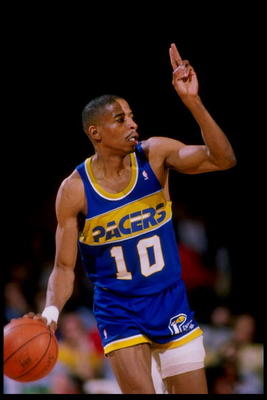 Vern Fleming was the 18th pick in the 1984 draft, and spent 11 seasons in Indiana.
Though not a superstar, Fleming was a very consistent player for the Pacers. He finished with a career average of 11.3 points and 4.8 assists per game, including a stretch of seven seasons where he averaged between 12 and 14.3 points per game.
5. Herb Williams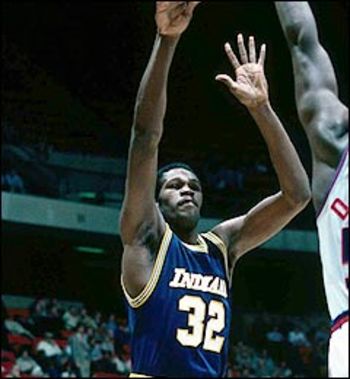 Herb Williams was the 14th pick of the 1981 draft and was a prolific scorer for the Pacers for seven seasons.
Williams later played for Dallas, New York and briefly Toronto, but his best days were in a Pacers uniform. He averaged double-digit scoring in each of his seven years in Indiana, including a career best 20.1 points and 9.2 rebounds during the 1985-86 season.
Williams is currently an assistant coach for the New York Knicks.
4. Danny Granger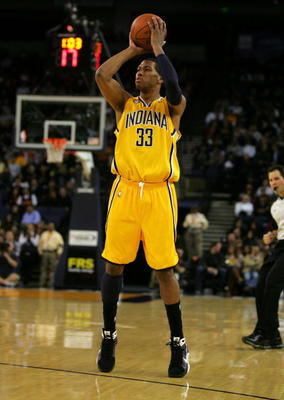 When Danny Granger was selected 17th overall in the 2005 draft, few expected he would become a superstar in the NBA.
But Granger defied the critics by becoming the first player in NBA history to raise his scoring average by at least five points in his first four seasons, from 7.5 points in his rookie season to 25.8 points in 2008-2009, a year where he was also awarded his first All-Star selection.
Currently the unequivocal leader of the Pacers, Granger has the potential to edge his way into the top two on this list if he keeps this effort up for a few more years.
3. Chuck Person
"The Rifleman," Chuck Person, was selected fourth overall in the 1986 NBA Draft and won Rookie of the Year.
For six seasons, he was the man in Indiana, lighting up opposing teams with his deadly shooting and getting under their skin with his brash attitude and trash talk.
Before moving on to Minnesota in 1992, Person never averaged below 17 points in Indiana. His best year was probably 1988-89, where he averaged a career high 21.6 points, 6.5 rebounds and 3.6 assists.
2. Rik Smits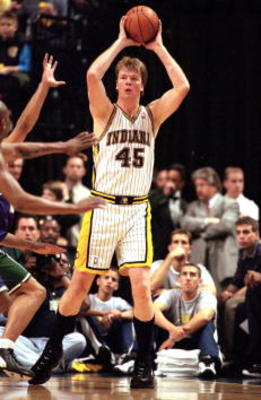 Some may it think it is a controversial choice to put the No. 2 pick of 1988 (the Pacers' highest ever draft pick) at No. 2 on this list.
After all, the 7'4" Smits was ridiculed for much of his career for being a soft big man who was often on the receiving end of highlight reel dunks.
However, the numbers don't lie. Despite battling foot and foul problems for much of his career, the 'Dunking Dutchman' played 12 seasons for the Pacers, averaging in double-digits in each and every one of them.
Smits finished his career in Indiana with averages of 14.8 points, 6.1 rebounds and 1.3 blocks per game. Not flashy, Smits was a consistent, quiet achiever that was instrumental in the Pacers' only Finals appearance in 2000.
Smits was selected to the All-Rookie Team in 1989 and made his only All-Star appearance in 1998. His best scoring year was 1995-1996, where he averaged 18.5 points per game.
And who can forget the pump fake and game winning shot against the Magic in the 1995 NBA Playoffs?
1. Reggie Miller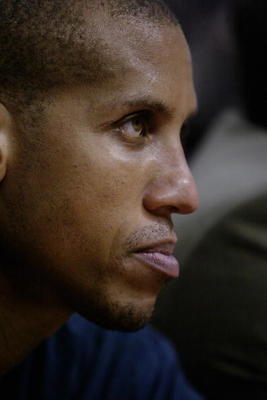 Were you expecting someone else?
The greatest Pacer of all-time was selected with the 11th overall pick of the 1987 NBA Draft.
The lanky guard with the weird stroke, Reggie Miller played his entire 18-year career in Indiana, making five All-Star appearances and ending his career as the all-time leader in three-pointers made and attempted.
From the 25-point fourth quarter to the eight points in 8.9 seconds against the Knicks, to the 39-foot bank shot and driving dunk against the Nets, Miller will probably be best remembered for his playoff heroics and providing Pacers fans with the majority of the franchise's most memorable moments.
Keep Reading

Indiana Pacers: Like this team?