Top 10 Big East Players Currently in the NFL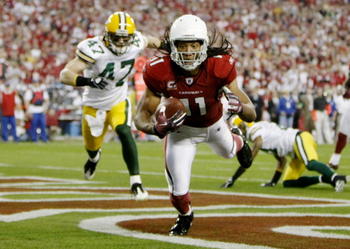 Every now and then a few players who weren't very highly regarded while playing in College, suddenly take off in the NFL.
I have put together a list of the Top 10 former Big East football players currently playing in the NFL.
Rankings were mostly based on this years performance, although the players history was also taken into account.
This list contains only current Big East schools.
10. Brent Celek, TE, Philadelphia Eagles; Cincinnati Bearcats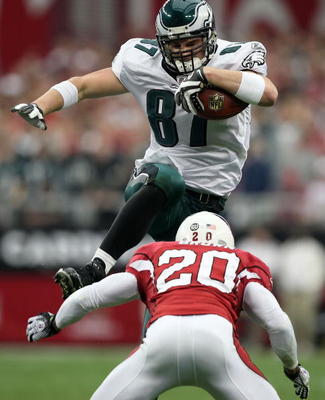 The 2009 season was a break out year for Philadelphia Eagles tight end Brent Celek.
Following the release of long time tight end L.J. Smith (from Rutgers) to the Falcons, Celek got his chance to shine as the Eagles starting tight end.
He didn't disappoint, putting up 76 receptions, 971 receiving yards and eight touchdowns in 2009.
Celek's play style is very similar to Jason Witten, he is aggressive and bruising.
9. Mike Jenkins, CB, Dallas Cowboys; South Florida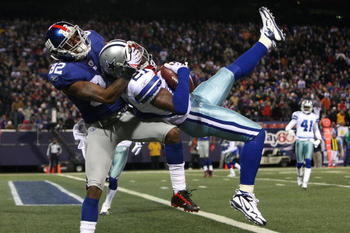 During his second year in Dallas, Mike Jenkins made his efforts known, Recording 49 total tackles, including one for a safety and five interceptions.
He is also a big reason for the lack of offense by the Philadelphia Eagles when playing the Cowboys.
Mike Jenkins held the NFL's quickest receiver, DeSean Jackson, to only 9 receptions and 100 yards in three contests during the 2009 season.
8. Gary Brackett, LB, Indianapolis Colts; Rutgers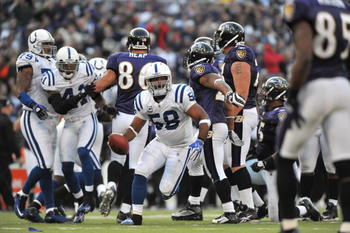 (58 in the photo)
Gary Brackett's best years may be behind him, but he is still a player to recognize.
In 7 years with the Indianapolis Colts, Brackett has racked up a total of 629 tackles, 3.5 sacks, 11 interceptions and one touchdown. He is a core component of the Colts linebacker group.
This year was slightly down, Brackett recorded 80 solo tackles, one interception and one sack.
7. Keith Bulluck, LB, Tennessee Titans; Syracuse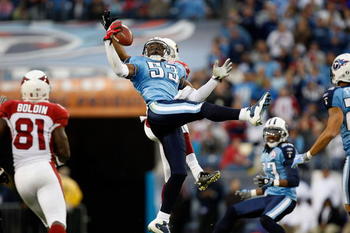 2009 was not a great year for the Tennessee Titans.
Linebacker Keith Bulluck was not about to admit defeat, while racking up 108 total tackles, with three interceptions.
His career stats explain why he is on this list in the first place:
769 Solo Tackles
18.0 Sacks
15 Forced Fumbles
19 Interceptions
Now entering his 11th year, Bulluck's best days are likely behind him.
6. Clint Session, OLB, Indianapolis Colts; Pittsburgh Panthers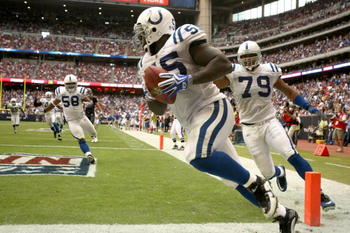 Another Indianapolis Colt has made it onto this list.
Making up part of the Colts linebacker package, Clinton 'Clint' Session has made his name known in only three years in the NFL.
Statistically his best season so far, in 2009 Session recorded 103 total tackles, 0.5 sacks, one forced fumble, two interceptions and one touchdown.
The 25-year-old Florida native looks like a promising aspect of the Colts defense for years to come.
5. Donovan McNabb, QB, Philadelphia Eagles; Syracuse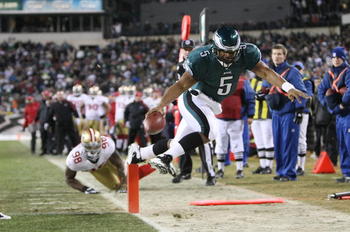 The leader of the Philadelphia Eagles' offensive attack for the last decade, Donovan McNabb has already established himself as a likely future NFL Hall-of-Famer.
Though the 2009 season was statistically mediocre for the former Syracuse QB, McNabb still found a way to lead his team into the playoffs, losing a wild-card game to the Dallas Cowboys.
In 2009, McNabb threw for 3,553 yards, 22 touchdowns and 10 interceptions. Normally known for his efficiency, McNabb has failed to throw less then 10 interceptions a season in the last couple years.
McNabb's numbers are impressive, totaling 32,873 yards and 216 touchdowns to 91 interceptions. He has reached the NFC Championship game five times, winning only once during the 2004-05 season to proceed to the Super Bowl. The Eagles lost 24-21 to the New England Patriots.
McNabb owns the NFL Record for:
Most consecutive pass completions, 24
least-intercepted quarterback per pass attempt of all time, (4,588 attempts—96 interceptions, 2.09 percent)
He owns the Philadelphia Eagles Franchise records for:
Most NFC Championship Appearances (5)
Most Single-Season Yards (3,916, 2008 season)
Most Passing Touchdowns (203)
Most Passing Yards (29,320)
Most Pass Completions (2,534)
Most Career Attempts (4,303)
4. Dwight Freeney, DE, Indianapolis Colts; Syracuse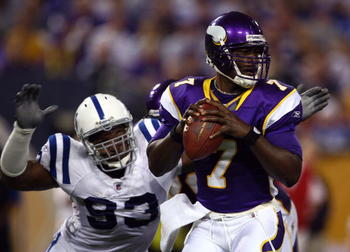 This five-time Pro Bowl selection from Syracuse has been everything the Colts could want him to be since they drafted him as the No. 11 pick in the 2002 NFL Draft.
In 2009, Freeney recorded 24 tackles, 13.5 sacks and one forced fumble.
Considered very dynamic, he can be lined up at many different positions, giving the defense an extra advantage.
In his rookie year, Freeney set the record for most forced fumbles by a rookie with nine.
In 2004, Freeney lead the entire league in sacks with 16.0.
3. Ray Rice, RB, Baltimore Ravens; Rutgers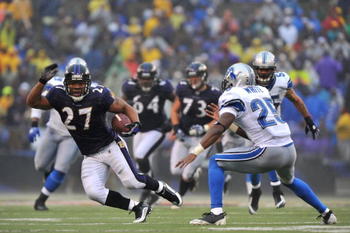 Only in his second year out of Rutgers, Ray Rice was called on full time by the Ravens offensive staff.
After the benching of Willis McGahee at the beginning of the season, Rice stepped up and delivered for Baltimore.
In 2009, on 254 attempts, Rice recorded 1,339 yards and seven touchdowns. He also accounted for 78 receptions, 702 yards and one receiving touchdown.
Rice was selected to his first Pro Bowl in 2009.
2. Darrelle Revis, CB, New York Jets; Pittsburgh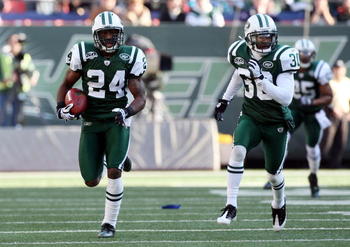 Currently regarded as one of the best cornerbacks in the NFL, former University of Pittsburgh cornerback Darrelle Revis has flashed into our list.
In his third year with the Jets, Revis has established himself as possibly the only "shutdown corner" left in the league, even getting praise from Deion Sanders.
His performances against the Bengals' WR Chad Ochocinco, holding him to two receptions and 28 yards in back-to-back weeks, have given his reputation an extra boost.
Revis's play has been the turning point in many games, he could easily be argued as number one on this list.
(Update: Sunday Jan 17, 2010 - Derrelle Revis intercepted a pass during the Chargers - Jets AFC Divisional Playoff game, his play helped the Jets upset the Chargers in San Diego as the Jets prevailed 17-14 and move on to play the Colts in the AFC Championship game)
1. Larry Fitzgerald, WR, Arizona Cardinals; Pittsburgh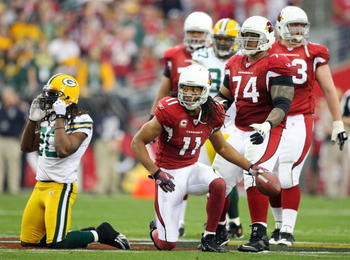 In most cases, Larry Fitzgerald would be at the top of the list as one of the most gifted NFL receivers.
During his childhood, he spent time on the Minnesota Vikings sidelines, as a ball boy, gaining knowledge from the professionals who play the game.
His two year career at Pittsburgh awarded him the 2003 Walter Camp Award and recognition as the best wide receiver in college football.
Fitzgerald had left the University of Pittsburgh after an incredible year in which he caught 92 passes for 1,672 yards and 22 TDs
Drafted in 2004 by the Arizona Cardinals as the No. 3 pick in the draft, high expectations have been expected of Fitzgerald.
He hasn't disappointed.
His rookie stats looked promising, finishing the year with 58 receptions for 780 yards and 8 touchdowns.
During the 2005 season, Fitzgerald lead the league with 103 receptions for 1,409 yards and 10 touchdowns.
If it wasn't for an injury in 2006, it's very possible that Fitzgerald could have recorded four straight seasons with more then 1,400 yards, the first time that would have ever happened.
Fitzgerald is a four time Pro Bowl selection, and two time first team All-Pro selection,
Once again in the playoffs, the Arizona Cardinals will rely on quite possibly the best wide receiver in the NFL.
Keep Reading

Indianapolis Colts: Like this team?