New England Patriots' Nine Winning Seasons, Eight Unsung Heroes
Although the last few years have brought much disappointment to fans of the New England Patriots, they are still riding a league-high nine-year streak of winning seasons.
While Tom Brady and Bill Belichick get a lot of the credit, they are not the only people to make that streak happen. Here's a look at some of the people who've flown well under the radar.
WR Troy Brown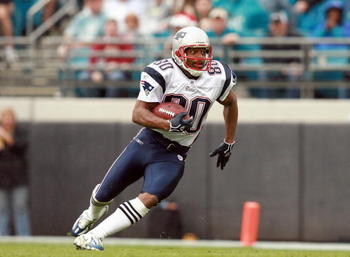 Troy Brown spent his entire 15-year career with the Patriots, and is the Pats' career reception leader. In Brady's first season as a starter, he served much the same role that Wes Welker does today: he caught 101 passes and earned a trip to the Pro Bowl.
In 2004, however, he became much more than a go-to guy for Tom Brady. When the Patriots' secondary was ravaged by injuries, Brown was pressed into service as a defensive back.
Brown played well enough in the secondary—he intercepted three passes—to help lead the Pats to their third Super Bowl. Those same skills came into play when he forced a game-saving fumble against the Chargers in the 2006-2007 playoffs.
OL Coach Dante Scarnecchia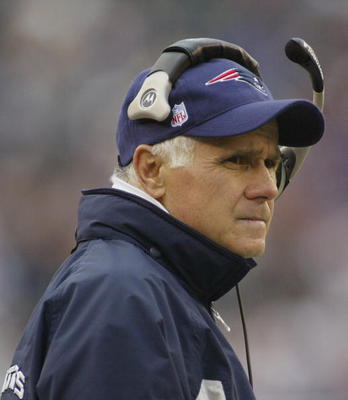 Many Patriots fans may not know who this man is.
Scarnecchia, a former Marine reserve, has been a coach for almost his entire working life, and he's spent almost all of the last 30 years as a coach for the Patriots.
For the last decade he's been the Patriots' offensive line coach. He helped mold the offensive line that helped the Patriots' record-setting offense in 2007; turned a former collegiate wrestler, Stephen Neal, into an excellent lineman; and was responsible for scouting the Patriots' latest OL find, rookie Sebastian Vollmer.
The Falcons were rumored to be considering Scarnecchia as a candidate for head coach in 2007. Patriots fans should be glad that Scarnecchia's ambition wasn't to be a head coach, but just to be the best Patriots OL coach possible.
LB Willie McGinest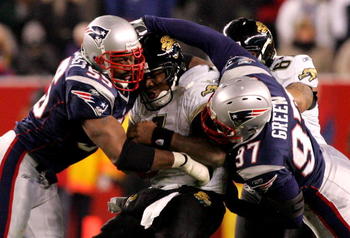 McGinest played linebacker for the Patriots from 1994 to 2005.
One of the biggest 'backers the Pats have ever had (6'5", 270 lb.), McGinest helped contain the edge for the Pats' Super Bowl-winning teams.
Part of one of the best linebacker corps the Patriots ever had, in his last game at Gillette Stadium, he set an NFL postseason record with 4.5 sacks against the Jacksonville Jaguars.
LS Lonie Paxton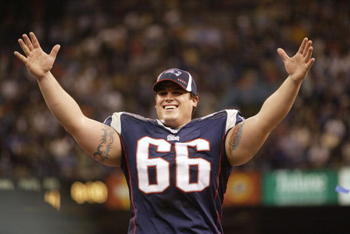 While versatility is one of Bill Belichick's mantras, he's also willing to keep specialists, especially if they're really good at what they do.
Long snapper Lonie Paxton epitomized the "really good" part. For nine seasons, he was the Patriots' long snapper, and during that time, the Patriots' kickers and punters basically never had to worry about a bad snap.
Paxton's best-known play is probably his intentional safety against the Denver Broncos, but he may be best-known for his victory snow angels.
Either way, he impressed former Patriots offensive coordinator Josh McDaniels enough that when McDaniels became head coach of the Denver Broncos, he dumped the Broncos' long-time snapper Mike Leach, and handed Paxton one of the largest contracts ever given a long snapper.
DE Ty Warren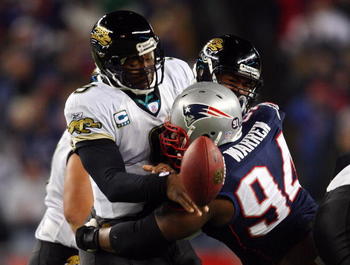 Amazing to think that a first-round draft pick could make this list, but Ty Warren definitely hasn't gotten enough praise through the years.
Warren was drafted in 2003 using the first-round draft pick they received when they traded Drew Bledsoe to Buffalo. While he's been overshadowed by fellow defensive end Richard Seymour and nose tackle Vince Wilfork, Warren has quietly gone about doing his job for the last seven years.
Defensive end is not a glamour position in the 3-4; the ends are supposed to swallow up blockers, not pile up the sacks. Since Warren arrived in 2003, he's been doing exactly that, and on a reliable basis—he's played every game in five of the seven seasons he's been a Patriot.
Jack-of-All-Trades Nick Caserio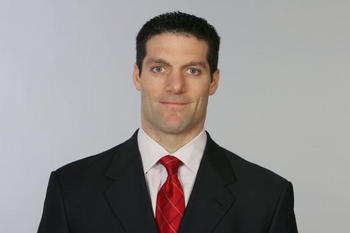 Offensive coordinator Josh McDaniels recommended Nick Caserio to the Patriots; at John Carroll University, McDaniels, a wide receiver, was Caserio's favorite target.
In 2004, after a couple of years as a coaching assistant and scout, Caserio became the Patriots' director of pro personnel.
Three years later, when wide receivers coach Brian Daboll left the Patriots to become quarterback coach for the New York Jets after the 2006 season, Caserio moved from the front office to the coaching staff, becoming the wide receivers coach; under his guidance, the Patriots caught a record 50 touchdown passes from Tom Brady.
After that season, Caserio returned to the front office, where he is still in charge of player personnel, but he still finds the time and energy to work with the coaching staff during the preseason.
RB Kevin Faulk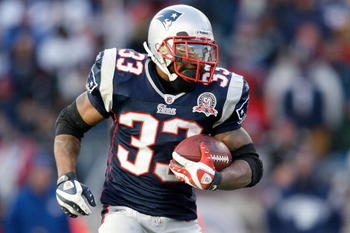 A second-round draft pick out of LSU in 1999, Faulk was one of the most dynamic players in SEC history (his 53 touchdowns were an SEC record until Tim Tebow broke it this year).
If you look up Kevin Faulk's Madden NFL ratings, you'll see what every Patriot fan should know by now: he's the best third-down running back in the NFL right now.
The Patriots are careful not to use him too often; for comparison, LaDainian Tomlinson had almost as many carries in 2005 and 2006 as Faulk has had in his entire 11-year career.
Nevertheless, there's a certain minority of fans, though, who consistently predict that "THIS is the year that Faulk retires" or ask "Will Faulk make the team this year?"
To be fair, Faulk is a free agent this year. But the "ageless" Faulk (who's 33), still makes a difference on third downs, whether running, receiving, or blocking, so he'll probably be back next year, too.
Owner Bob Kraft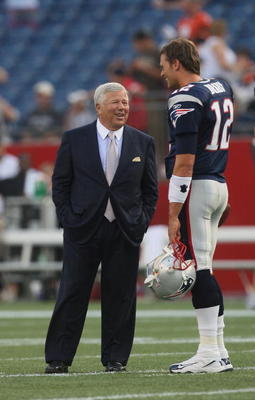 Finally, all Patriots fans owe an immense debt of gratitude to Patriots owner Bob Kraft.
First, Kraft kept the Patriots in New England.
Second, Kraft had the vision needed to turn one of the NFL's laughingstocks into one of its premier franchises.
Finally, Kraft came to realize that the Patriots needed a coaching staff and front office staff capable of running the team properly. He went out of his way to get that staff—he gave the New York Jets a first-round pick for Bill Belichick, after all.
And, most importantly, unlike too many owners, Kraft then got out of the way, and let his hires run the team.
Keep Reading

New England Patriots: Like this team?