Early Fantasy Impact: San Diego Padres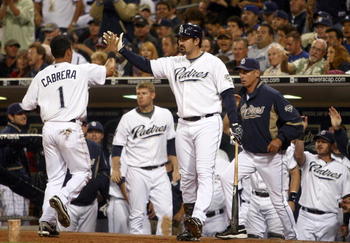 32 teams 'till the start of the season, each article will highlight the players on each team that are fantasy worthy. Of course the players' roles will change as spring training goes on, but these players are the ones you should target anyway.
Ok, so spring training is not for another few months and pitchers and catchers do not report until the month of February. But it is never too early to start planning your draft and rank and tier your players.
The San Diego Padres are coming off a 75-87 season that brought promise and despair. The Padres had a promising end to the season avoiding a 100-loss season.
The Pads have only a few players worth of making an appearance on your roster unless you have a very, very, very, very, very, very, very deep league.
The top ten players are as follows:
1. Adrian Gonzalez
2. Heath Bell
3. Kevin Kouzmanoff
4. Chris Young
5. Everth Cabrera
6. Tony Gwynn
7. Mike Adams
8. Kyle Blanks
9. Kevin Correra
10. Mat Latos
No. 1 Adrain Gonzalez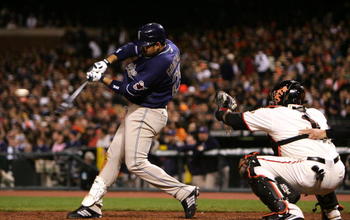 No question the best player on the team, fantasy or otherwise.
If Gonzalez was on any other major market team he would be talked about with the likes of Albert Pujols.
In his last three years in a Padre uniform, Gonzalez has missed only three games, while this was speculated to negatively effect his performance at the end of last year, it is only good news for fantasy owners as he is never hurt and plays literally every day.
Gonzalez, who can be drafted around the fifth round, has numbers that are in the neighborhood of Pujols. Gonzalez had only 30 less runs and hits, seven less home runs, and 40 less RBI.
Playing in an extremely friendly pitchers' park half his games and not having anybody in the lineup to protect him, these are pretty impressive numbers.
Expect another 170-hit, 40-HR, 100-RBI effort from Gonzalez this year.
No. 2 Heath Bell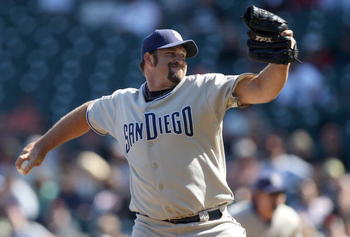 After being Trevor Hoffman's setup man for his first two years in San Diego, Bell took over the closer's role after Hoffman left for the Brewers.
In his first year as a closer Bell dominated going 42-48 in saves and posting a 2.71 ERA, Bell also had six wins in relief.
Look for Bell to succeed in the closer's role (and get around 40 saves), but he will have limited potential due to the lack of wins the Padres will get this season.
No. 3 Kevin Kouzmanoff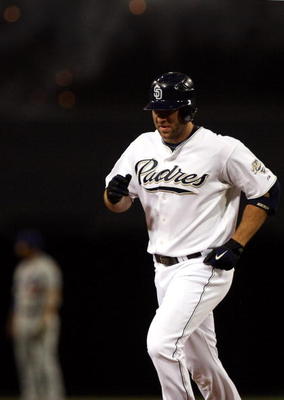 One of the more underrated third baseman in baseball, Kouzmanoff can be had for a very low asking price.
Last year he netted you 135 hits, 18 HRs, 88 RBI, and a .255 BA.
Not bad for a guy that you can get in the teens of your draft.
This year you can expect a little more production due to the lineup being better at the start of the year.
No. 4 Chris Young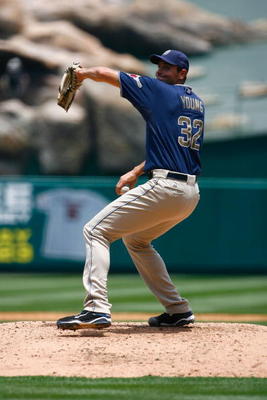 Battling injury last year, Young had only 14 starts in 76 innings, and he posted poor numbers (5-plus ERA, only four wins, and 50 Ks).
Ignoring the injury problems Young has faced the last two years, he has posted great numbers his first two years in a Padre uniform. 20 wins, 13 loses, about a 3.30 ERA, and 331 ks in 61 starts.
When healthy, Young puts up good numbers and is a great number three or four starter in all fantasy leagues.
No. 5 Everth Cabrera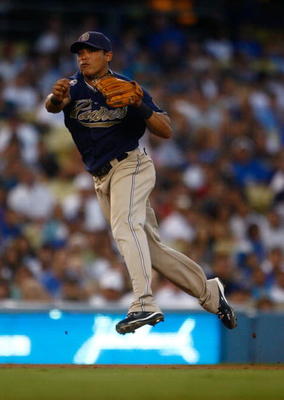 A Rule 5 draft pick last year, the Padres were impressed out of spring training with the young Cabrera. Even though he missed over 50 games due to injury, Everth put up great numbers, good enough to keep him in the lineup everyday.
He lead the Friars in stolen bases with 25 and hit eight triples in the spacious PETCO Park.
Add 96 hits and a .342 on base percentage and Cabrara's rookie year resulted him in getting his native Nicaragua's highest sports honor.
Look for Everth, who has been compared to Rafael Furcal, to be an everyday player who will steal his fair share of bases and improve on his rookie year.
Best of the Rest: Nos. 6-10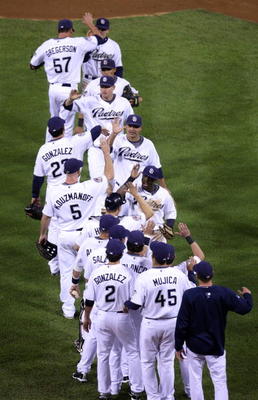 No. 6 Tony Gwynn: 11 SB and 106 hits in only 119 games last year. A good source of speed and average.
No. 7 Mike Adams: In line to get saves if Heath Bell gets hurt or traded. He also gives you holds and low ERA.
No. 8 Kyle Blanks: If healthy after his foot problem last year, he is expected to have a starting spot in the outfield, a potential sleeper pick, who has lots of power.
No. 9 Kevin Correia: 142 strikeouts and 12 wins and a high three ERA in 33 starts. Good number four or five pitcher.
No. 10 Mat Latos: Sleeper pick, he only pitched in 10 games last year but he will be fighting for a spot in the starting rotation next year.
Keep Reading

San Diego Padres: Like this team?