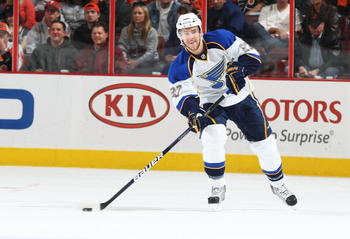 The league is going through an exciting time right now with new young players with exceptional talent entering every year.
It seems nowadays that development of these young stars is better then ever before as they are faster, stronger and more talented then in previous years.
In a couple of years we could be seeing a much stronger shift towards these players, and it would seem fitting to have a top 10 dedicated to the future superstars of the league. The following 10 players have been either drafted or waiting to be drafted this year, and will certainly make an impact in the years to come.
10. Jack Campbell
Draft: 2010 draft eligible
Current team: US U-18 development team (2010-11 Windsor Spitfires)
Jack Campbell is a 17 year old goalie that really proved himself in the World Juniors.
The Port Huron native was the backup goalie to Mike Lee for the American squad but saw time in important games and kept his cool. In fact the young goalie was forced to replace Lee in the gold medal game, and played admirably despite the pressure.
Campbell has a strong glove hand and quick reflexes. The goalie proved he can keep his head clear in key games, and can make big saves at the right time.
Campbell will likely be the first goaltender drafted in the upcoming draft, and could possibly go top 10.
Their is definitely a bright future for Campbell and I can't wait to see what he can do in the NHL.
9. Derek Stepan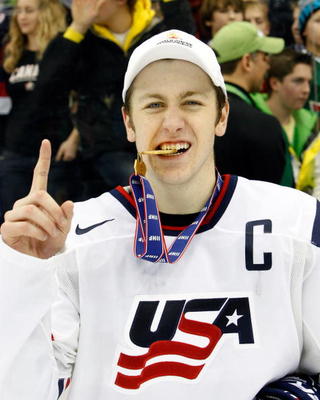 Draft: 2008, 2nd round 51st overall
Rights: New York Rangers
Current Team: University of Wisconsin
Derek Stepan sure took a "step" forward in his development at the World Junior Championships.
Stepan captained the team past the tough Canadian squad to win the gold medal. This was the first team to beat Canada since the States beat them in 2004.
During the tournament he recorded five goals and 10 assists for 15 points. This was good for tops in scoring for the tournament.
Stepan is more on the smaller size, but has speed and skill to compensate. He is a class act, and will be a big part of the New York Rangers future.
8. Nino Niederreiter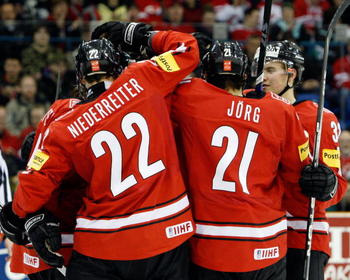 Draft: 2010 draft eligible
Current team: Portland Winterhawks
To be honest I had never heard of Niederreiter until about a couple weeks ago when I saw him play against Canada at the World Juniors.
Niederrieter is a very skilled forward who guided the Suisse club to an impressive fourth place finish. He arguably could have been given the MVP award as he was the key cog in Switzerland's success.
Niederreiter is a smart hockey player who in his rookie season in the Western Hockey League has amassed over a point a game and is one of the leagues top scoring rookies, despite being away for a month.
Nino's stock has certainly risen, and could go in the top half of this years draft. With a little more development in the WHL he could really come into his own as a big time player.
7. Jordan Schroeder
Draft: 2009, first round 22nd overall
Rights: Vancouver Canucks
Current team: University of Minnesota
Schroeder is a speed demon. The smallish center for the University of Minnesota can skate with the best of them.
Jordan has a sharp hockey sense and a solid skill set.
Schroeder is one of four Americans appearing on this list that won the gold at the World Juniors. Several times in that tournament I found myself surprised at how many times he danced around opponents defense and found himself alone for a solid chance on goal.
Vancouver could use another speedy forward to compliment the Sedins, and they may have found it.
6. Cam Fowler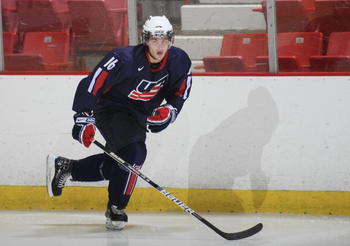 Draft: 2010 draft eligible
Current team: Windsor Spitfires
Cam Fowler has really stepped into the spotlight this season with the Windsor Spitfires.
The Michigan native has recorded over a point a game with the Spits including 38 assists in 35 games.
Fowler has good mobility, good size, and makes a good first pass. Fowler is the best offensive defensemen for the upcoming draft, and is thought to go as high as second or third.
Fowler won the gold with team USA in the juniors and was the teams best defender.
5. Alex Pietrangelo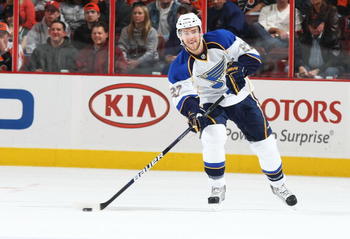 Draft: 2008, 1st round 4th overall
Rights: St. Louis Blues
Current Team: Barrie Colts
Pietrangelo already has 17 games of NHL experience under his belt, but the St. Louis Blues are doing a very wise thing in letting him develop as much as possible in the OHL.
Pietrangelo is a big time player who can make a huge play when the chips are down. He has good speed, and can distribute the puck very well.
In the world juniors Pietrangelo amassed 12 points in six games, and was voted as the best defensemen in the tournament.
Recently Alex was traded from the Niagara Ice Dogs to the Barrie Colts which could be very beneficial to the young superstar as the Colts will likely be a front-runner for the Memorial Cup.
4. Magnus Paajarvi-Svensson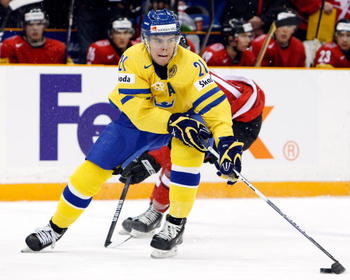 Draft: 2009, first round 10th overall
Rights: Edmonton Oilers
Current Team: Timra IK
Magnus Paajarvi-Svensson along with having the longest name of the players is also the best puckhandler.
The guy can deke and dangle with the best of them and is a dynamic forward. Svennson plays in the Swedish elite leagues and is one of the top scoring forwards on the team.
The Oilers need a skilled forward like Svensson desperately so don't be surprised if he debuts in Oil country next season.
3. Tyler Seguin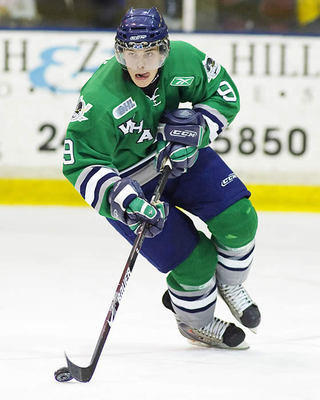 Draft: 2010 draft eligible
Current Team: Plymouth Whalers
Tyler Seguin got the short end of the stick when he was one of the first eliminated from the World Junior camp, but responded with picking up OHL player of the month honours for December.
Seguin is not a complete player, but has amazing potential. He is very gifted offensively but needs to work on his defensive game.
Seguin is currently tied for first in OHL scoring with 67 points in only 39 games played.
undoubtedly Seguin will be a top three pick in the upcoming draft and will make a big impact for whichever team chooses to draft him.
2. Jordan Eberle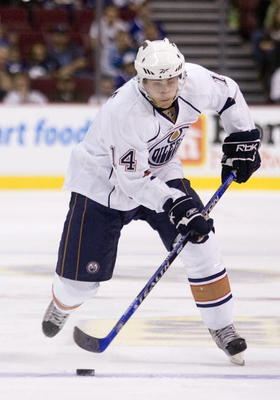 Draft: 2008, first round 22nd overall
Rights: Edmonton Oilers
Current Team: Regina Pats
Jordan Eberle is captain clutch himself. The 19 year old forward of the Regina Pats is the hero of almost every Canadian hockey fan and is surely in the hearts and minds of the Oilers brass.
Eberle was named MVP in the World Juniors and had a knack of taking over games and always battling when the chips were down.
In Regina, Eberle has been firing at over a two points per game rate and he has no intention of slowing down.
The Oilers prospect is a can't miss player and will be playing pro hockey next year.
1. Taylor Hall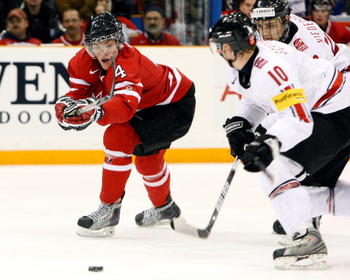 Draft: 2010 draft eligible
Current Team: Windsor Spitfires
Taylor Hall is the best player to enter the draft since Sidney Crosby. High claim but he has certainly earned every bit of it.
Taylor Hall is the complete player, he is dominant at both ends of the ice has great speed amazing hands and can play a physical game if called upon.
Hall already has one Memorial cup under his belt (MVP of the tournament) and is looking for another one as he leads the top ranked country in Canada back on top once again.
Keep Reading

Edmonton Oilers: Like this team?
Load More Stories