English Premier League: 'Lord of the Rings' Edition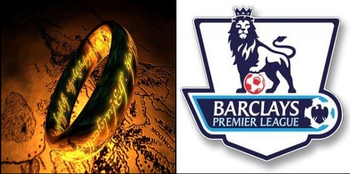 I have been thinking a lot while doing this article. For many a times, I decided to leave it in the middle.
The feeling of not doing justice to the great work of Tolkien wasn't getting me any near to finish this up.
But, as I kept going, it occurred to me that I am coming up with a thing that no one could do. So, I kept going and here I am! Now, it's you to decide about: "Where am I!"
The credit for this article should equally be given to Willie Gannon; the one who asked me, TWICE, to come out with LOTR-thing.
Even, in his unofficial yet imaginary acceptance of 'B/R World Football Writer of the Year' award, he showed up on my shoulder and asked me to do this article. And, I was thinking: "Man! What's wrong with this guy! Why just can't he gulp the champagne and enjoy his moments and go home!"
P.S.: This article, IN NO MEANS, serves as an insult or mockery to anyone or anything. It should be considered as a 'dark comedy'.
Cheers! Enjoy the read, as I know you will.
Gandalf: Alex Ferguson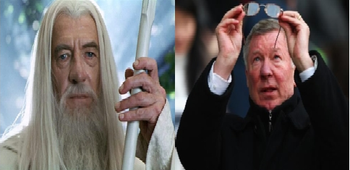 Being an oldest being in English Premier League, Fergie makes it for the wizard: Gandalf. (Of course, I know that Lady Galadriel was the oldest being in Lord of the Rings but Fergie could never make it for that! Now, would he? I mean, come on guys!)
This is not the sole reason of being the wizard of Premier League.
He is an intellectual person, having lot of tricks in his bag, supreme mind-games that no one can beat, bold character and that characteristic of being 'a mad man' who knows how to do things swiftly in what order and at what times.
These are the traits that you could easily relate to with Gandalf.
Fergie knows well when to let the players go, he knows when to make the best out of the players. He knows how to treat someone. He knows every darn thing!
His trophy cabinet speaks of him, brightly.
And, I think that this is the one and only time that I wrote something about Alex Ferguson.
Saruman and Isengard: Arsene Wenger and Arsenal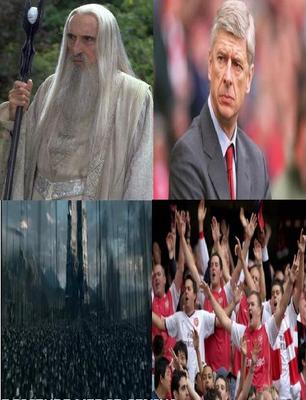 Like Saruman, Arsene Wenger also kind of has that magical spell (Wenger-ball) in his words (style of play). The words (style of play), which makes this gaffer favorite in the book of those as well, who don't happen to be Arsenal fans.
Like Saruman, Arsene Wenger also had rifts with Alex Ferguson (Gandalf) but eventually, Fergie tamed him as Gandalf tames Saruman in Lord of the Rings.
Like Saruman, Arsene Wenger has developed 'Isengard' of his won (Emirates Stadium). He has created the Army of Uruk-Hai (Arsenal fans) who would bleed for their master.
So, why should I use 'Like Saruman' anymore?
Ladies and Gentleman! We have Saruman in English Premier League, Arsene Wenger.
Uruk-Hai (Arsenal fans) is the largest army of fans world-wide. Even, they lead the charts at Bleacher Report.
Just say a word against Arsenal or Arsene Wenger and they will show you what they are made of!
Saruman to Uruk-Hai: "Who will you serve?"
The reply comes: "SARUMAN!"
Arsene Wenger to his fans: "Who will you serve?"
The reply is not different: "IN ARSENE WE TRUST!"
Nazgûl: Chelsea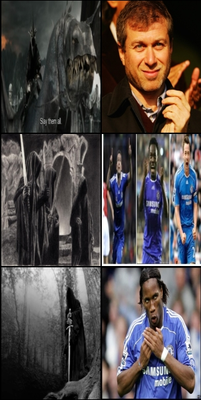 No one could stand the shrill cry and darkening terror of Nazgûl in Lord of the Rings.
Same goes with Chelsea.
Don't believe me, eh? Just whisper the name: Didier Drogba, in to the ears of any defender or goalie of the league and you would see them covering their ears with their hands having a grimace of fear on their face! Trust me.
Since the arrival of the Witch-king of Angmar (Roman Abramovich), Chelsea have been unleashing the fury.
Lampard, Terry and Essien are the ring-wraiths that any team in this world will fantasize about; to spread the fear and terror among their rivals.
Drogba has become a myth – Period.
Gondor: Liverpool Football Club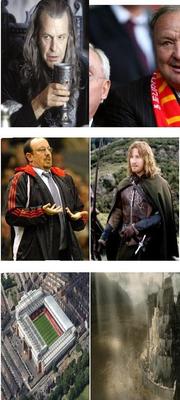 I always get sad whenever I think about Gondor or Liverpool Football Club.
Those who know me here are aware of the fact of why is that. So, I won't repeat it again. Let's get back to the article and draw the parallel.
The owners (Hicks and Gillet) have been acting like Steward of Gondor, Denethor. Rafa is like Faramir here who never gets the desired and deserved nod from Denethor.
Denethor (Hicks and Gillet) won't be there. Faramir (Rafa Benitez) won't be there. But, Gondor (LFC) will always live-on.
All we need to find is Isildur's Heir.
And I don't know myself of who would fit in as Isildur's Heir. Any ideas, Barney? Willie?
Heysel incident proved to be the Isildur's Bane to Fagan. Otherwise, you would never know of how many glory days would have prolonged for this Gondor.
Always hoping; The White Tree of Gondor would bear a flower one day (Illusive trophy of Premier League).
Elves: Tottenham Hotspur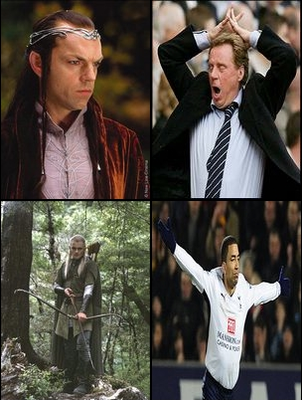 This team has players who have likenesses those of Elves.
The likes of Modric, Kranjcar, Corluka and Woodgate kind of have Elvish faces barring their ears.
The Players; Defoe, Keane and Dos Santos have swiftness that can be easily attributed to Elves.
Elrond of Spurs (Harry Redknapp) has been reading the game a lot and is trying to rectify many things. He has been succeeded so far. The things at Rivendell (The White Hart Lane) are looking bright and glittering.
This Elrond of English Premier League has one deadly weapon. Legolas (Aaron Lennon).
Fast, agile, swift, performs tricks in the wink of the eye, moves from one place to another like he was never there before and fires on goals like Legolas did with his arrows; makes Lennon no different than Legolas.
Ladies and gentlemen! Things at White Hart Lane are quite Elvish.
Hobbits: Aston Villa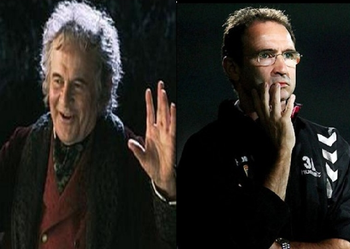 Let me start this one slide with Bilbo's golden words – "Concerning the Hobbits":
Martin o' Neil has a size of a hobbit. Well, not really but approximately.
Like hobbits in LOTR, Villans have fared well.
Ashley Young, Agbonlahor and James Milner make a great company of nice hobbits.
They are strong at hearts, unwary of perils, and doing their best no matter what the outcome.
They have taken many traits out of Frodo, Pippin and Merry characters.
All they need to find is the legendary unwavering bravery and will of Samwise Gamgee in them. Then, they would be unstoppable.
Rohan: Fulham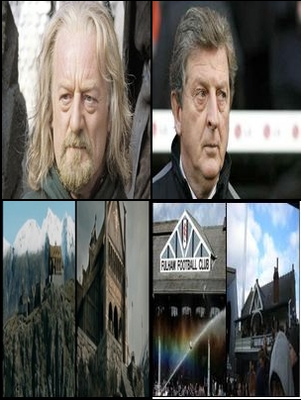 You can't argue with me on this! Would you?
Craven Cottage is built as same as Edoras was built in LOTR – Cottages.
Give a beard-look to Roy Hodgson and we will have Kind Theoden of the Golden Hall.
King Theoden, in LOTR, has loyal servants and brave knights like Gamling and Eomer.
So has Roy Hodgson in shapes of Duff and Murphy.
You can not question the will of strong heart that Roy Hodgson and King Theoden have.
I can imagine Roy Hodgson muttering the words with a grit of teeth: Let them come! (These are the very golden words of King Theoden that showed us his determined character.)
Roy Hodgson, like Theoden, has defended and served his own Edoras very well.
He has the highest quality that of King Theoden when it comes to management.
Army of Sauron: Manchester City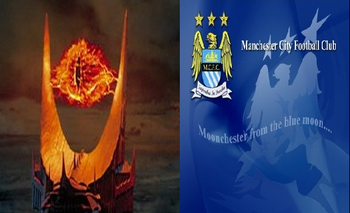 Manchester City have become 'the Great Eye' in English Premier League.
They can 'glance' anywhere in Mordor (transfer market) and can buy any big name player. They have that ability; all they lack in is credibility – 'The One Ring' (Champions League Spot).
The Dark Clouds of their burgeoning power is rising. They will be force to reckon and trror to be scared of in the Middle-Earth (English Premier League).
Like the Army of Sauron in LOTR, Manchester City will rise soon and everyone would be trying to avoid them.
My Friends, Army of Sauron is in the making and rising again.
Will Gondor survive this dark spell?
Will the Hobbits make their way?
Will Elves muster themselves against this army?
Most importantly, will Rohan give the answer?
These are the questions that would be answered very soon.
Let's take a break!

No? Come on! Look at the pics.
Some players in this beautiful game have elvish faces. Some players are fierce as Balrog.
Roy Keane has been an outrageous and fierce player. Even Gandalf was little bit frightened of him. Now, who is Gandalf? Oh yes! You guessed it right.
Nedved is elvish whether you pick his face or his style of play. This man shook the Delle Alpi when he played.
Tymoshuck has hair that of Lady Galadriel. Well, that's quite a big compliment for him. Alas! He would never know this.
Mario Gomes..., well let's stop it and go back to the next slide.
Why did I include the players out of Enlish Premier League? Well, that's why I called it a 'break'.
Ents: Everton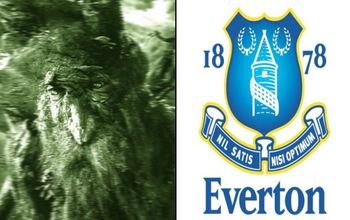 Hoammm! Don't be hasty!
Everton have been slow; catching up with the top four, delivering the results for their fans, signing the good players, stadium dilemma…, slowwwww!
Moyes has done a great job at everton. He has become such a manager that people have short-listed him amongst those who are potentially strong for Old Trafford job.
Will they push-up and finish in with a respectable standing?
Will they come out with a solution to their stadium?
Will they sign a quality player who will have a quick impact over their poor results?
Will their injured players come back and gain momentum quickly?
Well, so many questions! Don't be hasty!
Helm's Deep: Birmingham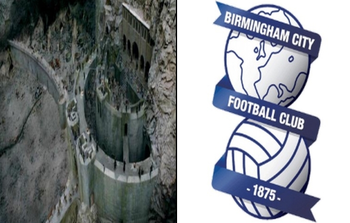 Helm's Deep has been a legendary fort which was always defended in battles.
All the assaults were silenced while defending Helm's Deep.
Look at the unbeaten run of Birmingahm City and you will get your Helm's Deep of English Premier League.
Even Red Devils were left wondering and gutted.
How long would Alex McLeish hold his own Helm's Deep well defended? No one knows.
Undead: The Tigers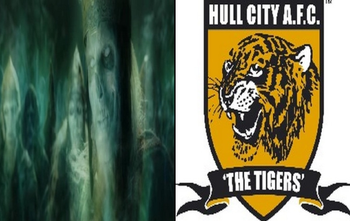 All Right! If I didn't write anything about Hull City then I have a fear that Brian would pop out off my monitor screen and would kill me, literally!
It's more like a round of applause to his articles that I am including the Tigers here.
Hull City are Undead. Well, they are dead, but undead.
They survived relegation battle last season and people expect them to deliver something good this season.
Like Undead in LOTR, it's a matter of regaining honor for them. They have to/need to regain it if they want to be an influential part of the Middle-Earth.
All they need to do is to find Isildur's Heir who would hold their promise fulfilled and let them regain their honor.
Who is that Isuldur's Heir for them?
What promise they made? Well, Brian would answer well for that in his articles.
Dwarves: You decide!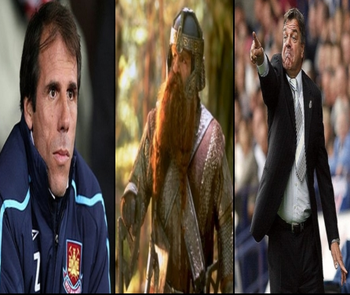 One had a bright playing career.
Another had a decent run of management at Bolton Wanderers.
Both are in a similar wretched situations.
Both possess strong and brave character that we found in Gimli of LOTR.
Both have been dwarfed by the competitiveness of the battle in Middle Earth.
So, who fits well? Zola? Or Big Sam? Both?
You decide!
Honorary Mentions: Stoke, Sunderland, Burnley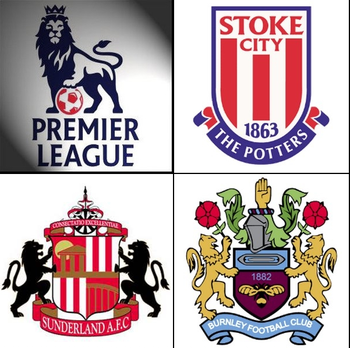 These teams are in honorary mention from me.
I just couldn't fit them well with Lord of the Rings characters.
Although, I felt great urge to include Steve Bruce or Tony Pulis as Grima the Wormtongue but eventually I dropped that idea.
So, they are here. Stoke City, Sunderland and Burnley.
Honorary Mentions: Bolton, Wolves, Wigan, Portsmouth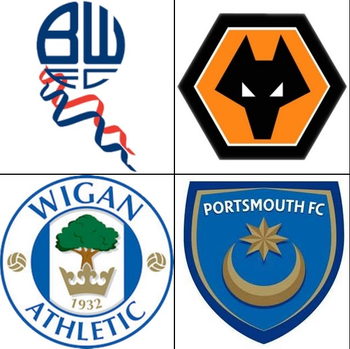 This second slide of Honorary mention is not different from the last one.
I just ran out of ideas when thinking about these teams or their managers.
Obviously, if I was doing "Underworld" kind of things then Wolverhampton would come out as the Lycans.
But none of the above could make in my 'Lord of the Rings' section.
Just decided to give them mentions here, though.
Bolton Wanderers, Wolves, Wigan Athletic and Portsmouth.
Let's dissolve 'the Ring' now...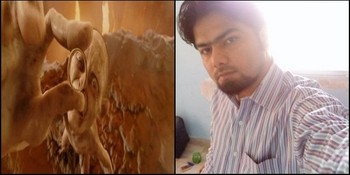 ... into the Mount Doom of my article archive.
I went through a lot of pain while making this all. I had to damage my brain-cells or brain-maggots or whatever they call them.
There are two characters in LOTR that I hold in high esteem; One is Aragorn and the other is Boromir.
I could never draw a parallel for these two in this era of football.
They are such great human-characters that you can pick out the definition of humans out of these two characters.
One; Aragorn – the exemplary character and would choose to die for his words.
Another; Boromir – who shows how frail a human can be.
If I had to choose just one favorite character out of all the Lord of the Rings Legendarium, then it has to be Boromir.
Thus, this was 'Lord of the Rings' through Gollum's eye, I mean, my eye. Hope you liked this little effort of mine.
I would like to conclude this all with this review of the book by Sunday Times:
"The English-speaking world is divided into those who have read 'The Lord of the Rings' (and The Hobbit) and those who are going to read them".
Cheers!
(I think, this is going to be master-piece!)
Keep Reading