Pete Carroll's Departure, And The 10 College Football Programs That Will Most Benefit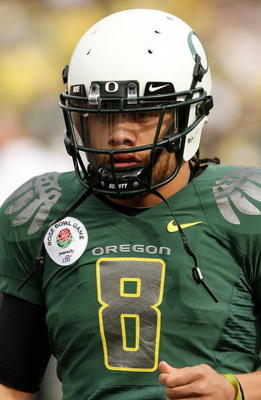 With Pete Carroll leaving to take the head coaching job with the Seattle Seahawks, it's unclear who Will Ferrell and Billy Joel will go rock-climbing with every Wednesday.
And what's that female graduate assistant living in his Malibu house going to do with herself? Oh, right, sit around and drink mimosas all day.
But not everyone loses with Carroll's departure. Some teams—in the Pac-10, and across the college football landscape—will receive the news joyfully.
Here are the 10 programs that will benefit most from Pete Carroll's resignation from USC.
No. 10: Virginia Cavaliers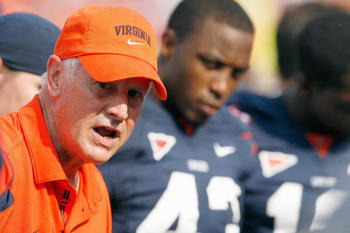 Virginia plays USC in the Coliseum on Sept. 18.
The last two non-conference meetings between these teams have turned out pretty embarrassingly for the Cavs. But that was Al Groh, and this is now.
Maybe new head coach Mike London can score his first big victory for the rebuilding Cavs.
No. 9: Minnesota Golden Gophers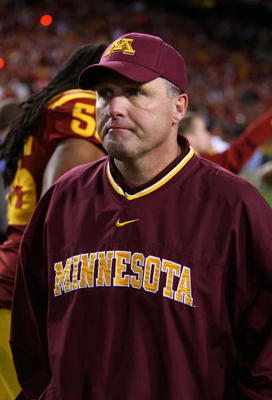 It probably looked like suicide when they did it, but the Golden Gophers scheduled a home-and-away series with the Trojans that is set to commence at the Coliseum next year and return to Minnesota in 2011.
If Tim Brewster wants us to believe Minnesota is heading in the right direction, topping USC in either of those games would go a long way. Doing it next year would be huge, just in case the luster of beating the Trojans wears off eventually.
No. 8: The Big Ten Conference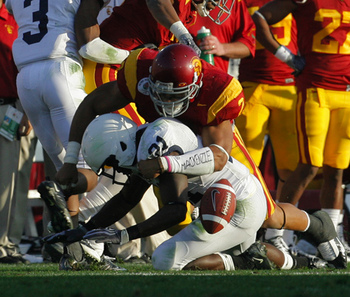 Aside from just the Gophers, Carroll's departure benefits the entire Big Ten conference. Like Big House Bob pointed out, it just requires thinking more long term.
WIth Carroll gone, maybe the next time a Big Ten team faces USC in the Rose Bowl, they'll have a fighting chance. The conference was a combined 0-5 against him in the BCS era. Hopefully, it's just him.
No. 7: Arizona Wildcats
Every Pac-10 team benefits, truthfully.
But the Wildcats get my nod as the true up-and-coming program in the Pac-10, both from a recruiting and an on-field standpoint. And in that light, they beat out Washington, Stanford and Oregon State.
(I chose them over Stanford in particular because I think Harbaugh actually benefited from Carroll's presence. It gave him a big personality to compete against, a giant to kill.)
The Cats are in the mix for the same athletes as USC, so Carroll's departure can only help them rebuild after losing their defensive coordinator.
And they benefit more than Oregon State, which might lose their head coach to USC in spite of the contract extensions and ongoing negotiations.
Any instability at the top of the conference benefits 'Zona's rise to relevance. They will compete in the Pac-10 power vacuum left by Carroll's resignation, and stand to lose nothing by that same instability.
No. 6: Florida Gators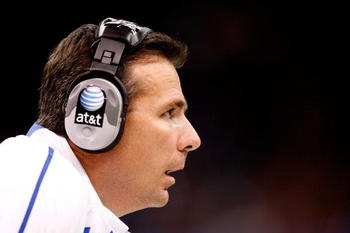 Five-star defensive end Ronald Powell had narrowed down his choices to Florida and USC. To me, that short list indicated where the top talent was flowing in the country.
But with Carroll gone, USC's status as a recruiting power without physical bounds is in doubt.
The fewer major national recruiters the Gators have to compete against, the more athletes they will land. Urban Meyer won't have to work as hard; which is good, because it could kill him.
Florida isn't alone in this, either...
No. 5: Oklahoma Sooners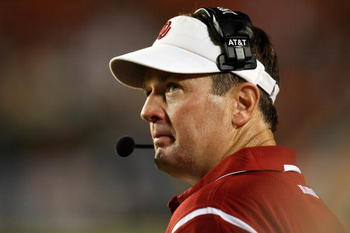 ...Oklahoma is another program that will benefit from the power vacuum.
Texas is a little more committed to in-state kids, while Oklahoma has shown a renewed boost in national recruiting. The latter battled USC head-to-head on a majority of athletes this year, and won on a few of them.
For athletes who want to practice against the best of the best in the country, Florida and Oklahoma are on the rise. And the Trojans are now one less team to consider.
No. 4: Cal Bears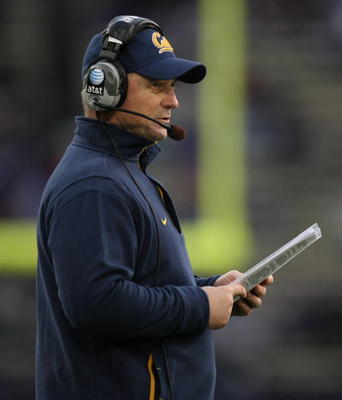 Like UCLA, Cal often locks horns with USC for recruits. Though they've had better success than the Bruins, they've been on the losing end more than they cared to be.
Aside from recruiting, Cal hasn't beaten USC since the three-overtime thriller in 2003. And this year's anemic performance at home didn't endear Cal fans to the dwindling promise of the Jeff Tedford era.
But seeing the madness following Carroll's resignation has to be a valuable reminder to Cal's AD that, sometimes, staying the course really is the better option.
And with Carroll now gone, maybe the Bears actually, finally, theoretically, can win one against the Men of Troy.
No. 3: Notre Dame Fighting Irish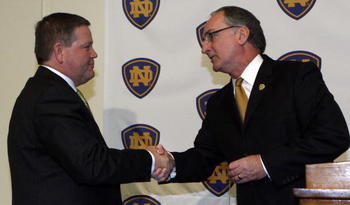 If losing by only a touchdown felt like a moral victory, imagine how good actually beating USC will feel for the Notre Dame fanbase.
Carroll owned the rivalry, losing only once to the Irish (in his first year), and going three years (2006-2008) without picking up even a competitive spark from Charlie Weis' team.
But with Brian Kelly giving the Irish a big boost, fortunes could be changing in ND's favor.
No. 2: Oregon Ducks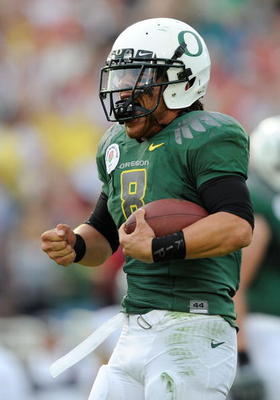 Oregon fans should pat themselves on the back. In a lot of ways, their team's demolition of the Trojans on Halloween precipitated Carroll's exit.
The Ducks also stand to gain the most from Carroll's departure. Under any other coach, USC could become just another team. Meanwhile, Oregon appears poised to seize the conference and become its flagship program.
Winning on Halloween was the tip of the iceberg. Now, the battle has expanded to the recruiting stage, the preseason polls, and the national arena.
These two teams passed each other on the escalator a little while back; one going up, the other going down.
No. 1: UCLA Bruins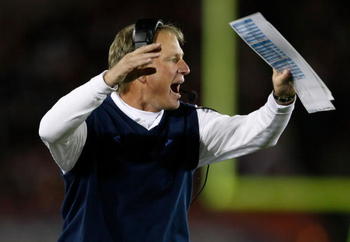 As Carroll's natural crosstown foe, you can bet Rick Neuheisel probably doesn't mind seeing him leave for Seattle.
That's because Neuheisel's time with the UCLA Bruins hasn't been favorable to renewing the Trojans/Bruins age-old rivalry.
He remains winless, and, in embarrassing fashion, got dissed during this year's version of the rivalry game (http://www.youtube.com/watch?v=hVpyI6eWvwQ).
Slick Rick has made some headway in the recruiting battle, but Carroll's departure could open the floodgates for a host of players that went the Trojan way, yet had the Bruins in their final pool.
UCLA's class is already great, but far from complete. The defections of Xavier Grimble or Dillon Baxter, or the landing of LA stud linebacker Hayes Pullard, would be huge gets right in the Trojans' backyard.
Then the Bruins would just need to win a game or two, and the rivalry would be back to full strength.
Keep Reading