Zenit St. Petersburg Transfer Rumors, Edition Two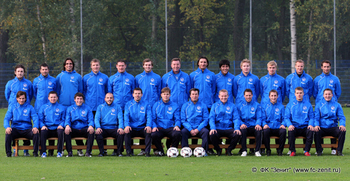 The transfer market is beginning to heat up for Zenit, who has not made an impact signing so far this winter, despite many needs.
Rivals Dynamo Moscow and CSKA have already shelled out money to bolster their roster. Dynamo has added Andriy Voronin from Liverpool while CSKA has added Keisuke Honda, Seydou Doumbia, and Kirill Nababkin. The ball is now in Zenit's court to make some additions.
Ambitious new manager Luciano Spalletti has high expectations, but will be allowed to spend his fair share of roubles to fix any holes in the roster. Spalletti himself is scheduled to arrive in St. Petersburg later this week, before the team begins training camp.
On Jan. 20, the club leaves for Dubai for full camp, as it has for the past several years.
But for now, Spalletti's goal remains the same. Add a high-caliber striker, capable central defender for depth, and a new left back. How he goes about doing that is his business, and there really is no price limit on how much he can or cannot spend.
So, here are the latest rumors around the club as of Jan. 11, 2010.
Out: Kamil Contofalsky, Goalkeeper (AEL Limassol)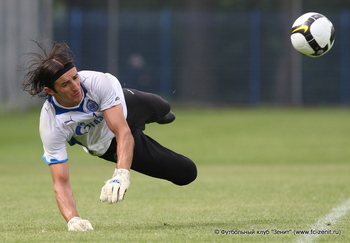 Contofalsky has served as Zenit's backup goalkeeper for the last seven years, although he never saw a whole lot of playing time. He is the only member of the 2009 squad to leave during the winter transfer period so far.
During his time in St. Petersburg, he has only played in 45 RPL matches, and only two in 2009. He recorded a clean sheet against FC Moscow but had a disastrous performance, allowing three goals in a loss to Terek Grozny in Chechnya.
He earned his biggest call of the season when he was selected to be the man in net for Zenit's second leg of a Europa League tie with Nacional de Madeira, and he played excellent football for the first 85 minutes. However, he allowed a late goal to young star Ruben that knocked Zenit out of the competition.
But, the veteran keeper never complained and always went about his job with a smile on his face.
At the end of the 2009 season, however, Zenit chose to not renew his contract, with a duo of youth side keepers progressing well and veteran Russian Dmitri Borodin returning from a loan to Khimki.
Contofalsky signed a contract with Cypriots AEL Limassol in early December.
Out: Fatih Tekke, Striker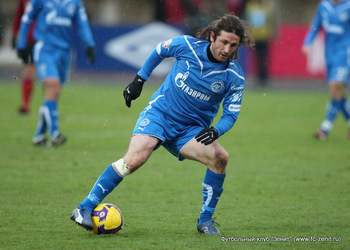 The Turkish Delight never ceases to run out of gas.
Tekke, despite never being favored as a No. 1-type striker at any point during the season, still led the team in goals. But it has become very obvious that he can't be the lone striker up front any more, as his speed and ball possession skills aren't half of what they used to be.
Some call it consistency, some call it desperation. While Tekke's finishing has never been a question, both Davydov and Advocaat had no other choice but to play him. No other striker had a solid season, save a few decent matches from Mateja Kezman late in the year.
Tekke's former club, Trabzonspor, is interested in bringing him back to Turkey, as club president Sadri Sener has been in St. Petersburg for negotiations. The transaction has not been completed because the two clubs can't seem to agree on a price.
"The negotiations continue. Either we'll pay a sum of money for Fatih now or wait four months until he finishes his contract with Zenit, and then we can get him free of charge," said Sener. The approximate price tag of €1-2 million is certain, as Zenit may accept a slightly lower price than expected simply to get something out of the deal.
Chance of a January Transfer: 80 percent
Out: Fernando Meira, Defender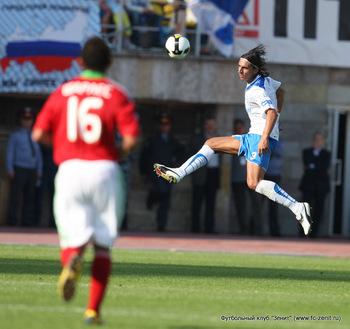 The 31-year-old Portuguese central defender had mixed results in his first season at the Petrovsky. He played in 22 matches, providing excellent size and skill to the back line.
Later in the season, his partnership with Nicolas Lombaerts was a major reason for the club's nine-match unbeaten streak. Meira's fiery and aggressive defense paired with the calm and collective nature of the left-footed Lombaerts made for wonders.
Although at times he was very card-prone and seemed to always be under the microscope of Russian referees, an injury forced him to miss the final seven matches of the season.
Regardless, Meira has built a very good friendship with Italian midfielder Alessandro Rosina and is comfortable in St. Petersburg
Zenit recently received a call from Italian side Genoa, asking about the veteran defender. Their initial plan was to sign Kakha Kaladze from AC Milan, but the two clubs could not agree on terms and the move fell through. Meira is their second option.
Although no formal offer has been made by Genoa, they are expected to make one within the next few days.
Chance of a January Transfer: 35 percent
Out: Sergei Kornilenko, Striker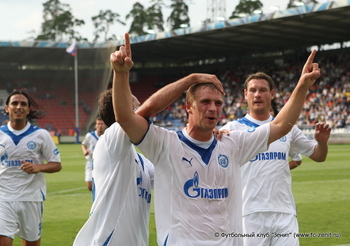 Something is very wrong with this situation. Sergei Kornilenko is actually celebrating a goal.
When the tall center forward was brought in from Tom Tomsk, it accomplished two things. First, it helped Tomsk get out of financial troubles by letting him leave on a free transfer. Second, it gave Zenit's bench another bottom to warm it with.
He scored his first goal in a Zenit uniform on his debut match at Saturn Ramenskoe, but the fun quickly ended there. A run of dismal performances saw his role diminish dramatically throughout the season, and by mid-October, manager Anatoliy Davydov was doing everything possible to make sure he didn't have to use Kornilenko.
The Belarusian international could put up tremendous numbers for his country and for Tom Tomsk, but the success never translated with Zenit.
Currently, English side West Ham United have expressed an interest in Kornilenko, hoping to add him on a six-month loan deal that would potentially help their finishing needs up front. Also, Tom Tomsk is interested in returning the player, but would only do a loan as well.
Chances of a January Transfer: 65 percent
Out: Tomas Hubocan, Defender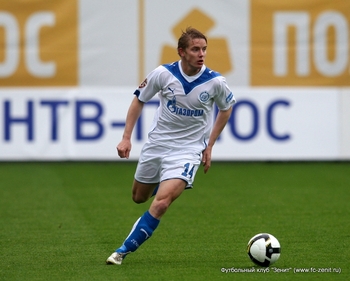 The 24-year-old Slovakian defender has never earned a starting job in his time with Zenit.
Since he made the move from MSK Zilina, he has been a popular backup due to his incredible versatility. He can play all four defensive roles capably, but none well enough to warrant a starting job.
The center back by trade, he has looked more and more like a wing-back as he has developed and is eager to stay in St. Petersburg to prove to Luciano Spalletti that he is worthy of the vacant left back position.
"We now have a new coach, and all players have equal chances to play in the first team. I will try to pursuade coach that I am suitable to play regularly," Hubocan told Profutbal.sk.
The speedy and agile defender has never scored for Zenit but appears like he wants to stay around and get that elusive first goal in 2010.
Celtic are the primary suitors for Hubocan as they have asked Zenit about him several times, including during the summer transfer period. "With regard to interest from Celtic, I prefer to remain with Zenit."
Chance of a January Transfer: 15 percent
Out: Igor Semshov, Midfielder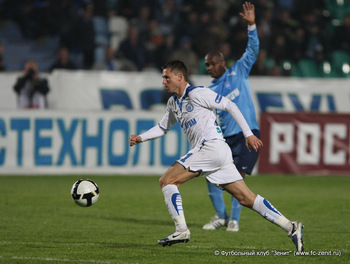 The curious case of Igor Semshov never failed to surprise during his first year as a Zenit player.
On some days, he couldn't be stopped, as he looked like he could score five goals that afternoon. On other days, you couldn't have found him if you were looking for his No. 21.
Either way, the 31-year-old was named to the RFU's annual top 33 list as a central midfielder and scored six goals for Zenit. Despite all this, his future with St. Petersburg is in doubt.
Very card-prone towards the end of the season, it became obvious that age was catching up with the hard-working midfielder. With the impending return of Danny, Semshov already proved that he would not be happy sitting on the bench.
"At the moment, I am a player of Zenit. My future is in the fog. So I don't know. I have heard of course, that Dynamo wants me to return, but again, no specific offers," said Semshov to Sportbox.ru.
While a price is uncertain, it seems a move away from Zenit in 2010 would be the best for all groups alike. It is fairly obvious that he would not be favored over Danny in the midfield. Meanwhile, Dynamo has a need for a such central midfielder and would be willing to pay the same €4 million that they received a year ago for him.
Chance of a January Transfer: 75 percent
In: Luisão, Defender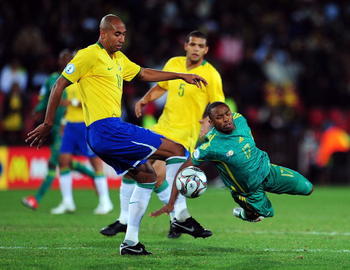 Eager to add depth to his squad, Luciano Spalletti almost immediately looked to the towering Brazilian center back.
The 1.93m defender has endured a string of poor performances with Benfica and could move away from the club this January.
A powerful and talented player, Luisão has always done well as an offensive-minded defender. He has scored 21 goals in his Benfica career and would be an immediate upgrade at center back over the aging duo of Fernando Meira and Ivica Krizanac.
If the move is to go through, Luisão would be the first dark-skinned player to ever wear a Zenit uniform, and the first Brazilian at the club, as well. Although, some fans would certainly believe that he is "unfit" to wear Zenit colors, there is no question that his quality and size would be much appreciated by any supporter.
Chance of a January Transfer: 25 percent
Chance of a January Transfer if Fernando Meira leaves: 55 percent
In: Mirko Vucinic, Striker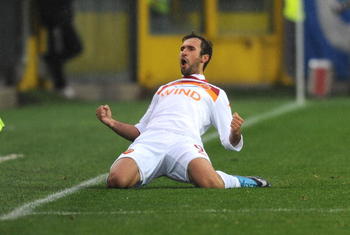 If there is one need on the roster that sticks out more than any other, it is a high-caliber striker.
Since the departure of Andrei Arshavin, Zenit has found nobody that can capably play up front by themselves and do it on a consistent basis. Many men have tried their hand, but they have all failed in one way or another.
The best attacking option the club has at the moment, Portugese star Danny, was only able to play eight matches in 2009 before going down with a season-ending injury.
As former manager of AS Roma, Luciano Spalletti developed a very good relationship with the Montenegrin striker Mirko Vucinic, and is very interested in bringing the player to St. Petersburg. In fact, Roma may have helped Spalletti's cause.
By bringing in Luca Toni from Bayern Munich, current manager Claudio Ranieri is looking forward to reuniting Toni with Francesco Totti, otherwise known as "To-To".
"Toni and Totti together? There are more waiting for them than Avatar!" according to Ranieri. But putting those two together up front leaves Vucinic as the odd man out, and despite his excellent play, he appears to be headed for a reserve role.
Spalletti could easily change that by making him the unquestioned No. 1 hitman in St. Petersburg for a club that will be returning to the Champions League later this year. He will also have all the funds he needs to make the move happen, potentially into the €20-25 million range.
Chance of a January Transfer: 70 percent
In: Aleksandr Kerzhakov, Striker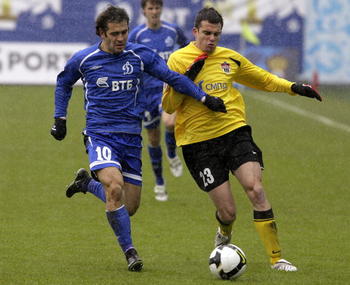 Will he return, or will he stay with Dynamo? That is the biggest question facing Aleksander Kerzhakov this winter.
A record-setting striker with Zenit from 2001-2006, "Kerza" was the gold-standard of offense not only for Zenit, but in the Russian Premier League. But when he transfered to Sevilla, he found himself buried behind two world-class strikers in Luis Fabiano and Frederic Kanoute.
Now back in Russia, Kerzhakov is at it again, netting 13 times in 26 appearances for Dynamo.
While some reports say that Kerza will become a player of Zenit later this week, no contract has officially been signed between the two parties. But it is widely believed that he will sign before Jan. 17, the day where all players are to return to St. Petersburg for a few days of training.
Chance of a January Transfer: 80 percent
Chance of a January Transfer if Fatih Tekke leaves: 95 percent
In: Michael Lumb, Defender (from AGF Aarhus)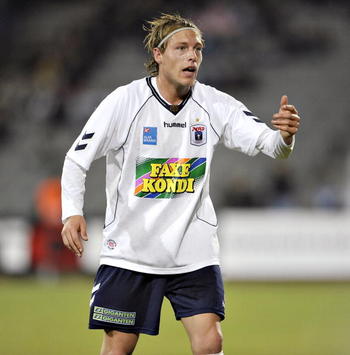 Fulfilling a major need, Luciano Spalletti's first signing as the manager of Zenit was not splashy, but extremely effective.
The 22-year-old left-back was named the Danish Young Player of the Year in 2008 and followed up his success by receiving his first call up to the national team.
Zenit's need for a capable left-back has been documented well, as Dong-jin Kim has suffered bouts of bad health and Radek Sirl is hardly the defender he was a few years ago. Now, the Danish international appears to be the front runner for the starting job in 2010.
Remarkably, he will become only the second Scandinavian player to play in St. Petersburg, the first being Norwegian Erik Hagen.
The amount of money for the transfer is not known yet, but it is widely believed that he will sign a three-year contract for Zenit.
"For Michael Lumb, the dream becomes true. We are proud to have raised a player who will represent a top European club," said Aarhus sporting director Brian Nielsen.
Lumb explained his decision on the move as well, stating "I hope that the transition to Zenit will help me go to the 2010 World Cup. Of course, Zenit won the UEFA Cup and fights for gold in Russia almost every year has also played a role in my decision. In any case, this is a fantastic opportunity for me."
Chance of a January Transfer: 100 percent
In: Fernando Menegazzo, Midfielder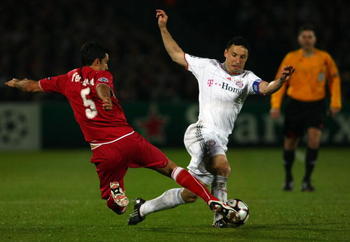 On the to-do list for Spalletti, a defensive midfielder is not exactly at the top of his list, as his club already features one of the best in Igor Denisov.
But the Italian specialist has an eye for talent, and midfield depth would always be helpful. The Brazilian halfback has been a regular feature in Bordeaux's lineup, but has only started in half of the matches. Since 2008, he has been looking for a potential move, but not actively.
Recently, Serie A side Genoa has expressed an interest, but their price of €4 million was an insulting figure to the French, who seem to value Fernando much higher.
Spalletti has jumped into the negotiations soon after Genoa's bid failed, and is willing to offer Bordeaux into the €6-7 million range for Fernando, much closer to the what the French club initially wanted. If the move is completed, Zenit and Spalletti will have much more flexibility, and it would now be possible to play his trademarked 4-2-3-1 formation.
Chance of a January Transfer: 50 percent
In: Eduardo Salvio, Midfielder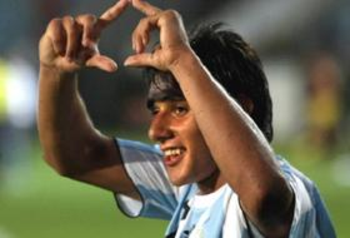 Although it may not be likely as there is no need for more attacking midfielders, Eduardo Salvio has already been dubbed the "Little Dominguez" by Zenit fans and press alike.
The dynamic 19-year-old Argentine, who stands at a pint-sized 1.72m, is a midfielder for Lanus of the Apertura. He has been scouted by many teams around Europe, as he has already appeared for Argentina's senior team. Primarily aside from Zenit, Atletico Madrid and Galatasaray have expressed the most serious interest.
The Argentine club is also a bit reluctant to let him go, and would prefer that Salvio stays. A loan deal, however, would be possible.
Chance of a January Transfer: 20 percent
In: Miguel Britos, Defender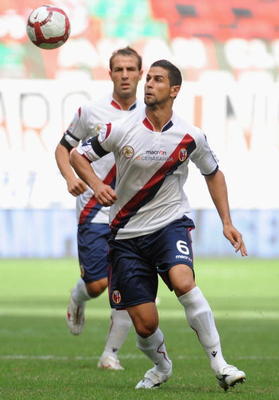 Britos is another Serie A player that Spalletti has taken a liking to, but looks more like a second-choice option behind Luisão for now.
The Uruguayan center back plies his trade with Bologna, where he has featured in 12 of 18 matches in 2009.
Chance of a January Transfer: 15 percent
Chance of a January Transfer if Fernando Meira leaves: 40 percent
Chance of a January Transfer if Fernando Meira leaves but Luisão is signed: 10 percent
Chance of a January Transfer if Luisão is signed: 0.1 percent
Keep Reading