Your Time is Up: The Top Five Fighters Who Should Call it Quits Soon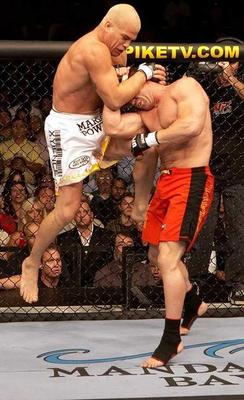 Recently, I was searching for an article that had stated all the people who need to retire. Surprisingly, there were none. I decided to take this task in my own hands and create a slideshow presenting all the people whose time is overdue.
I will also create another slideshow after this, the people who should NOT retire. Sometimes, a fighter may be out of his prime but he still puts on exciting fights, and can act as a gatekeeper to title contenders. Josh Koscheck does this a lot, usually people fight him before they get a title shot.
This slideshow is about people who should retire soon, not people who should retire right away. All of them have or will soon have a fight, but honestly I mostly don't care if they win or lose. Their time is up.
These are the top five fighters who should call it quits soon.
5. Mirko Cro Crop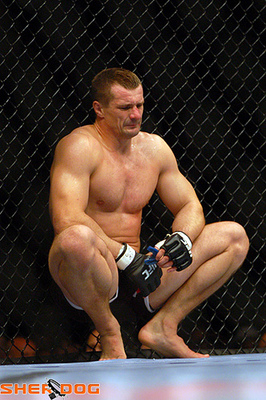 The person who said a picture is worth a thousand words must have been thinking of this particular one. It explains everything.
I believe this picture was taken after Gonzaga KOed Cro Cop with a head kick. No wonder Mirko was feeling so down, Gonzaga downright copied Cro Cop and knocked him out in the process. What makes it worse is that CC was supposed to make a huge impact on the UFC, and failed miserably.
I recently wrote a whole article on the debate on whether Mirko should retire or not. I came to the conclusion that he should fight a few more fights, hopefully win, and retire on a high note. If he loses, retirement is not just an option, it's a must.
At least CC puts on very exciting fights, regardless if he wins or loses. That's just another reason for him to stick around a little longer. Maybe we'll see something left in him against Rothwell.
4. Keith Jardine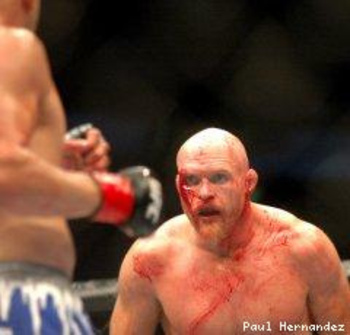 Jardine is an unlikely candidate for retirement, but I do believe his time is just about up.
The prime age for a fighter is generally around 33. Jardine, famous for being the gatekeeper in the light heavyweight division, hasn't been able to squeeze out anything but a split decision since his fight against Forrest Griffin, which was over three years ago. This could be do to his age, which is now 35.
Interestingly enough, Jardine has only just started fighting top names, so the fact that he has started losing could be that for some reason (possibly do to his lucky win against Griffin) he is now constantly fighting big names. Unsuccessfully, I might add. Jardine has lost four of his last six fights.
Ironically, Jardine actually won the fight that you see him in right now, although he was battered and bloodied.
It was also surprising to me that Jardine actually only has good wins over three strong people; Griffin, Liddell (a fighter on this list), and Vera (a fighter who will need to prove if his legit or not against Jones). Vera also has way too many opportunities against strong fighters.
I'm tired of hearing about how Jardine's unorthodox style confuses fighters. It can't work forever, Thiago Silva figured him out perfectly. Defend patiently, wait for an opening and BAM! Unorthodox striking solved.
Jardine should keep fighting until he loses, and then he should make way for new talents.
3. Mark Coleman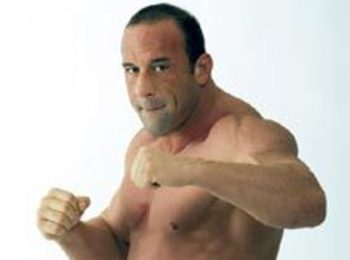 Surprisingly, I've also never heard of any suggestion that Coleman should retire. He is as old as Couture, and slower as well. In his last fight, he just barely managed to overcome Bonnar, a B-list fighter. Bonnar won the first round and had way too many opportunities for submissions, which he didn't utilize.
Coleman was slow and sluggish throughout the entire fight, winning only at the end due to his wrestling. Against a stronger fighter, Coleman wouldn't be able to out-muscle his opponent as he mostly did against Bonnar.
Bonnar is an easy person to take down, as shown by both Coleman and Jones. It pains me to see Coleman against Couture coming up. Both are has-beens and just really not sharp. Expect a dull fight with both fighters only going for takedowns and dirty boxing.
Against any sharp and young fighter, with at least some TDD, Coleman has no game plan. A fighter who is good in just one particular area could beat Coleman too, a striker would put him to sleep easily, or a submission specialist could finish what Bonnar started.
Retiring is a must. He should hurry up before things turn ugly for this grandpa.
2. Chuck Liddell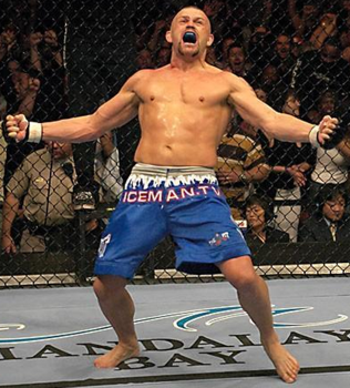 Finally, at over 40 years old, Liddell is feeling the sting of defeat.
Chuck's prime surprisingly started at age 34, the age where it usually ends. He became LHW champ and no one could stop him for three years, until he faced his kryptonite, Quinton Jackson. Quinton, in his words, successfully "broke the ice."
Once he lost, he began his demise. He might have had his prime later than usual, but once he hit his downpoint there was no getting back up. Following his defeat against Rampage, Liddell fought Jardine, a fighter he was supposed to beat easily. Instead, Jardine outclassed him and peppered him with kicks the whole fight to take the decision.
Liddell briefly revived hope in fans of him when he took the unanimous decision over Wanderlei Silva, but hope was lost once again when Evans brutally knocked him out cold with one punch. Losing against Rua didn't help either.
Liddell can now be compared to Jardine in the respect that he has good knockout power, but once he is figured out, all fighters have to do is defend and wait for an opening. Then it's lights out for the "Iceman."
Liddell's old school pure striking cannot work with the new young talents in the division. He shouldn't wait for another loss to retire, I say hurry up before you're KTFO again.
1. Randy Couture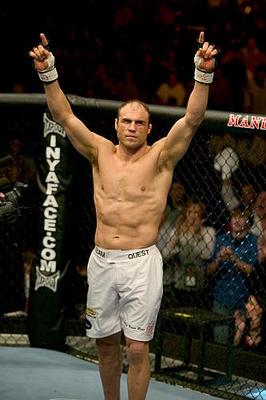 I was hoping people would finally realize that Randy just isn't what he used to be when he lost to Liddell twice by KO, but Couture has some pretty die-hard fans.
It doesn't really matter at all who wins when Randy versus Coleman. They both are the exact same thing: washed up and finished fighters. They both recently had a fight against Bonnar and Vera, Coleman won a unanimous decision but it certainly wasn't exactly the most impressive performance. Couture won a very controversial decision.
In those fights, they both showed that age does, in fact, matter.
Couture used to be a great wrestler but now he counts on the judges to help him win. It's a wonder how he won against Vera by just holding him against the cage and dirty boxing. For some reason, with a record of 17-10, some people still think Couture will get a title shot, and even win it.
C'mon, don't tell me you didn't see this one coming.
Every fighter has a breaking point, where they lose a fight and never be the same. Couture's breaking point actually happened long ago vs. Liddell in 2005, but he kept on fighting.
When Couture lost to Liddell, he was already 41 or so, so I applauded him for making it so far. He decided to keep on fighting, so he went on to beat a nobody, and proceeded to lose to Liddell again. By now I was sure he was going to retire, but nooo, he kept on fighting.
He beat Sylvia which actually seemed mildly impressive, and went on to beat Gonzaga. Finally he lost to Lesnar, and went on to lose against Big Nog in his first ever decision loss in his career. He looked very unimpressive, even failing to take him down, which isn't hard to do against Nog.
Against Vera it was clear that his time was up, he failed to even take him down once. All he did was press Vera up against the cage and pray, which miraculously worked. He took home the UD and now will fight against Mark Coleman.
Randy's time is long overdue. At least someone will probably retire once the fight between Couture and Coleman is over. Hopefully, there is no winner in that fight.
Keep Reading