The 10 Hottest WAGs of the PGA Tour Not Sleeping with Tiger Woods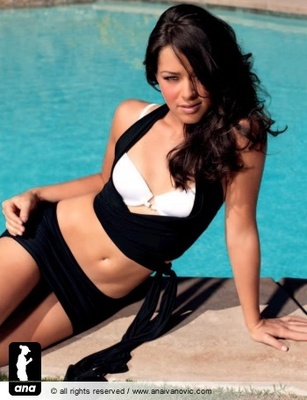 In the midst of the NFL playoffs, at the tail end of the BCS Championship, and in the middle of the NBA season, the PGA Tour started.
You had no idea, did you? It has a tendency to sneak up on you, especially when this Tiger Woods guy won't be playing in any events for the foreseeable future.
Speaking of Tiger, didn't he make the headlines for something recently? Oh yeah, it was for sleeping with half of Las Vegas.
Since it looks like we won't see him, or his lovely wife Elin, for a while, let's see what other eye candy might be walking around in the gallery this coming season.
Here are the Hottest WAGs of the PGA Tour Not Sleeping with Tiger Woods.
No. 10: Kate Rose - Justin Rose

Justin Rose has yet to win a PGA tour event despite being a member since 2003. Luckily, the one thing he has been able to close the deal on was his wife, Kate.
A Rose by any other name would still have a husband that can't win a tournament. That's okay. Top 20s pay the bills.
No. 9: Caroline Immelman - Trevor Immelman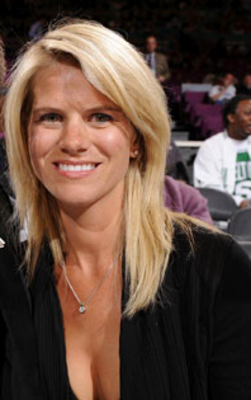 South African Trevor Immelman has enjoyed some success on the PGA Tour, but none quite like when he won the 2008 Masters over Tiger Woods.
No matter what, he'll always have that green cleavage. I mean jacket! Green jacket. What did I say? Cleavage? No idea how that popped into my head.
No. 8: Emma Lofgren - Henrik Stenson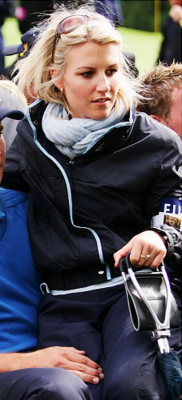 Henrik Stenson hails from Sweden. That means as long as he's relatively successful, which he is, he'll have a hot, blond, Swedish wife.
Although, as we've seen from Tiger Woods, having a hot Swedish wife isn't always a good thing. Just stay faithful, Henrik, or keep her away from your three-wood if you're not.
No. 7: Lisa Pruett - Anthony Kim

Ever since Tiger Woods, we have been looking for the next young phenom to be the next Tiger Woods. Many were crowned (Sergio Garcia, for example), but none really panned out.
One that very well might is Anthony Kim. He already kicked butt at the Ryder Cup, and he's already shown a very Woodsian taste in the ladies. His girlfriend, Lisa, has just as much potential as young Anthony.
No. 6: Liz Estes - Bob Estes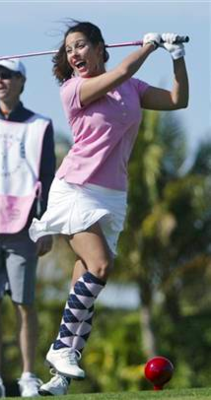 You have to hand it to Bob Estes. His wife, Liz, not only looks cute, but she looks like a lot of fun. The goofy socks, the look on her face as she swings—that's a quality girl right there.
The fact that she kind of looks like Kate from Lost isn't exactly a downside, either.
No. 5: Jocelyn Hefner - Paul Casey

Goofy-looking Englishman Paul Casey somehow managed to score this hottie. Jocelyn Hefner is also not just a piece of arm candy, she also jumps horses.
That makes sense. I could see how she would be talented in the saddle and at riding things. Still talking about horses here, by the way.
No. 4: Kristy McLachlin - Parker McLachlin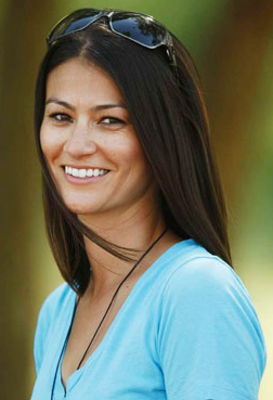 Parker McLachlin has been around the PGA Tour since 2007 and secured his spot through this year after winning an event in 2008.
I hope he can win at least another one this year to continue his streak, because I would definitely like to see his wife around the gallery more often. I think she looks a lot like Lokelani McMichael, which means she's hot.
No. 3: Sonya Toms - David Toms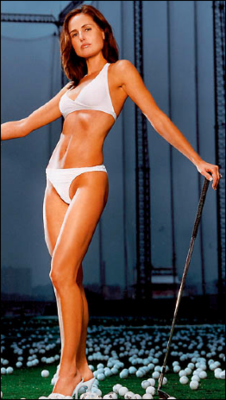 David Toms hasn't won a major championship since 2001 and has yet to keep a spot with the elite in golf, but at the very least his wife will continue to hold a high spot in the WAG rankings in golf for this picture.
Rocking the bikini, high heels, and golf club, I'd like to tee her up sometime.
No. 2: Amy Mickelson - Phil Mickelson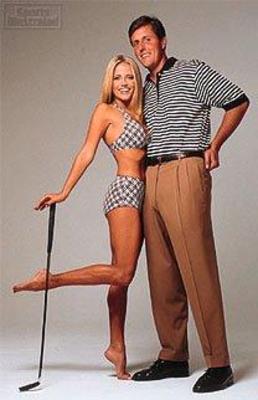 Can you tell that this picture is a few years old? Phil Mickelson has gained a couple of pounds since then, but the hefty lefty's wife, Amy, continues to look just as good.
She was diagnosed with cancer this year, so I sincerely wish her the best of luck in fighting it and I can't wait to see her completely healthy out on the golf course as soon as possible.
No. 1: Ana Ivanovic - Adam Scott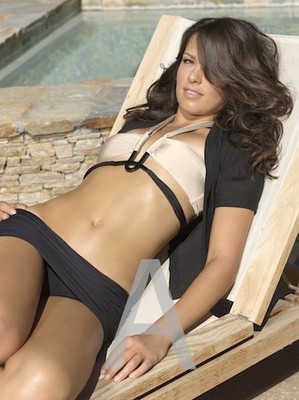 With Tiger temporarily taking a break from the tour and Elin looking ready to divorce him any day now, the title of hottest wife or girlfriend on the PGA tour now falls squarely on the shoulders on Ana Ivanovic.
The Serbian tennis star has taken quite an interest in golf, specifically golfer Adam Scott. The two have been dating for about a year, and I hope that things continue, because Ana is quickly becoming one of my favorite athletes and WAGs.
I would love to see some of her fellow tennis hotties follow her lead and start dating golfers. The sport could use some press like that without Tiger around for the future.
Keep Reading