5 Things The Bengal's Need To Do This Offseason!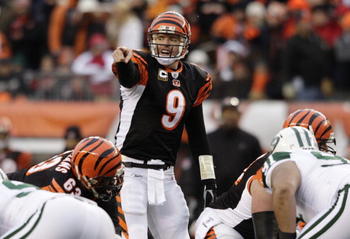 This year the Cincinnati Bengal's had a very good start to the season. Then towards the end of the 2009 season we saw a gradual decline in the Bengal's play, and a steady regression in decisions. I believe the Bengal's though, winning have masked some of the major flaws of this team and they appear to be better than they actually are. This is an article explaining five things the Bengal's really need to do to improve their team.
1. Bring In A Youth Infusion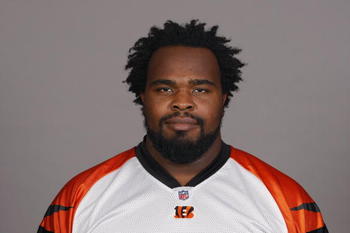 You may think the Bengal's as one of the younger teams in the league. Yet after watching every Bengal's game I have come to a realization that the Bengal's best player's are actually allot older than most people realize. I believe a youth infusion is needed to for the Bengal's to have some success in future seasons. They can improve this by selecting skill player's in the draft. Here is a list of who I believe the Bengal's need to draft in this years draft. Below that is a list of players the Bengal's really need to release, they are usually aging veterans that are playing better than they actually are.
Draft- Rounds 1-3
-------
Round 1.- Jermaine Gresham TE, Oklahoma-Lets be honest the Bengal's TE position is almost none existent.
Round 2.- Javier Arena's CB, Alabama- Outside of Jonathan Joseph and Leon Hall, the Bengal's really don't have another serviceable corner. They also can use him as an upgrade a kick returner.
Round 3.- Jordan Shipley/ Eric Decker- The Bengal's over the past few years have really accumulated a load of junk at WR. Coles, is and aging stop gape at best, Quan Cosby is an older rookie that may have already peaked at WR and kick returner. Also Jerome Simpson, is an absolute waste of a pick on making one catch in 2 seasons as a Bengal.
Player's Needed To Be Cut TOP THREE
Roy Williams, S, 30 years old,- To many injuries have made him almost useless.
Chris Crocker, S. 30 years old,- He's playing better than usual, yet to think of the future he needs to go.
Bobbie Williams, G, 33 years old,- He's old and his skill has really diminished over the years. He's a leader but, gets way to many penalties, and not to hinder the growth of younger players he needs to go.

2. Carson Palmer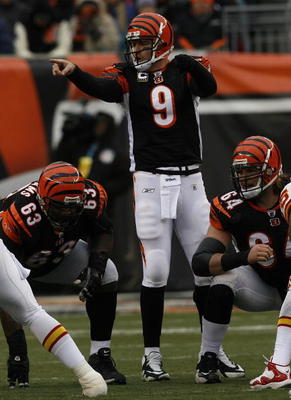 Carson Palmer made two back to back pro bowls, and was playing at an amazingly high level. After those two years his play has been on a steady decline. I always here announcers state, "Palmer, one of the league's best!". I haven't seen that since 2006. He's the simple fact that I'm saying and everyone's thinking. Palmer needs to go, he hit 30 years old and his play still continues to decline. I watched him play in the 2010 wild card round and he was missing wide open receivers. Throwing screens at receiver's ankle's. He was also taking sacks when the offensive line gave him plenty of time. The Bengal's have waited long enough for palmer to snap out of it and he still is playing terrible. Lets face it, he has a good offensive line, a great run game, and a top 10 defense. he has all of the things he needs to be successful and he still is terrible. He needs to go, and he needs to go now!
3. Shane Graham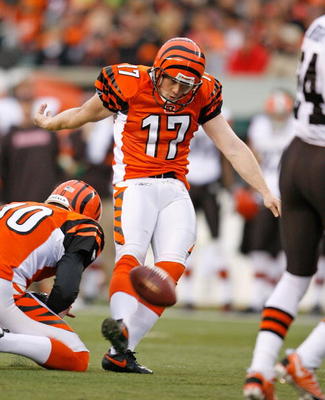 Graham has for a long time been one of the most consistent kicker's in the NFL. Yet at the beginning of the 2009 season Graham began missing kicks. The blame was mostly, and justifiable placed on the long snapper. Yet after changes to the snapper the misses keep on coming, including two critical 28, and 35 yarder's. Graham is going to be 33 and its not uncommon for a leg to decline when you reach that age. The Pats let Vinatieri go at 33, and it paid off. Time for the Bengal's to make the same type of move.
Coaches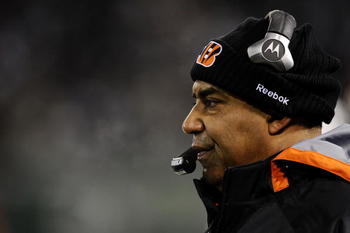 Marvin lewis should stay a Bengal, he has lead the Bengal's through the good and the bad. It's Bob Bratkowski, the offensive coordinator, I have the problem with. Much like Bruce Arian's in Pitt, Bob Bratkowski is one of the most dry, and boring offensive coordinators in the NFL. Me and my father can even sit a home a predict what they are going to call.
Receivers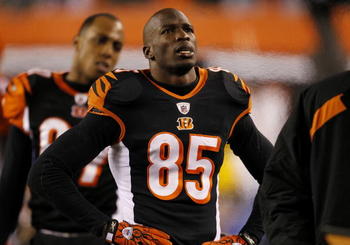 I love Chad Ochocinco more than any other player in the NFL. yet he has obviously lost a major step. He has lost his speed and , look stupid against Darrelle Revis. Ochocinco should stay but the Bengal's really need to bring in some younger receivers to give him help. They should make a play for Brandon Marshall, or another player that could be a better compliment for Ochocinco.
Keep Reading

Cincinnati Bengals: Like this team?