State of the Academy: The 15 Finest Young Players in the Russian Premier League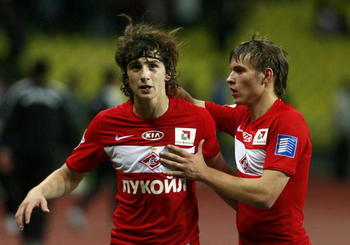 Over the past two Russian Premier League seasons, a new trend has been spreading at tremendous speed. Club records are falling like dominoes, many club records that have stood for decades. What is the cause of this?
An infusion of youth throughout the ranks of the league.
Nearly every club has seen a record fall for the youngest player in its history to score a Top Division goal.
The influence of Russian "sport schools" is in full force, with many players that began at the schools after 1991 finally arriving at the Premier League level.
While other top clubs around Europe like Barcelona, Arsenal, and AJAX all have famous academies, Russian clubs aren't quite there yet. But the status of youth teams has never been better.
Let's take a look at the finest stars age 20 and under in Russia.
Partial credit to Yoosof Farah for the idea.
15. Evgeni Pomazan, CSKA Moscow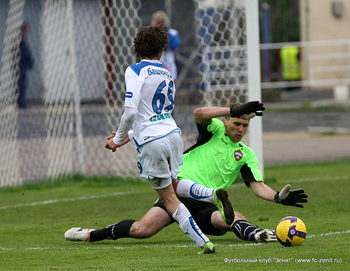 Goalkeeper; 1.93m (6-feet-4); 20 years-old; Angren, Uzbekistan
Current Value: €500,000. Potential Value: €3,500,000
Pomazan joined CSKA Moscow in the summer of 2007, but he already had an impressive resume to his name. He led Russia's U-17 squad to the 2006 European Championship as a member of Kuban Krasnodar.
Now, he serves as an apprentice to Igor Akinfeev and will likely serve as his primary backup in 2010.
As a netminder, Pomazan is an imposing figure between the posts. His ability to make saves at times when he appears hopelessly out of position is a major asset, but his lack of consistency has kept him from the role as Russia's primary U-21 keeper.
14. Basel Abdulfattah, Zenit St. Petersburg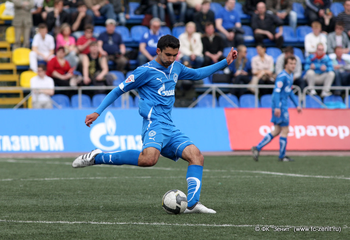 Central Defender; 1.89m (6-feet-2); 19 years-old; St. Petersburg, Russia
Current Value: €300,000. Potential Value: €7,000,000
Born to Syrian parents, Abdulfattah joined Zenit's youth side in 2008 and has been a fixture on the back line ever since.
In two seasons, he has amassed 53 starts and anchored a defense that won the Russian Youth Championship in 2009.
He is a commanding presence with his no-nonsense brand of defense. Despite not being the tallest central defender in the world, he is also extremely good in the air and always a threat to score off set pieces.
Although he has not made his debut for Zenit's senior side, he very well could in 2010.
13. Anton Vlasov, Anzhi Makhashkala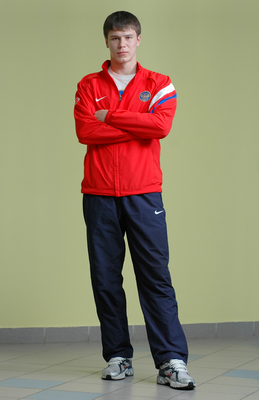 Central Defender; 1.88m (6-feet-2); 20 years-old; Ust-Labinsk, Russia
Current Value: €300,000. Potential Value: €4,000,000
Vlasov is another defender who got his start with CSKA Moscow. But, he could not get into the starting lineup and went on loan to First Division side Anzhi Makhashkala.
Vlasov helped Anzhi return to the RPL for 2010, but his loan was over.
A tall center back who hasn't yet fully grown into his body, Vlasov still needs to be stronger and more decisive.
For a man of his height, he still loses his fair share of aerial battles. But with many central defenders, it takes time to learn the craft.
However, with so many options at central defender, it is very unlikely that Vlasov will stay with CSKA in 2010.
He is at the point where he is too good for the youth level but not talented enough to break into the senior side.
With his work ethic, it is very likely we will see Vlasov in the RPL this year, just not with CSKA.
12. Semyon Fomin, Lokomotiv Moscow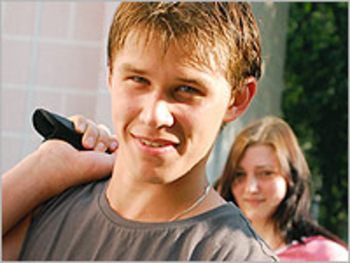 Striker; 1.78m (5-feet-10); 20 years-old; Vladivostok, Russia
Current Value: €300,000. Potential Value: €5,500,000
Fomin has been around a national team practically since he could walk, as he has featured on the U-17, U-19, and U-21 squads. But, he has yet to make his RPL debut.
Buried on the depth chart at Lokomotiv and seeing that he had nothing more to prove with their youth program, Fomin was loaned to First Division side Zvezda Irkutsk in 2008.
However, the gifted and well-rounded forward hopes to feature in Lokomotiv's 2010 squad, despite once again being buried behind the likes of Dmitri Sychev, Peter Odemwingie and Haminu Draman.
Although Fomin has no real standout weapon, he is a balanced forward with decent speed and agility. But unless the club is hit with injuries, Fomin is likely to play at a youth level or seek another transfer.
11. Pavel Ignatovich, Zenit St. Petersburg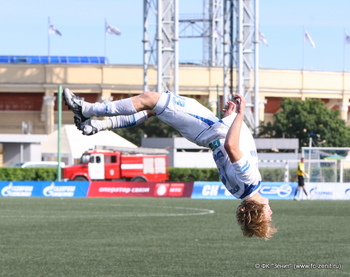 Forward; 1.77m (5-feet-9); 20 years-old; St. Petersburg, Russia
Current Value: €100,000. Potential Value: €10,500,000
To put it in loose terms, Ignatovich is a heat-seeking missile stuck in a human body. He has one thing on his mind at all times: get forward as fast as possible.
He attacks from any part of the field and only knows how to play the game at 120 miles an hour.
Sometimes, his speed can hurt his team, as nobody can keep up with him. His first appearance for Zenit's senior side was in Portugal against Nacional de Madeira, as he came on in the 76th minute.
A total blur to both players and spectators alike, he found the net in a matter of seconds only to be flagged for a harsh offsides.
He has devoured the youth level of Russian football for the past two seasons, but his RPL debut has been on hold for several reasons.
First, Dick Advocaat was always very hesitant to play younger players, always taking experience over youth. Second, Anatoliy Davydov had no choice but to use experienced players, as he needed to win every match.
But under Luciano Spalletti, the lightning bug should make his debut in 2010.
10. Fyodor Smolov, Dynamo Moscow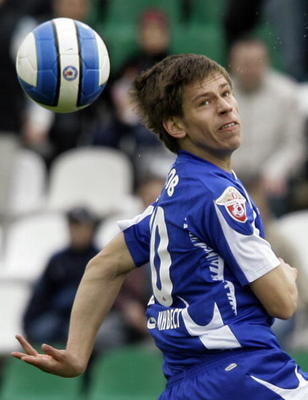 Striker; 1.85m (6-feet-1); 19 years-old; Saratov, Russia
Current Value: €1,400,000. Potential Value: €8,000,000
A tall yet very athletic striker, his energy made him a popular second-half substitute for Dynamo.
Despite not finding the net once during 2009, not a whole lot of players aside from Alexander Kerzhakov did.
Smolov has the entire package of offensive skills (a powerful shot, decent header, speed and ball handling) but is still a project, as he needs time to put it all together.
His defense is a liability, giving manager Andrei Kobelev little choice but to use him only when Dynamo needed extra offense.
However, it is only a matter of time before the pieces begin to fall together, and that could be as soon as the 2010 season.
If Kerzhakov departs Dynamo, Smolov would nearly be assured of more playing time.
9. Sergei Parshivlyuk, Spartak Moscow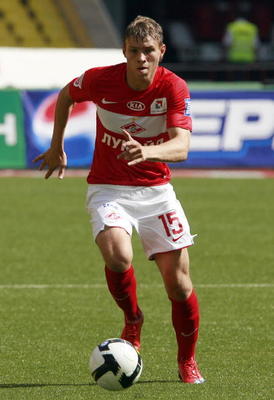 Right defender; 1.78m (5-foot-10); 20 years-old; Moscow, Russia
Current Value: €3,300,000, Potential Value: €9,500,000
A right back who made quantum leaps every match during 2009, the sky is the limit for Parshivlyuk. A converted midfielder, he was willing to try his hand at filling a need for Spartak.
In doing so, he established himself as a fantastic right back, a perfect fit for Spartak's high flying offensive system.
Only team captain Martin Jiranek had more appearances on Spartak's back line than the home-grown kid.
A now-permanent fixture on Russia's U-21 squad, Parshivlyuk was named the 2nd best right back in the Russian Premier League, behind Zenit captain Aleksandr Anyukov.
Not bad for a man who is still learning the position.
8. Uros Cosic, CSKA Moscow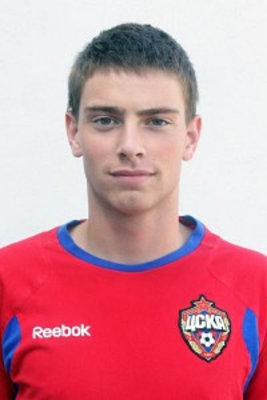 Central defender; 1.87m (6-feet-2); 17 years-old; Belgrade, Serbia
Current Value: €150,000. Potential Value: €25,000,000
Cosic joined the Moscow giants at the end of the summer transfer period, and already the 17-year-old central defender has had heaps of praise from all over.
Russian international Sergei Ignashevich was the first one to jump on, saying it was the "finest signing by CSKA in years."
But being compared to Nemanja Vidic and living up to those expectations are two different things. CSKA has done the smart thing however, by not throwing him immediately into the fire.
While he is scheduled to make his RPL debut in 2010, the powerful center back has one thing in mind: become the best player he can be.
"I don't like when I am compared with others. Vidic, one of the best defenders in the world, and I am still very young. Serbia is also my homeland, but I want to demonstrate my abilities in the Russian Championship."
One way or another, Cosic has a point to prove and CSKA will have no shortage of central defenders. He could make a quick jump on this list once he gets a few matches under his belt.
7. Anton Sosnin, Zenit St. Petersburg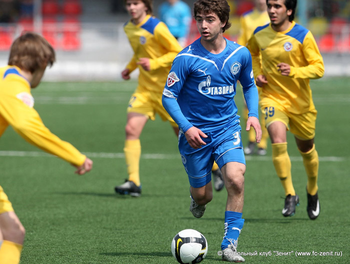 Playmaking midfielder; 1.78m (5-feet-10); 19-years-old; St. Petersburg, Russia
Current Value: €300,000. Potential Value: €11,500,000
A young star that has grown up in St. Petersburg looking for his opportunity to play for Zenit. He has yet to make his RPL debut, although that should change in 2010.
A do-it-all midfielder that has been seasoned to perfection in the youth ranks, Sosnin patrols the center of the field with great offensive and defensive authority. By every means, he is the future replacement for veteran Konstantin Zyryanov.
6. Aleksandr Kokorin, Dynamo Moscow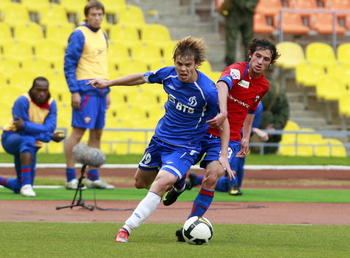 Striker; 1.82m (5-foot-11); 18 years-old; Moscow, Russia
Current Value: €1,500,000. Potential Value: €12,000,000
The second piece of Dynamo's two-headed teenage attack beside Smolov, Kokorin made himself a fan favorite almost immediately with his on-field results.
He became the youngest man to score for the oldest Russian club when he found net in his first RPL match against Saturn.
Arguably his largest goal came in the summer of 2009 in the Champions League, when he shot the air out of the balloon at Celtic Park to put Dynamo ahead.
An explosive striker, but remains a very streaky player. When he scores, he can go on a tremendous run, netting in multiple games in a row. But he can lose confidence when his play is down.
However, it's all upside for the fiesty Kokorin, who looks to get Dynamo back to European football in 2010.
5. Alan Gatagov, Lokomotiv Moscow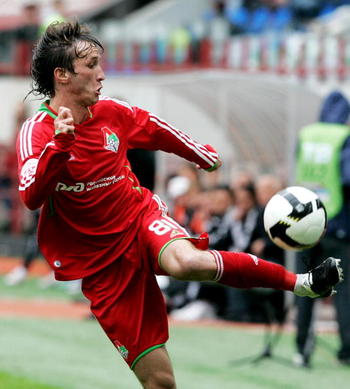 Left midfielder; 1.80m (5-feet-11); 18 years-old; Moscow, Russia
Current Value: €2,000,000. Potential Value: €16,000,000
Not to be confused with another talented teenager named Alan, the Lokomotiv youngster got a heavy dose of RPL action after the departure of Diniyar Bilyaletdinov. He certainly managed to live up to his lofty expectations, and then some.
He scored a goal and added three assists in the second half of the season, helping Lokomotiv secure a Europa League berth in 2010 despite losing their best player.
The Russia U-21 star showed flashes of brilliance and superb technical skill, but still needs some time to fully adapt to the aggressive physical nature of the Russian Premier League.
4. Georgi Schennikov, CSKA Moscow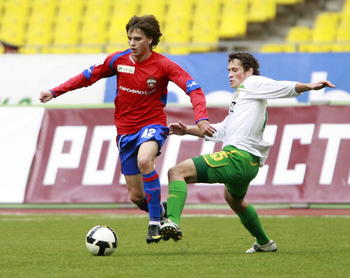 Left defender; 1.78m (5-feet-10); 18 years-old; Moscow, Russia
Current Value: €2,200,000. Potential Value: €18,000,000
The diminutive left back might be small on size, but certainly isn't short on heart. He was a completely deserving recipient of the 2009 Best Young Russian Footballer of the Year. He made 25 league appearances in 2009 and firmly established himself as the Army Men's first choice left back.
An agile and elusive yet strong defender on the ball, he often goes unnoticed on the pitch because he quietly does his job without much fanfare.
Although he is no goal scoring threat, he can provide superb left-footed service, picking up a handful of assists during the season.
Watch for him to become an even better defender as he adds strength and experience, as his time as Russia's choice left back may not be far off.
3. Pavel Yakovlev, Spartak Moscow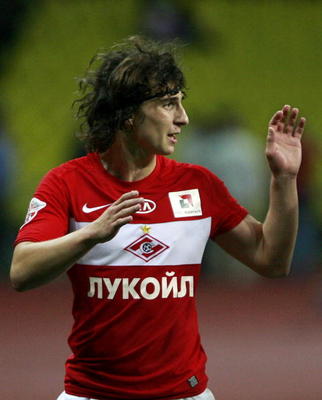 Left Winger; 1.80m (5-feet-11); 18 years-old; Lyubertsy, Russia
Current Value: €2,100,000. Potential Value: €25,000,000
Yakovlev was an emergency call-up during midseason in 2009, but I don't think anyone knew it. He jumped into the starting lineup and quite possibly played better football than either of his predecessors, Ivan Saenko and Cristian Maidena.
His creativity and pace from the left side of the field gave Spartak a new dimension to their already deadly assault. Almost immediately, he found chemistry with fellow hitman Welliton.
Although his defense can be accident-prone, as his overall game is still raw, his ceiling is incredibly high.
2. Zhano Ananidze, Spartak Moscow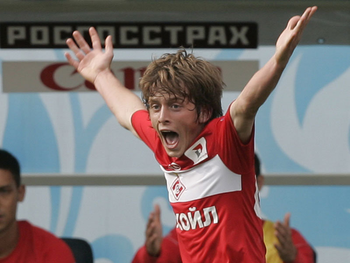 Playmaking Midfielder; 1.70m (5-feet-7); 17 years-old; Kobuleti, Georgia
Current Value: €2,300,000. Potential Value: €40,000,000
The future of Georgian football is very bright indeed. Spartak's record setting wonder kid is only getting warmed up.
Just eight days after his 17th birthday, he became the youngest player to ever score in the RPL, when he netted the opening goal in a 3-0 victory over Europa League side Lokomotiv Moscow.
There are a lot of words you could use to describe Ananidze, but what stands out the most is his phenomenal anticipation.
He is a chess player on the pitch, popping up all over the field and reading plays three steps before they even happen.
A miniature playmaker that can seemingly disappear at will, he is only beginning to find his complete level of athleticism.
His 2010 season will be one to remember, as Europe will get its first taste of Zhano in the Champions League.
1. Alan Dzagoev, CSKA Moscow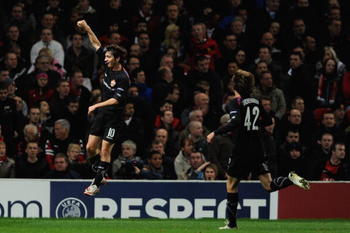 Attacking Midfielder; 1.79m (5-feet-10); 19 years-old; Beslan, Russia
Current Value: €11,000,000. Potential Value: €45,000,000
Yet another product of the famous Konoplyov School in Togliatti, Dzagoev joined CSKA in 2008. His debut was an impressive performance, helping the Army Men to a rout of Luch-Energiya Vladivostok.
His performance kept him in the starting XI, and he was named the Best Young Footballer of the Year by the RFU.
In the 2009 season, it became obvious that he was not only one of the best players in the Russian Premier League, but one of the finest attacking midfielders in Europe.
He has bagged six Champions League goals before his 20th birthday and added two assists for good measure, leading CSKA into the knockout stages where they will meet Spanish giants Sevilla in February.
He is worth every bit of his No. 10 jersey. A man with an endless supply of tricks, you'd almost think he was a Brazilian.
But his ball skills are hardly where his talents end. His drive to make himself better and everyone around him is infectious.
In less than a season, he has transformed Tomas Necid from an average striker into a feared man inside the box. He is never satisfied with his own performance.
But that's what makes him great.
Keep Reading