Top 10 Arizona State Football Players: 2000-2009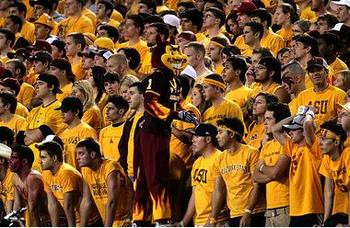 Over the past 10 seasons, Arizona State University has showcased standout, All-America-caliber players on offense, defense, and special teams.
This slideshow counts down the 10 most dominant players to wear maroon and gold over the past decade.
For the sake of argument, to be included among the decade's top players, a Sun Devil must have played no fewer than two seasons at ASU during the span of 2000-09.
10. Ryan Torain, RB (2006-07)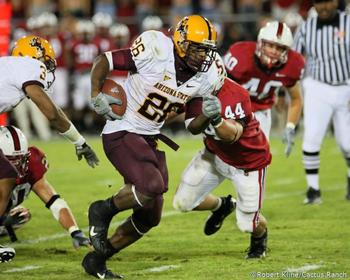 Though he only played 19 games in a Sun Devil uniform after his two-year stay at Butler Community College in Kansas, Torain was one of the most dominant runners ASU has seen in decades.
The 6'1", 213-pounder burst onto the scene as a junior in 2006, rushing for 1,229 yards on 223 carries with seven touchdowns in addition to 18 catches for 205 yards and three more scores.
A bruising ball carrier with enough speed to separate, Torain's 2006 rushing total was the most by a Sun Devil since Freddie Williams' 1,299 yards in 1974 and made him the first ASU player to surpass 1,000 rushing yards since Delvon Flowers in 2001.
"The Train" was operating on all cylinders until a foot injury derailed his senior season after six games, and Torain ended his ASU career with 1,782 rushing yards on 333 total carries with 12 touchdowns and 25 receptions for 305 yards and five touchdown catches.
A fifth round selection (139th overall) by the Denver Broncos in the 2008 NFL Draft, Torain's rookie season was marred by injuries as he appeared in only two games (one start), rushing 15 times for 69 yards with one touchdown.
9. Dexter Davis, DE (2006-09)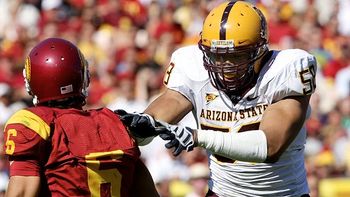 David was very lightly recruited out of Phoenix's Thunderbird High School—no competing Pac-10 schools offered Davis after his senior season in 2004—but a few short years later teams up and down the league would know his name and abilities.
One of the nation's premier sackmasters over the past four seasons, Davis collected 6.0 sacks as a redshirt freshman in 2006, the most by an ASU freshman since Terrell Suggs—NCAA sack record holder—in 2000.
From that point, Davis posted back-to-back double-digit sack seasons with 10.5 and 11.0 sacks as a sophomore and junior, respectively and entered the 2009 season as the only active player in the nation to have surpassed 10 sacks both in 2008 and 2009.
Though his sacks total dipped significantly to 3.5 as a senior in 2009, Davis still earned First-Team All-Pac-10 honors and closed out his Sun Devil career third on the all-time sacks list (31.0), while adding 85 tackles, 45.0 tackles for loss, and 10 forced fumbles, while starting all 50 games of the 2006-09 seasons—the most career starts by a Sun Devil in school history.
8. Mike Pollak, OL (2004-07)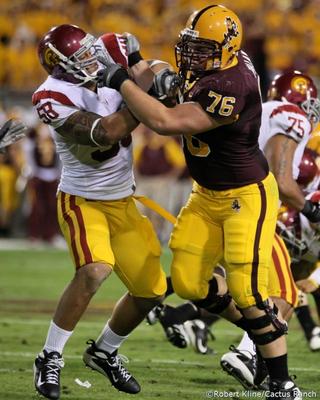 A local standout at Tempe's Corona del Sol High School, Pollak had the making of a great lineman from his arrival to Tempe and surely did not disappoint, becoming one of the nation's steadiest interior offensive linemen.
After spending time as a spot starter during his freshman and sophomore seasons, Pollak took over full time at center as a junior in 2006, nabbing Second-Team All-Pac-10 recognition.
The powerful 6'4", 292-pounder improved further as a senior, starting all 13 games at center for ASU's Pac-10 Co-Champion squad, earning First-Team All-Pac-10 honors.
Selected in the second round (59th overall) of the 2008 NFL Draft by the Indianapolis Colts, Pollak shifted to guard and started all 13 games he played as a rookie that year and seven of 14 games played in 2009.
7. Levi Jones, OL (1998-2001)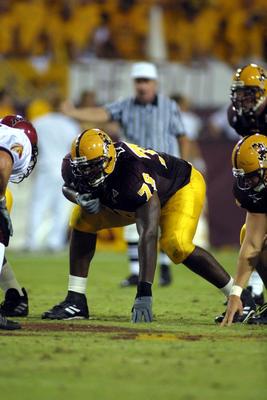 Originally a walk-on from the small town of Eloy, Ariz., Jones began his collegiate career as a defensive lineman before emerging into one of the Pac-10's elite blockers.
A three-year starter on the offensive line, Jones started all 12 games at left guard in 1999 before moving to left tackle for his final two seasons, where he would earn Second-Team All-Pac-10 honors as a junior and First-Team recognition as well as Second-Team All-America accolades by Football News as a senior in 2001.
Selected 10th overall in the 2002 NFL Draft by Cincinnati, Jones started 89 of 94 games played from 2002-08 with the Bengals and made eight starts in nine games played with the Washington Redskins in 2009.
6. Dale Robinson, LB (2004-05)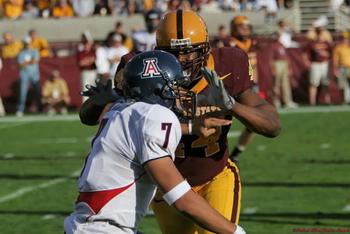 No defensive junior college transfer made as ferocious an impact as did "The Manimal," who terrorized opposing ball carriers each game of his two-year career.
Lightly recruited out of Glendale (Ariz.) Community College after beginning his playing days at Division II C.W. Post, Robinson started all 12 games at strong side linebacker as a junior in 2004, earning Honorable Mention All-Pac-10 recognition after posting 93 total tackles, including a team-high 13.0 tackles for loss.
A violent tackler with a hunger for contact, Robinson continued his meteoric rise as a senior, earning the 2005 Pat Tillman Co-Defensive Player of the Year in the Pac-10, leading ASU and ranking second in the league with 115 tackles as well as 15.0 tackles for loss as a starter in 11 of 12 games played.
5. Shaun McDonald, WR (2000-02)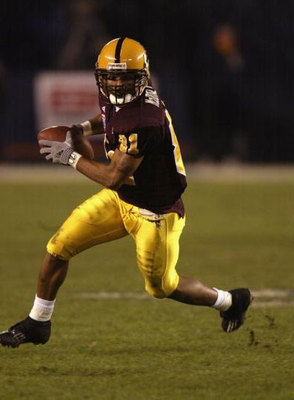 One of college football's most reliable, speedy receiving targets during his tenure at ASU, the product of nearby Phoenix Shadow Mountain High School became one of only five Sun Devils to surpass 1,000 receiving yards in a single season when he hauled in 47 passes for 1,104 yards and 10 scores as a redshirt sophmore in 2001 under first-year head coach Dirk Koetter.
McDonald's junior campaign in 2002 still stands in ASU record books, as his 83 catches for 1,248 yards both mark single-season school records, while his 13 touchdown receptions that year trail only Doug Allen's 1984 effort of 14 scoring grabs in terms of yearly efforts.
A finalist for the 2002 Biletnikoff Award and Third-Team All-American that year, McDonald surely would have captured all of ASU's career receiving records had he stayed for his senior season, ultimately placing second all-time in receiving yards (2,867) and touchdown catches (24) and third in receptions (156) at the time of his departure.
Selected in the fourth round (106th overall) of the 2003 NFL Draft by the St. Louis Rams, McDonald appeared in 56 games with three starts for the Rams from 2003-06, 28 games with 14 starts with the Detroit Lions from 2007-08, and four total games with the Pittsburgh Steelers in 2009, totaling 220 catches for 2,490 yards and 11 touchdowns thus far for his professional career.
4. Zach Miller, TE (2004-06)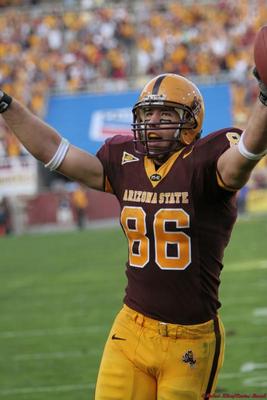 He was dubbed "The Truth" upon his arrival to ASU and lived up to that billing in each game he played.
Unanimously rated the top tight end high school prospect in 2004 and the state of Arizona's top recruit, Miller rejected offers from schools including Miami (Fla.) and Oklahoma to play for his hometown Sun Devils and starred immediately in ASU's high-octane passing offense.
A starter in all 12 games as a true freshman in 2004, Miller demolished ASU's freshman receiving record by over 20 catches, hauling in 56 receptions for 552 yards and six touchdowns, netting him Pac-10 Freshman of the Year and Second-Team All-America honors.
The most accomplished tight end in ASU history, Miller ended his career with more total receptions (144) and touchdown catches (14) by any Sun Devil to play the position, while trailing only Todd Heap in career receiving yards (1,512) by a tight end.
A consensus All-American and Mackey Award finalist following his junior season in 2006, Miller bypassed his senior year to enter the NFL Draft, where he was selected in the second round (38th overall) by the Oakland Raiders, where he has quickly emerged into one of the sturdiest receiving tight ends in football, totaling 166 catches for 2,027 yards and seven touchdowns as a three-year starter in Oakland.
3. Derek Hagan, WR (2002-05)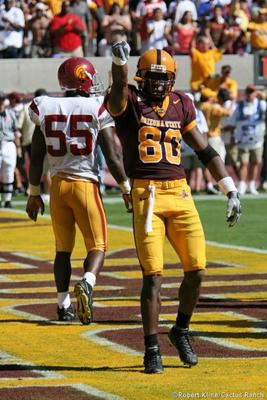 Originally a verbal commitment to UNLV, ASU provided Hagan's only BCS conference offer after his senior season at Palmdale (Calif.) High School—a move that made the Sun Devil staff look like temporary geniuses.
Hagan moved quickly up the depth chart at receiver as a true freshman, setting ASU's freshman receiving record (ultimately broken two years later by Zach Miller) with 32 catches for 405 yards in 14 games with two starts.
From that point, Hagan's career skyrocketed as he became the only player in school history to string together three consecutive 1,000-yard receiving seasons, ultimately catching 258 passes for 3,939 yards and 27 touchdowns in 50 career games.
A semifinalist for the 2004 Biletnikoff Award and a Third-Team All-American in 2005, Hagan ended his career as the Pac-10 Conference's all-time leader in receptions, second in the league in career receiving yards, and seventh in career touchdowns.
A third round selection (82nd overall) of the Miami Dolphins in the 2006 NFL Draft, Hagan has totaled 61 catches for 746 yards and four touchdowns in four seasons with the Dolphins and the New York Giants.
2. Andrew Walter, QB (2001-04)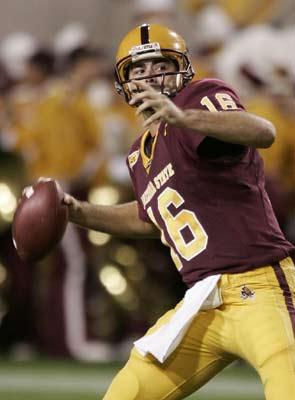 Standing tall in the pocket with a cannon arm, Walter lit up scoreboards and record books as a three-year starter for what was one of college football's most prominent passing offenses during his career.
A rocky redshirt freshman season prompted coaches to slate Walter as second-string to enter the 2002 season.
However, in the year's early stages he emerged into the starting lineup and caught fire unlike any passer Tempe has ever seen, becoming the first Pac-10 quarterback to submit four games over 400 yards while also breaking the league single-game passing record with 536 yards in an upset win at Oregon en route to a school-record 3,877 passing yards on the year in addition to 28 touchdowns.
Walter would go on to top the 3,000-yard mark in both his junior and senior seasons, while also setting the ASU single-season passing touchdown record with 30 in 2004.
By the end of his career, Walter had claimed the Pac-10 career passing touchdowns record (85) while also setting school marks in all major passing categories, completing 777 of 1,146 passes for 10,617 yards.
Picked in the third round (69th overall) by the Oakland Raiders in 2005, Walter has completed 174 of 333 passes for 1,919 yards and three touchdowns over his four-year pro career.
1. Terrell Suggs, DE (2000-02)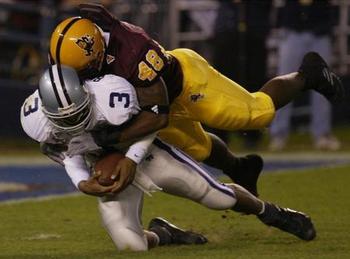 When a defender collects 20 sacks over his first two collegiate seasons and surpasses that total in his third year alone, fans are in store for a legendary treat, and opponents are in for devastating confrontations.
A freshman All-American in 2000 after a 10-sack season, Suggs collected another 10 sacks in 2001 before becoming college football's most frightening and dominant defender with an unworldy, superhuman junior season in 2002.
Suggs broke Dwight Freeney's NCAA sacks record by recording a Herculean total of 24.0 sacks, earning Pac-10 Defensive Player of the Year and consensus All-America honors, as well as being named the 2002 recipient of the Lombardi, Bronko Nagurski, and Ted Hendricks Awards—all annually given to the nation's top defender—as well as the Morris Trophy, awarded to the Pac-10's top lineman each year.
After skipping his senior season, Suggs became the 10th overall selection in the 2003 NFL Draft by the Baltimore Ravens and was named the 2003 Defensive Rookie of the Year after racking up 12.0 sacks, primarily as a reserve linebacker/defensive end.
Thus far, Suggs has been named to the Pro Bowl three times and has totaled 427 tackles and 57.5 sacks over his seven-year career.
Keep Reading

Arizona State Football: Like this team?