Oakland Raiders Mock Draft: If Only It Could Happen This Way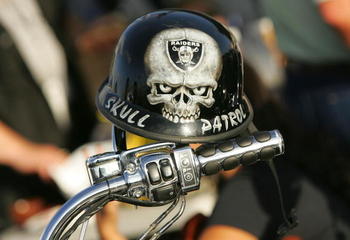 Now that the playoffs are underway, and the Raiders are once again not involved, it's time to look to the offseason.
Most of the experts have us taking physical freaks like Taylor Mays or Carlos Dunalp. Purely based off height, weight and speed.
Chances are, they are right and come this years draft Raider fans will be disapointed...again!
Here's my mock draft based on what I feel the Raiders biggest needs are.
Sure, I know it probably won't happen this way, but it's still nice to dream.
First Round: DT Terrence Cody, Alabama 6'5'' 365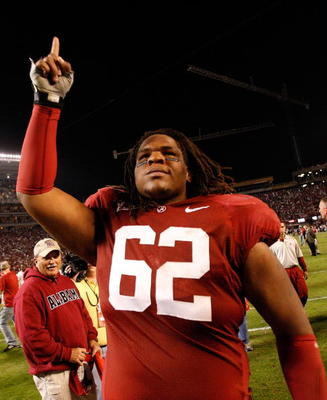 Terrence Cody (AKA Mount Cody) is a beast. Who cares if it would be considered a reach? Who cares if he is a one dimensional two down player? This 365-pounder is still athletic enough to dunk a basketball.
He would solidify the run defense and demand a double team freeing up other defenders to fly to the ball.
Second Round: OT Ciron Black, LSU 6'5'' 325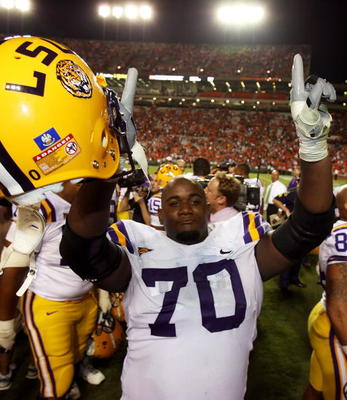 Before the college season started, Ciron Black was touted as one of the best tackles in the game and projected by many as a first-round pick. Then LSU had a disapointing year, and his stock plummeted.
This LSU senior has proven to be very durable and is considered one of the most experienced linemen in the draft. After red-shirting in 2005, Black went on to start 52 straight games.
He is also a tremendous run blocker. Also, though he has played both tackle positions and his pass-blocking is above average, he will need to improve in that area if he is ever expected to protect a QB's blindside.
He is an excellent candidate to play right tackle for the Raiders.
Third Round: CB/KR Perrish Cox, Oklahoma State 6'0'' 200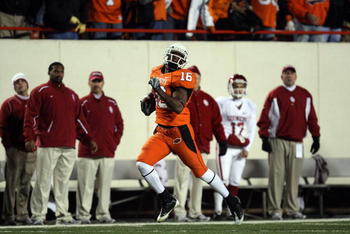 This year, the Raiders return game was dead. Johnnie Lee Higgins did nothing returning punts and the best player in the kick return Carousel was a fullback.
Perrish Cox could return that spark that has been missing from the Raiders special teams unit with his elusiveness 4.34 speed.
He could also ad depth at corner where the Raiders are thin. He would be a great candidate to take over the nickel corner position.
Third Round: OG Brandon Carter, Texas Tech 6'6'' 345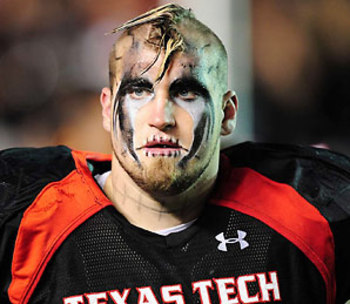 Face paint, a mohawk, and shoulder pads. No this isn't a Raider fan, but Brandon Carter would fit right in with the guys in the black hole.
He was easily one of the top guards in college football, shutting down one of colleges top defenders in Ndamukong Suh, who only amouted four tackles against Texas Tech.
He was suspended for violating unspecified team rules, then his Twiiter acount and Facebook page were mysteriously deleted, along with Marlon Williams' and the rest of the Texas Tech roster.
But despite possible character issue this guy just looks the part and could compete for a spot on the roster opposite Robert Gallery.
Fourth Round: LB Reggie Carter, UCLA 6'1'' 240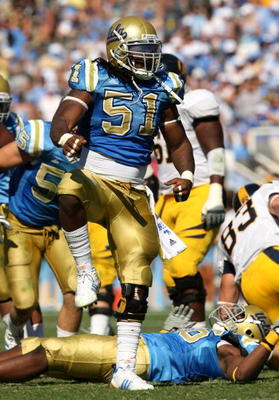 Reggie Carter is a fast hard-hitting instinctive line-backer who led the Bruins in tackles.
He would add much needed depth at line-backer and may be a suitable replacement in case Kirk Morrison isn't resigned.
Sixth Round: FB John Conner, Kentucky 5'11'' 240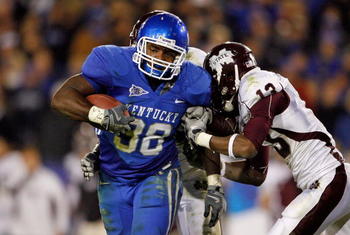 As one of the best FBs in the nation he was named the "best blocking back" in the SEC in the Birmingham News 2009 preseason edition." He is also a short yardage running threat as well as a threat out of the backfield.
And if that doesn't say enough for you his team-mates call him the terminator.
Seventh Round: C/OG Jim Cordle, Ohio 6'4'' 300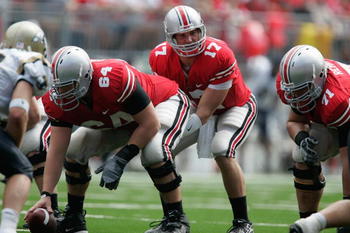 He has had injury problems and in four years the Senior has started 26 games. But his scouting report only has good things to say about him
"Three-year starter along the offensive line…26 career starts … has quickness and speed…plays with power … tough and competitive…can contribute effectively at any line position…worked at right tackle during the spring."
He will likely land on a teams practice sqaud as a project.
Keep Reading

Oakland Raiders: Like this team?