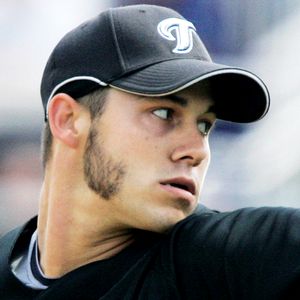 According to TSN.ca Dustin McGowan is claiming to be ready to finally make his long awaited return to the Blue Jays' rotation to the delight of baseball fans and sideburn enthusiasts everywhere. D-McG (yeah I said it) has been out of action since late 2008 when he tore his labrum and missed all of 2009 rehabbing his arm and injuring his knee in July to set himself back another 6 weeks.
If this report is true, and considering its got direct quotes from McGowan saying he's ready it seems pretty likely then its gonna make spring training just a little bit more interesting as the race to fill out the starting rotation is going to made even more competitive with the presence of mutton chops.
For 5 spots in the rotation there's now 9 guys (McGowan, Romero, Cecil, Rzepczynski, Richmond, Jansenn, Marcum, Morrow, and maybe Purcey) competing for them, 10 if Brian Tallet leaves the bullpen, and 11 down the road if Jesse Litsch returns from his Tommy John surgery during the season. The competition among the pitchers should serve to give everyone enough of a kick in the ass to pitch above their potential, and if nothing else provide enough fodder for speculation to keep people throwing out ridiculous ideas for a better rotation until at least the middle of May.