Top Five Shooting Guards of All Time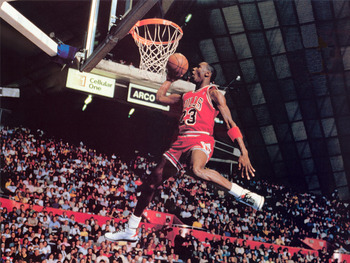 Okay, number one is easy, right? I mean, the best shooting guard of all time is a lock. Or is it?
Let's suppose No. 23 is the greatest at his position, then who is number two? Who makes the top five and who gets left out?
It's high time for the always contentious All-Time List. This is a list of the top five shooting guards of all time, plus one spot for honorable mention.
Although many say winning is the only thing, it is not the sole criteria here. Individual success is weighed as heavily as team success, if not more so; otherwise the Hall of Fame would be filled with great role players with multiple rings like Robert Horry and Ron Harper instead of individual greats like Charles Barkley and Patrick Ewing.
Let's start our list, and as I'm sure there will be plenty of people who disagree with my selections, feel free to comment with your own list.
Honorable Mention: Reggie Miller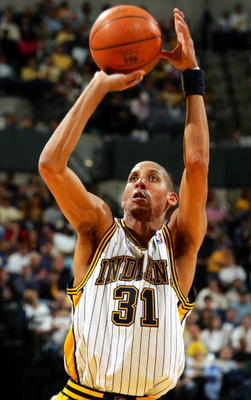 Honorable Mention is always tough, because once I lay out the top five, I always feel that I left out so many players. There's Clyde Drexler, Ray Allen, and how tough is it to not include Pete Maravich on any shooting guard list? But there are only six spots (if I include Honorable Mention), and Reggie Miller needs to be here.
Reggie Miller defined Indiana Pacers basketball throughout his 18 year career with the franchise, thrusting them onto the national spotlight as a perennial contender. No one worked harder to get his shot (sprinting sideline to sideline, running through multiple screens), and was better at knocking it down once he got it, especially under clutch circumstances.
Arguably the greatest pure shooter of all-time, Miller leads the NBA in 3-pointers made with 2,560, while shooting a remarkable 39.5 percent from behind the arc. He is also the NBA leader in four-point plays with 24 (Remember how he'd kick his leg out during his release?).
His free throw shooting was no less impressive at 88.8 percent (ninth all-time), leading the league five times during his career.
Miller is one of only six players in NBA history in the 50-40-90 club, which means that in a season he shot at least 50 percent from the field, at least 40 percent from the three-point line, and at least 90 percent from the free throw line.
Miller is 13th on the all-time scoring list with 25,279 points. He is also sixth in minutes played and seventh in games played. Miller played in five all-star games, and led the Pacers to the NBA Finals in 2000, eventually losing to the LA Lakers in six games.
But as much as it pains me to admit this as a Knicks fan, Miller will probably best be remembered for his clutch playoff performances against the New York Knicks in Madison Square Garden, including a 25 point fourth quarter in the 1994 Eastern Conference Finals, and eight points in the final 8.9 seconds of Game One in the 1995 Eastern Conference semi-finals.
And just think: Pacers fans booed when Donnie Walsh selected Miller with the 11th pick in the 1987 draft. Who did they want instead? Steve Alford out of Indiana University. I think it's safe to say Walsh made the right choice. Now if he can just do the same with the Knicks...
5. John Havlicek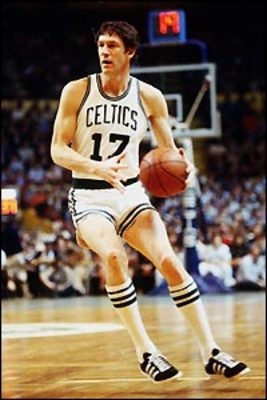 At six foot five, John Havlicek often played both forward and guard for the Boston Celtics. For our intents and purposes, I am listing him as a shooting guard, and he was one of the best to ever play the game.
Was Havlicek a good athlete? After winning a NCAA title at Ohio State University, he was drafted by both the Boston Celtics and the NFL's Cleveland Browns.
Safe to say he chose the right sport, because Hondo went on to win eight NBA championships with the Celtics, four of them in his first four years. Only Boston teammates Bill Russell and Sam Jones wear more championship rings on their fingers.
Red Auerbach once called Havlicek "the guts of the team." He was named the 1973-74 Finals MVP.
Havlicek is number 11 on the NBA's all-time scoring list with 26,395 points. He was selected to 13 all-star teams, 11 All-NBA teams, and eight All-Defensive teams.
Who hasn't heard Johnny Most's famous call during the decisive Game Seven of the 1965 Eastern Conference championship game against Wilt Chamberlain and the Philadelphia 76ers? In one of the NBA's most legendary plays, Boston is up by one point when Hal Greer of Philadelphia, with five seconds left and a chance to win the game and the series, inbounds the ball, only to have Havlicek jump up and tap it away to Sam Jones, prompting Celtics announcer Most to exclaim: "Havlicek steals it! Havlicek stole the ball!"
Havlicek entered the Hall of Fame in 1984, and in 1996 he was named one of the NBA's 50 Greatest Players.
4. Allen Iverson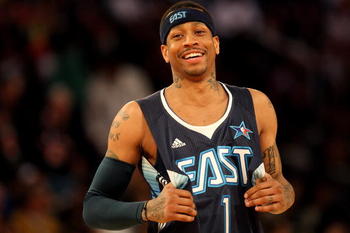 Maybe the best little man to ever play, there is nothing "little" about Allen Iverson's game.
Iverson was named the league MVP in 2000-01. He was named Rookie of the Year in 1996-97, and has gone on to play in 10 straight All-Star games from 2000 to 2009, winning the All-Star MVP in 2001 and in 2005.
Iverson is currently number 17 on the all-time scoring list with 24,161 points. He is number six on the all-time points per game list, with an average of 26.9 ppg.
Iverson led the Sixers to the NBA Finals in 2001 against the heavily-favored LA Lakers. After torching the Lakers for 48 in a Game One victory, the Sixers lost the next four games and lost the series to LA.
3. Kobe Bryant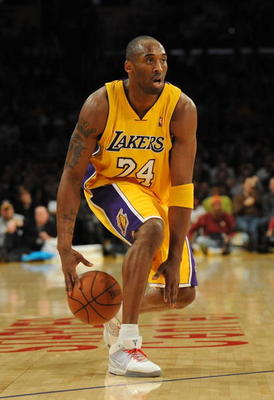 If you've got a young kid at home who keeps asking you what it was like to watch Michael Jordan play, first tell him that there's never going to be another Michael Jordan, and that he missed his chance to see him play. Then, just as he begins to cry, tell him that the next best thing is watching Kobe Bryant play.
Bryant and then-teammate Shaquille O'Neal led the Lakers to three consecutive NBA championships from 2000 to 2002. Then, as if to prove to all those who doubted he could win the big one without the big man, Bryant won his fourth title last year in 2009, also picking up the Finals MVP award to go along with the ring.
In 2006 Bryant scored 81 points against the Toronto Raptors, the second highest single game total after Wilt Chamberlain's 100 points. During the 2002-03 season, Bryant scored 40 points or more in nine consecutive games. And during the 2006-07 season, Bryant scored 50-plus points in four straight games, making him only the second player behind Chamberlain to do so.
On December 23, 2007, Bryant became the youngest player to reach 20,000 points for his career. He is presently 15th on the all-time scoring list with 24, 815 points. He is number 10 on the all-time points per game average with 25.3 ppg.
In 2007-08 Bryant won his first MVP award, and many of his fans thought it was a long time coming. He has played in 11 All-Star games, winning the All-Star Game MVP on three occasions.
2. Jerry West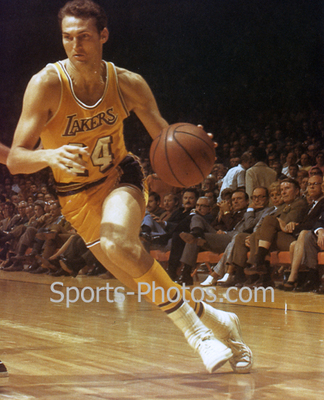 If the picture above looks familiar, it should: it's the NBA logo. Yes, when you're that good, the NBA uses your picture as its logo.
As Bill Russell once said, Jerry West was Jordan before Jordan was Jordan. He was a defensive-minded, high-scoring shooting guard who took his game to even higher levels in the clutch.
How good was Jerry West? In 1969 he won the NBA Finals MVP despite having played for the losing team, the only player in NBA history to have won the award under such circumstances.
West is 14th on the all-time points list, just ahead of our number four shooting guard Kobe Bryant, with 25,192 points. He is also number five in points per game, just ahead of our number four shooting guard, Allen Iverson, with 27.0 ppg. West is the all-time NBA record holder of points-averaged during a playoffs series (46.3) and, as a testament to his defensive abilities, he was chosen as a member of the first four NBA All-Defensive Teams, despite that the award was introduced when he was already 32 years old.
West was voted onto the All-NBA First and Second Teams a total of 12 times. He was elected to the NBA All-Star Team 14 straight years, winning the MVP of the All-Star game in 1972.
That same year, in 1972, West finally won his long-sought after NBA championship ring by beating the New York Knicks.
West was inducted into the Naismith Basketball Hall of Fame in 1980 and voted as one of the 50 Greatest Players in NBA history in 1996.
1. Michael Jordan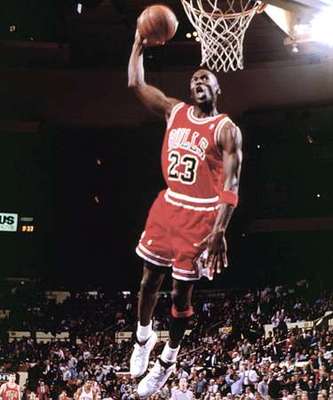 C'mon now, who else was it gonna be? I mean, how could the GOAT not be the all-time best at his position? Five league MVP's and six NBA Championships; he was the Finals MVP of each and every one of those titles.
Michael Jordan is third all-time in total points, behind only Kareem Abdul-Jabbar and Karl Malone, with 32,292 points. He is the all-time leader in career points per game, tied with Wilt Chamberlain, with 30.1 ppg, and is also the all-time leader in career playoff scoring average at 33.4 ppg.
In addition to the before-mentioned five MVP awards, Jordan has garnered ten All-NBA First Team designations, nine All-Defensive First Team honors, fourteen NBA All-Star Game appearances, three All-Star Game MVP awards, ten scoring titles, three steals titles, six NBA Finals MVP awards, and the 1988 NBA Defensive Player of the Year Award. Are you kidding?
In 1999, Jordan was named the greatest North American athlete of the 20th century by ESPN, and was second to Babe Ruth on the Associated Press's list of athletes of the century. He was elected to the Basketball Hall of Fame on April 6, 2009 and was inducted on September 11, 2009.
Michael Jordan's name has become a byword for greatness. When someone is the best at what he does, we say, "He is the Michael Jordan of..."
Just imagine if Jordan didn't retire for five years (1993-94, most of 1994-95, and 1998-99, 1999-00, 2000-01), Would Jordan be the NBA's all-time leading scorer? How many more championships might the Bulls have won? Unfortunately, we will never know. But luckily for us, he gave us more than anyone could have imagined with the years he did play.
Keep Reading