NFL Playoff Predictions: Cheerleader Showdown
It's playoff time, baby!
After 17 weeks, 23,896 mentions of Brett Favre, and two undefeated seasons down the drain, it has all come to this. There are now 12 teams with a chance to win football's highest prize: the Super Bowl.
Trying to pick the winner is almost impossible. Who would have seen the Giants beating the Pats two years ago at the beginning of the playoffs? Nobody. It's a crapshoot. That's why any formula has a chance of succeeding or failing miserably.
My formula? Cheerleaders.
I've already gone and looked at The Hottest Cheerleaders of 2009, but that was mostly off the field and individuals. We all know that teams win games, not players.
So here are my playoff picks based solely on how hot the cheerleaders from each team are. Enjoy.
AFC: Patriots vs. Ravens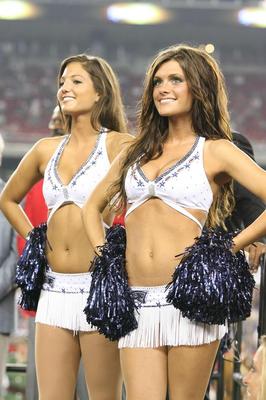 We start with the Patriots. Once heavy favorites almost every year to win it all, they are one of the biggest enigmas at the beginning of the new decade.
However, their cheerleaders have never wavered. They are still big hitters. I mean, just look at their skirts. That's basically a belt with tassels. That's hard to beat.
AFC: Patriots vs. Ravens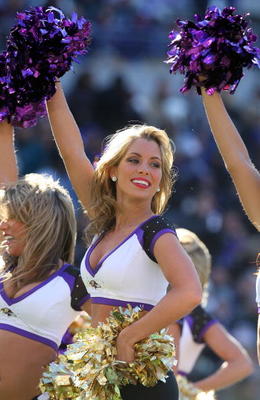 This cheerleader is more of a physical specimen than Joe Flacco. Great body, great smile, and I'm going to go ahead and assume great personality.
But like Flacco, we know that all of the physical gifts in the world don't mean anything unless you have the talent to put it all together on a consistent basis.
So can she?
Winner: Patriots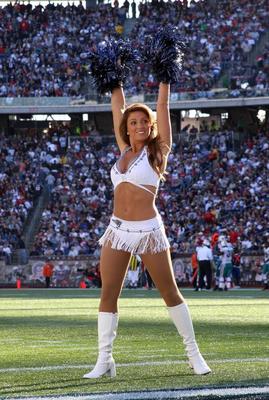 Unlike Wes Welker, the Pats cheerleaders have successfully landed on their feet after the first round. They have the floundering Saints in the next round. Can they take advantage and regain some of their old glory?
AFC: Bengals vs. Jets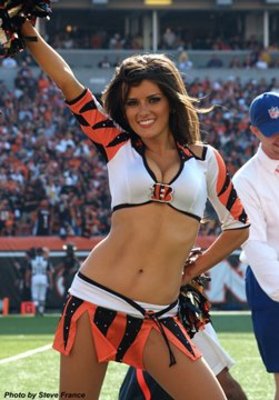 I'm a big fan of the Bengals and the Ben-Gals.
The Bengals earned my admiration after a terrific season of Hard Knocks and a great season on the field to back it up.
The Ben-Gals earned my admiration by just showing up. What? I didn't say I was hard to please.
AFC: Bengals vs. Jets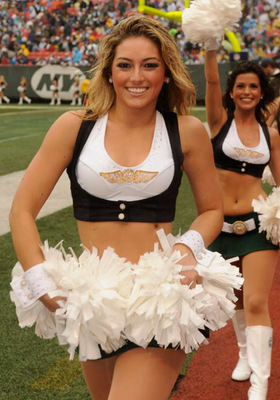 The Jets Flight Crew may have lucked into the playoffs just as much as their team did, but I couldn't be happier that they made it.
Always one of my favorites, the Flight Crew gets a rise out of me each time I see them.
Winner: Jets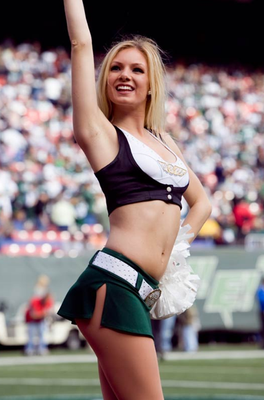 Nobody is expecting much out of the Jets in the first round, but I think on the strength of their cheerleaders this team might surprise you this year.
Sure, they have a rookie quarterback and coach, but just look how hot she is! That's worth something, right?
AFC: Chargers vs. Patriots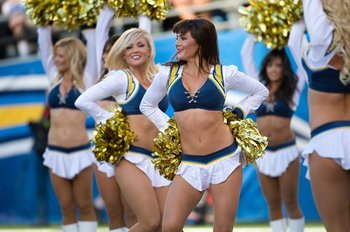 The Chargers have always been the team with all of the talent that just couldn't put it all together. However, this year they have a first round bye and are looking to be peaking at the right time.
Their cheerleaders haven't stopped peaking. It's just a constant peak.
Speaking of which, I'd like to do some peaking of my own on them.
AFC: Chargers vs. Patriots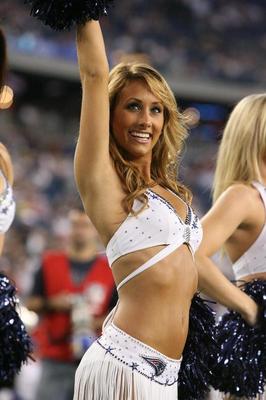 Apparently, Tom Brady has been playing with three broken ribs. That's tragic, but honestly, I'm happier that this cheerleader's ribs are okay.
Yep, that is one fine midsection right there.
Winner: Chargers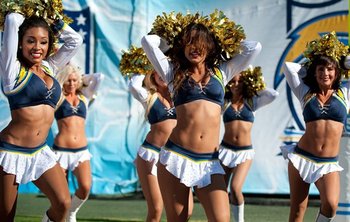 When it comes down to it, are you really going to take cold New England girls or beautiful sunny San Diego girls? It's not even a contest if you really think about it.
AFC: Colts vs. Jets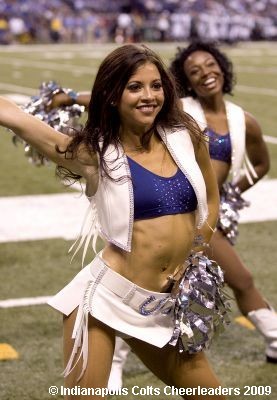 The Colts are the odds-on favorites to win the Super Bowl this year, but do their cheerleaders have what it takes to hold up their end of the bargain?
They've got the sexy cowgirl thing going on, but the Colts have never been known as a big cheerleader destination. Still, I can't honestly pick the Jets to beat the Colts, right?
AFC: Colts vs. Jets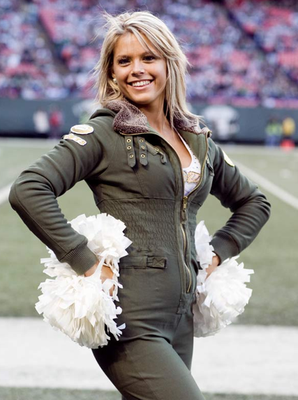 Oof. Just when I thought I was going to have to pick against the Jets just by sheer overwhelming odds on the field of play, they brought out the flight suits.
Normally, outfits that cover more skin is a negative for me, but they just look so damn hot in them. Skin-tight and sexy, they could convince me to join the army in a second.
Winner: Jets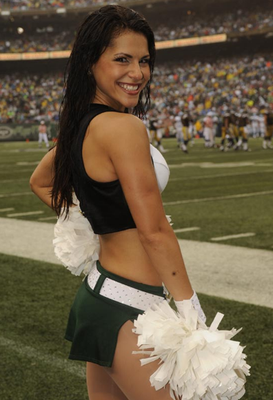 When it really came down to it, with my formula, I just had to go with the Jets here.
Even in the rain, the Jets are hotter than hell. If there's one thing Mark Sanchez might be motivated by, it's hot women, and the Jets have more than enough. Maybe it's enough for a playoff miracle.
AFC: Chargers vs. Jets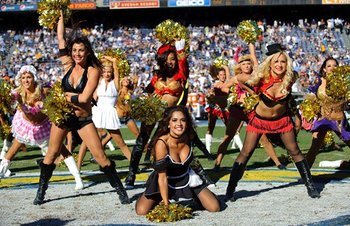 You know what the best week in the NFL is? It's the one closest to Halloween, when cheerleaders around the league dress up in their sluttiest outfit and do their cheering in that.
The Chargers are always my favorites, each cheerleader sexier than the last. It's like the best Halloween party you've ever been to, except multiply by 1,000 and subtract you puking up all those jello shots.
AFC: Chargers vs. Jets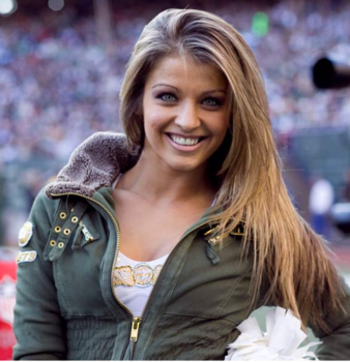 The Jets are breaking out the flight suits again. I think they really want this trip to the Super Bowl. Honestly, I'm not sure if I could deny her anything. All she would have to do is flash me that smile, and I'd go broke buying her presents.
Advancing to Super Bowl: Jets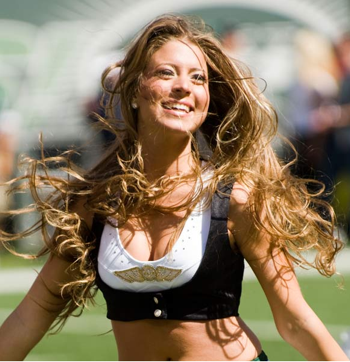 It's J-E-T-S Jets Jets Jets all the way.
The Flight Crew roared into the playoffs with a chip on their shoulder, looking to prove they belonged, and that they did. It's enough to make every Giants fan (no cheerleaders) rethink their loyalties.
NFC: Cowboys vs. Eagles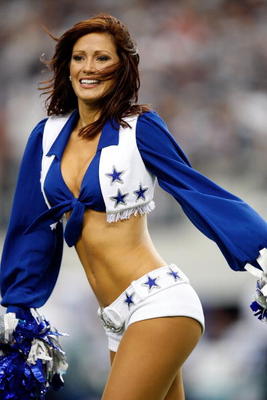 Wow, a juggernaut matchup of cheerleaders in the first round. That's tough. Obviously the Cowboys are big favorites in Vegas. Not only were they the first team to bring the sexy to cheerleading, but they have been upping the ante year after year.
They are iconic, hot, and always fun to watch. Beating the Cowboys won't be easy.
NFC: Cowboys vs. Eagles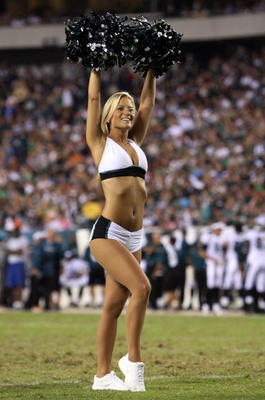 However, if any team can do it, it's the Eagles. While the Cowboys cheerleaders have a classic look, the Eagles cheerleaders have just gone straight to wearing almost nothing at all, and it is working.
They already have one of the most exciting teams in football; having one of the most exciting cheerleading squads as well is a tough combination.
Winner: Eagles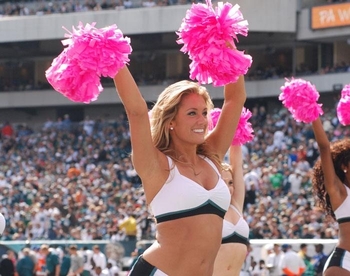 And in a huge upset, the Eagles take down the Cowboys!
I know I've said you can never pick against the Cowboy cheerleaders, but it's time the Eagles got their proper due.
Plus, tell me you didn't see another Cowboys playoff swoon coming. I know I did.
NFC: Cardinals vs. Packers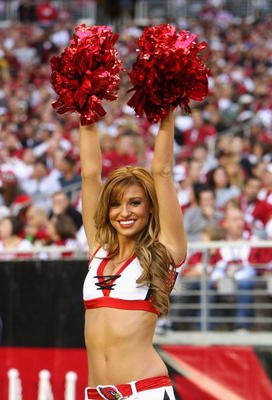 This Cardinals cheerleader is red hot. She's got the color theme down, as well as reminding me why I was such a big fan of the Cardinals last season. That is just fantastic.
NFC: Cardinals vs. Packers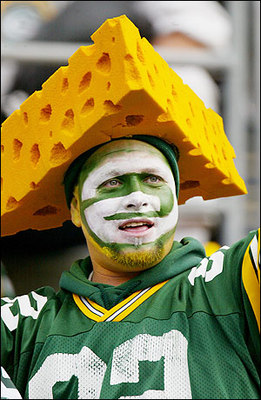 The Packers don't have any cheerleaders.
They rely on guys that look like this to root for their team. Is that going to be enough to get them past the Cardinals?
No chance in hell.
Winner: Cardinals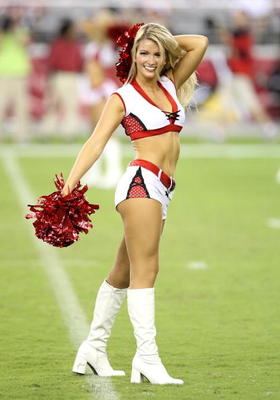 The Cardinals may have gotten the equivalent of a bye in the first round, but don't say that they didn't earn it. They brought their A game, and there's not many teams that would have beaten them anyway.
NFC: Vikings vs. Eagles
The Vikings cheerleaders are hot, but with the long puffy sleeves and the ruffles, they look more like German bar maids. Not that that's a bad thing, but it's not quite what we're looking for in the playoffs.
NFC: Vikings vs. Eagles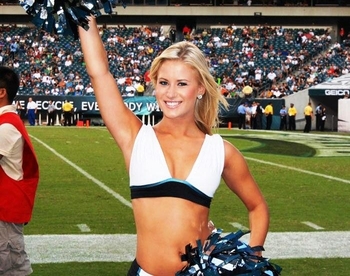 Damn, those Eagles are not giving this up without a fight.
It's hard for me to pick them considering how badly their team played in the last week of the season and how bundled up the cheerleaders were and how good the colts are, but...
Winner: Eagles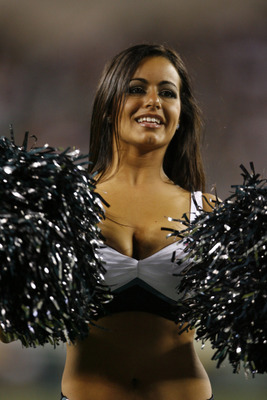 The Eagles it is!
Two straight upsets—one against the cheerleader juggernaut Cowboys and the solid Vikings. It's not because Donovan McNabb has been eating his Chunky Soup, but because their cheerleaders are just so damn fine.
NFC: Saints vs. Cardinals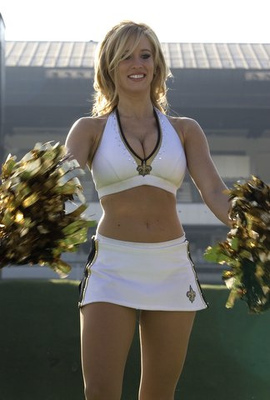 The Saint-sations are always some of the hottest cheerleaders in the NFL. The girls from the Big Easy may not be that easy, but that doesn't stop us from wishing that they were.
This one has got a body that can make me forget how badly the Saints have been playing going into the playoffs.
NFC: Saints vs. Cardinals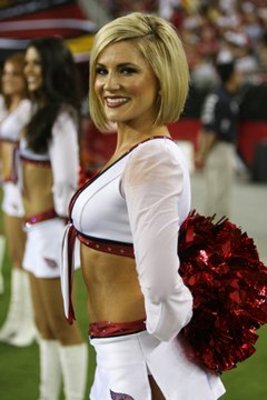 On the other hand, the Cardinals continue to bring the heat. They seem to turn it on right around playoff time and their cheerleaders turn it up another notch too.
Winner: Cardinals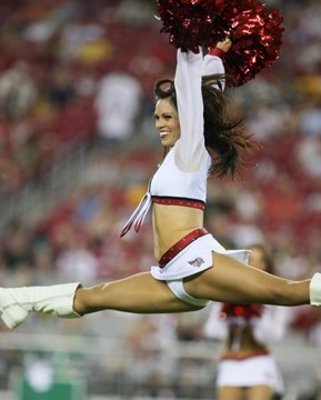 The Cardinals are excited, and they should be. They're in the NFC Championship.
I hate to pick against the Saints, especially with a former Saint-sation roaming around Bleacher Report. It was close, but the Cardinals just have got this power over me.
NFC: Eagles vs. Cardinals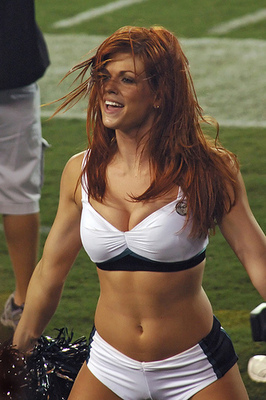 I had many fans seeing red when I put the Eagles at No. 12 in my countdown of the hottest cheerleaders in the NFL. I have since seen the light, and now I'm seeing red—red hair that is.
So after realizing the error of my ways, I understand now that the Eagles are deserving of some major cheerleader love.
NFC: Eagles vs. Cardinals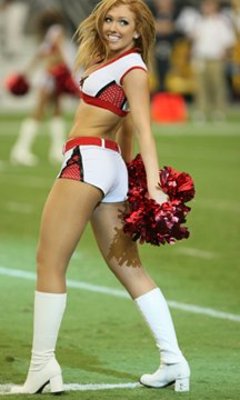 The Cardinals aren't about to give away back-to-back trips to the Super Bowl that easily, though. Maybe showing a little leg will give them the momentum they need to beat this strong group of Eagles cheerleaders.
Advancing to Super Bowl: Eagles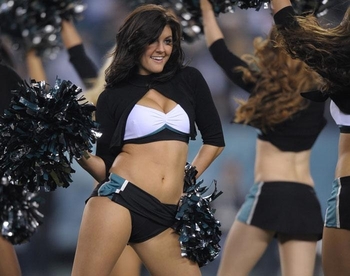 It's the Eagles!
Wow, another wild card in the Super Bowl. The Eagles have definitely earned their shot. Even when they "bundle up" with some "jackets," Philly still has me drooling all over myself.
Super Bowl: Eagles vs. Jets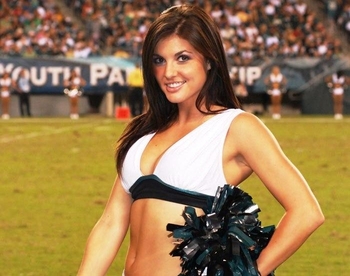 So here we are, two wild card teams in the playoffs, both green, both boasting ridiculously hot cheerleaders. It's going to be tight, and I mean that in whichever way you choose to take it.
Will it be the Eagles with their skimpy uniforms and experience in the playoffs?
Super Bowl: Eagles vs. Jets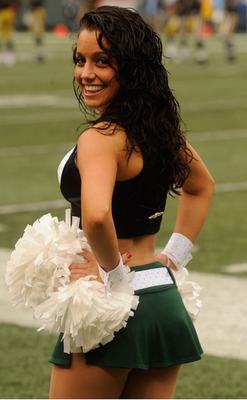 Or will it be the Jets with their flight suits and ability to look smoking hot in the rain?
Winner: Philadelphia Eagles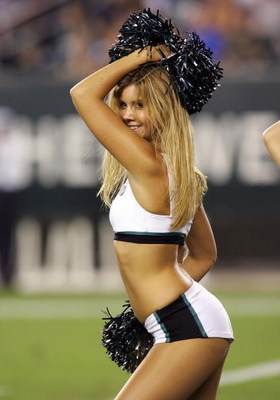 Get your tickets to Disneyland, Donovan, because you just won the Super Bowl. It's been a long time coming for the Eagles, but few teams have been as great as them over a long period of time. They embody everything I love about the NFL.
Oh, and their football team is pretty good too, I hear.
Keep Reading