One and Done: Irreplaceable Players for 2009-10 NFL Playoff Teams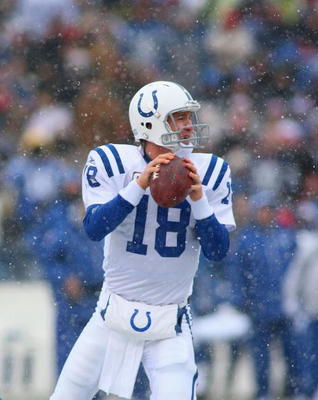 Only days away from entering the tournament bracket that will yield the two combatants for Super Bowl XLIV, we are reminded that football is a team sport, and that contributions both large and small throughout the season helped the twelve teams get to where they are right now.
Be that as it may, there are some guys a team just can't survive without, especially in the playoffs. Expect early exits for these teams if the following playmakers can't get it going in the postseason.
NFC—(1) New Orleans Saints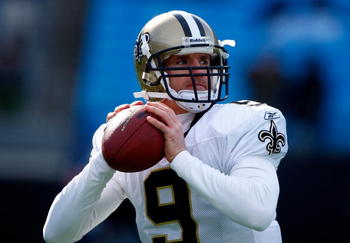 QB, Drew Brees
Congratulations, your first guess was correct.
Brees is one of the NFL's most likely MVP candidates, and his numbers, leadership and heart show why. The Purdue product has willed his team to the No. 1 spot in the NFC through his cannon arm.
How dependent are the Saints upon Brees' ability to connect with receivers for scores? New Orleans only played in three games this season in which they scored less than 20 points (with Brees not playing in one).
They lost all three.
Furthermore, the Saints cannot rely on their defense to shut down opponents. In twelve contests, the Fleur-de-Lis D gave up more than 20 points to the team across from them.
Should Brees not find a rhythm with his receivers early on, things will get difficult for New Orleans, no matter where they play.
NFC—(2) Minnesota Vikings
Brett Favre
Another team that lives and dies by the quarterback position.
A no-brainer. This was the move that was supposed to bring Minnesota to the forefront in the NFC—and it worked. With guys like Adrian Peterson, Sidney Rice, Pat Williams and Jared Allen on both sides of the ball, anybody could quarterback this team to national relevance, right?
Apparently not if you're Tarvaris Jackson.
Favre's addition made the Vikings a force, but it also made them a liability come the latter months in the NFL schedule. That, also occurred on schedule.
During the month of December, the Vikings went 1-3, with Favre throwing four of his seven INTs of the season in that span.
An impressive performance against the Giants last Sunday aside, how many hits will Brett's 40-year-old body take until it bails on him?
NFC—(3) Dallas Cowboys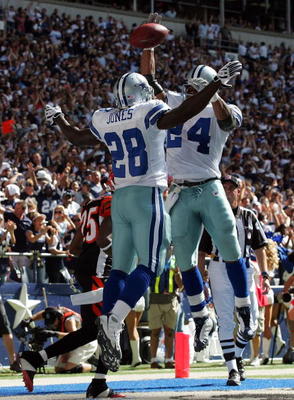 Their Backfield.
Only three of the twelve playoff teams rank in the Top 10 for team rushing. Of those three, Dallas is arguably the most dependent. If they can't run to set up the pass, Tony Romo, Jason Witten, Miles Austin, and Roy Williams suffer.
If they can't keep defenses on the field for too long, theirs will suffer.
Both Jason Garrett and Wade Phillips understand the value of a strong running game.
Garrett was privy to watch Emmitt Smith up close and personal during his playing days and Phillips had LaDainian Tomlinson making his job much easier as San Diego's defensive coordinator a few years ago.
Marion Barber and Felix Jones accounted for 1,600-plus yards of the Cowboys' 2,103. They chew up clock, move the ball effectively in the red zone, and give Tony Romo a breadth of options in the passing game.
In losses to the Giants, Chargers, and Broncos, no Dallas runner eclipsed 65 yards.
NFC—(4) Arizona Cardinals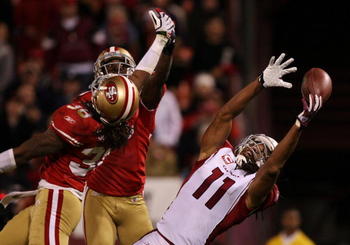 Larry Legend gets the nod over Anquan Boldin for two reasons:
1) His presence usually commands the top cornerback of the opposing team. With Boldin on the other side, it truly is a pick your poison transaction to leave the other man with "inferior" coverage, but if defensive coordinators believe Larry is the bigger threat, why should we believe differently?
2) He scores touchdowns. Thirteen to Boldin's four. Kurt Warner threw half of his 26 scores to Larry, in fact. Warner's solid 93.2 QB rating still puts him in the lower half of the signal-caller pile going into the playoffs, and other than Carson Palmer or Mark Sanchez, he is arguably the one most reliant on his receivers.
Final food for thought: In four of the six Arizona losses this season, Larry Fitzgerald did not score a touchdown.
NFC—(5) Green Bay Packers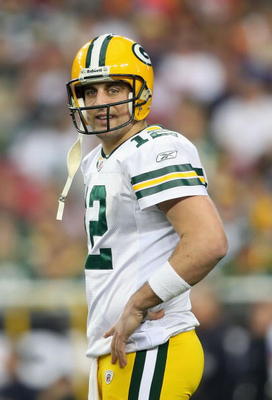 Aaron Rodgers
Vindication, thy name is Aaron.
With only one receiver in the NFL's Top 15 (Greg Jennings), Aaron Rodgers has amassed 4,434 yards through the air and 30 TDs in his best season as a professional.
Not only is Rodgers dangerous, but he's also unpredictable. Five Green Bay receivers have at least four touchdowns and none have more than six.
Ranking seventh in the league in passing overall, the Packers haven't had such a prolific season through the air since you-know-who was still under center.
Green Bay's passing attack means they're never out of a game—in their four losses, the Pack never scored less than 24 points. Having Ryan Grant in the backfield and Charles Woodson shutting receivers down doesn't hurt, either.
NFC—(6) Philadelphia Eagles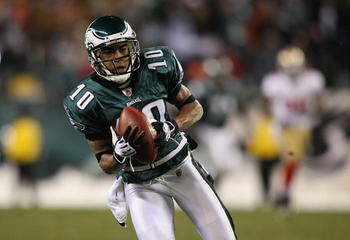 DeSean Jackson
No team is more quixotic.
A quick glance at their stats will indicate their 26.8 points per game rank fifth in the league, indicating their reliance on offensive production. Not so fast, the Eagles defense and special teams account for more scores than the league average.
Yet, they aren't particularly stifling on defense, ranking 12th in the league in total yards per game. With Brian Westbrook out for most of the year, they were definitely not a force running the ball, either.
Then, a glance over the Eagles' 2009 schedule reveals a familiar face when scoring touchdowns—in nearly all facets of the game.
Nine scores through the air, one on the ground and two on punt returns. No player on the roster can hurt you that often and in so many different ways.
Forget about Michael Vick running random Wildcat plays and having others return kicks, the Eagles would be wise to have DeSean Jackson on any non-defensive down as he is that much of a threat.
AFC—(1) Indianapolis Colts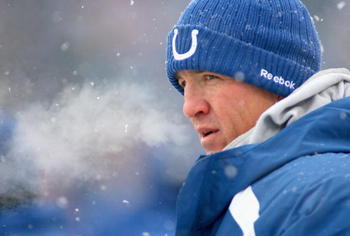 Peyton Manning
The Indianapolis Colts' theme song for the two second halves featuring Peyton Manning on the bench was The Smiths' ode to depression, "Heaven Knows I'm Miserable Now."
The Colts are a Super Bowl-bound team with No. 18 at full capacity; they seem lost and looking forward to a top-half draft pick should Manning be out or ineffective.
Sure, Jim Caldwell is riding the coattails of Tony Dungy's improved defense, and it's never hurtful to have both Reggie Wayne and Dallas Clark, but this team went 14-0 with no running game.
That's all Peyton.
AFC—(2) San Diego Chargers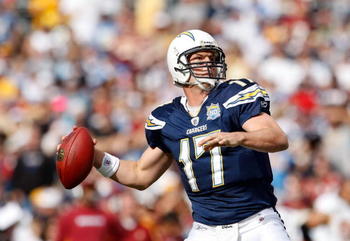 Philip Rivers
The cat's out of the bag.
Philip Rivers is a legitimate MVP candidate, another shining example that the 2004 QB Draft Class is second to almost none, and a threat to hoist the Lombardi Trophy soon.
In LaDainian Tomlinson's least effective season in his stellar career, Rivers has been handed the reins of one of the NFL's most explosive offenses in the past decade.
His 28 TDs against nine INTs helped San Diego close out the season with a scorching eleven-game win streak. He threw touchdown passes to seven different receivers and guided future Hall of Fame TE Antonio Gates to his best individual season in total receiving yards.
Sure, backup Billy Volek lead the Chargers on a game-winning drive in the 2007-'08 playoffs against the Colts, but watching Volek struggle against the Washington Redskins on Sunday is more than enough reason to be thankful for Rivers.
AFC—(3) Cincinnati Bengals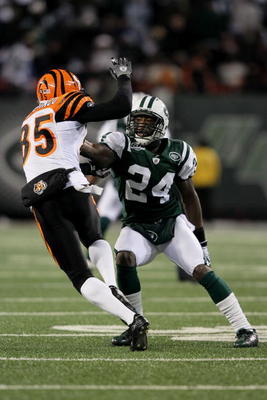 Chad Ochocinco
Make sure to link back to the site when you tweet this, Chad.
Yes, watching a gimpy, less than 100 percent Ochocinco against the Jets Sunday night was enough to validate this decision.
Especially when you factor in that the Jets' stellar defense requires a complete offensive package to be beaten.
Cedric Benson's stellar season aside, there's no way the Bengals make it past the first round without their Pro Bowl WR. Knowing that Chad can't produce his accustomed stat line is a huge load off of any defense's mind.
Should he not be back to his usual self for the Wild Card game, expect a similar result to the one offered in the Meadowlands.
AFC—(4) New England Patriots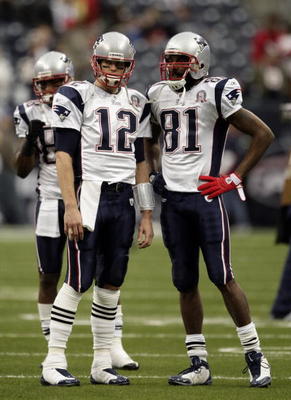 Tom Brady
Remember, there were times when Tom had no one better than Deion Branch or Troy Brown.
Newer Patriot fans are spoiled by having the sensational duo of Randy Moss and Wes Welker catching Tom Terrific's passes, but in the past he made due with much less.
Make no bones about it—even with New England's depleted defense and running game, they are a threat in the playoffs. The reason why is, quite simply, No. 12.
Should New England make an early exit from the playoffs this season, it will have much more to do with Brady's cracked ribs and finger than with Welker's torn ACL.
AFC—(5) Baltimore Ravens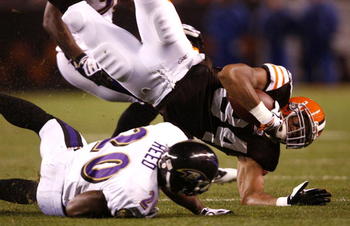 Ed Reed
The old adage comes true time and time again.
Defense wins championships.
No man is more identified with any defense in the National Football League (except maybe for his teammate, Ray Lewis, or Troy Polamalu) than Ed Reed is with the Ravens.
He's literally everywhere. His stat line proves it: 50 tackles, three forced fumbles, three interceptions, one TD.
He makes defenses think twice about passing deep, passing short, and running the ball in his direction. Other than the Jets, the Ravens are the only team in the playoffs who boast Top Eight rankings in both rushing and passing categories on defense.
Against the Ravens, opponents rush for a whole yard less than the Ravens offense does against them. In the air, the Ravens gain 7.1 to the opposition's 6.7.
Sure, Ray Rice has stepped up as Baltimore's main weapon on offense, but can anyone remember how the Ravens won their lone Super Bowl?
AFC - (6) New York Jets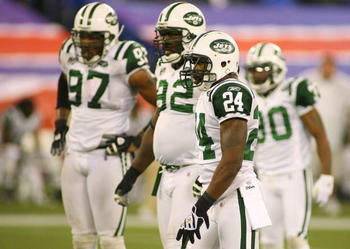 The Defense
No matter how putrid Mark Sanchez is through the air, no matter how limited Thomas Jones might find himself running the ball, this is another team that relies solely on how well its defense is doing.
Of course, this is a Rex Ryan team, after all.
Darelle Revis is the league's pre-eminent shut down corner for 2009, leading tackler David Harris is seemingly in on every play, and the duo of Shaun Ellis and Calvin Pace can get to the QB on any down.
Another player the Jets have on their side right now is momentum. The complete and utter thrashing of the Bengals on Sunday night will have some bearing on how things go next week in Cincinnati.
Sure, their offense might be, in fact, too limited to give them a shot at a ring this season, but the Jets are a testament to the fact that if you can only have one half of your football team functioning, you're better off with that half being your defense.
Keep Reading