Detroit Pistons' New Year's Resolutions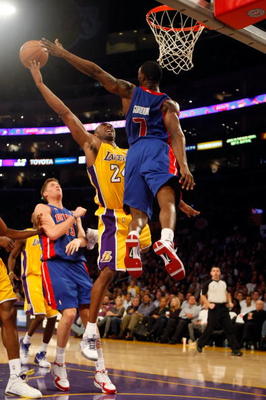 2009 is in the rearview and that is great for the Detroit Piston organization.
'09 began with the end of the Allen Iverson experiment turned nightmare. It marked the end of a successful decade of hoops in Detroit. The year ended with the plague of injuries putting a damper on the start of this season.
The chance to start anew is definitely welcomed in Motown.
Let's take a look at what the team needs to focus on in 2010.
Most significantly, first year Coach John Kuester needs to have a healthy team for a change in the New Year. We all want that. The injuries have dismantled the Pistons this year.
In fact, let's all drink to good health in 2010...
Peace "Coach K"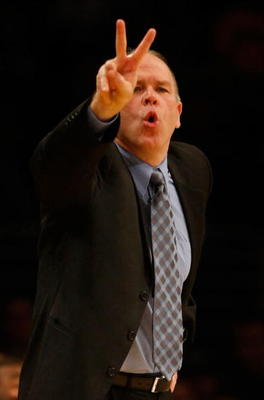 The plague of injuries has not allowed us to see the system the coach had planned to utilize.
It has been impossible for the team to have a normal rotation with so many of their top players missing major time. It is hard to judge the coach in this type of situation.
Coach K's resolution: Player Development
Rodney Stuckey needs coaching guidance to help him learn his position better. He certainly didn't get much guidance from X and O guru Michael Curry last year.
His growth is essential to the team's future going forward.
With a younger roster for the first time in a long time, there has to be a lot of focus on player development to bring success in this new decade. Trades and free agency are nice, but the Pistons need to start growing the talent that is in house.
Ben Gordon, Charlie V, Stuckey, Bynum, Maxiel, Jerebko and company are all young players that will be around for a while. They should all be getting better.
That is the task for the first year NBA coach.
Daye Time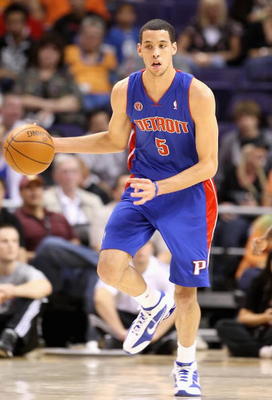 In 2010 coach should commit to finding minutes to develop first-round pick Austin Daye.
Jonas Jerebko has gotten the starts when Prince was out of the lineup instead of his longer look-a-like. With the experience JJ has gained confidence and is playing pretty well, no knock against him.
Jonas was a good draft pick, and is a strong and willing hustle player.
Daye, however, has a much bigger upside that JJ. This year provides a perfect opportunity for him to get his feet wet. Especially given the injuries.
He is getting only 13.6 minutes per game this year, that number will likely decrease as guys come back to the lineup.
It shouldn't.
The feeling is that Daye needs to gain pounds on his small frame to be effective. But he is very confident young man and it is in his best interest to start learning how to use his length and unique skill set right away.
The Pistons have never been adept at developing young players. Without the injuries, you wonder if either of these young guys would have gotten much meaningful time on the court at all this year.
Remember Prince sat on the bench his entire rookie season for no reason, except watching the electrifying Michael Curry get burn? That was wasted time.
At this point (11-21) this young Pistons team is looking to retool for the future and Daye figures to be a big part of that.
Prince never really gained any weight yet proved to be a solid NBA starter. Daye, the 15th pick in this years draft, can do the same.
He has a really soft shooting touch and plays with a star type confidence. With more experience, he can become a solid player in this league. Perhaps a versatile Rashard Lewis, Lamar Odom type, or better...
Rodney Stuckey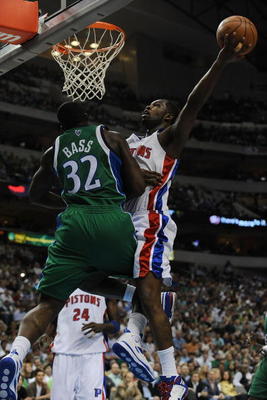 Lots of Pistons fans are not necessary in love with third year guard Rodney Stuckey. The power guard must learn the hard craft of becoming a floor general.
Rodney is tenacious going to the hoop and he has improved his mid range jumper from last season. But he has yet to become the slightest three-point threat at all, making just six of his 33 (.182) attempts from downtown this year.
Hell...I could come out of retirement and stroke it better than that. He has to improve those numbers to stretch defenses.
It's too bad he doesn't have the benefit of Chauncey Billups around to tutor him. When they were on the same team, Stuck was mostly stuck to the bench.
It will help him a lot to have all of his weapons healthy so chemistry can develop. Hopefully the second half of the season will find the Pistons roster in tact.
Many fans feel he is too much of a shoot first point guard. Which may be true right now, but remember that in his third year in the NBA, the same was said of Billups.
Rod's Resolution (and ours as fans of his): Patience
Stuck needs to stay healthy first of all, we can't afford any more injuries. He showed a lot of heart playing through two ugly ankle rolls against the Bulls. That is true Detroit style, you have to appreciate that toughness and effort.
He needs to stay patient and keep learning the position—working on his range. Fans must learn be patient with him as well. Point guard is the hardest position on the floor.
With rebuilding inevitably comes growing pains.
Rodney should continue to stay aggressive, too; very few guards in the league can attack the rim as aggressively as he does.
Chuckie V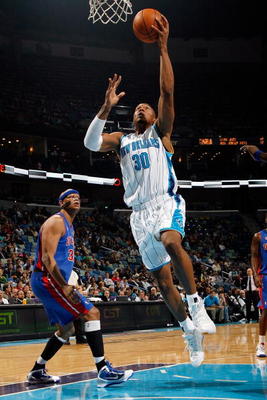 You see this picture how an opponent is laying the ball in and Detroit's latest masked man is watching helplessly like we do from the couch? That is a problem.
He could at least YELL at the guy have his arm raised. Damn.
One would think with all the letters in Villanueva, maybe he can add a D somewhere in there!
He has to learn how to play Piston basketball. The good thing is the young 25-year-old forward has time.
Perhaps it would help if the coach gave him incentives defensively. The two recently had a meeting about what the coach expects from him. To his credit, CV does seem to be a coachable young man.
No worries on the other side of the floor. CV 31 is a real scoring machine. He has a feathery touch, quick releases, and a lot of range. When he is hot, he can put up numbers in a hurry.
His resolution: Weight Room!
Vill needs to add some power in his power forward.
Charlie should be rolling with Big Ben and J Max into the weight room daily. (They should bring Austin Daye along as well.) CV is a finesse player who needs to add some of their mean streak.
When it comes down to it, the Pistons are always gonna be the Bad Boys. To warrant time on the floor, you have to want to play defense as bad as you want to score.
That is Deeetroit Basketball.
Hopefully the new decade will see the boys back in contention where they belong.
Keep Reading

Detroit Pistons: Like this team?