Washington Huskies All-Decade Team: Offense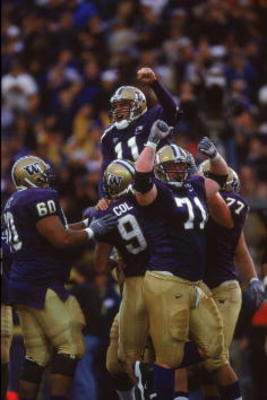 With the decade that the Washington Huskies have been through, it is no surprise that the all decade team for 2000-2009 is heavy on players from the 2000 Rose Bowl Squad.
It has been the single worst decade in the history of Husky Football, but there were some bright spots and talented players donning the Washington Purple and Gold.
Even though the all decade offense is heavy on players from 2000, you will see a few from later years, even one from 2009!
Despite a 5-7 record to end the decade, things are looking up going into the new decade. Here is a look at my picks for the 11 Huskies on offense.
Marques Tuiasosopo - Quarterback
One of the most celebrated players in a long line of solid college quarterbacks for the University of Washington; Marques Tuiasosopo led his team to their most recent Rose Bowl win in 2000.
In 1997, Tuiasosopo become Washington's first true freshman to start at Quarterback when Brock Huard was knocked out due to injury. He took over as the full time starter during the 1999 season.
He earned second team All-Pac-10 honors, and became the first division one player to post a 300/200 passing/rushing yardage game.
During the 2000 season he led his team to an 11-1 record and Rose Bowl Victory.
Stats:
Rush Pass Total
1997 112 650 762
1998 327 484 811
1999 541 2221 2762
2000 394 2146 2540
Chris Polk - Running Back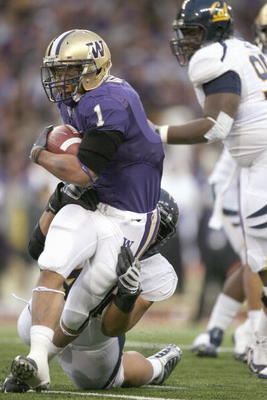 The Washington Huskies have had several solid running backs over the years, but this last decade has only produced two backs to rush for over 1000 yards in a single season.
While Louis Rankin had more yards, to me Chris Polk's effort this year was more impressive.
While Rankin had a run-first Locker to help take pressure off of him, Polk was the main running threat this season and consistently produced, averaging 4.9 yards a carry.
Polk, the only current player to make my list, has shown the ability to bring back the running game for the Huskies, and even on his one full season of effort has put himself at the front of the list of the 2000's running backs.
Stats:
Rush Pass Total
2008 33 0 33* (granted medical redshirt for 2008 season)
2009 1113 171 1284
Pat Conniff - Fullback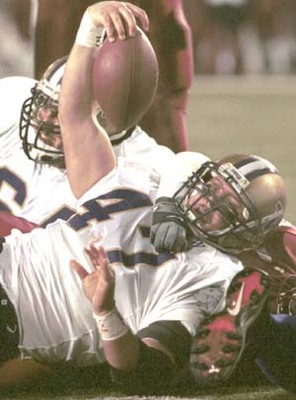 Pat Connif was a three-time starter and played in games during his four years at the University of Washington.
Not the most glamorous positions, Connif was part of the Rose Bowl squad's potent option attack, and was known as a solid short yardage back as well as blocker.
Stats:
Rush Receiving Total
1997 29 1 30
1998 60 36 96
1999 132 37 169
2000 161 26 187
Reggie Williams - Receiver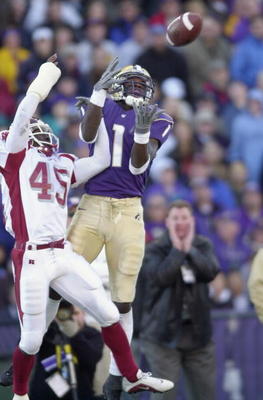 The all-time leader for the Washington Huskies in receiving yards, receptions, and receiving yards per game; Reggie Williams was a dominate College receiver, and possibly the best wide-out to ever wear a Husky jersey.
Williams played during the post 2000 Rose Bowl era of the decade, but it was before the collapse, and was a member of the most recent Husky Bowl teams.
Incredible stats and athletic ability, Williams was the focal point of the offense during his playing days at Washington.
In 2002, Williams earned first team all-American and all-Pac-10 honors.
Stats:
Year Rec. Yds. Avg. TD
2001 55 973 17.7 3
2002 94 1454 15.5 11
2003 89 1109 12.5 8
Charles Frederick - Receiver
Another post Rose Bowl team player, Charles Frederick is Washington's second leading receiver of the decade.
Like Williams, wins were hard to come by during his time at Washington, but his stats move him into this spot over Todd Elstrom, who played an important role for the 2000 squad.
In 2001 Frederick was named a first team freshman All-American punt returner as a freshman. In 2003 he was named all-pac-10 first team as a special team's player.
His best season came as the second option to Reggie Williams during the 2003 season. Returned for 2004 season, but only played in five games.
Stats:
Receiving
Year Rec. Yds. Avg. TD
2001 0 0 0.0 0
2002 45 651 14.5 2
2003 59 831 14.1 5
2004 11 253 14.9 1
Punt Returns
Year No. Yds. Avg. TD
2001 14 202 14.4 1
2002 18 146 8.1 0
2003 29 340 11.7 1
2004 2 11 5.5 0
Kickoff Returns
Year No. Yds. Avg. TD
2001 18 290 16.1 0
2002 30 601 20.0 0
2003 11 202 18.4 0
2004 13 236 18.2 0
Kevin Ware - Tight End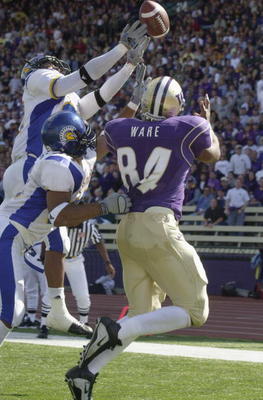 While Jerramy Stevens has been the best tight end on the field, his actions off of it just won't allow me to put him on this list.
What we know of his actions during his days at Washington is simply an embarrassment for the school.
So instead we will go with Kevin Ware. Ware was known more as a solid blocker, but did produce nearly 500 yards during his senior season of 2002.
Stats:
Receiving
Year Rec. Yds. . TD
2000 0 0 0
2001 7 102 0
2002 42 463 5
Khalif Barnes - Tackle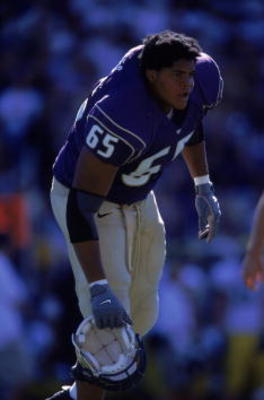 Khalif Barnes came to the University of Washington in 2000 as a defensive lineman, and redshirted his freshman season. He was switched over to the offensive line during the Rose Bowl practices, and never looked back.
A four year starter, Barnes is the most recent Husky first round NFL draft selection as well. In 2001 and 2002 Barnes started every game for the Huskies at tackle.
In 2003 again started every game, and was named honorable mention All-Pac 10. Was named the team captain in 2004, but was knocked out for the season in the fifth game of the year.
Elliot Silvers - Tackle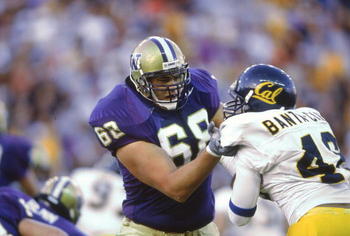 Elliot Silvers was another member of the 2000 Washington offensive line that led the Pac-10 in rushing.
Silvers was a three year starter, and took home all-Pac 10 first team honors for the 2000 season. A massive physical specimen at 6-7 320 pounds Silvers was a vital part of that Rose Bowl team.
Chad Ward - Guard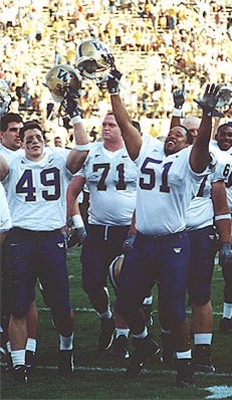 Chad Ward was an anchor for the 2000 Huskies offensive line, and took home the Morris Trophy that year, the PAC-10 award for the best lineman. He started all four seasons, only missing three starts total.
In 1998, he was an honorable mention All-Pac-10 in his second full season starting. In 1999 he was a All-Pac-10 selection.
In 2000 he was named a first team all-American selection, in addition to taking home the Morris Trophy.
Ward led a group that paved the way for the No. 1 rushing attack in the Pac-10 for the 2000 season.
Matt Fraize - Guard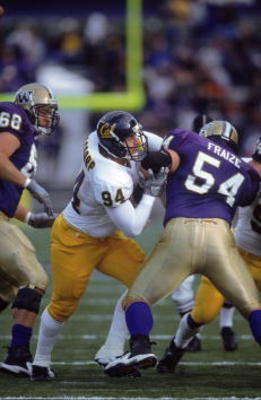 Fraize started every game during the 2000 season. During his first three seasons he earned playing time as a backup at guard and center.
While he was no the recipient of any individual awards, his starting role during the 2000 season, as well as his contributions as a back up to that point, put him on this list for the top offensive linemen of the decade
Kyle Benn - Center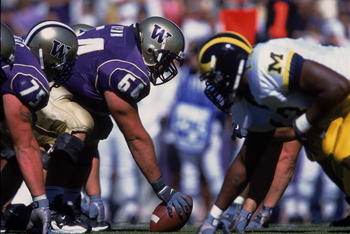 Kyle Benn was the starting center for Washington from 1999-2001. He did not miss a game after his sophomore season.
During his senior season in 2001 he was named to both the first team all-Pac 10 as well as the all-academic team.
Benn is the most notable center of the decade, and also the last lineman to earn first team all-Pac-10 honors.
Keep Reading

Washington Huskies Football: Like this team?