Who Else Can The Raiders Send To The Pro Bowl? Predictions Welcome!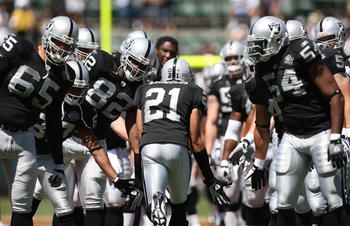 With the announcement of the '10 Pro Bowl team on tuesday, Oakland's two best players once again find themselves making a trip to the fan voted game. For Shane Lechler, this marks his fifth consecutive spot as the punter of the AFC. As for Nnamdi Asomugha, this is his third (2nd in a row) and will be right there alongside fellow unstoppable cornerback, Darrelle Revis.
As all the arguments have been said this year over how talented the team is, I thought I'd take the time to make a case for some foreseeable possibilities of the coming years AFC represented Pro Bowl teams. Of course, chime in with your thoughts as well.
Solid Choice: Sebastian Janokowski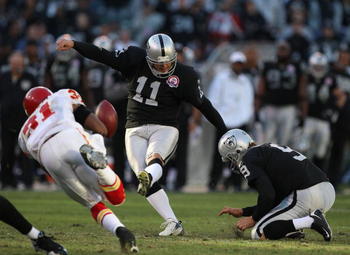 I'am just going to come out and say my opinion on this: How bogus is it that he wasn't voted to the Pro Bowl this year?
Though often underappreciated, his stats for '09 have been astrounding. great. consistent. He's went 24/27 attempts, and has had a 88.9 percent completion rate. Kicking a 50 yard field goal happens just about every Sunday in his book, as any fan will let you know, not to mention he's sometimes the only scoring player on the team.
Though even more injustice, is the fact his 61 yarder last week against cleveland was the 3rd longest field goal in NFL history. Yet, voters felt that Nate Kaeding should head down to Miami on the basis of...more extra points?
"Sebass", may have been snubbed on the voting, again, but I think he'll be on the Pro Bowl team the minute the Raiders go above .500. The strength of his leg, mixed with his pin point accuracy are enough to get him there.
Solid Choice: Zach Miller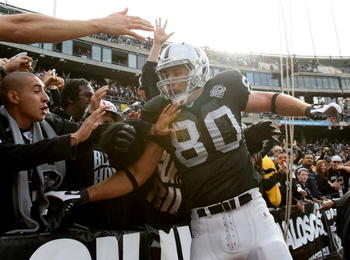 Yes, the fan favorite Tight End will be appearing as an alternate this year for the team. Fact. However, just as the fate was with Nnamdi back in '06, moving above the backup role later...I believe this young, talented player is also on that road that leads to a starting role.
Let's recap.
Although missing a few games due to injury, Zach Miller has still managed to rack up the leading receiving yards on the squad. With 59 receptions, 2 TD's, 797 yards, he's constantly the best receiver on the team (not that it's the best of things at times). He has explosiveness, and great hands to catch even the worst of passes.
You have to believe the minute our quarterback play strengthens up, he'll still be #1 target to throw to. Bruce Gradkowski can sure do that job, right everyone?
Potential Choice: Tyvon Branch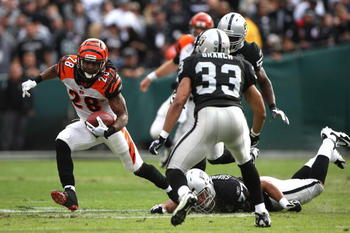 Don't blink! Otherwise, you might just miss our second best defensive back this season. Tyvon Branch is his name, and if we were giving out grades for effort and guts, he'd be right there near the top of the list.
Of course, you're not convinced.
Rightfully so, to further evidence my point is the fact that he leads all our DB's this year with 121 tackles. Geez. No interceptions though, but 2 forced fumbles are always nice to have. He plays great coverage, and gets snuck in blitz packages from time to time.
If any in Raider Nation doubt the 23 year olds skills or abilities, they only need to look at who he replaced: Gilbril Wilson who is having a nice season with Miami. Branch has filled those shoes nicely it seems, and is starting to shine in only his 2nd season.
Potential Choice: Michael Bush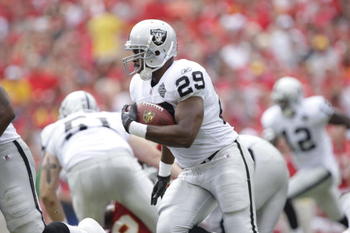 The past few years have been filled with the Oakland Raiders constantly wielding one of the best rushing offenses in the league. This year, it has seen significant decline and is currently ranked 18th in the NFL.
Partially, I think thats due to the lack of attempts called. I also think its happened because of no balance to Justin Fargas in the form of possibly our best RB on the team.
Michael Bush.
With only 113 carries, Bush has ran 571 yards, and averaged 5.1 yard per carry. Posting over 100 yard games against the Chiefs and Broncos, you have to wonder why Tom Cable felt the need to not give him the nod more. Not taking away anything from Fargas, but Bush is bigger and can wear out the defense more than Justin can.
Michael Bush is a mystery to the fans who can't understand why Darren McFadden is allowed on the field after soo many mistakes. Michael has more potential than Darren, and if we ever make definate decisions on our backfield, I think he can be a leading rusher someday.
Granted, if he isn't traded or sent to another team. But the reality is, that could very well happen in the offseason.
Guaranteed Choice: Bruce Gradkowski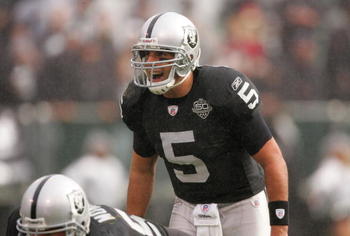 Your face lit up when I put his name here. Of course this slide is a joke. Don't bash me too hard for simply attempting comic relief in the form of mentioning him here. Yeah, you totally expected me to list someone else...but I totally caught you.
It's a testament to how much he's missed in Raider Nation, with all the feedback he's gotten from our fanbase in his abscence.
Hope he re-signs next year!
Keep Reading

Oakland Raiders: Like this team?