Matt Shervington's All-Pro Bids And End Of The Year Awards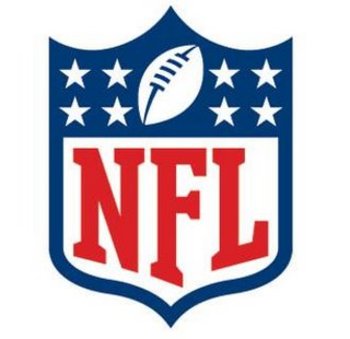 Ah the All-Pro team; Something that, at one point, was the purest thing about the National Football League. A list – or several in the past – that was meant to show merit for players who, might not be the best at a respective position but played like it for that respective season. Sadly this isn't always the case for the less flashy positions. The only people who's bids officially count nowadays, the Associated press, don't always get it right in their case.
Unfortunately, though, they miss on the less flashy position. So for the past three years I've decided to create a list of the players whom I feel deserve a bid to be recognized for tremendous play for that particular season, not because they're famous or got national exposure, but because they deserve it.
Now before you read my listings allow me to explain something. When a player is listed, on offense, as a (Right) Guard, (Right) Tackle, or (Split End) Wide Receiver they are, in reality, the second player for that respective postion. So the first team (Right) Guard had a better season than the second team (Left) Guard, and the first team (Split End) Wide Receiver had a better season than the second team (Flanker) Wide Receiver. Defensively it's the same for cornerbacks, but the guy who is listed on the (Right) side had the superior season for the linemen and linebackers.
It is doubtful that somebody will have an out-of-this-world performance on Week 17 and therefore I don't see anything changing due to that last season. With that said onto the players I feel deserve some sort of recognition for their performances this season.
Quarterback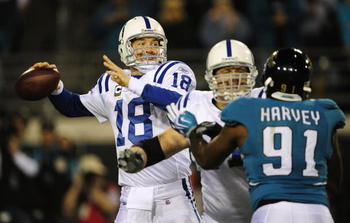 1st Team: Peyton Manning(IND)
With all due respect to the 10 or so quarterbacks who had amazing seasons this year, Peyton Manning is the clearcut choice here. Why exactly? It's because his receivers aren't anything special after his flanker and tight end.
Coming into this season not a sole outside of the Colts' fanbase knew who Austin Collie or Pierre Garcon were. Heck, I'd wager that there were some Colts' fans who didn't know who the two were. Yet both have posted respectable seasons for the team because Manning knows where to place the ball to give them and only them a chance.
2nd Team: Drew Brees(NWO)
Drew Brees easily could make a case for the first team position here but I just felt that Peyton Manning did just a little more and was more consistent and important to his team's success. The media would continue to say how a different Saint would step up each week but in reality it was Brees making those respective Saints step up each week.
Brees' has long been known as the league's most accurate quarterback but he took that to an unparalleled level this year. I could say that, literally, just about every ball that left his fingertips ended up being placed where only the receiver could catch it. Watching Brees play this season was like watching a master perfect his craft.
3rd Team: Matt Schaub(HOU)
Matt Schaub lands this spot over the honorable mentions because he had the least amount of help. His defense was inferior to the other three honorable mentions and he lost his second best receiver halfway through the season in Owen Daniels. Despite this he just managed to keep on trucking.
In addition to the aforementioned Matt Schaub had absolutely no running game to take the pressure off of him so the offense only went as far as he could take it minus a game or two where Ryan Moats or Steve Slaton stepped up. I'd say that that negates the fact he's throwing to Andre Johnson
Honorable Mentions: Aaron Rodgers(GNB), Philip Rivers(SDG), Ben Roethlisberger(PIT)
Rodgers was the original third team quarterback but he has the best supporting cast out of the four options. Philip Rivers has gotten just a little bit more help from his supporting cast than Schaub has and Roethlisberger's missed game and lack of touchdowns hurts him.
Halfbacks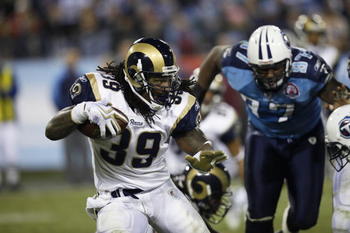 1st Team: Chris Johnson(TEN) & Steven Jackson(STL)
It is obvious that Chris Johnson was the halfback in the National Football League this year. When you are being slated to make a run at 2,000 yards and the yards from scrimmage record at the week 10 mark you know that you are doing something right.
Johnson got it done this year primarily with speed but he wasn't easy to bring down like most speed backs. The only flaw, and it was very minor, that Johnson had this season was that his abilities diminished over games with his later carries.
Meanwhile Steven Jackson battled through injuries to prove to his pundits that he is not living solely on his 2006 season. Jackson returned to play every game he possibly could this season and did so with a marginal offensive line and a carousel of quarterbacks throwing to underrated, but average at the moment, receivers. In short, Jackson was the only viable threat on his entire offense which is why I can forgive the career low four touchdowns.
2nd Team: Ray Rice(BAL) & Adrian Peterson(MIN)
With all due respect to Chris Johnson, Ray Rice was the most exciting halfback to watch in the league this year in my opinion. Sure the numbers do not support that in that Johnson's yards from scrimmage and long rushes blow Rice's out of the way but Ray Rice was the only viable offensive option in Baltimore. Rice would single-handedly keep plays and drives alive and keep Baltimore in games they had no business being in. I literally found myself saying "holy crap, how did he do that?" about eight times this year.
The best back in the league didn't play like so this year. Though it was obviously because Brett Favre took over the team, Peterson still managed to be one of the two best scoring threats in the league.
Peterson's fumbling issues definitely kept him from making the first team, but it's good to see that with the right quarterback he can become more than a pure running halfback but can contribute via the passing game as well.
3rd Team: Maurices Jones-Drew(JAX) & Frank Gore(SNF)
Jones-Drew could have been placed on the second team but there was just something that made me feel Peterson was the better choice. That said, Maurices Jones-Drew is the entire Jaguars offense and is the main reason they were in post-season contention throughout the later half of the season.
He is the definition of a complete halfback and demonstrated this constantly this year in his first year starting. Mike Sims-Walker can attribute some of his success this season to teams gameplanning for MJD.
Frank Gore is a halfback that is consistently underrated but he just continues to put up amazing seasons. Once again Gore managed to average over 100 yards from scrimmage per game for an entire seasons; a most difficult task. This was despite the fact that the 49ers offense tremendously underutilized him by going to a spread offense. I might be the only person who will give Gore any sort of notice as an All-Pro candidate this year, though admittedly I am the only person who does two halfbacks per team.
Honorable Mentions: DeAngelo Williams(CAR), Jonathan Stewart(CAR)
Williams, had he played the entire season easily would've made the second or third team but unfortunately for him teammate Jonathan Stewart stepped up after he injured himself and arguably outplayed him.
Fullback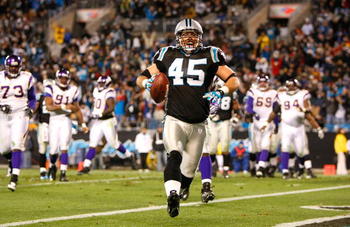 1st Team: Brad Hoover(CAR)
For the second year in a row Brad Hoover proves himself as the best fullback in the league in an era where the position is virtually being phased out. Sure the Williams-Stewart duo is talented but it's clear that Hoover has a huge effect on their ability in that whenever they run behind him each has a raise of a whole yard per carry in their average.
No other fullback can make that claim on the season. Did I mention that for the second year in a row Carolina had to shuffle their line around due to injuries? What else does Brad Hoover have to do?
2nd Team: Deon Anderson(DAL)
Deon Anderson is very underrated. Heck, I didn't even really consider him for a spot initially. When you look at him play it doesn't look as if he's truly mauling people off the ball but he is doing just enough in order to make a slight hole for his three halfbacks. While the Cowboys love the draw play to get some success in their run game, it's clear that when they're not in the gun they think Anderson can draw some attention to make a hole.
3rd Team: Leron McClain(BAL)
While McClain might have made the Pro Bowl the past two seasons based on the fact that he has been a virtual halfback for the past two seasons. However, he's been a decent fullback in that span too. He does the job of a fullback pretty darn good in that he has raised Willis McGahee's yards per carry big time and despite the fact that Ray Rice could probably do better without someone in front of him his numbers remain virtually even with McClain blocking for him, but McClain does well in the redzone.
Honorable Mention: Lousake Polite
The overutilization of the Wildcat(yes I know it was only 6 to 15 snaps per game) hurt him and Ronnie Brown and Ricky Williams were just as good, if not better, running in the single-back formation.
(Flanker) Wide Receiver
1st Team: Andre Johnson(HOU)
If there was any question about whether or not Andre Johnson was the top receiver in the league they have quickly been put to rest. It is not his fault that his Texans haven't been capable of stringing together post-season appearances for him to go off during. He just uses the regular season and has produces over 1,500 yards the past two seasons; including completely outplaying the next closest receiver by a considerable margin.
2nd Team: Wes Welker(NWE)
Call him a product of a system if you want but Wes Welker is clearly something special as I find myself nominating him for an All-Pro position for the third time in three years. Welker, despite missing about two-and-a-half games brought in the most receptions out of all receivers in the league and did his usual damage after the catch. When he wasn't in Tom Brady and company struggled proving that not just anybody can do what he does. Wes Welker has earned this spot.
3rd Team: Brandon Marshall(DEN)
This year Brandon Marshall proved – to all you who didn't believe me – that Jay Cutler was a product of him. However, Marshall evolved this season because the one knock against him – that he needed to be the top targeted wideout in the league to produce – was evaporated. Marshall, for the first time in two years, was not the league's most targeted wide receiver yet still put up elite numbers and manages to produce upper echelon stats with triple digit receptions, double digit touchdowns and quadruple digit yards.
(Split End) Wide Receiver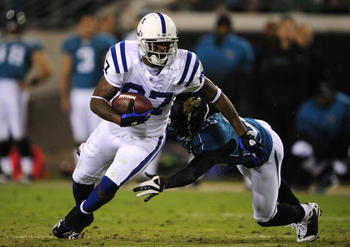 1st Team: Reggie Wayne(IND)
Austin Collie and Pierre Garcon have not only Peyton Manning but Reggie Wayne to thank for their success. There were questions of whether or not he could supplant Marvin Harrison as Peyton Manning's flanker and he has done that with ease.
Prior to the Colts sitting their starters Wayne was top four in every major receiving statistic. If that doesn't warrant first team All-Pro status than I do not know what does.
2nd Team: Randy Moss(NWE)
Joining his teammate is the future hall of famer; Randy Moss. While the media questioned whether or not he had quit it was obvious that he hadn't. You do not put up top 10 numbers across the board in every statistic if you "quit".
A lot of what Welker produces is a result of Moss' ability to run fly and post routes to back off the underneath coverage. Randy Moss was robbed of a Pro Bowl and is clearly worthy of an All-Pro nod when one considers Tom Brady's inconsistent play this season.
3rd Team: Larry Fitzgerald(ARI)
Larry Fitzgerald is still a top three receiver in this league but unfortunately for him he probably had the toughest route to an elite season out of all the best receivers out there this year. Fitzgerald had to work with an inconsistent Kurt Warner for a few games, Matt Leinart for a couple of games and had to work through leg injuries for the first half of the year; yet he still produced upper echelon stats with triple digit receptions, double digit touchdowns and quadruple digit yards.
Honorable Mentions: Vincent Jackson(SDG), Miles Austin(DAL), Santonio Holmes(PIT), Roddy White(ATL), Sidney Rice(MIN)
Jackson needed to be a little more consistent, where as Miles Austin's season is an enigma since he didn't start a quarter of the season but the majority of his numbers came in a quarter of his games.
Santonio Holmes created a lot of plays for himself but didn't get enough redzone opportunities and Roddy White was hindered by the lack of his starting quarterback for a lot of the season.
Finally Sidney Rice, like Holmes, created a lot of plays for himself but didn't get enough redzone opportunities.
Tight End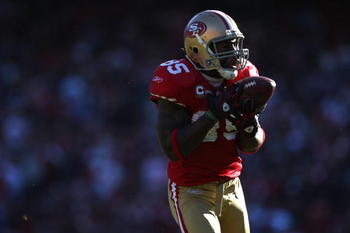 1st Team: Vernon Davis(SNF)
After all of the years of being considered an athletic phenom Vernon Davis finally put his skillset to use as both a blocker and a pass catcher. Davis wasn't the best blocker but was willing and able to in the run game.
With the 49ers move to a spread offense to accommodate former first overall pick Alex Smith, Vernon Davis managed to become a strong threat in the passing game that stretched the field with his athleticism.
2nd Team: Dallas Clark(IND)
Dallas Clark isn't much of a blocker. He never will be. However, Dallas Clark spreads the field better than any tight end in the league because he is essentially just a short stocky receiver. At one point Clark was on pace to break every single-season recordable tight end record. Without taking time off in order to rest Clark could have actually set those records.
3rd Team: Antonio Gates(SDG)
While Vincent Jackson is an athletic talent one would be hard pressed to believe that he does not owe a considerable amount of his success to Antonio Gates spreading the field. Sure Jackson can and does beat double teams but Gates usually draws safety help towards him. No linebacker can keep up with Antonio Gates in man coverage and it's for that reason that he was utilized as a security blanket for Philip Rivers all season.
Honorable Mentions: Jason Witten(DAL), Kellen Winslow II(TAM), Tony Gonzalez(ATL), Heath Miller(PIT), Brent Celek(PHI)
Jason Witten lacked enough redzone opportunities in order to make the team and Kellen Winslow just didn't have enough of the total statistics in order to make it over the top three. Tony Gonzalez could be argued as a second or third teammer because he was seriously clutch for the Falcons this season as well as a stout blocker but something was missing.
Heath Miller was an excellent blocker this season and had the best hands of the bunch but did not produce enough yards or touchdowns. Finally Brent Celek needed to make strides as a blocker to make it.
(Left) Tackle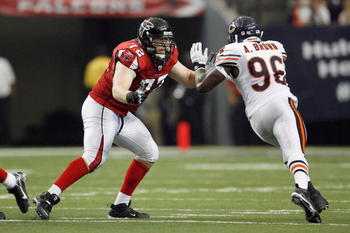 1st Team: Sam Baker(ATL)
Sam Baker is the left tackle of the underrated and considerably undersize Falcons' offensive line. Despite the fact that they're often considered the smallest line in the league the Falcons' line got it done in the running game and passing game all year.
Whether Matt Ryan or Chris Redman was throwing or Michael Turner, Jason Snelling or Jerious Norwod was running the line managed to open holes or create throwing lanes. Baker was the most important part of that line in terms of pass blocking.
2nd Team: Michael Roos(TEN)
The league's best tackle is Michael Roos. Unfortunately for him this is a down year that was primarily caused by Kerry Collins' indecisiveness early in the season resulting in Roos being credited with sacks that weren't his fault.
However, Roos is an excellent lineman that excels in pass blocking and since Chris Johnson has come to down loves to create a seal for an outside rushing lane.
3rd Team: Ryan Clady(DEN)
Ryan Clady had a down year in comparison to his rookie year but then again nothing short of actually allowing no sacks would've been an upgrade. However, Clady rounded his game around this year as he didn't have a quarterback as mobile as Jay Cutler in the pocket this year. Clady wasn't beat often, but when he was it usually resulted in a sack. He didn't give up as many pressures as last year but Kyle Orton's lack of mobility resulted in a higher sack/pressure ratio.
(Left) Guard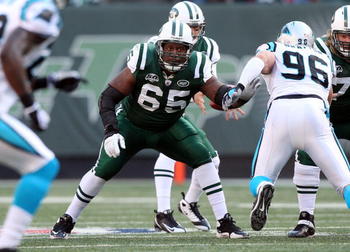 1st Team: Brandon Moore(NYJ)
Brandon Moore is slowly becoming the best guard in football. He took the fourth spot(second team right guard) last year and never stopped rolling. Brandon Moore teams with Damien Woody to form the best right side in the NFL.
Moore's numbers were far and away the best in the league and there really wasn't anybody who came close. Moore has cemented his place as a top five guard in this league as he has played on-par or better than the other top four guards.
2nd Team: Bobbie Williams(CIN)
Long underrated Bobbie Williams has been the fourth best guards over the past five years in the league. Williams started the season slowly as Evan Mathis was the first lineman in Cincinnati to play at an on-par or superior run blocking level since 2005 but once he went down Williams reminded the coaching staff who he was by becoming the team's best run blocker for the fifth straight season.
In the end Cedric Benson and Larry Johnson had most of their success running behind Bobbie Williams. Williams has never been that good of a pass blocker but he had one of his best pass blocking seasons of his career this year as well. It's a shame that he was, once again, robbed of a Pro Bowl berth and potentially of All-Pro honors.
3rd Team: Carl Nicks(NWO)
There is no doubt that since Carl Nicks has come to New Orleans they have had significantly more success with running the ball and this year resulted in an All-Pro bid for him on my team. Nicks forms the best interior in the league with Evans because he is an excellent pass blocker and is a stout run blocker.
Center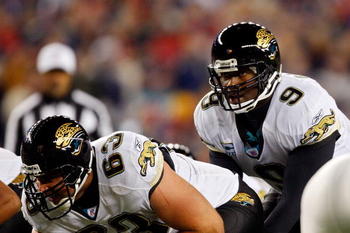 1st Team: Brad Meester(JAX)
Meester constantly makes my "Top 100 Most Impactful Players List" and with the way that he played this year he will surely make it again. Maurice Jones-Drew loves to run behind Meester and while his underrated guard Vince Manuwai played well this year, he wasn't as good as expected. Meester, however, managed to make numerous holes for Jones-Drew and he should have found himself in Hawaii… yet again.
2nd Team: Nick Mangold(NYJ)
Nick Mangold is the best young center in the NFL. Everything that I see in Nick Mangold reminds me of the best center from this decade; Jeff Saturday. Mangold has a rookie quarterback and helps him out by calling the shots at the line of scrimmage. He makes all the reads and is a reason that the Jets boast the best run blocking unit in the league.
3rd Team: Jake Grove(MIA)
Jake Grove could have very well made the first or second team if not for the fact that he did not play every game in the regular season just like much of the Dolphins' interior linemen. Grove is a mauler and gives 100% every time that he engages a defender.
Honorable Mentions: Matt Birk(BAL)
A lot of Rice's production up the middle was a result of Birk, but a lot of times Rice made plays at the second level to make Birks' numbers look better than they were.
(Right) Guard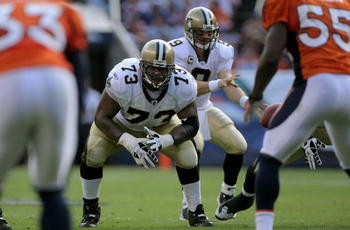 1st Team: Jahri Evans(NWO)
Jahri Evans has always been the league's best pass blocking guard in the league since he was drafted. However, the question for years has been whether or not he could do his primary job at an even decent level.
Evans answered those questions this year by having a down year as a pass blocker, though he was still better than 90% of the guards in the league, but he was an elite run blocker for the first time in his career. Evans cleared lanes for Mike Bell, Pierre Thomas and Reggie Bush with relative ease this season.
2nd Team: Steve Hutchinson(MIN)
Steve Hutchinson finds himself making the second team list for the second year in a row proving just how consistent he is. What makes it most impressive is that, in reality, he is Minnesota's only great lineman. The rest are average to good and yet Hutchinson just manages to clear lanes for Adrian Peterson with relative ease. I would hate to see what would happen to Peterson's numbers if Steve Hutchinson went down for extensive time.
3rd Team: Kyle Kosier(DAL)
Dallas fans were very adamant in the off-season that the return of Kyle Kosier would make a difference in their offensive line and boy where they right. Kyle Kosier played at an All-Pro level from day one this season and just didn't look back.
Choice, Barber and Jones all love to run behind this guy whether he's opening the hole or running through the hole as the pulling blocker to hit someone downfield. Kosier has played near perfect football this season.
Honorable Mentions: Chris Snee(NYG), Keydrick Vincent(CAR), Leonard Davis(DAL), Justin Blalock(ATL)
Chris Snee always plays at a high level but Brandon Jacobs' inwilligness to hit his holes hurt him. Keydrick Vincent is a huge reason that the Panthers have two thousand yard rushers but just fell short of the team. Leonard Davis was run behind more than Kosier but didn't open holes as well. Finally Justin Blalock showed last year was no fluke but just didn't perform as well as the top six guys.
(Right) Tackle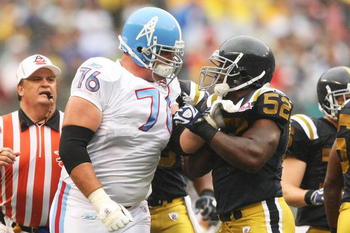 1st Team: David Stewart(TEN)
Teammate Michael Roos is the league's best tackle but I feel that David Stewart arguably outplayed him this season based on the fact that Chris Johnson clearly preferred to run off-tackle right over any other run play. However, you pay a tackle to pass block and David Stewart had yet another elite year at doing just that.
2nd Team: Joe Thomas(CLE)
Perhaps controversial because there are Browns fans out there that feel Thomas had a bad year, I personally feel that his bad year was caused by an idiot coach idiotically shuffling the offense; primarily the quarterbacks. Both of those quarterbacks were decisionally-challenged and placed more emphasis on length of time blocking that Thomas had to do in comparison to other tackles.
3rd Team: Jake Long(MIA)
Jake Long may have undeservedly made another Pro Bowl but he's still a pretty darn good tackle. After being dominated in week one Long rebounded and became a stout pass blocker that rarely let an opponent get beyond him despite an inexperienced Chad Henne being the quarterback for most of the season. Long also made an impact in the run game this year where as he didn't as a rookie.
Honorable Mentions: Jason Peters(PHI), Marcus McNeil(SDG)
Peters is invaluable to the Eagles and has shown how good he is when motivated. Marcus McNeil has played well but is helped by Rivers' quick release.
(Right) Defensive End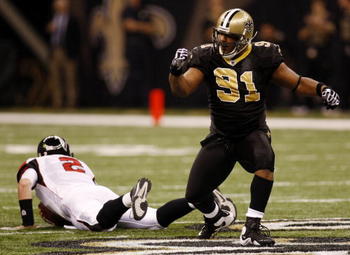 1st Team: Will Smith(NWO)
Starcaps incident aside, Will Smith is vastly underrated. Throughout the season the media constantly pointed out how great the Saints cornerbacks were playing, even the off-the-street replacements on Monday Night Football. Well the biggest reason for this was Will Smith who was terrorizing opposing quarterbacks all season.
2nd Team: Andre Carter(WAS)
The reason that Andre Carter does not receive the first team bid at the left defensive end position is because a lot of his success can be attributed to Albert Haynesworth. However, at the end of the day he still has to make the plays. At the end of the day Carter managed to be top three in plays behind the line of scrimmage this season so therefore he gets the nod for the first second team position
3rd Team: Dwight Freeney(IND)
Dwight Freeney is, at worst, the second best pass rush specialist of our generation. He has the greatest passrush move set in the league and he put them to use with relative frequency this year. In every game that he started this season Freeney recorded at least half a sack. That is consistency at it's finest. While he didn't break DeMarcus Ware's record he made a good run at it.
(Right) Defensive Tackle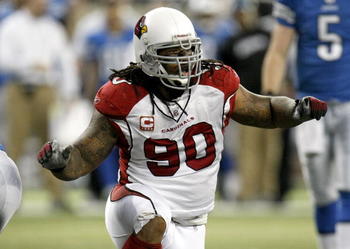 1st Team: Darnell Dockett(ARI)
I know there is a certain Cardinals fan out there that will disagree with me in thinking that Dockett deserves All-Pro consideration but I truly believe that he does. Dockett lead the league in stuffs with eight-and-a-half and produced an additional seven sacks. While Darnell Dockett is technically a 3-4 defensive end the Cardinals spend enough time in a 4-3 alignment to consider him a defensive tackle. He is the main reason why the Cardinals spent the first half of the year as the best run defense in the league.
2nd Team: Kevin Williams(MIN)
Kevin Williams is an athletic freak of nature. Other than Haloti Ngata there isn't a better, more agile defensive lineman on the 300+ side of the weight spectrum. Williams is a good pass rusher and is good at stopping the run as well. Anything you want out of a defensive lineman Williams does and did it again this year. It is because of him that Jared Allen was allowed to see a lot of single teams this season even with Pat Williams only taking 50% of the snaps this season.
3rd Team: Albert Haynesworth(WAS)
Despite the fact that he, yet again, could not play an entire season, Albert Haynesworth is the best defensive lineman in the league, and him playing like a whiny punk and not playing all possible downs is still better than 90% of the league. As stated previously, Andre Carter owes a lot of his success to "Big Al" taking up double and triple teams from the offensive lines that they line up against.
(Left) Defensive Tackle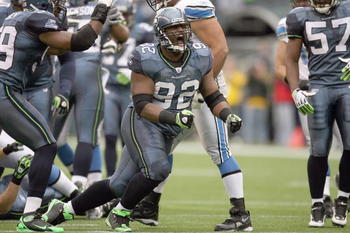 1st Team: Brandon Mebane(SEA)
Coming into Week 17 the Seahawks had only allowed one individual to surpass 100 yards rushing. Additionally, that was because Brandon Mebane wasn't in the game. In said game that he did not play they allowed 256 yards rushing to the 49ers. When Mebane plays the Hawks allow only 94.9 yards per game on the ground on a paultry three-point-seven yards per rush. Additionally Lofa Tatupu went down early in the season and allowed David Hawthorne to look like an All-Pro; that was because of Mebane.
2nd Team: Jay Ratliff(DAL)
Wow! What I had just said about Kevin Williams needs to be rectified. I forgot that Jay Ratliff is one of those athletic 300+ linemen. Jay Ratliff is not your prototypical 3-4 nose tackle but it doesn't matter. In a Wade Phillips defense he is exactly what is needed.
He is a stout pass rusher and when needed he gets the job done against the run. Ratliff, for the second year in a row, has made at least 13 plays behind the line of scrimmage.
3rd Team: Casey Hampton(PIT)
The Pittsburgh Steelers held the league's best run defense for eight out of a possible 17 weeks during the regular season despite the fact that, for many games, they were forced to play their fourth and fifth defensive ends for long periods of time. Casey Hampton is the main reason why they succeeded.
Hampton also contributed his best statistical output in terms of stuff and sacks in his career despite playing the least amount of downs he has in his career.
Honorable Mentions: Kelly Gregg(BAL), Jonathan Babineaux(ATL)
A lot of what I said about Casey Hampton can be attributed to Kelly Gregg. Meanwhile Jonathan Babineaux continued plaguing offenses in their backfields this season all the while not having Jon Abraham dominate opposing left tackles and commanding double teams.
(Left) Defensive End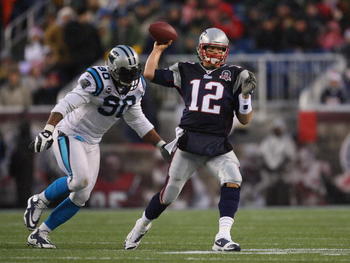 1st Team: Julius Peppers(CAR)
Panthers fans may feel that Peppers' Pro Bowl bid was unearned but when I watched Julius Peppers play this season I saw a guy that took over games with more than just pass rush. He was capable of playing the run at a good level and making an impact by getting his hands up when he didn't reach the quarterback.
2nd Team: Trent Cole(PHI)
Trent Cole continues to be the most underrated defensive end in the league but I'm sure he doesn't care. Cole amassed double digit sacks for the second time in his career but that wasn't enough to place him on the first team. Especially when two of them came as par of the new package defensive coordinator Sean McDermott installed where Cole plays MIKE linebacker and comes on a delayed blitz. However that's forgiven when Cole was robbed of a touchdown by two of his teammates on separate occasions after he forced a fumble and could have returned it for a touchdown.
3rd Team: Johnny Jolly(GNB)
Every year 3-4 defensive ends are overlooked by the Associated Press voters for All-Pro bids and normally are overlooked for their pass rushing counterparts. In general they are overlooked. However, Johnny Jolly's play this year cannot be overlooked.
It is because of Jolly and Cullen Jenkins that the Packers defense was capable of making the transition into the 3-4. Jolly got the bid because it is unheard of for a 3-4 DE to get 10 passes defensed.
Honorable Mentions: Robert Mathis(IND), Aaron Schobel(BUF), Cullen Jenkins(GNB)
Mathis was the league's second best pass rusher from the quarterback's vision spot, but he didn't do enough to force turnovers or play the run game greatly. Aaron Schobel started the season strong and ended it strong but there was a huge gap in between. Cullen Jenkins could very easily made the third team. It's all preference for that spot honestly.
(Right) Outside Linebacker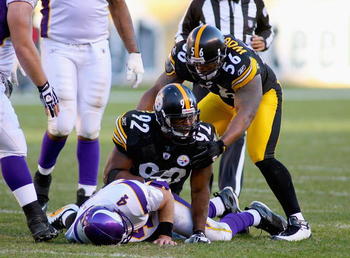 1st Team: James Harrison(PIT)
At one point this season James Harrison was on pace to surpass all of his 2008 Defensive Player of The Year totals. In order to counter the constant double and triple teams he was receiving defensive coordinator Dick LeBeau would constantly drop him into coverage and thus Harrison receives a first team bid because he is incredibly well-rounded.
2nd Team: Brian Cushing(HOU)
Brian Cushing was one incredibly impressive rookie and was easily the league's best 4-3 outside linebacker this year. At the risk of terrible backlash, I honestly believe that he had the best rookie season out of all linebackers this decade. Why?
Well because it was incredibly well rounded and included more than tackling. Not to mention that Cushing single-handedly killed the game-tying or winning drives of the opposition twice.
3rd Team: Clay Matthews(GNB)
Like LaMarr Woodley Clay Matthews did not come into his own until late in the season but a lot of that had to do with the fact that was battling injury and learning Dom Capers' system. While a lot of his production can be argued as a product of scheme the fact remains that Matthews produced. He has a "motor" comparable to DeMarcus Ware and James Harrison and that's why he experienced success this season.
Middle/Inside Linebacker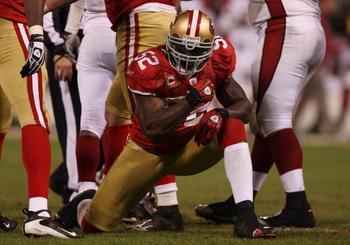 1st Team: Patrick Willis(SNF)
Finally! After three years Patrick Willis finally takes home my first team All-Pro honors. Willis clearly had his best season of his career despite the fact that he started to decline towards the end of the season. For the first eight weeks of the season Willis' level of play was double that of the next closest linebacker. Willis was just a playmaker this year and didn't need significantly more snaps than the next guy to do it.
2nd Team: David Harris(NYJ)
You might think that this is based solely on statistics but it's not. The Jets defense was easily the best in the league and this was without two of it's four big players in Rhodes and Jenkins. That's because Davis Harris filled the "Ray Lewis" role in Rex Ryan's defense and just kept making play after play after play for the Jets. Why did this guy not make a Pro Bowl?
3rd Team: Jonathan Vilma(NWO)
As much as I think Jonathan Vilma is overrated by the general public I cannot ignore the season he had this year. His numbers might not be the best but they don't show what was most impressive about his numbers; when they occurred.
Vilma made his biggest plays in the Saints closest games to give the team a chance at going undefeated. I cannot count the number of times that Vilma picked a pass off or stuffed a ball carrier with momentum on the line for the other team this season.
Honorable Mentions: London Fletcher(WAS), Curtis Lofton(ATL), Jon Beason(CAR), Barrett Ruud(TAM), Ray Lewis(BAL)
Unfortunately Fletcher finds himself as an honorable mention for the second year in a row. Great player playing great but other guys just outshined him. Curtis Lofton made the transition to three down linebacker strongly but he didn't make enough plays in my opinion.
Jon Beason's injured leg for the first three weeks hurt him as did his struggle to adjust to life without Ma'ake Kemoeatu. Barett Ruud put the numbers up but wasn't as impressive as he should have been and the same can be said for Ray Lewis.
(Left) Outside Linebacker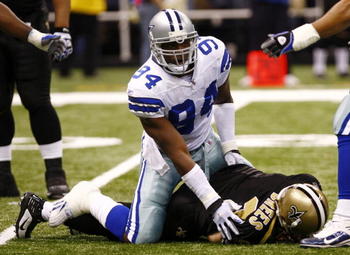 1st Team: DeMarcus Ware(DAL)
If James Harrison is well rounded than so is DeMarcus Ware. Ware wasn't getting the sack totals early in the season but it was because Wade Phillips, surprisingly, was dropping him into coverage often. Despite this, Ware still managed to lead the league in pressures. Even if held to 4-3 outside linebacker standards Ware could still make this list as a first teamer.
2nd Team: LaMarr Woodley(PIT)
LaMarr Woodley started the season very weak. In fact, for the first six weeks of the season all of his sacks were a result of quarterbacks running away from James Harrison to try and extend the play. However, once he go this groove back there wasn't a better 3-4 outside linebacker in the league as Woodley became incredibly consistent and recorded at least half a sack in seven straight games.
3rd Team: Elvis Dumervil
I had originally forgotten about this guy but there is no way he doesn't deserve an All-Pro spot. While I don't think he was the most impressive 3-4 outside linebacker this season, he was pretty good. He led the league in sacks and averaged over one per game.
Now before you ask why that doesn't make him a first teamer, I'll explain. It is because he was one-dimensional and uninvolved in the passing game and was constantly moved around to the MIKE and SOLB positions in order to beat the weaker pass blockers of teams. However, no matter how you slice it, 17 sacks in a season is incredibly impressive.
Honorable Mentions: Lance Briggs(CHI), Chad Greenway(MIN), Mike Peterson(ATL)
Briggs is a perennial All-Pro but he fell just slightly short of Mike Peterson's level of play in my opinion. Everything that applies to Lance Briggs can be stated for Chad Greenway. Peterson started strong but only finished consistently, not great.
(Left) Cornerback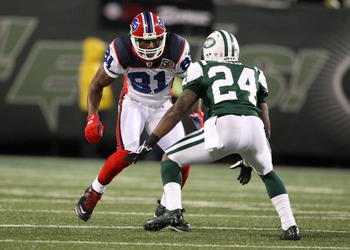 1st Team: Darrelle Revis(NYJ)
No cornerback in the league drew tougher assignments than Darrelle Revis this season and he succeeded with flying colors. No receiver got the best of Revis this season with the exception of Ted Ginn Jr. who god most of his success on a fly route where he just outran Revis to the ball. Revis established a new record for passes defensed in a season and just shut down his opposition.
2nd Team: Charles Woodson(GNB)
Charles Woodson has a legitimate case for the Defensive Player of The Year award as his season was tremendously well rounded. He made plays in coverage, was a force against the run, sacked quarterbacks, forced turnovers and scored on various occasions. The reason that I find myself placing Charles Woodson on the second team, however, is because his coverage took a noticeable step backwards this year.
3rd Team: Champ Bailey(DEN)
The old man still has it. That is all that I can say. Bailey constantly drew the opposition's top assignment and succeeded. In fact, the only bad game that I recall him having was the Monday Night Football game against the Steelers and even then those were just great plays made by Holmes and Ward. Bailey's return to health is a huge reason as to why the Broncos' defense has such early season success.
(Free) Safety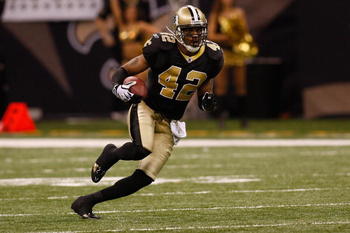 1st Team: Darren Sharper(NWO)
Darren Sharper was the early runaway candidate for defensive player of the year and for good reason. To start the season off he brought in numerous interceptions and took three to the house(though only two should have counted). Sharper eventually set the record for most return yardage on interceptions in a season so I do not see how anybody other than him could receive this nod.
2nd Team: Nick Collins(GNB)
Once again Nick Collins receives a nod as an All-Pro from me, though this year he finds himself moving up from the third team just like teammate Charles Woodson. Collins is a ballhawk and knows what to do with the ball in his hands. Collins is a traditional Free Safety and it is good to see his All-Pro bid from last year wasn't a fluke and that he has actualized his talent.
3rd Team: Michael Huff(OAK)
A few years ago I bought into the hype from Raiders fans and proclaimed Michael Huff as the best man coverage safety in the league. The season following? He got benched! Well Huff re-emerged this year and was even capable of eventually earning his starting spot again.
Huff was not thrown at this year and even started the season hot with a few interceptions. If only the rest of the secondary could play like he and Nnamdi Asomugha.
(Strong) Safety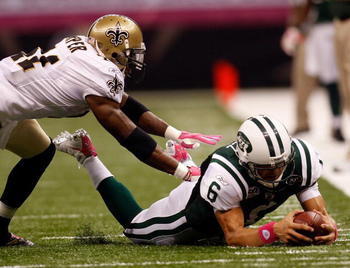 1st Team: Roman Harper(NWO)
Roman Harper is a traditional strong safety in every sense of the word. He wont make an impact beyond 15 yards from the line of scrimmage like a Troy Polamalu will but the box is his domain. He does everything asked of an old school strong safety perfectly.
He stops the run and patrols the box for guys silly enough to come through there. Heck, he even refuses to drop 15+ into coverage because it's not his domain. Just look at the touchdown he gave up to DeSean Jackson for proof.
2nd Team: Louis Delmas(DET)
Delmas is an incredibly underrated rookie safety who should have gotten more publicity. When I watched Delmas play this year I saw shades of a young Troy Polamalu. He had early troubles adjusting to the league and gave up a few plays but for the final 12 weeks he was money. If Delmas gets some help around him and a competent defensive coordinator he could be a defensive player of the year candidate for years to come.
3rd Team: Adrian Wilson(ARI)
Adrian Wilson is the definition of a strong safety. He isn't just a prototypical strong safety but he just excels at making plays in the box. Wilson's play in the box is a reason that the Cardinals run defense was the best in the league in the early season.
Honorable Mentions: Brandon Merriweather(NWE), Troy Polamalu(PIT), Tyvon Branch(OAK), Bernard Pollard(HOU)
Brandon Merriweather started the season strong but eventually died down and Troy Polamalu, despite having such a huge impact on the field only played three games. Branch was a traditional strong safety that made plays but unfortunately bad games against Pittsburgh and San Diego hurt his stock. Pollard made a world of difference in Houston but not enough big plays.
(Right) Cornerback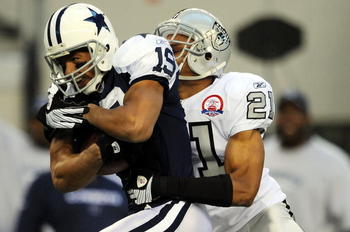 1st Team: Nnamdi Asomugha(OAK)
Whether you like it or not, Nnamdi Asomugha is only going to play one side of the field. When he plays that side of the field he does it perfectly as evidenced by the fact that he was the least thrown at starting cornerback in the league for a third straight year.
The only receiver that was capable of getting the best of him this year was Vincent Jackson. Oh, and he was a force against the run this year as well.
2nd Team: Sheldon Brown(PHI)
For the fifth time in the past six seasons Sheldon Brown has been the Eagles best cornerback. And therefore, for the third straight year Sheldon Brown receives an All-Pro bid from me.
Brown didn't have his best year as a Pro in terms of coverage, but he more than made up for the slight downfall in coverage with playmaking. Brown brought in a career high five interceptions as well as forced a fumble. Not to mention he scored twice.
3rd Team: Leon Hall(CIN)
It was hard to chose the better of the two Cincinnati cornerbacks but in the end I went with Leon Hall. While I feel Joseph is the better cornerback he was thrown at more this year and allowed more receptions so Hall gets the nod here as the better half of the league's best cornerback duo this season. Hall is a rather large reason that the Bengals managed to shut down the Ravens and Steelers' passing attacks.
Honorable Mentions: Jonathan Joseph(CIN), Jabari Greer(NWO)
Joseph was thrown at more than Hall and allowed more receptions so he didn't make it. Meanwhile Jabari Greer saw too much time injured and everybody who played corner for the Saints had success this year, thus making his season a little less impressive.
League Most Valuable Player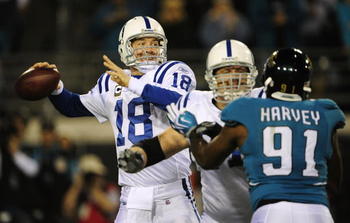 Winner: Peyton Manning
As I said earlier, who the heck are Austin Collie and Pierre Garcon? Peyton Manning made these guys household names this season by placing the ball where only these guys could get it. With Manning at the helm this team was capable of winning seven games in which they did not hold the lead at some point in the fourth quarter. That is clutch.
Everybody can point out that the Colts defense is underrated but the fact of the matter is that Manning had no run game to help him out and eat up clock. Whatever offensive success that this team had this year was because of him and this team is one built around its offense.
Runner Up: Drew Brees
Defensive Player of The Year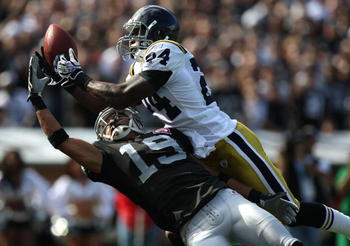 Winner: Darrelle Revis
With all due respect to Charles Woodson who, without question, had a better overall season, I have to give this nod to Darrelle Revis. The Jets fielded, far and away, the best defense in the league this year and did so while missing or benching two out of it's four key pieces in Kerry Rhodes and Kris Jenkins. So how did they succeed?
Well because Darrelle Revis single-handedly made sure that the oppositions top receiver wasn't a factor. Revis shutdown Andre Johnson, Randy Moss(twice), Marques Colston, Steve Smith, Terrell Owens(twice), Roddy White, Reggie Wayne and Chad Ochocinco. I don't know if a receiver has ever drawn a set of assignments over a season as tough as Revis did. Yet he succeeded every single time.
Runner Up: Charles Woodson
Offensive Player of The Year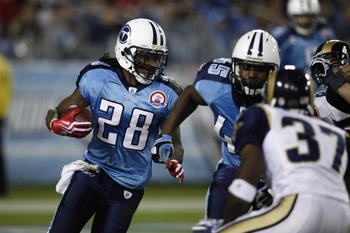 Winner: Chris Johnson
Though I write this prior to the Week 17 games I can confidently say that Chris Johnson will break Marshall Faulk's yards from scrimmage in a season record. How could I chose somebody other than him?
Though he did not score nearly as much, Johnson's season is on par with some of the seasons of the other guys to win this award such as LaDainian Tomlinson in '06 and '07, Shaun Alexander in '05, Priest Holmes in '03 and Marshal Faulk in '00. Johnson was a problem for every defense he faced except for two. You can bet your sweet patootie that Vince Young owes a lot of his success this year as a passer to Johnson.
Runners Up: DeSean Jackson/Ray Rice
Offensive Rookie of The Year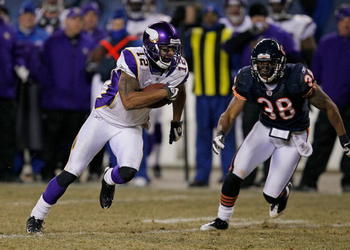 Winner: Percy Harvin
This is a no contest. While it is not fair to include special teams abilities in one's resume for Offensive Rookie of The Year, there is no individual award for special teams players and therefore Harvin's contributions as a return man must be factored in.
You need look no further than the article I wrote about Harvin and DeSean Jackson on November 1st, 2009 to know how I feel about Harvin. Harvin contributes as a receiver, ball carrier in the running game and a return man. Harvin averages a ridiculous 18.34 yards per touch which is only rivaled by my Offensive Player of The Year award runner up DeSean Jackson.
Runner Up: Hakeem Nicks
Defensive Rookie of The Year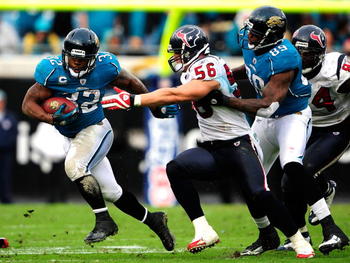 Winner: Brian Cushing
As I said in his previous write-up Brian Cushing impressed the hell out of me and is the best Defensive Rookie of The Year award winner – appointed by me, Pepsi or the Associated Press - this decade. His game, at least this year, has been as close to perfect as possible.
He makes plays against the run, against the pass and all over the field. He has a tremendous "motor" and an excellent ability to know where the ball is coming. As I said before he is a tremendous playmaker who has helped to win the game for the Texans and is a huge reason that the Texans were in the post-season push this late in the year as a defensive standout.
Runner Up: Louis Delmas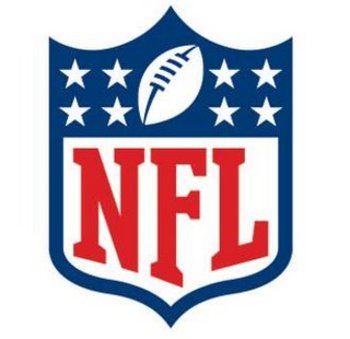 So there you have it. Those are the individuals that I believe to be the best at their respective positions throughout the 2009-10 season. Let me know how you feel by hitting me with some feedback. If you enjoyed this article be sure to check out my other work.
Keep Reading