The 10 Fantasy Football All-Stars You Never Heard of Before 2009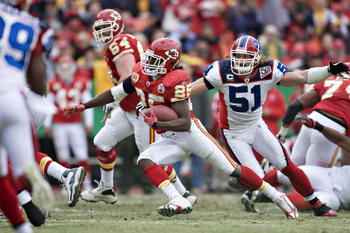 Every year as the summer draws to a close, groups of friends around the country get together for their annual fantasy draft. The top few selections and rounds tend to go by without too many surprises.
But as time passes and everyone gets sick of sitting in front of a computer screen, selections are made that could decide the league champion.
Often these players are either unknown or unproven. These guys come through and routinely make their fantasy owner look like a genius. These are the players from 2009 who have made thousands of people happy across the country (even if the owner didn't know his name in August).
No. 10: RB Jonathan Stewart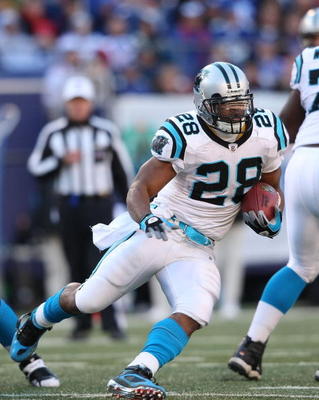 If this guy wasn't on a team with another great runner in DeAngelo Williams everyone would have known about him sooner.
In just 205 attempts, Stewart has over 1,000 yards and nine touchdowns. Since taking over for the injured Williams, Stewart has exploded onto the scene and last week rushed for 206 yards and a TD.
Having proven himself this year between the tackles and catching passes out of the backfield, Stewart is sure to be a top-round pick next year.
No. 9: TE Vernon Davis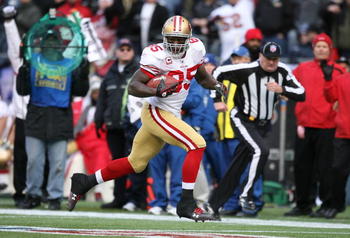 When coach Mike Singletary famously benched Davis last year, it appeared that this physical freak of nature was officially a bust.
But 2009 was the start of something new for this former Maryland Terp. With 12 touchdowns and nearly 900 receiving yards, Davis has emerged as one of the best tight ends in the NFL.
No. 8: TE Brent Celek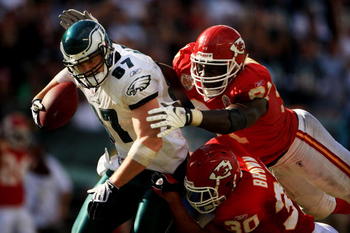 Largely unknown outside of Philadelphia before the start of the season, Brent Celek developed into a fantasy hero. In a league with few dominant tight ends, Celek one of the sport's best.
In his third year out of Cincinnati, Celek has caught eight touchdown passes in an offense that features two excellent young receivers in Jeremy Maclin and DeSean Jackson.
As the Eagles look to make noise in the playoffs this year, it is clear that Celek will be a major contributor in their offense attack.
No. 7 RB: Jerome Harrison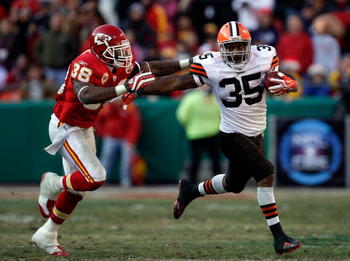 I know what you're thinking: I'm getting blinded by the huge weeks Harrison has had recently. He's not that good and he is taking advantage of a few bad run defenses. He's a fluke.
For those Harrison haters out there, think about this: in just 161 rushes this season, Harrison has 735 yards and four touchdowns. In games that Harrison gets over 15 carries the Browns are 2-1.
Though Harrison was competing with Jamal Lewis for the bulk of the carries early in the season, his production in recent weeks is encouraging for a Cleveland fanbase looking for anything to be excited about.
Finally having the confidence of his coaching staff, Harrison has thrived. With Lewis' retirement at the end of this year, it appears Harrison will have the opportunity next season to continue his hot streak.
No. 6 RB: Cedric Benson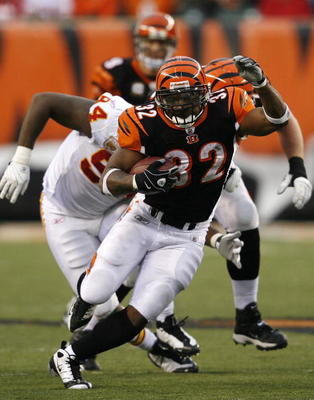 Had Benson not gotten hurt in the middle of the season he could have been higher on my list. It is certainly not a coincidence that Benson's dominance has coincided with the resurrection of the Bengals franchise as a whole.
Having scored a touchdown in five of the first seven weeks this season, Benson quickly established himself as one of the NFL's elite runners.
Though hampered by injury, has returned to rush for over 100 yards in two of the last four weeks, bringing his season total to over 1,200 yards. Considering he did not play two games due to injury, this total is impressive.
He has been a dynamic back all year and would have no doubt been even more effective had his season been injury free.
No. 5: WR Steve Smith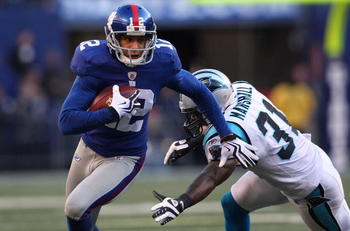 Typically known as "The Other Steve Smith" until this season, the former USC Trojan has been Eli Manning's top target all year.
His nearly 1,200 receiving yards and seven touchdowns have been a bright spot for the disappointing Giants. In PPR leagues Smith has been especially valuable with 97 receptions.
On a team with a plethora of solid young receivers, Smith proved himself to be the most reliable and should only get better next season.
No. 4: RB Jamaal Charles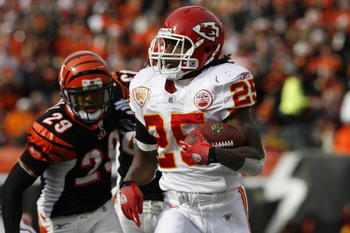 When Charles took over for the disgruntled Larry Johnson, many people wondered if he would be able to carry the load as a No. 1 back. Well, I guess we all know the answer to that.
Since taking over for Johnson, Charles has averaged 13 points, with two monster games against the lowly Bills and Browns. More impressive, however, was his 17-point performance against the stingy Steelers.
Charles has averaged over five yards per carry this season and has proven that he can be the No. 1 back. On a team with not many other options once Dwayne Bowe was suspended, Charles has claimed his place among the elite running backs in the NFL.
No. 3: WR Sidney Rice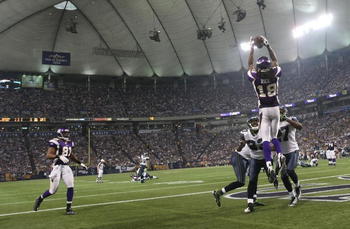 Until this season, Rice, much like Vernon Davis, was considered a bust. Enter Brett Favre, fast forward a few months and Rice is one of the best receivers in the game.
With 1,200 receiving yards and 6 touchdowns, it's hard to argue with Rice's production. After his game-tying catch on Monday Night, Rice permanently cemented himself atop the NFL's elite receiver list.
At the beginning of the season, Rice was considered by many to be the Favre's secondary option to Bernard Berrian. With Adrian Peterson in the backfield, Rice's opportunity for success seemed dim. After the season he has had, however, it is clear that the Vikings have two clutch performers on the offensive side of the ball.
No. 2: WR Miles Austin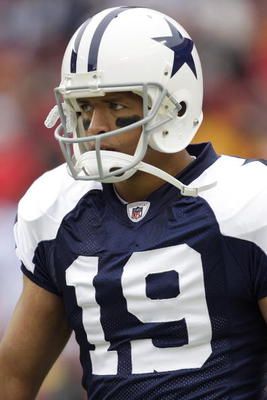 Miles Austin came out of nowhere this season. He has been the Cowboys No. 1 threat all year and has done it all.
After going for 37 and 29 points in successive weeks, this undrafted player out of Monmouth has emerged as one of the most complete players in the NFL.
His YAC stats make him a great option for any fantasy owner and his red zone production is extremely attractive. Averaging over 16 yards per catch, Austin's 11 touchdowns make him one of the most impressive receivers in the game.
No. 1: RB Ray Rice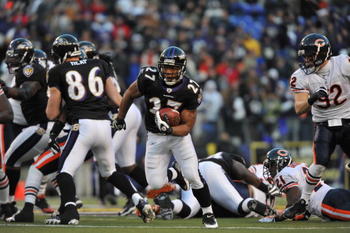 After serving as a part of the Ravens' three-headed running attack in his rookie season, Rice beat two pretty good backs in training camp when he was named the starter over the summer.
Since then Rice has been one of the most valuable fantasy players out there. Though a lot of people thought he would have a solid sophomore campaign, few predicted Rice's overall impact for the Ravens this season.
With nearly 800 yards receiving and 1,300 yards rushing, Rice is having an amazing year. As the Ravens look to make a playoff push, he could be the most important player on the team.
After being named to his first Pro Bowl, it is clear that Rice has demonstrated his ability this season and is sure to be a force for Baltimore in the coming years.
Keep Reading