Lingerie Football League (LFL) New Years Day Preview and Game 14 Recap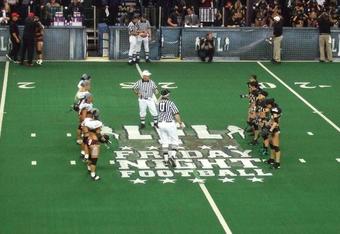 As we bring 2009 to a close, 2010 opens with a Lingerie Football League (LFL) Western Conference showdown in Seattle Washington. The league took a bye week for the Christmas last Friday.
The last LFL game was No. 14 in Hoffman Estates, Illinois at the Sears Centre Arena. The Chicago Bliss at 2-0 hosted the 2-1 Philadelphia Passion before a nearly sold out crowd. Around 10,000 Chicago area fans came out to see the LFL as a blizzard was beginning to hit the area.
The Bliss with a win clinch the Eastern Conference playoff spot, while a Passion win would keep Philly in the hunt for a playoff spot. The contest was highly anticipated, and on paper should have been a close match.
The final game stats look like a close match, but the most important stat says otherwise. Points scored.
Chicago's offense pounded the Passion's endzone. While they held the ball half the amount of time Philadelphia did, they were able to outscore the Passion by 33 points!
On the Bliss opening drive QB Elle Cartabiano (a drop dead gorgeous 20-year-old brunette, who looks more like a Victoria Secret's model. Let's us hope Tom Brady stays away from her!) kept the ball to run nine yards in, placing the first six points on the board.
The Bliss would never give up the lead. With just :07 seconds left in the first half, Passion QB Jackie Danico would cough up an interception to Bliss Safety Kat Johns (a Chicago Native).
Johns would have a LFL highlight reel return, 46 yards to score another Bliss TD to end the half. The nearly "coast to coast" TD run had the look of an Eddie Moten interception performance in the now defunct AFL.
That play may have been the nail in the Passion's coffin, making the score 28-13 at halftime. The second half would see Chicago Bliss RB Saran Dunmore score three rushing touchdowns.
The Bliss would cruise to a 46-19 final score after only holding the ball for 11:33 minutes. The Passion couldn't make it past 20 points with over 22:27 time of possestion. And the end of the first half interception was the games lone turnover!
Chicago had only five more yards total offense than Philadelphia, two fewer first downs, and 12 fewer rushing yards. Yet the Bliss put up a score almost as hot as the women playing the game.
Chicago clinched a spot in the Eastern Conference Championship game Thursday February 4, 2010 at the Seminole Hard Rock Live Arena, in Hollywood, Florida (who the hell named that place, Dave Barry? I mean could you have a more run-on name for the place?).
The Bliss still doesn't know who they will yet play, with the Tampa Breeze, or most likely opponent Miami Caliente (which is Cuban for beautiful women who play badass football, I think).
The Breeze have two games left on their schedule with a January 15 home game, hosting arguably the WORST LFL team in the New York Majesty. The following week they have a January 22 road trip south to Sunrise Florida to play the Caliente.
Tampa MUST beat New York and Miami to make the postseason. Miami a hard hitting team, who puts points up with ease, just needs to beat Tampa. The pressure is on the Breeze.
As for the Western Conference, something changes, on New Years Day. The 2-1 Seattle Mist host the LFL top ranked team, Dallas Desire at 3-0.
Dallas who has not played a game since their October 23 win over the Los Angeles Temptation.
This game is a MUST win for the Mist to make post season. This is the Final regular season game for Dallas, having already clinched a post season spot. A win the Desire are the Western Champions. A loss would put them in a three way...tie in standings of course. Dallas would be 3-1 with Los Angeles and Seattle.
I did enjoy the fact the LFL's own press release noted the Seattle Mist as the only area pro football team with a chance for making the playoffs. I wonder how the front office of the Seahawks feels being mocked in an inverted pyramid, NEAR THE TOP!
But considering the best thing the Seahawks have produced in 20 years, is Price is Right model Amber Lancaster. Well, they deserve to be zinged. I don't think the LFL did that intentionally as much as to motivate depressed Seahawks fans to fill the place up.
The Mist does draw very well, (REAL SHOCKER) so the fans making a decent amount of noise in the Arena could be a problem for the Desire. But don't hold your breath.
Seattle's first string QB Lindsey Blaine is questionable (as of Dec. 28 at www.LFLUS.com) She has not played since getting knocked out of the first half vs. L.A. She suffered a split chin and concussion.
Dallas is coached by 33-year-old retired NFL safety Antuan Edwards. He was the 1999 first round pick of the Green Bay Packers. I vaguely remember him in 2004 on my Miami Dolphins.
Clearly many coaches in the NFL often are only average players. Edwards has the best LFL Roster from top to bottom. They boast the best offense and defense.
Dallas has Gabriele Marie, a sexy brunette from Waterloo Iowa (is this heaven?). Marie a soon-to-be 26-year-old plays true Arena Football "Ironman football" as a RB and LB. I guess "Ironbabe Football" would be more appropriate.
On offense, rushing Marie has 8 carries for 61 yards. She averages 7.6 yards a carry and has rushed in for 1 TD. Receiving she has 2 receptions for 33 yards and 2 TD. Zero turnovers.
On Defense, she has 20 tackles, 11 solo, 9 assisted, 1 sack (two away from Coach Edwards NFL career total sacks!).
Also look out for Dallas player WR Candice Mosely who has 5 receptions for 78 yards and 4 TD. Along with on D; 10 tackles, 5 solo, and 1 interception. 0 Turnovers.
QB Linda Brenner, who has 10 completions in 29 attempts. With a 34.5 PCT with 170 passing yards and 7 passing TD. She also has 2 rushes for 9 yards. And, yes you guessed the theme, 0 turnovers!
Dallas knows how to hold on to that ball, which means the Mist has to make the most out of their possessions to win.
I will be bummed I can't see Game 15 live here in Pennsylvania. I will have to enjoy Chivas on the rocks, with a can of Yuengling Premium Beer, and occasional shots of Wild Turkey in absence of a live feed here.
Maybe Jay Cutler will be here, we can watch " Fear & Loathing In Las Vegas ."
I do think Dallas will win going to 4-0 for their inaugural regular season. The game is at the Showare Center in Kent, Washington. Kickoff is 9 PM PST. Tickets are said to be limited.
Next week I will recap the New Years game meeting, and preview Game 16 Denver at San Diego (sorry for this week's length. They will be two separate articles).
This article is
What is the duplicate article?
Why is this article offensive?
Where is this article plagiarized from?
Why is this article poorly edited?