John Clay, Wisconsin Badgers Run Down Miami Hurricanes in Champs Sports Bowl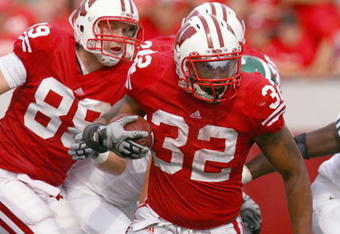 Jonathan Daniel/Getty Images
Wisconsin head football coach Bret Bielema related his football team to that of a boxer. They wear you down, then finish you off to get the win.
On Tuesday night in the Champs Sports Bowl against Miami, the Badgers wore the Hurricanes out on the ground and used a dominant, knock-out defense to capture the 20-14 victory to improve to 10-3 on the season.
"What you have to understand a little bit with Wisconsin is we kind of take a boxers' mentality offensively," Bielema said. "We are going to wear you out, wear you out, throw the body punches and then hopefully that cumulative effect can ultimately lead to a win and that's what was able to happen."
John Clay rushed for 121 yards and two touchdowns on the ground and the Badgers defense held Miami to just 249 total yards of offense, with 90 of those yards coming in the final two minutes. Clay, who carried the ball 22 times despite tweaking an ankle in the first half, was named the MVP of the bowl game.
Wisconsin took the 20-7 after a Phillip Welch 29-yard field goal with 4:01 left on the clock, but Miami wasn't done yet. The Hurricanes drove 79 yards down the field in 2:32 to trim the lead to 20-14. They then recovered the ensuing onside kick, but a sack on Harris and three consecutive incomplete passes sealed the game for the Badgers.
"Our defense does well when they stick to the plan," said Bielema, whose Badgers improved to 10 wins for just the sixth time in school history. "One of our main goals was to get after their quarterback. When he goes, they go. I really felt we kind of disrupted his rhythm all day.
"We weren't allowing them to get any type of rhythm that made them move the chains consistently."
Miami opened the game with an 84-yard kickoff return by Sam Shields that eventually led to a Craig Cooper 16-yard run to take a 7-0 lead with 14:37 left on the clock. Wisconsin answered with a score of their own on the following possession, a 3-yard run by Clay, which tied the score with 7:12 left in the first quarter.
Wisconsin's defense then took over, limiting Miami, which came into the game averaging 144 yards on the ground, to just 45 rushing yards the rest of the game. The Badgers then scored on another 3-yard scamper from Clay with 8:07 left in the second quarter and capitalized on two Welch field goals in the third and fourth quarter to take a 20-7 lead late.
The big stat in the game for Wisconsin was time of possession. Coming into the contest, the Badgers ranked fourth in the country in possession time held the football for nearly 40 minutes of the game.
"I always say, it doesn't take a rocket scientist to figure out if you got the ball longer than they do, you have a better chance of scoring more points," Bielema said.
Wisconsin quarterback Scott Tolzien threw for a career-high 260 yards in the game, with a portion of those going to Lance Kendricks, who also had a career high with 128 yards receiving.
Miami's quarterback Jacory Harris struggled in the game, completing just 16-of-29 passes for 188 yards and one touchdown, but was sacked five times on the day and never really got comfortable in the backfield.
For the Badgers, it was good to finally beat that high-ranked opponent and prove they are a top program in college football.
"We kind of came into this season with a little bit of an underdog mentality," Tolzien said. "I think everyone realized that up to this game we had won the games we were supposed to win, but there wasn't a big win, per se, against a ranked opponent, you know, just a real like exclamation point really. I thought this game kind of proved that for us."
Ryan Bass is a sports writer for the Central Florida Future and a sports-talk radio host for WKNT in Orlando, Fla. Download his podcast: www.thesportsreportonline.com
This article is
What is the duplicate article?
Why is this article offensive?
Where is this article plagiarized from?
Why is this article poorly edited?

Wisconsin Badgers Football: Like this team?