Liverpool Football Club: In Need of "Blaze of Glory"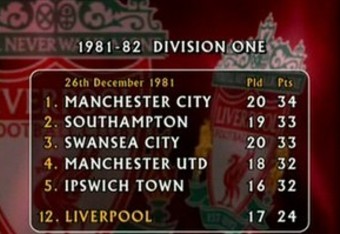 We are having Christmas. This is the time when football season in English Premier League is halfway through.
The time, when the league standings start to form a base. The time, when the shape-of-things-to-come are discussed at full-length.
The time, when the voices of the fans are echoed in the vicinity of cold nights; discussing their teams, the players, and the managers.
The time, when the managers are allowed to rectify the short-comings of their squads through transfer market. The time, "WHEN THE THINGS START TO CHANGE."
Lo! This is that time around now.
Liverpool Football Club: "We are half season through. We are out of top-4. It's like we are cursed. The new signings: Ian Rush, Ronnie Whelan, Bruce Grobbelaar are being questioned.
Poor results against those teams who have no 'history' at all have left us in the darkening despair. The ill fate have made the fans believe that we will be left empty-handed at the end of the season.
This was the shape of things around Christmas season in 1981-82. Doesn't it sound/seem familiar (at the moment)?
"And then, there comes a light. Few good results (string of wins) and we are back in business! The very signings would prove stroke of genius by Bob Paisley.
Rush would become Liverpool great, Whelan would become prominent face in the mid-field, and Grobbelaar would start from where Ray Clemence left off!
And, at the end of the season, on May 15, 1982, Liverpool would be crowned League Champions by beating Spurs 3-1."
There is always a 'HOPE.'
YES, the 'Boot Room' is dead. No Shankly, No Paisley, No Fagan. It has all disappeared in the pages of glorious history of Liverpool Football Club.
BUT, we have Rafa Benitez , who has been improving every season as far as the league standings are concerned. (His start of league campaigns ended like this: 2005 - fifth, 2006 - fourth , 2007 - third , 2008 - second , 2009 - WHO KNOWS?)
YES, there is no magnificent duo around that of Kevin Keegan and John Toshack or an incredible duo that of Kenny Dalglish and Ian Rush. It has all been engraved as the glorious part of the club's history.
BUT, we have one of the most intimidating duo in Europe: Steven Gerrard and Fernando Torres. They can turn the things around in the nip of time and get something out of nothing.
YES, the club is in dire straits. The atmosphere around Anfield is missing 'that' verve. It has been a devastating half-season.
BUT, things can be changed. As, like I said, this is "THE TIME, WHEN THINGS START TO CHANGE."
At the time I am writing this article, Liverpool have won two matches in three days. So, there is always a HOPE. (Fool's Hope, you may say! )
BLAZE of GLORY: The leaders of the table are not far to catch-up with. We need Blaze of Glory to start going in right direction. It's in our hands.
We only need to win few games on the trot and then see where we stand. And, the place where we would stand by then would really make the fans sit with ease and sigh of relief.
Rafa needs to take one game at a time. Yes, I know we should end our barren-spell or at least clinch the Champions League spot. But, these are things which are discussed well in May. And, that is a bit far from now.
So, taking one next game should be enough for the headache. My point is: Clinch all the three points when even your opposition wants you to!  
January should be used wisely. I mean, "W.I.S.E.L.Y." Don't bring in a genius-class neither buy any unreliable cover likes of N'gog (lot of potential but lack of experience).
Doing a "sane business" would do enough to cover up. Many out-of-favor who accidentally happen to be good reliable players are available in this transfer window who would prove to be 'bargain buys' if we look at the club's financial state.
Sell two, buy one. Pavlyuchenko, Nistelrooy would be reliable and affordable. Goran Pandev would be available as a free agent as he won his case over Lazio juts few days ago.
Scouts should be advised to look in to these kind of players. It wouldn't harm the club's financial state and would bring in quality and nice back-up simultaneously.
So, let's change the things now, as things are quite messy.
(P.S.: The win against Aston Villa and the milestone of Fernando Torres just came at the right time and the right place. You know, "confidence boost and THE TIME WHEN THINGS 'REALLY' START TO CHANGE" kind of thing!)
And I really don't know whether "You'll Never Walk Alone" or not, but I never will!
This article is
What is the duplicate article?
Why is this article offensive?
Where is this article plagiarized from?
Why is this article poorly edited?

Liverpool: Like this team?