Philadelphia Flyers' Five Most Expendable Players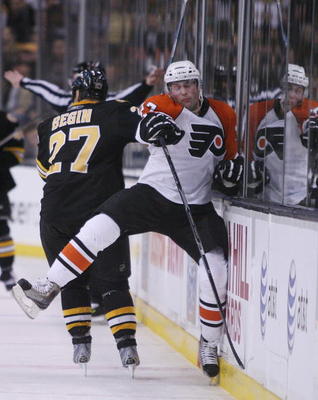 It's no secret that the Flyers have been having struggles lately. Despite winning three straight, the Flyers' horrible losing skid is still a vivid reality in the minds of Flyers' fans.
Losing 11 of 14 games normally wouldn't be a cause for major alarm, but the ways in which the Flyers were losing games over that span has caused the rumor mill to churn at full speed.
While there are a number of Flyers that fans and media in Philadelphia would like to see go, not all of these players are truly effective trade bait. After all, a trade is only as good as the marginal improvement that it brings to an organization.
While dealing overpaid or struggling players would be great, other teams don't want these players any more than the Flyers do.
That being the case, sometimes the best players to trade are the players that would be the most difficult to part with. Again, the key to trading is improving the team—not necessarily getting rid of players who are undesirable. You want to deal assets that you have a relatively small amount of need for compared to what you're getting in return.
Keeping this in mind, let's look at the five most expendable Flyers, based on their trade value compared to their value to the team—not just on how skilled they are. Let's kick it off with No. 5...
5: Braydon Coburn — Defenseman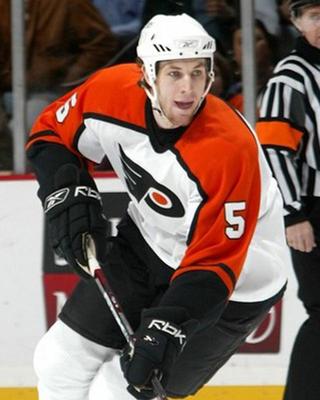 Braydon Coburn has logged an impressive 22:46 in average ice time this season, and yet he's become somewhat of an afterthought when it comes to the Flyers defense.
His role this year is certainly a far cry from the 2007-08 season, when Coburn's acquisition was considered a big part of the team's success, and when his injury in the Eastern Conference Finals seemed to end the Flyers' hopes of a Stanley Cup.
Now, while he's still a talented blueliner, his role on the team has diminished.
Coburn would be a great addition to a team lacking defense, and the Flyers can more than afford to let him go. With Chris Pronger, Matt Carle, and Kimmo Timonen ahead of him on the depth chart, and with Coburn set to become a restricted free agent in the offseason, it may be time to move him.
The Flyers have the depth to replace him and thus could include him in a trade for some help on offense.
If they don't deal Coburn, he would likely end up as Randy Jones did this year—being shipped off for nothing because he isn't worth his new cap hit.
The Flyers' waiving of a defender as capable as Jones is an indicator that general manager Paul Holmgren did too good of a job building depth on defense after disastrous injuries to Timonen and Coburn in the 2008 Eastern Conference Finals.
Trading Coburn might be the move that could finally achieve an equilibrium for the Flyers on defense, and would free up $1.4 million in cap space—something the team could really use right now.
The possibility of freeing up this space also makes Coburn a good candidate for being the secondary piece of the Flyers' part in a potential blockbuster deal. If the Flyers are trading one of their high-salary players for another player with an even larger salary, Coburn's cap hit could bridge the gap.
While his name hasn't shown up in too many rumors, don't be surprised if Coburn is shipped off in the next couple months.
4: Dan Carcillo — Forward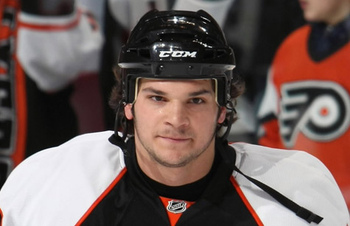 When Paul Holmgren acquired Dan Carcillo in exchange for fan-favorite Scottie Upshall and a second round draft pick at the deadline last year, he told Flyers fans that they were going to love Carcillo. Needless to say, it was a rare miss for Homer.
Carcillo's antics have frustrated Flyers fans and coaching more and more as his tenure in Philadelphia continues, leaving the value of his role on a team already stocked with goons in question.
However, unlike fellow goon Riley Cote, Carcillo actually knows how to play the sport of hockey, and he actually does so pretty well.
Given the Flyers' abundance of tough forwards (such as Cote, Scott Hartnell, Arron Asham, and Ian Laperriere), dealing Carcillo to a team that needs a tough presence could give the Flyers a respectable return and also make the chemistry of the team a bit stronger.
Carcillo is cheap (just under a $1 million this year) and plays hockey well by enforcer standards, meaning that he may draw a fair amount of interest.
The one question is whether or not teams want to take a risk on a loose cannon like Carcillo. The cost his bad decisions might outweigh the benefit of his skill for teams looking for an enforcer.
If the Flyers aren't able to get a good draft pick or respectable winger in return for him, a trade might be pointless. The Flyers like tough guys like Carcillo, so they're probably not going to trade him unless they like the return.
In other words, unless Carcillo really screws up, they aren't going to waive him or trade him for a late-round draft pick.
3: Simon Gagne — Forward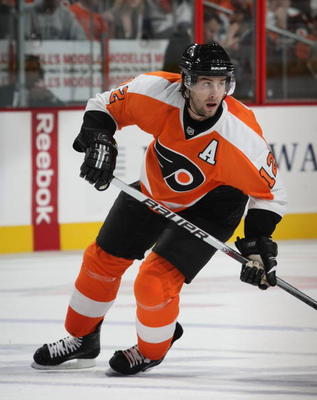 Simon Gagne has been a Flyer his entire career, and he's been a huge asset for the team over the years.
As the longest tenured player on the current team, he brings a lot of experience to the table, and the fact that he played during the pre-lockout powerhouse Flyers teams means that he is a big part of the identity of the team as well. He's a 30-goal scorer and a quick skater, and subsequently he's been a key presence up front for the Flyers.
Despite all this, Gagne hasn't really emerged as one of the top leaders of this team. The team never elected to make him captain, and his status as an assistant captain hasn't been set in stone either.
While this doesn't automatically mean he isn't the sort of leader he should be, it does show us how the organization thinks about his role in the core of the team. Gagne is reaching the latter part of his career, and he has become one of many small-to-mid sized wingers for the Flyers.
Replacing Gagne's goal scoring might prove difficult, but the Flyers have a bigger problem to worry about. The loss of Mike Knuble meant that the Flyers didn't have a lot of size up front this year, and their offense has suffered from that problem.
The Flyers need to bring in a winger with both scoring ability and size—the sort of guy that can be a force in front of the net. Ilya Kovalchuk would be perfect for this role, although acquiring him would take a lot of creativity on the Flyers' part.
Even if the Flyers don't have a shot at Kovalchuk, they need another large scorer on the wing like Scott Hartnell, Dustin Byfuglien, or Mike Knuble. In order to do so, they'll need to shed salary. If they can find a team that wants an experienced scorer like Gagne, a trade wouldn't be that difficult—even given Gagne's $5.25 million salary for both this year and next year.
Gagne fits in well to the Flyers' current system in every regard except for size. They could get another big, strong top-six forward who would fill a void left by trading Gagne—both in the roster and in terms of cap space. Such a trade would fix one of the Flyers' big problems (size up front), while avoiding the sort of drastic trade that Paul Holmgren wants to stay away from.
The only question is whether the Flyers have a shot at acquiring a big winger who could replace Gagne's goal-scoring.
2: Kimmo Timonen — Defenseman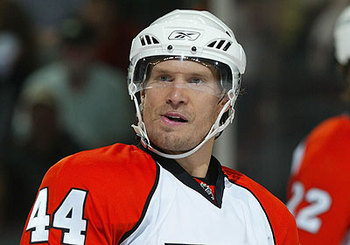 If trading Kimmo Timonen was even mentioned as a possibility just a couple months ago, the prospect would have been labeled as insanity. Even now, some would call the idea preposterous.
Timonen's role as a veteran leader who has a calming effect on young blueliners has been a huge boost for the Flyers in recent years, and the offensive production he has brought to the team has been fantastic as well.
However, things have changed this season. The emergence of Chris Pronger and Matt Carle as one of the league's top defensive pairs has left Timonen third on the depth chart.
Mix this fact with his salary ($7 million in 2009-10, $5 million in 2010-11, and $3 million in 2011-12), and suddenly the idea of trading him doesn't seem as crazy as it once did.
The fact of the matter is that Timonen is quite valuable, but recent events have made him the odd man out for the Flyers on defense. It's hard to imagine the Flyers having issues with a top-six on defense that includes Chris Pronger, Matt Carle, Ryan Parent, Braydon Coburn, Oskars Bartulis, and Ole-Kristian Tollefsen.
That being the case, the Flyers could move ahead with this core of defensemen, and meanwhile free up cap space and help deal with issues that are more pressing for them than defense.
The only question is whether or not Timonen's leadership and offense would be a major loss for the Flyers. Timonen has value that goes beyond his pure hockey skill. His wisdom and leadership is something that Chris Pronger might not fully replace, so dealing him might leave a void.
However, the intangibles he brings to the blue line would be especially valuable to teams with young defensemen, so his trade value might outweigh his value to the Flyers at this point.
1: Jeff Carter — Forward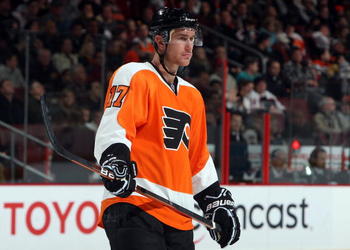 (The following is an excerpt from the article "Why Jeff Carter is Anything But Untradeable." The full article is available at http://bleacherreport.com/articles/316206-why-jeff-carter-is-anything-but-untradeable)
Perhaps the most compelling reason to deal Carter is who he is displacing at the center position. Even if the assumption is made that Danny Briere can't hope to replace Carter as the second-line center, what if he doesn't do so?
Suddenly, Briere (who is unlikely to be traded) is forced to either be a third-line center or a winger. Briere is too good to play on the third line, but he also isn't a natural winger.
This problem has given the Flyers an imbalance up front, as Briere isn't the only center who is forced to either play on the wing or be forced onto a lower line by Carter. Blair Betts, Darroll Powe, and Jared Ross are all natural centers who have NHL talent, but are playing minor roles in the organization.
While they aren't at all comparable to Briere, Carter, or Richards, two of them would be adequate centers for the third and fourth lines. Even if Briere or Richards is injured, a winger who has played center before like Claude Giroux or Gagne could fill in, and these guys could stay in place on the checking lines.
So, if Richards and Briere could fill the first two lines, where does that leave Carter?
The most popular argument for keeping Carter (the argument that Paul Holmgren seems to be following) is that Carter is simply too good of a goal-scorer to trade. This is certainly true, but the presence of Briere complicates the matter.
If the Flyers hadn't signed Briere long-term, then Carter and Richards would be the perfect one-two punch. However, the fact that Briere is here to stay, combined with the fact that Richards is the heart and soul of the organization, means that Carter is, bizarrely enough, the one who doesn't fit into the puzzle.
The Expendability of Other Flyers
Now that we've looked at the five most expendable Flyers, what about the other players? Are they fair game for trades as well?
The reality of hockey is that nobody is untradeable—just ask Wayne Gretzky. Keeping this in mind, let's look at some of the other Flyers, and briefly discuss how tradeable they are...
Mike Richards: He has come up in whispers of trade possibilities, given the Flyers' abundance of centers, the possibility of Pronger being captain, and Richards' quiet presence in a time when a more assertive leader might be needed. Trading him would certainly get a fantastic return.
However, he is guaranteed to be relatively cheap for the rest of the next decade, and he's a superstar that the team has been built around. So, a trade including him seems very unlikely, but it's more of a possibility than most seem to think it is.
Chris Pronger: Acquiring him cost the Flyers the offensive production of Lupul and Knuble on the wings, created an overload of talent on defense, gave the Flyers a player that would be greatly overpaid in five years, and created an awkward leadership situation in the locker room.
Was trading for him and signing him long-term a mistake? Probably not, but even if it was, it's too late to turn back now. He's had a good season, and he's here to stay.
Matt Carle: He has emerged as a fantastic partner with Pronger on the top line. Not too expensive, so given his performance this year, he isn't going anywhere.
Daniel Briere: The Flyers would love to get rid of Briere primarily because he's overpaid, but what team would want him? No team wants to be a salary dumpster in this day and age.
Shedding an overpaid player often means just getting another one in return or also including cheap talent in the trade to balance out the overpaid player's salary.
In the Flyers' case, this wouldn't be worth it. Now, the Canadiens always love to bring in French-Canadian stars even if there are some downsides, but at the moment, they simply don't have the cap to bring him in. In the end, Briere isn't going anywhere.
Flyers fans are just going to have to learn to embrace his presence and consider what he brings to the team regardless of what he costs.
Scott Hartnell: Hartnell can be a bit too much of a goon, but unlike the other enforcers on the team, he can actually play that role and make major offensive contributions to the team.
Even if he hits a slump, he still brings size to the Flyers scoring lines, which is something they need more of right now, not less of.
Claude Giroux & James vanRiemsdyk: These guys have too much promise and are performing too well right now to be put in a trade, not to mention the fact that they're both cheap talent in a time when the Flyers are desperate for cap room. I'd call vanRiemsdyk untouchable.
Giroux won't be given up in a deal for anything other than a superstar player that the team can lock up long-term. In other words, unless Ilya Kovalchuk is in the deal, and the Flyers are sure they can lock him up, then Giroux is staying put.
Arron Asham: His playmaking ability can be quite valuable at times, and he doesn't take too many dumb penalties. One of the most underrated players on the team, and pretty cheap, so trading him makes little sense.
Ian Laperriere: "Mumbles" is one of many tough guys on the team, but he's not the odd man out. He, Hartnell, and Asham make for a good crew of enforcers- it's Cote and Carcillo that are the expendable ones.
Blair Betts & Darroll Powe: Both are good role players who are important to the team. However, if Carter stays, then one of them could be the odd man out and get traded.
Ryan Parent: Parent deserves honorable mention, although he seems to fit in well to his current role. Could be on the move, but there aren't too many reasons to believe he is or isn't going to be on the way out for Philadelphia. He provides depth and is still young, but if the Flyers don't deal any other defenders, there's little reason why he wouldn't be available for trade.
Riley Cote: In all seriousness, who on earth would want Cote? I'm surprised he's lasted in the NHL as long as he has.
Sound Off!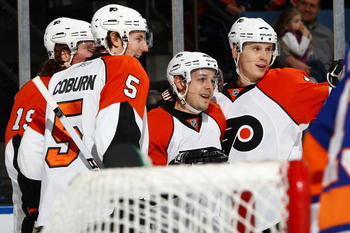 Now that you've read this analysis, what do you think? Who do you think the Flyers should trade? Who do you think is untouchable? Do you disagree with anything you've read? Think anything was spot on? Have any other opinions?
Keep Reading

Philadelphia Flyers: Like this team?