Pittsburgh Steelers: Possible 2010 First-Round Draft Targets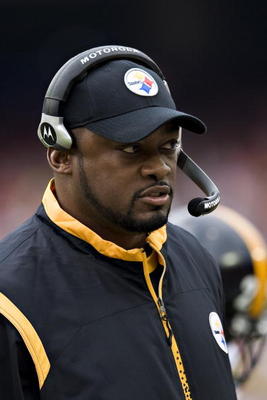 It seems very likely that the defending Super Bowl Champion Pittsburgh Steelers will not be able to make the playoffs and defend their crown.
Many issues have caused the Steelers to be in this situation.
Injuries, poor coaching, players not progressing as planned, players regressing, etc...
While the draft is still months away and a lot can change between now and then, I'll point out a few players who may be on the board when the Steelers are likely to be drafting in the first-round and why they should take a look at them.
Taylor Mays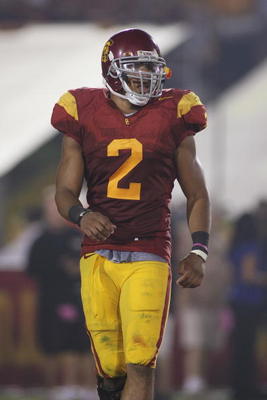 At 6'3", 236 pounds, and running a 4.3 40-yard dash, Mays is an athletic freak. Had he declared for the 2009 NFL Draft, he would have likely been a top-10 pick.
With less talent surrounding him, Mays numbers have dipped this season. He also has been criticized for his lack of interceptions.
I believe that if Mays would be put into a situation with the Steelers where he was asked to play free safety, like a center fielder opposite of Troy Polamalu, he would thrive.
Mays has the ability to cover a lot of ground, help in run support, and be an enforcer in the secondary.
Mays also seems to have the attributes, both physical and mental, to slide over to strong safety and fill in for Troy Polamalu if needed.
I see Mays as a faster, more athletic Chris Hope.
Earl Thomas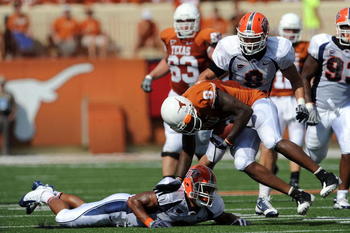 At 5'11" and 198 pounds, Earl Thomas is not the physical specimen or athlete that Taylor Mays is. But Thomas is your more typical ball-hawk as a free safety.
Thomas would be a welcome addition to the Steelers' secondary because his ball-hawking skills would likely result in a few INTs, which is something the Steelers' secondary has been unable to produce in 2009.
Patrick Robinson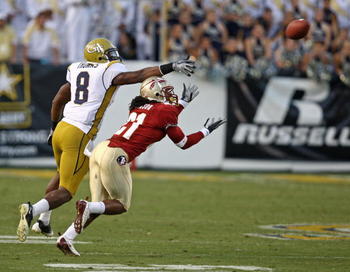 Patrick Robinson, at 5'11" and 192 pounds, is following in the proud history of Florida State corner backs.
Robinson is a physically-gifted athlete with the confidence that is needed to play CB at the NFL level.
He is currently listed as a mid-to-late first-round selection, but with his athletic ability, his stock may skyrocket during and after the NFL Combine.
The Steeler CBs have yet to record an INT in 2009 and have been hurt by the inconsistent play of William Gay, the age of Deshea Townsend, and the lack of production from rookies Keenan Lewis and Joe Burnett.
He'd be a welcome addition to the Steelers, as well as an upgrade to their current collection of CBs.
Terrence Cody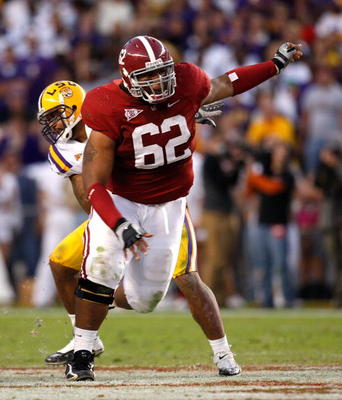 Terrence Cody is a mountain of a man listed at 6'3" and 373 pounds. He is also nearly impossible to move and, while not a pass rusher, he does get a good push and consistently disrupts plays in the backfield.
Cody would be an ideal NT in the 3-4 scheme that the Steelers use.
With Casey Hampton being a free agent, Cody would be able to step in from day one, should Hampton choose to leave Pittsburgh.
C.J. Spiller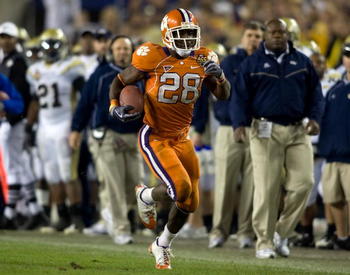 While RB is not a pressing need for the Pittsburgh Steelers, they have surprised us with their draft choices in the past.
Spiller is listed at 5'10" and 196 pounds, and is a big play waiting to happen. And we always hear Mike Tomlin talk about "splash plays."
The Steelers tend to take who they believe is the best player available, and it's hard to argue that Spiller isn't exactly that.
With Willie Parker likely to leave Pittsburgh via free agency, Spiller could be the speed back to complement Rashard Mendenhall.
Spiller is also dangerous as a kick and punt returner and would allow the Steelers to maximize roster spots by not using a spot for a player who is used only on returns.
Ras-I Dowling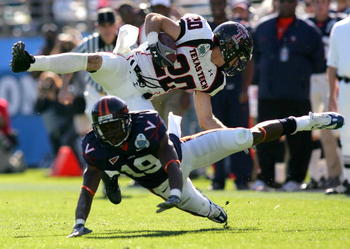 Ras-I Dowling has the size (6'2" and 200 pounds) to be a physical corner back or even safety at the NFL level.
Dowling is considered an instinctive player who is willing to help in run support. Sounds like a Steeler to me.
Dowling has also played in a pro-style defense under Virginia coach Al Groh.
Dan Williams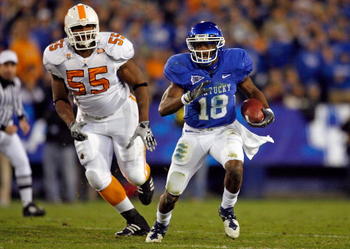 Dan Williams (6'2" and 311 pounds) had a great year in 2009 for the Vols and vaulted himself up the draft board.
Williams is more athletic than Terrence Cody and doesn't have the weight issues.
Williams would also be a great fit as the NT in the Steelers' 3-4 alignment.
Keep Reading

Pittsburgh Steelers: Like this team?