MWC Basketball Power Rankings, Dec. 28 Edition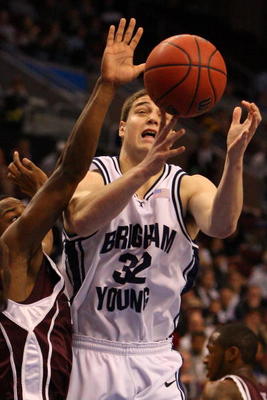 It was a wild and wacky week for the Mountain West Conference.
New Mexico lost for the first time.
UNLV couldn't bring home the Diamond Head Classic Trophy.
Utah suffered another head scratching defeat.
Air Force was one of only three teams that didn't lose, but they failed to move up the rankings.
BYU exploded offensively. I think Jimmer Fredette just hit another three.
For the first time, the MWC Power Rankings saw some significant shuffling. Only three teams came in at the same slot as in the previous edition.
Without further ado, please do enjoy this week's rankings.
No. 9 Air Force (6-4)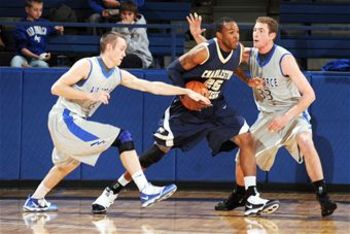 Previous Rank: 9
Last Week: Defeated UC Davis (3-8) 69-57 at home
This Week: Niagra (8-4) on Dec. 28, '09
Texas Pan-American (1-13) on Jan. 2, '10
Player of the Week: Tom Fow hit six threes and poured in a career high 30 points in the Falcons' victory over UC Davis.
The Falcons remain at the bottom of the power rankings despite a winning record overall. Why? Because their schedule has been completely laughable.
All six of their victories came at home. Two of them came against non-division I teams. They have yet to beat a team with a winning record. Their winning record won't last long once conference play begins.
No. 8 Utah (5-7)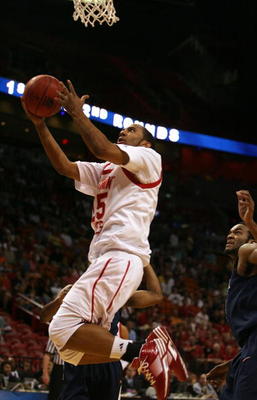 Previous Rank: 6
Last Week: Lost at Pepperdine (4-10) 76-64
This Week: Texas San Antonio (8-2) on Dec. 29, '09
@ LSU (8-3) on Jan. 2, '10
Player of the Week: Carlon Brown scored 21 points and added three steals in the loss to Pepperdine.
Utah continues to disappoint. Their current three game losing skid is cause for concern, as is a double digit loss to a Pepperdine team that entered the game on a seven game losing streak.
The only things keeping the Utes out of the bottom slot on this list are their strong victories over Illinois and Michigan earlier in the year.
No. 7 TCU (6-6)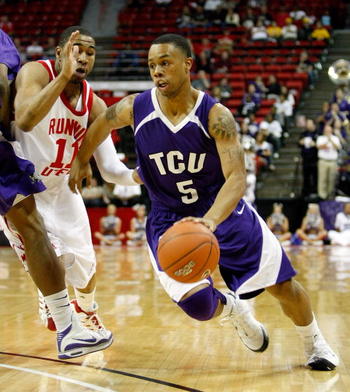 Previous Rank: 8
Last Week: Lost at Houston (7-3) 105-81
This Week: Northern Colorado (10-3) on Dec. 30, '09
Rice (5-6) on Jan. 2, '10
Player of the Week: Tuffy Moss had 21 points, seven assists, and four rebounds against Houston.
The Horned Frogs aren't quite ready to compete with the top competition in the MWC. Their big three (Edvinas Ruzgas, Zvonko Buljan, and Tuffy Moss) is talented enough to cause problems, but they have no depth.
Moss and Buljan are very turnover prone, and the trio rely too heavily on the three point shot. They'll struggle to crack the top five.
No. 6 Wyoming (6-6)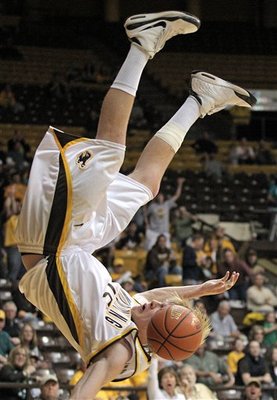 Previous Rank: 7
Last Week: Lost at Northern Iowa (9-1) 72-54
This Week: Akron (9-3) on Dec. 30, '09
Adams State on Jan. 2, '10
Player of the Week: Adam Waddell came off the bench and tallied six points, seven rebounds, and three blocks at Northern Iowa.
The Cowboys have good size and scoring punch, but lack discipline. Their assist to turnover ratio (1 to 1.5) is atrocious. They shoot below 22 percent on threes and play no defense.
Duplicating last season's 7-9 conference record would be a pleasant surprise.
No. 5 Colorado State (8-4)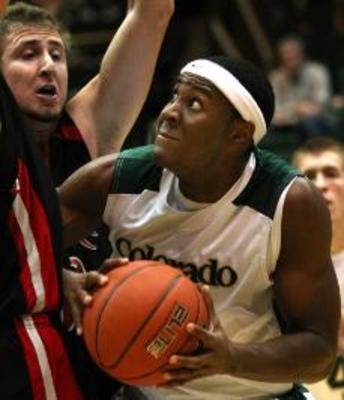 Previous Rank: 5
Last Week: Lost at UCLA (5-7) 75-63
This Week: @ Fresno State (6-7) on Dec. 28, '09
Yale (4-7) on Dec. 31, '09
Player of the Week: Andy Ogide scored 14 points at UCLA and added six rebounds, two assists, two blocks, and a steal.
The Rams couldn't kick the Bruins while they were down, but are off to a nice start nonetheless. Remarkably, Colorado State still hasn't won a road game and still hasn't lost a home game. That likely won't change any time soon.
No. 4 San Diego State (9-3)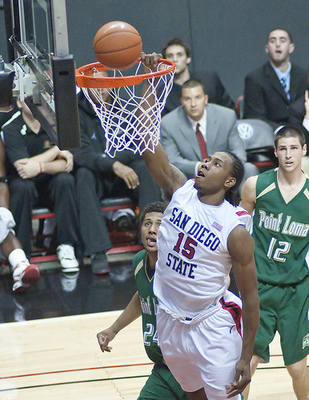 Previous Rank: 4
Last Week: Won at Drake (5-7) 76-73 in OT
This Week: UC Riverside (6-5) on Dec. 29, '09
Pomona Pitzer on Dec. 31, '09
Player of the Week: Kawhi Leonard recorded his fourth double-double of the season, with 14 points and 11 rebounds at Drake.
The Aztecs bounced back nicely from their most recent loss by winning a tough game in a hostile environment. San Diego State is stacked with athletes. Stud Freshman Leonard has lived up to the hype.
They are winning with defense. The Aztecs rank 22nd nationally in rebound margin and 39th nationally in field goal percentage defense.
No. 3 UNLV (12-2)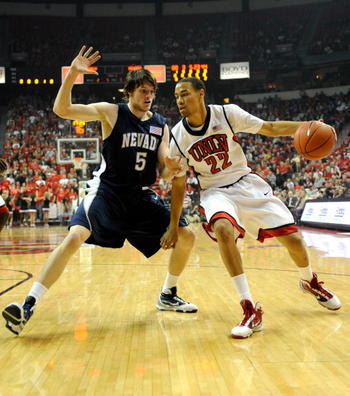 Previous Rank: 2
Last Week: Defeated SMU (4-6) 67-53 and Hawaii (6-6) 77-53 at the Diamond Head Classic in Hawaii before falling to USC (7-4) 67-56 in the championship game.
This Week: Off
Player of the Week: Chace Stanback was done in by foul trouble against USC, but in the week's first two games he tallied 18 points, 11 rebounds, three assists, and four steals.
The Rebels wasted a golden opportunity to take over the No. 1 spot in these rankings (every MWC team's top priority) when they couldn't beat USC. UNLV plays great team defense, but have struggled when unable to force turnovers.
The Rebels have the best group of guards in the conference. When their defense creates offense, they are nearly unbeatable.
No. 2 New Mexico (12-1)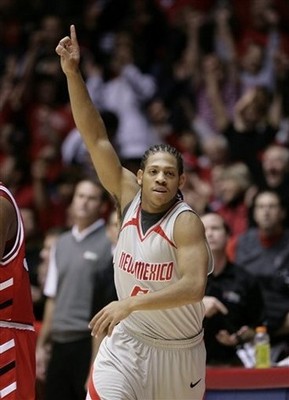 Previous Rank: 1
Last Week: Lost at Oral Roberts (7-6) 75-66
This Week: Texas Tech (10-1) on Dec. 29, '09
Dayton (9-2) on Jan. 1, '10
Player of the Week: Dairese Gary had 13 points, four rebounds, six assists, and four steals in the loss at Oral Roberts.
The Lobos are perfect no more. They struggled from long distance and couldn't generate enough easy offense to overcome a poor shooting night.
New Mexico is among the nation's leaders in assist to turnover ratio (1.6 to 1) and three point shooting (39.1 percent). If they maintain those numbers, they'll be back on top soon.
No. 1 BYU (13-1)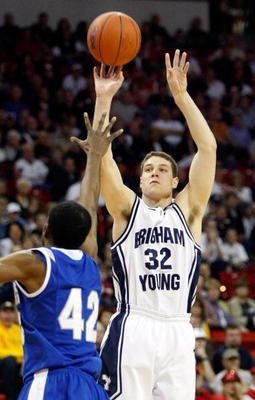 Previous Rank: 2
Last Week: Defeated Nevada (8-5) 110-104 and Nebraska (9-3) 88-66 at the Orleans Arena in Las Vegas
This Week: Won at Arizona (6-6) 99-69 on Dec. 28, '09
Host Eastern New Mexico on Jan. 2, '10
Player of the Week: Jimmer Freddette scored 57 points, had 10 assists, and went 17-for-18 from the free throw line in a pair of impressive victories.
He followed that up by drilling nine threes, pulling down seven rebounds, dishing out nine assists, recording two steals, and pouring in 49 points in a blowout win at Arizona. Wow.
Freddette is a one man statistical explosion. He's on fire. If he keeps rolling, the Cougars might never lose again.
The good news for the rest of the MWC: If you slow down Jimmer Fredette, BYU is very beatable.
The bad news for the rest of the MWC: It is virtually impossible to slow down Jimmer Fredette. Until someone does, the Cougars will stay on top.
Keep Reading