Kentucky Wildcats All-Decade Basketball Team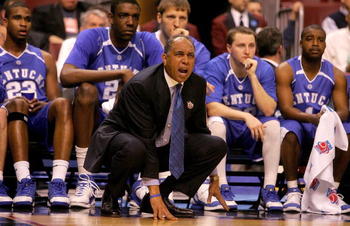 The Gregorian Calendar says this shouldn't be done—not until next year—but pop culture disagrees, and that seems like a decent enough barometer when deciding the best time to assemble an All-Decade team for the Kentucky Wildcats.
In case you forgot:
Recent successes aside, the early 2000s didn't treat Kentucky too well in the grand scheme of scoring the school's eighth championship.
Former coach Tubby Smith's best effort following his 1998 National Title was a run to the Elite Eight in 2005, and Smith was eventually escorted stage left in favor of another former coach, Billy Gillispie.
Gillispie seemed like the man for the job. He was far from perfect and didn't try to hide that, and his personality sat well with Wildcats fans.
That is, until they figured out Gillispie couldn't get it done on the court.
After two seasons and a surprise visit to the National Invitational Tournament, Kentucky found a way to send Gillispie packing. It then settled on current coach John Calipari, who has the Wildcats with a perfect record heading to pop culture's next decade—and he's doing it with John Wall, a sure pick to grace All-Decade teams 10 years from now.
Now, for the list:
Honorable Mention: Jodie Meeks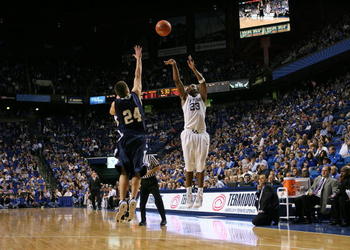 Jodie Meeks will forever go down in Wildcats lore for his 54-point performance against Tennessee on Jan. 13, 2009, breaking Dan Issel's record 53 points against Mississippi set almost 40 years before Meeks ever suited up in a Kentucky uniform.
In three seasons at Kentucky, Meeks averaged 15.4 points per game, including 23.7 in his junior season that fueled an early leave for the professional ranks.
PG Rajon Rondo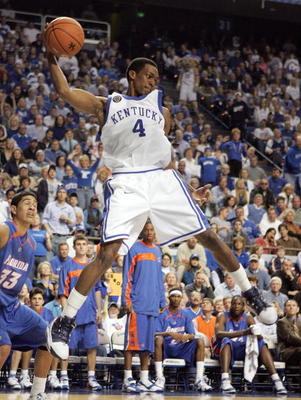 Rajon Rondo will always be remembered as a stat stuffer, but never really a shooter in college.
Some said his hands were just too big, or that his focus was more on distributing than scoring.
But it always helps to be a freak athlete, which led Rondo to an easy gig in the NBA after his junior season at Kentucky. Rondo averaged 11.2 points, 6.1 rebounds, and 4.9 assists per game in his last collegiate season.
SG Keith Bogans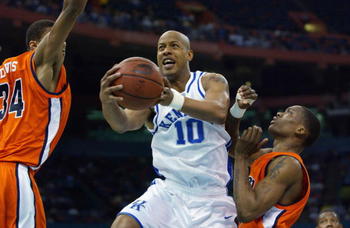 There's only one way to describe Keith Bogans' career numbers at Kentucky—wow.
Bogans was a career 30-minute player. A career double-figures scorer. A career starter.
For that collegiate career, Bogans was taken in the second round of the 2003 NBA draft. That it took that long may have undermined all of what he accomplished at Kentucky.
SF Tayshaun Prince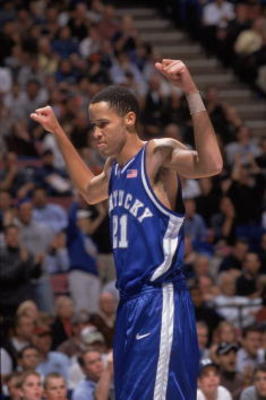 Tayshaun Prince didn't enjoy the glory of Kentucky's 1998 National Title. He wasn't able to stick around for the Wildcats' foray to the Elite Eight in 2005, either.
Didn't matter, because Prince epitomized everything coach Tubby Smith's system stands for.
As a freshman, Prince averaged 5.8 points in just over 20 minutes per game. By his senior season, Prince was averaging 17.5 points and 6.3 rebounds in 33 minutes.
That's progression for a McDonald's All-American who overcome a lanky frame at the forward spot to land a starting role in the NBA.
PF Patrick Patterson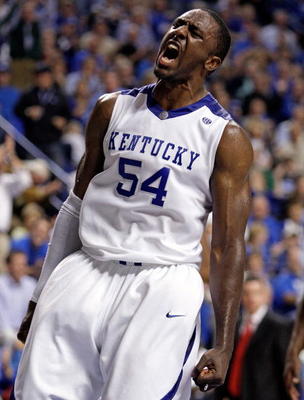 Patrick Patterson is still suiting up in blue and white when he could have instead joined Meeks in the professional ranks—much of the reason why he'll be remembered by Kentucky fans forever.
That, and his 6-foot-9, 235-pound frame that's created a consistent inside presence at Kentucky through a Wildcats basketball recession, coaching change, and return to greatness.
In two completely different systems in two seasons, Patterson has maintained a consistent 17 points and 9 rebounds per game.
C Jamaal Magloire
It seems like so long ago, but Jamaal Magloire was an integral part of Kentucky's efforts this decade.
He's also the only member of this All-Decade team that played a large role in the previous decade, when he averaged nearly 15 minutes per game in the Wildcats' 1998 championship season.
But it's what Magloire did in his senior season, 1999-2000, that made his mark at Kentucky and led to his first-round draft dreams coming true. Magloire averaged 13.2 points and 9.1 rebounds per game, a breakout season when you consider he only scored 7 points and tallied 4.4 rebounds in his junior season.
Magloire was also a career 50-percent shooter in his four-year college career.
Keep Reading

Kentucky Wildcats Basketball: Like this team?