3 Moves Gainey Should Make in 2010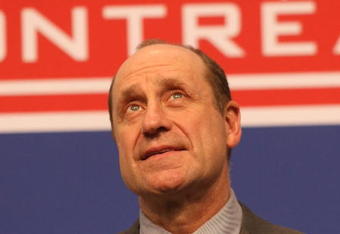 Bruce Bennett/Getty Images
As we are on the cusp of the New Year, I found myself thinking about losing weight, working out, and the Montreal Canadiens. Given that my commitment to weight loss and working out should be over by January 2nd, I am left with planning out the rest of the season as armchair GM of the Habs. So, with soft drink and chips in hand, here are the 3 moves I think GM Bob Gainey must make before this season is in the books:
1 - Trade Jaroslav Halak: Halak is a 24 year old goaltender who is starting to enter the prime of his career, and the GM's around the league know it. Halak was just named the NHL's 1st star of the week, and the GM's know that too. Gone should be this myth that trading Price will give the Canadiens more in return. Halak's value will never be better than it is now, and Gainey must strike while the iron is hot. Halak is dominating the bottom half of NHL teams, and his career stats, which are better than those of Carey Price, have also come at the expense of teams who are also at the bottom half of the NHL. Since the Canadiens' chances of winning the Stanley Cup this year do not significantly drop with Halak off the roster, the Canadiens must use this increased value to see what they can do to plug their holes. Curtis Sanford was brought in to be that quality veteran backup for Price, and Cedric Desjardins is absolutely on fire and may provide that extra push in about 2 years.
2 - Sign Plekanec: Most Canadiens fans are perhaps not aware, but Gainey is not able to officially sign Tomas Plekanec until January 1st. However, most Canadiens fans are very aware of Gainey's policy to not negotiate contracts during the season. This is one policy that really should not be so black and white. Gainey has got to realize that this is not old time hockey where players negotiate contracts themselves. That is what agents are for, and the fact that Gainey can perhaps use the cover of his "policy" to quietly negotiate and only announce the signing of Plekanec at the end of the season is the only acceptable scenario with regards to the Habs' best player.
3 - Move Laraque: As much as I am a fan and supporter of BGL, neither former Canadiens Coach Carbonneau, nor current coach Martin have been willing to find effective ways to use Laraque, and Laraque's nice guy attitude just doesn't seem to inspire many of the other teams' tough guys to fight him either. I have noticed Laraque being used near the end of game lately, perhaps in the hopes that his very strong ability to keep the puck down low in the offensive zone can eat time off the clock, so perhaps something can be done with him in the near future, but Gainey would be better off getting someone with more speed and a salary under 7 figures.
This article is
What is the duplicate article?
Why is this article offensive?
Where is this article plagiarized from?
Why is this article poorly edited?

Montreal Canadiens: Like this team?