Sorting Out the UFC Lightweight Division Heading into 2010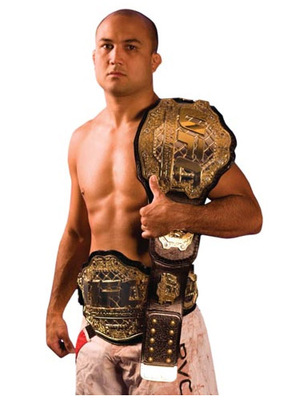 Champ B.J. Penn's downright destruction of No. 1 contender Diego Sanchez at UFC 107 left the lightweight division in a state akin to George St. Pierre's welterweight and Anderson Silva's middleweight division.
With such a dominant champion in place, what hope do we have for seeing a spirited lightweight title fight in 2010? In order to get a better grip on the state of affairs at 155, let's break down the division into easier-to-digest categories.
Champion
B.J. Penn (11-4-1*) has adorned the champion moniker for years, but never has he looked this fashionable. In 2009, fans witnessed "The Prodigy" evolve from uber talented fighter to utterly dominant force. It appears the only thing standing in Penn's way at 155 pounds is B.J Penn.
Penn reminded us that he still has his eye on avenging his embarrassing loss to George St. Pierre—a fight he feels was not fought on an even playing field. Dana White will be able to keep Penn satiated at lightweight for only so long, one or two more dominant title defenses to be precise.
Let's take a look at who he will be facing before deciding to vacate.
*Records indicate UFC records only for divisional purposes
Contenders still standing – for now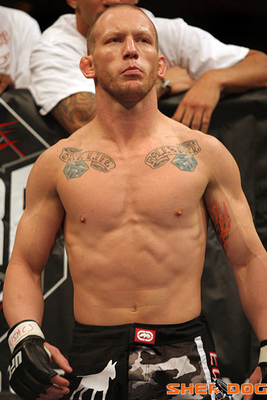 Gray Maynard (6-0) has run his MMA record to a perfect 9-0, but there is something missing from the resume of "The Bully"–a signature win. His most recent triumph over Roger Huerta, kind of counted, but Maynard didn't entirely dominate, nor was able to finish of his sinewy foe.
Maynard will get another crack to finish off an opponent when he takes on Nate Diaz at UFN 20. Diaz is in this fight more for his name value then for his recent performances, nonetheless if Maynard can bully Diaz the way Joe Stevenson did, he is all but guaranteed the next title shot.
Whether or not Gray Maynard can supply more struggle then Kenny Florian or Diego Sanchez seems to be the most intriguing question the lightweight division has going for it in 2010.
Frankie Edgar (6-1) faced a no-name fighter in his last fight–always a high-risk low-reward proposition. Edgar made the most of it, notching a much needed TKO victory to his belt.
The only thing standing in the way of an immediate title shot is the only man to beat him–Gray Maynard. Edgar has already earned his title shot; he just has to wait on "Penn vs. Maynard" to happen and in the meantime, keep winning (or pray Diaz manages to submit Maynard).
Next up for this New Jersey native: A rumored bout at UFC 111 which takes place in his home state. The only question is who would be a perfect opponent for Edgar at this juncture…another no-name or someone like Kenny Florian, Sean Sherk, or a rematch with Tyson Griffin?
Tyson Griffin (7-2) has been mostly left out of the title shot conversation, perhaps with good reason. He has a loss to Frankie Edgar, albeit a close 'fight of the night" defeat. He also has a close decision loss against Sean Sherk, a fight some thought he narrowly won.
Despite those two losses, Griffin belongs in the same conversation as both Maynard and Edgar. His TKO victory over Hermes Franca at UFC 103 was his most impressive win to date and if he can go undefeated in 2010, he should find his way into a title fight in the first half of 2011.
Griffin was set to take on upstart Jim Miller at UFC 108 but was forced off the jinxed card due to injury. With Sean Sherk being forced off the same card, a rematch of their closely contested UFC 90 fight could be in order. Another intriguing opponent could be the reinvented Joe Stevenson.
Contenders already battered and bruised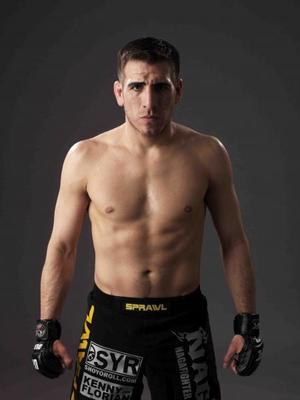 Kenny Florian (10-3) is the one fighter in this group that may sneak in another shot at Penn before he beefs up to 170. While Florian was unable to mount a serious threat to Penn in their UFC 101 title fight, to his credit he didn't receive a "Sanchez/Sherk" style beat down.
Add to that Florian bounced back by handing Clay "The Gatekeeper" Guida his biggest beat down ever. With the UFC finally getting sanctioned in Massachusetts, a rematch between Florian and Sanchez in Boston this summer has all the makings of a classic (if they can both wait it out).
Florian is eager to fight the best now, so he may work his way onto the UFC 111 fight card. Would "The Nightmare" be rested up and ready to go by then?
Diego Sanchez's (10-3) post-fight mug shot revealed the image of someone who looked like they just survived a car wreck. Despite that, Sanchez is healing up quickly and will be back, hopefully against the aforementioned Florian. Whether it happens in their next fight remains to be seen.
Long term, Sanchez revealed that heart & conditioning alone can't secure a UFC belt. He will have to greatly evolve his technical game, especially standing, if he ever wants to be a champion.
Sean Sherk (7-4) seems like the least likely on this list to garner another title shot as his age will likely seal his fate. The fact that he barely escaped a younger Tyson Griffin along with his surprising at the time loss to a younger Frankie Edgar reveals the veteran has lost a step or two.
Despite that, Sherk can still compete at a high level and he could assume head "gatekeeper duties" from Clay Guida if he wants to keep putting on five ounce gloves.
Sherk was set to compete on UFC 108 show, but had to pull out due to injury. 2010 may be the last big hurrah from one of the best fighters to fall short of being labeled "great." Perhaps scraps with either Tyson Griffin or Joe Stevenson would fit the bill for now.
Joe Stevenson (8-4) will best be remembered for the profuse amount of blood that poured from his head during his title fight against B.J. Penn. Stevenson would go on to get choked out in that fight, and then lose two of his next three to Kenny Florian and Diego Sanchez respectively.
It looked as if the best of Joe Stevenson was behind us, but lo and behold, Stevenson made the commitment to train under Guru Greg Jackson, and his career has been revitalized.
Wins over Nate Diaz and Spencer Fisher may not draw the biggest "oohs and ahhs" from the MMA crowd but the manner in which he beat them reveals that Joe "Daddy" may have one last run in him after all, keeping him out of official gatekeeper status for now.
Gatekeepers for the time being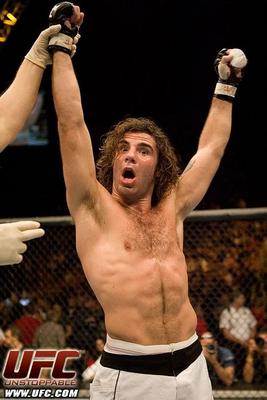 Clay Guida (5-5) suffered his worst octagon defeat at the hands of Kenny Florian. Guida seems to be the same steady fighter he's always been, so it's more of a testament to the skill level of Florian rather then a drop in performance by Guida.
What did drop was Guida's record, to a very middling 5-5. If Guida wants to keep his title as "senior" lightweight gatekeeper, a win in his next fight will be critical in brandishing that label.
Spencer Fisher (8-4) and Joe Stevenson both faced pivotal paths in their respective UFC careers when they jousted at UFC 104, and Stevenson was the one who prevailed still on his horse.
The fight proved "The King" will be nothing more then a gatekeeper, albeit an entertaining one, and like Guida, Fisher should hold onto his UFC job provided he wins just more then he loses.
Kurt Pellegrino (6-3) has recent wins over Josh Neer and Thiago Tavares, but previous lapses against Nate Diaz and Joe Stevenson probably peg the "Batman" as a future UFC gatekeeper in the making.
Pellegrino had a huge break to secure a spot in the division's top 10 when he was given a fight with Frankie Edgar, but an injury forced him out of the spotlight. Pellegrino hasn't been officially relegated to gatekeeper status yet, so his next fight will be a make or break ordeal.
Future contenders or merely pretenders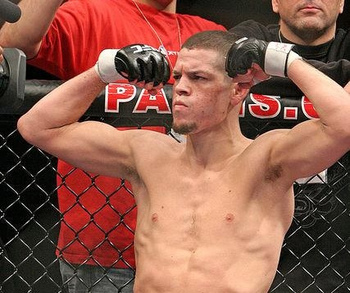 Nate Diaz (6-2) started out his UFC career in impressive fashion. He was crowned The Ultimate Fighter Season Five champion, submitting Gray Maynard in the semifinals. Diaz would put together a 5-0 record in the octagon before running into less submitable competition.
His losses to Clay Guida and Joe Stevenson indicate that Diaz may never reach elite status at 155, but given that he is only 24, Diaz has time to grow into his own.
The UFC didn't do him any favors though as he will face Maynard in a rematch of their TUF fight at UFN 20. Another submission win would catapult Diaz back into relevance, while a decision loss would further stifle any talk of a promising future
Jim Miller (4-1) is not a fighter to sleep on. While Miller lost to his toughest competition in Gray Maynard back at UFC 96, he is still relatively young at twenty-six, and is evolving as a fighter.
Miller had a huge opportunity to shoot up the lightweight ladder when he was originally scheduled to fight Tyson Griffin at UFC 108, and then Sean Sherk who stepped in as a replacement. Sherk pulled out as well, forcing Miller to fight former UFC fighter Duane Ludwig.
If Miller gets past Ludwig, look for him to stay very busy in 2010. If he can maneuver the lightweight gauntlet undefeated, don't be surprised if Millertime finds his way into a title fight in 2011.
Joe Lauzon (5-1) is another young UFC, turning 25 this year. A serious injury has sidelined the prospect for over a year and a return fight against very capable Sam Stout at UFC 108 should give fans an idea of where Lauzon is at.
If Lauzon ever wants to reach elite status he will have to forget the humbling ground and pound loss he suffered to Kenny Florian at UFN: Kenny Florian vs Joe Lauzon. Hopefully this young Massachusetts fighter can right the ship and get his once promising career back on track.
Terry Etim (5-2) Etim started his career out going 1-2, but since then has rattled off four impressive wins. It is clear the UFC is now bringing him along, a smart strategy to help boost the best British prospect in the division.
It is rumored that Etim will face Dennis Stiver in his next bout and a win would further solidify Etim's status as the "Michael Bisping" of the division. Look for Etim to get tougher tests in 2010 to reveal if he can compete with the best of the division.
The Efrain Escudero/Evan Dunham (both 2-0) winner will remain undefeated in the UFC and continue their climb up the UFC ladder. Escudero, who surprised everyone when he emerged as the season eight winner of The Ultimate Fighter, will be the favorite, but Dunham is no pushover.
While both have a long toward validating their status as legitimate future contenders, whoever emerges with their hand raised in this fight will be propelled to the next level of competition.
Weltereweight Division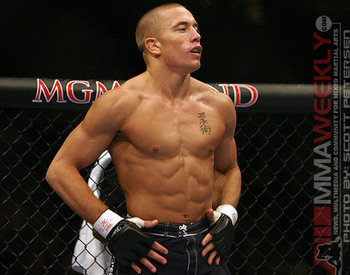 Is there any fighter out there that can compete in a division currently being held hostage by champ George St. Pierre? Check back Tuesday as we sort out the UFC Welterweight Division.
Keep Reading