Top 10 Fantasy Football Moments of 2009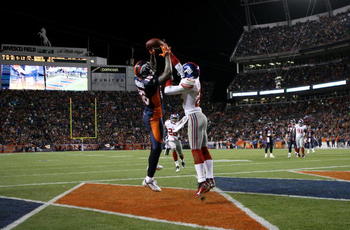 The 2009 season was—at the very least—a season to remember; chock full of bizarre occurrences, unpredictable events, and some outstanding single week performances that will be forever remembered in the annals of Fantasy Football.
This week, I'd like to take a look at what I consider to be the top-10 moments of the 2009 fantasy year.
Of course, there are a ton of mentionable occurrences one could focus on, so any event or performance that is not listed, feel free to bring it to light in the comment section below. I hope you enjoy!
No. 10: Janikowski Finally Does It!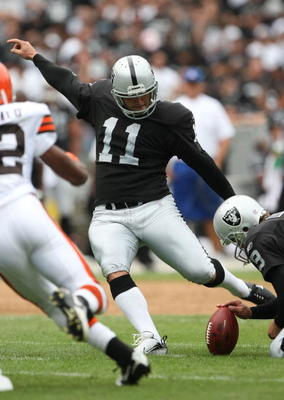 Sebastian Janikowski kicks a 61 yard field goal in Week 16 against the Browns in a losing effort. The manager that owned Janikowski in this game received an unexpected last minute fantasy Christmas gift for sure.
Janikowski has always been known for his strong leg, but this is the first time in his NFL career he made a field goal beyond the 60 yard mark.
No. 9 Ted Ginn Jr. finally shows up...briefly.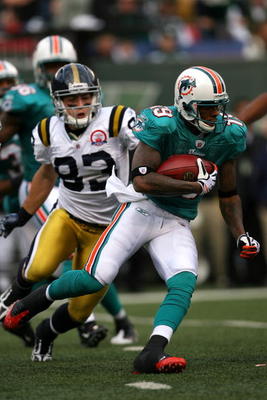 Ted Ginn Jr. torched the Jets for 299 yards and two touchdowns in kickoff returns on Nov. 1, and for managers in leagues that reward points for returns, the payouts were monstrous.
Ginn Jr. has been mostly viewed as a bust this year, so for those of you who did use him that week, it surely was that performance that gave you an unexpected leg up over the competition.
No. 8 Who's Leigh Bodden?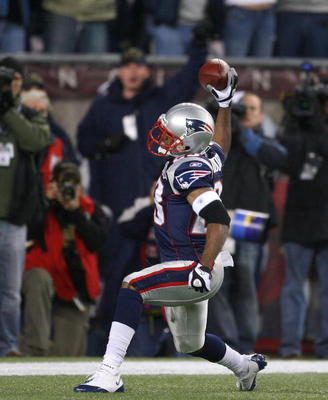 Leigh Bodden was another player that fed off the Jets, and for those of you who actually owned this guy in IDP leagues, you were given a pleasant surprise when he intercepted Mark Sanchez three times in that fateful game on Nov. 22.
In addition to the three picks, Bodden also accumulated 60 yards and a score, making the value of the combined interceptions unheralded for a guy who had less than a 0.5 percent ownership in most leagues at that point.
No. 7 The Unstoppable Jared Allen!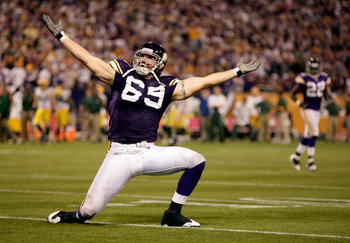 Jared Allen had his motor running in super overdrive on Oct. 5, when he and his Vikings tormented Aaron Rodgers and the Packers en route to a 30-23 victory.
Allen—currently ranked second in sacks—recorded 4.5 against the Packers, and currently leads the season for the most sacks recorded in a single game. Elvis Dumervil—the NFL sack leader— recorded four against the Browns in September. IDP leaguers enjoyed a ton of points that week.
No. 6 Warner Flirts with Perfection.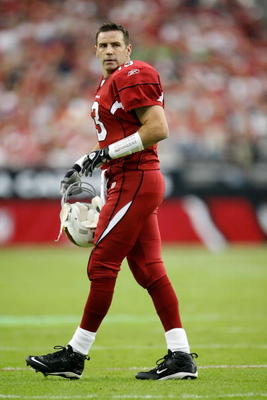 Kurt Warner has always been a solid feed for fantasy points over the years, but on Sept. 20 in Jacksonville, Warner had his best overall career game, especially in PPR league translation.
Warner threw for 243 yards and two touchdowns; a stat that doesn't really jump out and grab ya, but he also threw a 92.3 percent completion rate on 24 out of 26, so you can see the extended value for PPR leaguers.
No. 5 Shoot 'Em Up Schaub!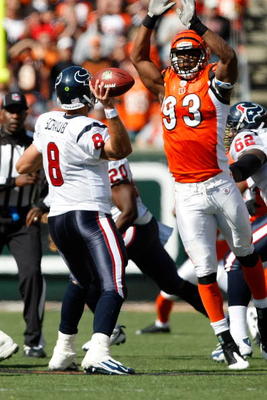 Matt Schaub is another quarterback that is synonymous with fantasy greatness, but it was on Oct. 18 he proved it once and for all.
Against a vaunted Cincinnati pass defense, Schaub threw for an unimaginable 392 yards and four touchdowns with only one pick.
What is noteworthy about this game is the fact that his start rate for that week was incredibly low considering how well the Bengals were playing at the time. The manager who did start him garnered a nice week.
No. 4 Miles Austin Awakens!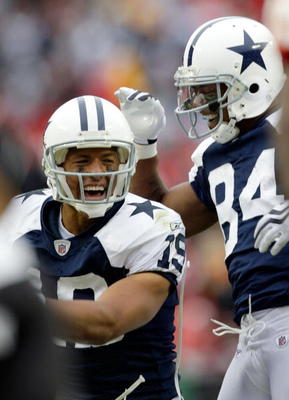 Miles Austin broke out onto the fantasy scene on Oct. 11, when he and the Cowboys faced a soft Kansas City Chiefs defense.
In that game, Austin torched the Chiefs for 250 yards on only 10 grabs along with two TDs. Prior to that, Austin was a fantasy ghost who—through four games—amassed only 81 yards on five grabs and a single score.
Owners who remembered him from last year—like myself—plucked him from the waiver wire early, and reaped the benefits for the remainder of the season. He followed that game up the next week with a 171 yard two touchdown performance against the Falcons.
No. 3 Who Broke Jim Brown's Record?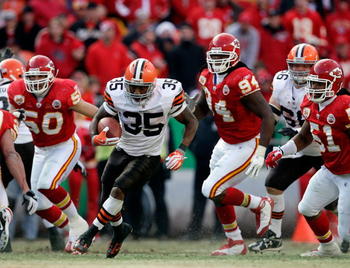 Jerome Harrison is the now the new single game rushing leader in Browns history, thanks to his breakout performance against the lowly Chiefs on Dec. 20.
Breaking Jim Brown's old record, Harrison—a virtual irrelevant fantasy player—ran for 286 yards and three touchdowns making him one of the hottest searched players in the fantasy realm since, and one of the hottest waiver pickups as well.
Harrison should be a featured back next year in the new Holmgren run friendly way of doing things.
No. 2 Brees Begins Season with a Bang!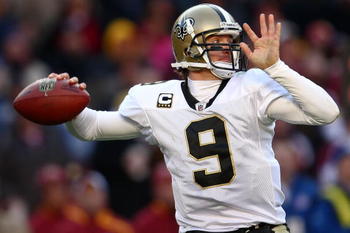 Drew Brees is rapidly approaching the status of "next great quarterback" despite being a bit underrated coming into this year.
On opening day, Brees quickly silenced any critics by tossing 26 completions for 358 yards and an astonishing six touchdowns against a Detroit team that was supposed to be greatly improved in pass coverage from the year prior.
It is noteworthy to mention that Brees also torched the Patriots for five touchdowns and 371 yards, and the Giants for four touchdowns and 369 yards; two much better pass defenses than Detroit.
No. 1 How Many Catches?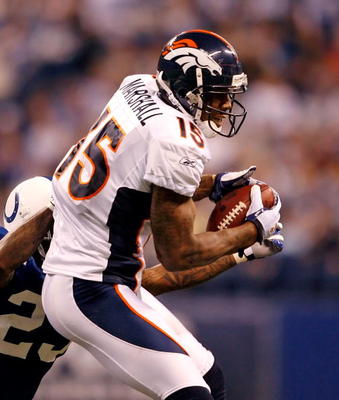 Brandon Marshall made history on Dec. 13 when he hauled in 21 catches for 200 yards and two scores against the Colts, surpassing Terrell Owens' single game reception record of 20.
What is noteworthy about this game is this: The Colts, at one time during the season, were the number one team in fewest yards per pass attempt allowed, so there were a lot of managers that felt Marshall didn't have a great matchup.
Although he (Marshall) was still used a great deal that week, his start percentage took a great hit; so did the managers who sat him.
I hope you enjoyed this little piece, and don't forget to leave your comment regarding your favorite fantasy moment below.
Keep Reading