Takin' a T/O with BT: The NHL's Western Conference All Stars That Never Were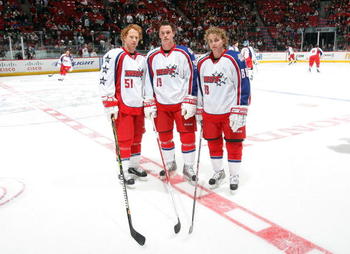 Two weeks ago, we nailed down the All-Stars from the Eastern Conference for this season.
Granted they won't be playing in any game (aside from the ones on this list who'll be going to the Olympics), getting the notoriety (Any Tiger Woods/Michael Vick bad press on the horizon? Nah...this is the NHL!), or winning any prizes (I'm stumped—no enjoyable brackets on this one), but why not give the All-Stars their due.
So, two weeks later thanks to Christmas, we now present the Western Conference All Stars from Bleacher Report's NHL Community.
DISCLAIMER: Remember the conditions: One player per team, two goalies, four defenders, nine forwards. Make sense? Also, up until Anze Kopitar, all stats are pre-Christmas.
I blame turkey.
Corey Perry—Anaheim Ducks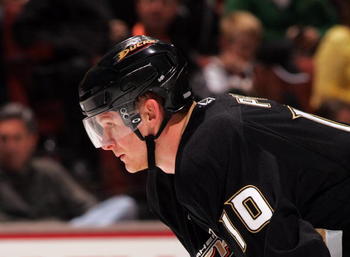 As Chosen By: SK
Corey Perry brings a whole lot to the ice for the Anaheim Ducks.
Although I once compared him to The Tick (yes, the annoying superhero in the blue leotard) because of his ability to get under opponents' skin with feisty play, it's Perry's scoring ability that also helps him agitate on the ice.
Currently second on the Ducks in scoring and tied for first in goals, Perry is proving that the "dynamic duo" of he and Ryan Getzlaf may also be the "disturbing duo," both having the fourth-most penalty minutes of any top-20 scorer in the league.
Runner Up: Ryan Getzlaf
Jarome Iginla—Calgary Flames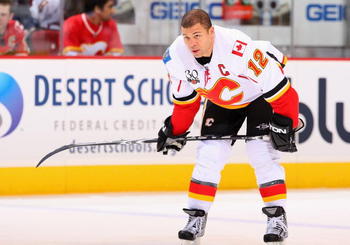 As Selected By: M. MacDonald Hall/Daniel Sallows
Iginla has struggled through a bought or two of inconsistency and difficulty this year, but he's still one of the more dynamic wingers in the league.
Tied for fourth amongst all right wingers in scoring, netting the second-most goals (19), and scoring the most game winners (three) of all right-siders in the top 25 of scoring, Iginla has been able to pace the Calgary attack this year.
Despite the struggles, he's also one of just two Flames who are at or near a point-per-game pace this season with the other being the injury-slowed Rene Bourque.
Runner Up: Miikka Kiprusoff
Duncan Keith—Chicago Blackhawks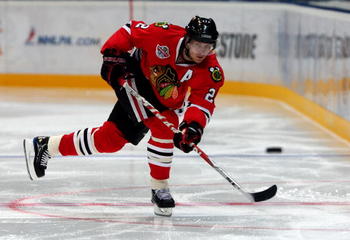 As Chosen By: Tab Bamford
There aren't many defenders who have ranked at, or near, their team leads in scoring over the past few years.
Past names have included Mark Streit and Andrei Markov. This year, Tomas Kaberle is jockeying for the Toronto Maple Leafs' team lead.
But Duncan Keith?
On a team that has Jonathan Toews, Patrick Kane, Brian Campbell, Patrick Sharp, and (a recovering) Marian Hossa, Keith trails just one of them (Kane) in the 'Hawks race.
With 28 points in 34 games this season, Keith has slid into fourth in defensive scoring behind Green, Kaberle, and Dan Boyle (another defending you could add to that previous list).
He's tied for fourth in assists with 22, ninth in goals with six (Did you know Stephane Robidas is leading the league in goals?), and has quietly logged the third-most ice time (26:40) and 13th-most shifts (30-plus) per game.
Good thing he's locked up for 13 more years I suppose.
Runner Up: Patrick Kane
Wojtek Wolski—Colorado Avalanche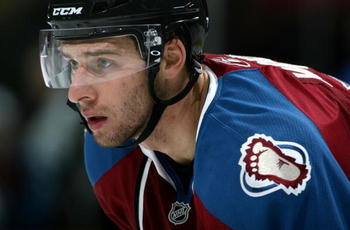 As Chosen By: Bryan Thiel
Three years ago, many thought Wojtek Wolski would have been here by now.
Today, in a season that won't have one, Wolski is finally playing like an All-Star.
Sitting second on the Northwest-leading Avalanche in scoring (36 points) and first in goals (15), Wolski has undergone a revolutionary season with success like he hasn't seen since the 2006/07 season.
Both those stats are also good enough to place him amongst the top-25 in the league in each category, as he's also scored a ton on even strength—a novelty that's often lost in the rush of special teams prowess.
This is the kind of player the Avs thought they were getting earlier on in his career, so hopefully Wolski can keep up the 70-point pace, not just this season, but for a few more as well.
Runner Up: Paul Stastny
Rick Nash—Columbus Blue Jackets
As Chosen By: Ed Cmar
There's a handful of other players that mix the size and skill that Rick Nash brings to the ice.
Even looking at that short list though, it's hard to find a player you'd take over Nash.
A consistent performer on a team that's been anything but this season, he leads the Jackets in goals, assists, points (obviously), time-on-ice among forwards (and all players NOT named Fedor Tyutin), and shots—by nearly 50.
League-wide, the breakout years from Tomas Plekanec and Wojtek Wolsi, along with a bounce-back season from Paul Statsny has buried Nash in the league scoring race (21st), but he's still keeping pace in the race for the Rocket Richard, as he's six goals off of the league lead.
If the Blue Jackets are going to right the ship and battle back into playoff contention, they're going to need to begin support Nash, because if they're only going to look to him I don't know if there's much more he can do.
Runner Up: Antoine Vermette
Stephane Robidas—Dallas Stars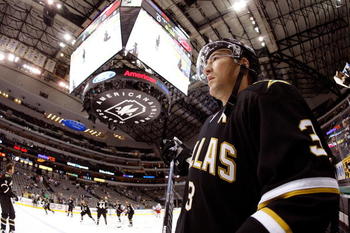 As Chosen By: Bryan Thiel
Although he had a bit of a head start, the Stars' Robidas is sitting atop the goals-race alongside Marc-Andre Bergeron with nine.
With seven of them on the power play, Robidas has helped the Stars to the 11th-best power play in the league and into a battle for the playoffs in the Western Conference after a down season.
Robidas has been producing all over the map as well, registering 14 assists to put him eighth in the defenseman scoring race with 23 points.
In that same light, Robidas has made his own opportunities with the seventh-most shots (84) amongst defensemen, while he's also seventh in shooting percentage (10.7 percent), along with the fourth-most points of the top-20 defenders in shooting percentage.
Not bad for a guy who's smashing his previous career highs just partway through the season.
Runner Up: Brad Richards
Tomas Holmstrom—Detroit Red Wings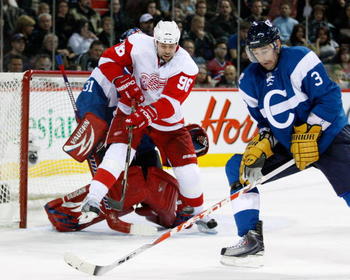 As Chosen By: Greg Eno
For a team that's been dogged by injuries, bothered by inconsistency, and slowed down by an ever-toughening (30 bucks says that phrase was just made up) division, Tomas Holmstrom is one of four Wings to play in all 36 games so far.
Currently leading a team that features Pavel Datsyuk, Henrik Zetterberg, Todd Bertuzzi, and (an injured) Johan Franzen in goals, Holmstrom could easily have a his first 30-goal season since 2006/07 and his second all-time.
While the assist totals (nine so far) are low, which is limiting the point production, Holmstrom's power play time (3:33 per game) and effectiveness (seven of his 13 goals have come on the powerplay, two have been game-winners) have kept the Wings' in the race for the playoffs.
Then again, staying healthy is a huge win for the Wings.
Runner Up: Henrik Zetterberg
Dustin Penner—Edmonton Oilers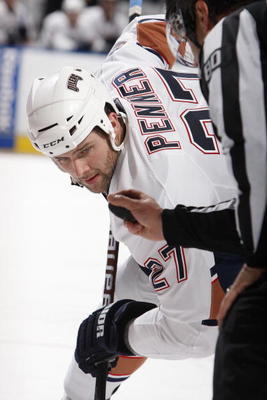 As Chosen By: Jim Parsons
Is there really any surprise with this one?
A player who's undergone scrutiny, ridicule, and challenges since signing a big-money deal with the Oilers a few years ago, Dustin Penner has finally been fortunate to turn things around.
Tied for 14th in league scoring with 38 points and on pace to break his career-high in points before Valentines Day, Penner's season has been a bright spot for the Oilers who currently sit in the basement of Northwest division.
Essentially doubling the goal producing of the next-closest teammate and having at least 14 points on his trailing teammates, is there really anyone else that you'd choose from the Oilers?
Not likely.
Runner Up: Lubomir Visnovsky
Anze Kopitar—Los Angeles Kings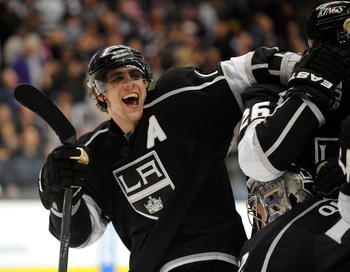 As Chosen By: Gann Matsuda
From the start of the season, all the talk has been about the play of Anze Kopitar.
Starting out as the league's leading scorer, a recent slump has sent Kopitar sliding from first to fifteenth as two points in his past five games, and an earlier four-game scoreless drought have slowed him.
Despite that, he still leads his team in scoring, and was a big proponent for the Kings' leading the Pacific division for a majority of the season, and now sitting just two points behind the San Jose Sharks.
A point-per-game pace shouldn't be out of the question for Kopitar to stay around for the remainder of the season, and he'll have to remain at his best if the Kings want to gut their way back to the playoffs once again.
Runner Up: Drew Doughty
Niklas Backstrom—Minnesota Wild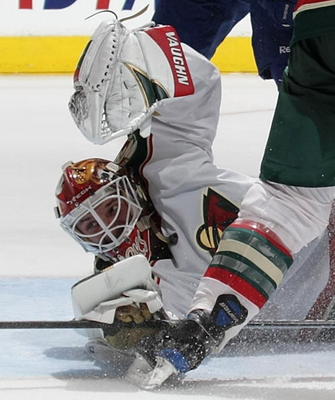 As Chosen By: Blake Benzel
Need a franchise goalie who is going to keep a team in an offensive transition in a lot of games?
Niklas Backstrom is your guy.
To this point in the season, the Minnesota Wild have scored more goals than six other teams in the league. While that isn't the most impressive stat (they actually finished second in goals-for last year), the fact that Backstrom has been able to get the low-scoring Wild 17 of their 19 wins this year is impressive.
Backstrom has the tenth-most wins amongst goalies in the top-20 in goals-against average and his .910 is far from terrible—even it's his career-low by 10 points.
While many teams concern themselves with finding a dynamic offensive attack and then solving the goaltending problems as they go, the Wild have a bona-fide star in Backstrom and now just have to boost the firepower.
Runner Up: Mikko Koivu
Shea Weber—Nashville Predators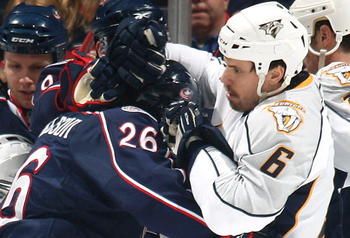 As Chose By: Mark Willoughby
You have to count your blessings when you have two defensemen on your roster that you could consider for All-Star offensive status.
Then again you have to carefully consider who you'd choose to represent your team.
For the Predators, Shea Weber is undoubtedly their rock.
As always it seems, the Preds have snuck into the Western Conference playoff picture, and the man who just eked into the top-30 of defensemen scoring is a big reason.
While Weber isn't blowing any offensive category out of the water (He's tied with Ryan Suter for points and is actually trailing him in assists and ice time), it's been his willingness to lay the body (second on the team with 75 hits), block shots (49), and run the power play (third amongst defensemen with four power play goals) that has him representing the Preds.
Runner Up: Ryan Suter
Ilya Bryzgalov—Phoenix Coyotes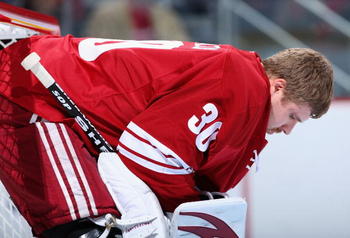 As Chosen By: Derek Pivko
Whether a team rises or falls, the praise or put-downs usually fall to the goalie.
This season, many wouldn't have blamed the Phoenix Coyotes if they were uninspired, nervous, or unmotivated during the regular season, given the turmoil the franchise had just gone through.
Then again, no one gave them the opportunity to be anything other than down-trodden.
Ilya Bryzgalov however had other ideas.
Trailing only the legendary Martin Brodeur in wins, sitting just percentage points above 2.00 in terms of goals-against, having the fifth-best save percentage while playing more games than anyone else in the top five, and leading the league in shutouts (5), Bryzgalov has made himself a known commodity in the desert.
Once thought to be "just another goalie" behind J.S. Giguere in Anaheim, Bryzgalov made his way to Phoenix, and after a few up-and-down years, he's seemingly found his footing.
Runner Up: Dave Tippet (Lame? Yes. But you try telling me otherwise.)
Joe Thornton—San Jose Sharks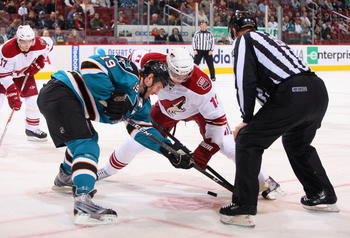 As Chosen By: Andy Bensch/Jason Dumpit
Initially, they asked if they could submit the entire line of Marleau/Heatley/Thornton.
No matter how impressive the results have been, rules are rules however, and I said no.
Meaning that the man who could finally break the 100-assist mark in a season is (should) be destined for his seventh All-Star game.
First in the league in points and assists, along with a healthy +13, Thornton continues to prove that he is the best passer in the game and arguably the most complete centerman.
Personal feelings about the playoffs aside, you'd be crazy if you didn't want Joe Thornton feeding your top scorers the puck. He's proven that numerous times (Jonathan Cheechoo) over the years.
Runner(s) Up: Patrick Marleau/Dany Heatley
Erik Johnson—St. Louis Blues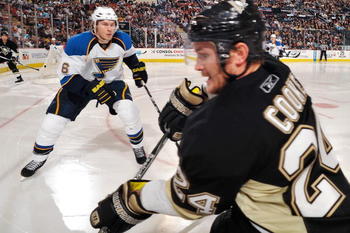 As Chosen By: Bryan Thiel
An awkward knee injury killed Johnson's season before it could begin last year, but being tied for 14th amongst defenders in scoring this year as seen Johnson vault himself back to where he was two seasons ago.
Entrusted more on the powerplay than he is shorthanded, Johnson has played a key part in a four-man rotation on the St. Louis blueline that sees four defenders receive at least 20 minutes a game, and no more than 22:45.
A 30-point defender the last time he was healthy, Johnson's abilities have him lined up for his first career 46-point season and his first (albeit imaginary) All-Star appearance.
Runner Up: Roman Polak
Henrik Sedin—Vancouver Canucks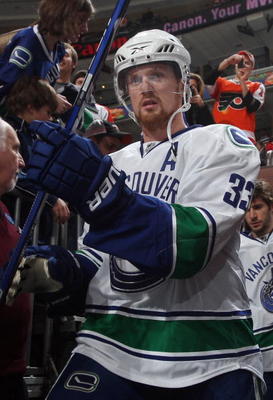 As Chosen By: Larry Johnson
You know, if Daniel had been healthy the entire season, they may be here together.
Like in San Jose I wouldn't have allowed it, but there's never any harm in asking.
Without his twin though, Sedin exploded and now sits third in the league in scoring with 49 points. There are just three players in the top-ten of scoring with more assist (32) than him, and his 17 goals are just five away from tying a career high.
If he were to keep up at this current pace, Sedin would also be set for his first career 100-point season. That would also make him the first Canucks' forward since Marcus Naslund in 2002/03 to net a 100-point season.
One benchmark that probably won't change however? This will probably be the fourth-straight season that a Sedin leads Vancouver in scoring, and most likely the third-straight where Henrik has at least a share of the team lead in points.
Runner Up: Roberto Luongo
Keep Reading